Santa Fe Chicken Salad is a family favorite way to put on a classic chicken salad. Chunks of chicken, black beans, fresh vegetables, and corn are mixed with a creamy Santa Fe sauce. Wrap it up in large flour tortillas with shredded lettuce, tomatoes, and avocado slices and you have the best easy, no oven dinner or lunch recipe. 
I love making chicken salad because it can be made ahead of time and there are so many ways to mix it up. Try my Dill Pickle Chicken Salad, this fruity Pineapple Chicken Salad, or Chicken Caesar salad Wraps.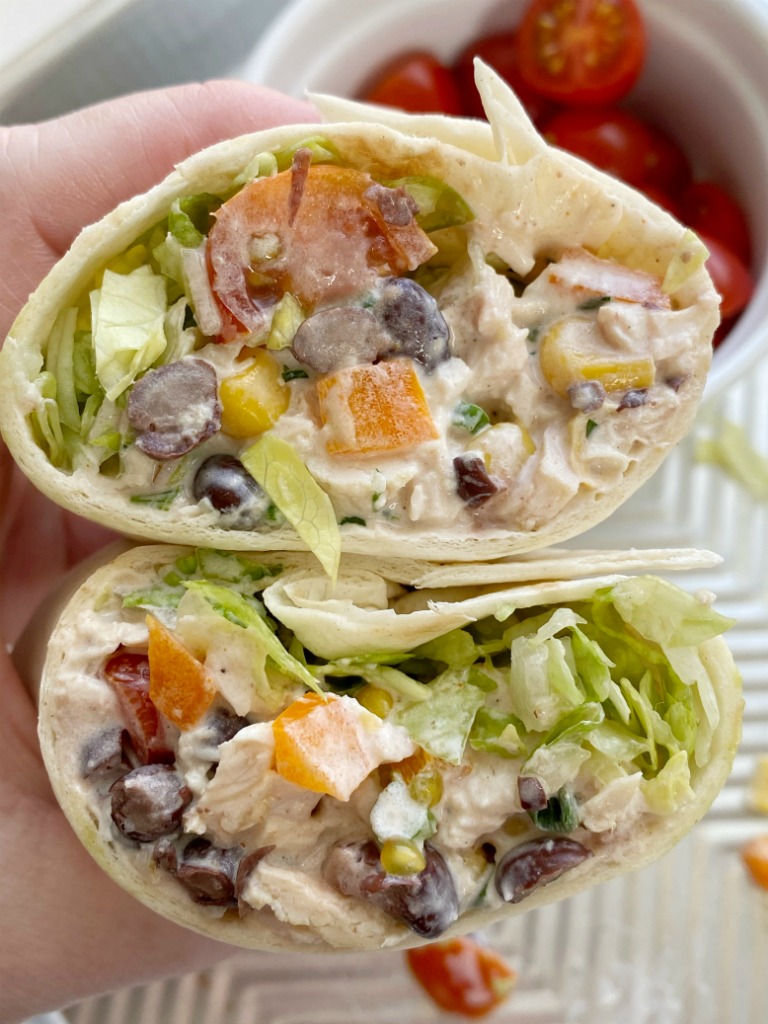 Santa Fe Chicken Salad Recipe
Chicken Salad is a great recipe to have for those busy weeknights when you need a quick, grab & go dinner, or for lunch prep through out the week. It's also the perfect easy dinner because you can make it ahead of time and then it's ready when you are. 
I love this Santa Fe twist to classic chicken salad. It has a creamy spiced dressing with cilantro and taco seasonings, chunks of chicken, bell peppers, corn, and black beans. You can eat it as is or try putting it inside a croissant or wrap it up in a flour tortilla with some shredded lettuce, chopped tomatoes, and avocado slices. Our favorite way are the flour tortillas!
Another way my family loves to eat chicken salad is as a hot oven baked sandwich like these Hot Chicken Salad French Bread Sandwiches. It's like an open faced hot chicken salad. So good!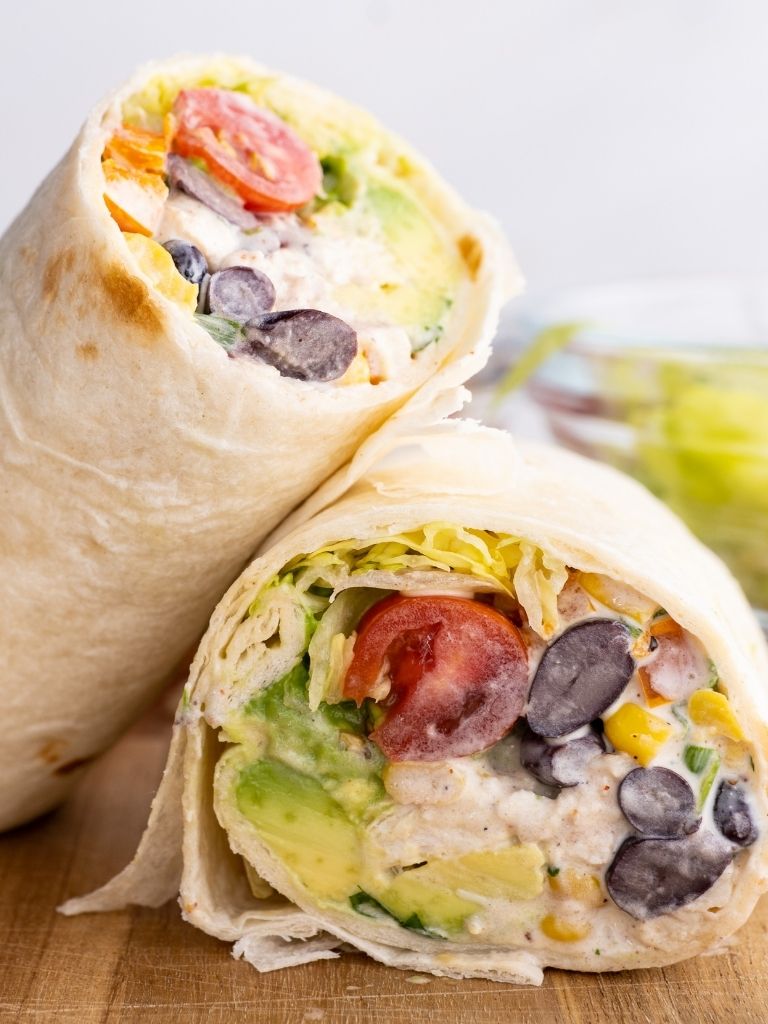 Ingredients You'll Need
The ingredient list may look long for these chicken salad wraps but it comes together really quickly with convenient ingredients like canned items, dried seasonings, and already cooked chicken. 
Santa Fe Creamy Dressing

Sour Cream – I prefer the taste of the full-fat sour cream but lite sour cream can be used as well. 
Mayonnaise – Again, I prefer the name brand (Best Foods) full-fat, regular mayo in this recipe. 
Green Onions
Chopped Cilantro
Fresh Lime Juice – Use fresh squeezed and not bottled lime juice!
Salt & Pepper
Dried Seasonings – You'll need chili powder, garlic powder, and cumin for this recipe.

Chicken Salad

Cooked Chicken – You can use chunks of chicken or shredded chicken. I prefer chunks of chicken in chicken salad recipes.
Black Beans – Drain these well so there is no extra liquid in the chicken salad.
Fire Roasted Corn – This is canned corn and it's the best one to use in this recipe. If you can't find it then go ahead and substitute with canned yellow corn. 
Orange Bell Pepper

Wraps

Large Burrito-Style Flour Tortillas 
Shredded Iceberg Lettuce – You can find a pack of shredded lettuce near the bagged lettuce mixes at the grocery store. 
Sliced Avocado
Halved Cherry Tomatoes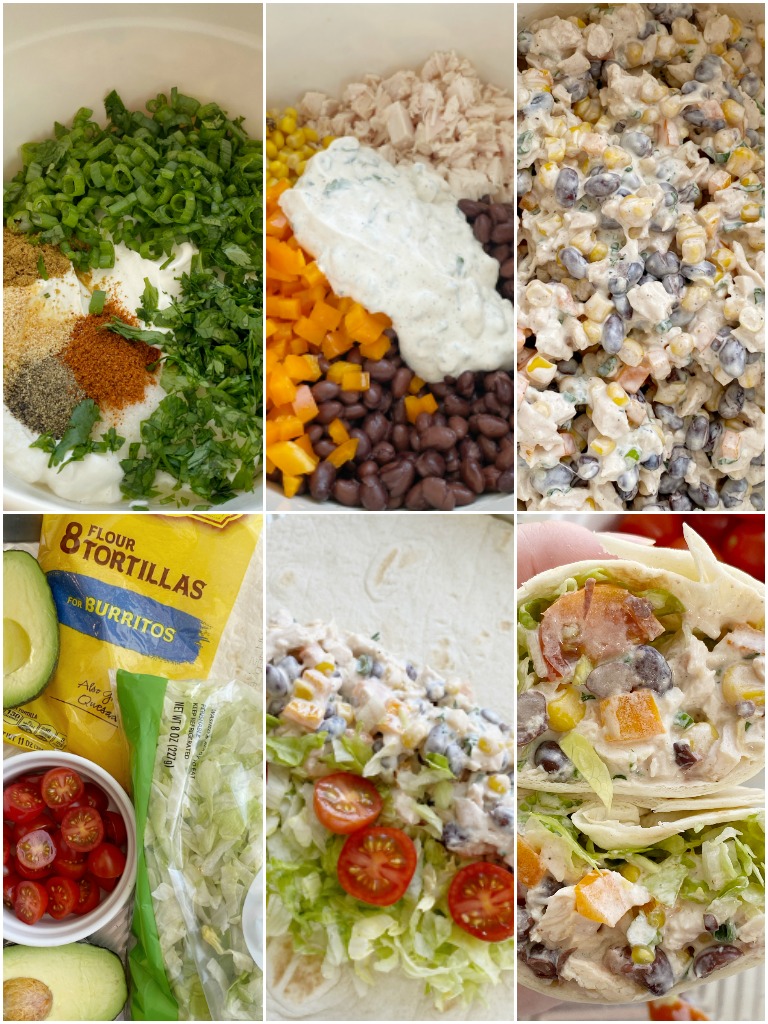 How To Make Santa Fe Chicken Salad
With only a few easy steps this is a simple recipe to make. Bonus is that it can easily be prepared ahead of time so it's ready after a long day!
Creamy Dressing : Combine all the Santa Fe dressing ingredients into a mixing bowl and stir together well with a wire whisk. 
Chicken Salad : To the same bowl add the chicken, black beans, corn, and chopped orange bell pepper. Stir together until everything is coated in the creamy sauce. 
Wraps : At this point you can refrigerate the chicken salad mix until ready to serve (I prefer it cold) or you can serve right away. Lay out one flour tortilla and put 1/2 cup of chicken salad in the lower half of the tortilla. Add some shredded lettuce, halved cherry tomatoes, and avocado slices. Roll in the sides and then roll up like a burrito. Cut in half and serve.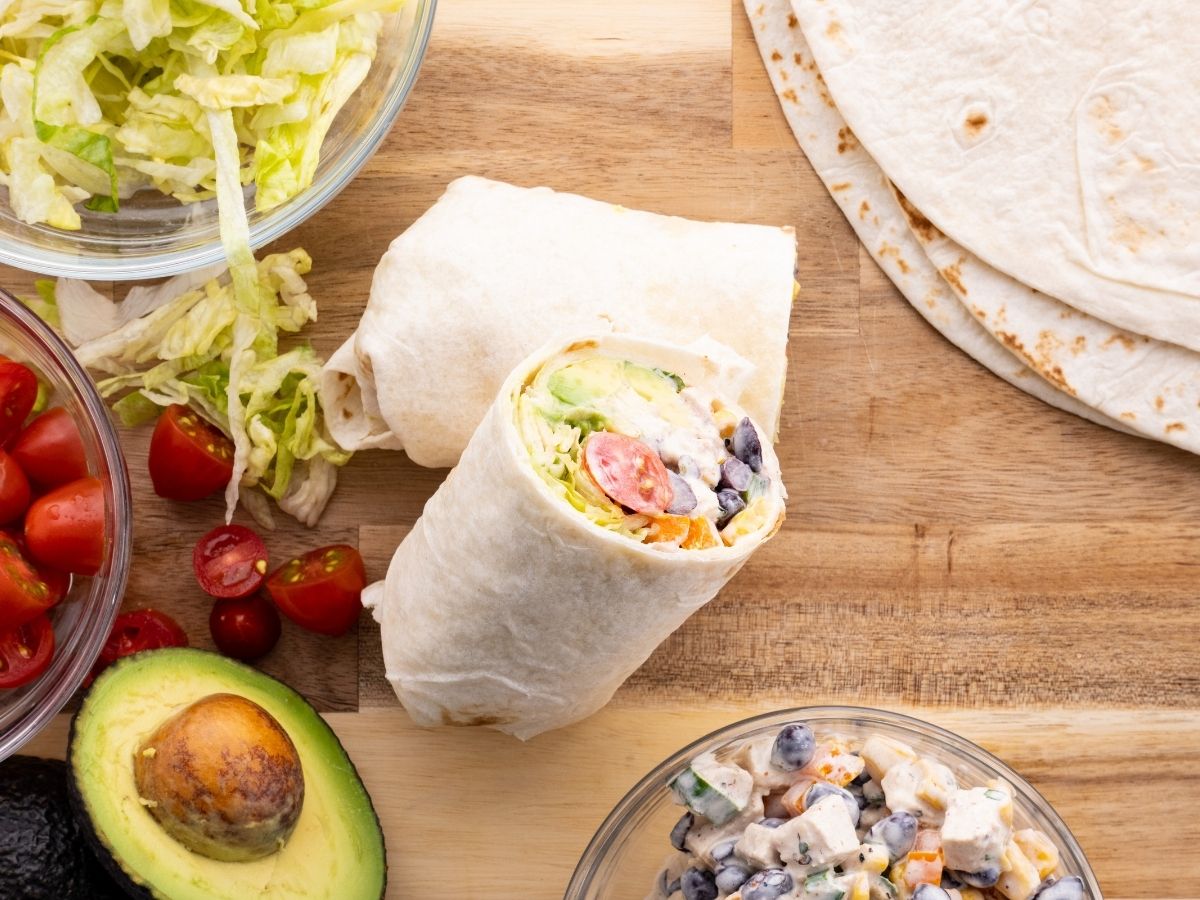 Tips For Success
Make It Easy! – Use a rotisserie chicken to make preparing this recipe a breeze! You can also throw some frozen or fresh chicken breasts into the crockpot with a can of chicken broth and cook on LOW heat for 5-6 hours. Shred it up with two forks and use that. I prefer to use the rotisserie chicken because it's so simple and it's already perfectly seasoned. 
Want It Spicy? – Add some chopped jalapeño peppers, add more chili powder, add some cayenne red pepper. 
Lighter Chicken Salad – You can feel free to experiment with using plain Greek yogurt in place of the mayonnaise if wanted. The flavor will be affected just because Greek yogurt has a strong flavor to it. You can also use lite or reduced-fat sour cream as well. 
Corn – Please use the fire roasted corn. It will be by the other canned corn items and it really is so good in this recipe. Adds a nice flavor to the chicken salad. 
Variation & Substitution Ideas For Chicken Salad
There are several ways that you can change up this recipe. No need to make it the same way twice if you don't want to! Here are some things you can try to switch it up. 
Bell Pepper – Use a yellow or red bell pepper instead of the orange pepper. 
Beans – You can use any bean you love or leave the beans out entirely. Pinto beans or light red kidney beans are good options. 
Green Chilies – Add a can of diced green chilies into the chicken salad mixture. If you want it extra spicy then try adding a can of chopped jalapeños (make sure to drain it if needed). 
Make It Meatless – Substitute the chicken with an additional can or two of beans for a meatless "chicken" salad recipe. 
Wraps – We love the tortillas, lettuce, tomatoes, and avocado slices but feel free to use whatever you prefer inside the wraps. You can use romaine lettuce, add some cilantro, guacamole, pico de gallo, chopped black olives, etc. 
Protein : If you have some leftover pulled pork, I think that would be a fabulous substitute for the chicken in this recipe.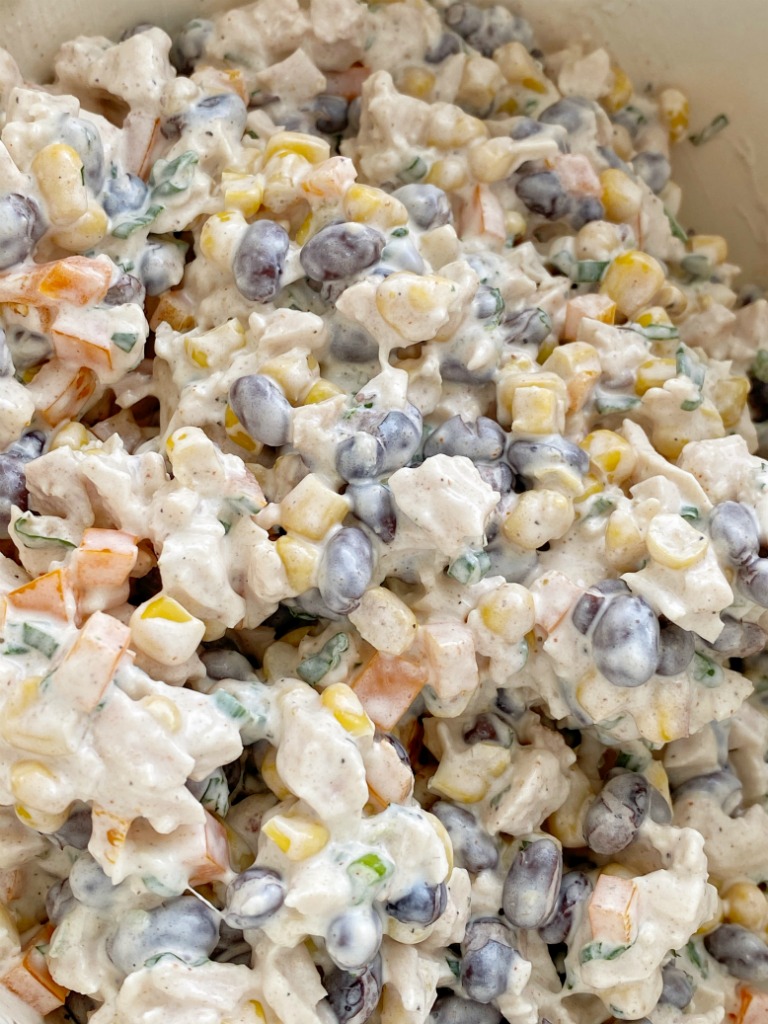 Serving Suggestions For Santa Fe Chicken Salad
There are so many ways to serve this chicken salad.
We love it served inside flour tortillas with shredded lettuce, tomatoes, and sliced avocados.
You can also serve this inside croissants or rolls with some green leaf lettuce and sliced tomatoes. 
Serve over a bed of lettuce for a Santa Fe style salad. 
Scoop up with some crackers or tortilla chips. 
Use the chicken salad filling inside smaller flour tortillas for soft tacos topped with all your favorite taco toppings. 
You can also serve the chicken salad filling over some nachos with whatever toppings you want.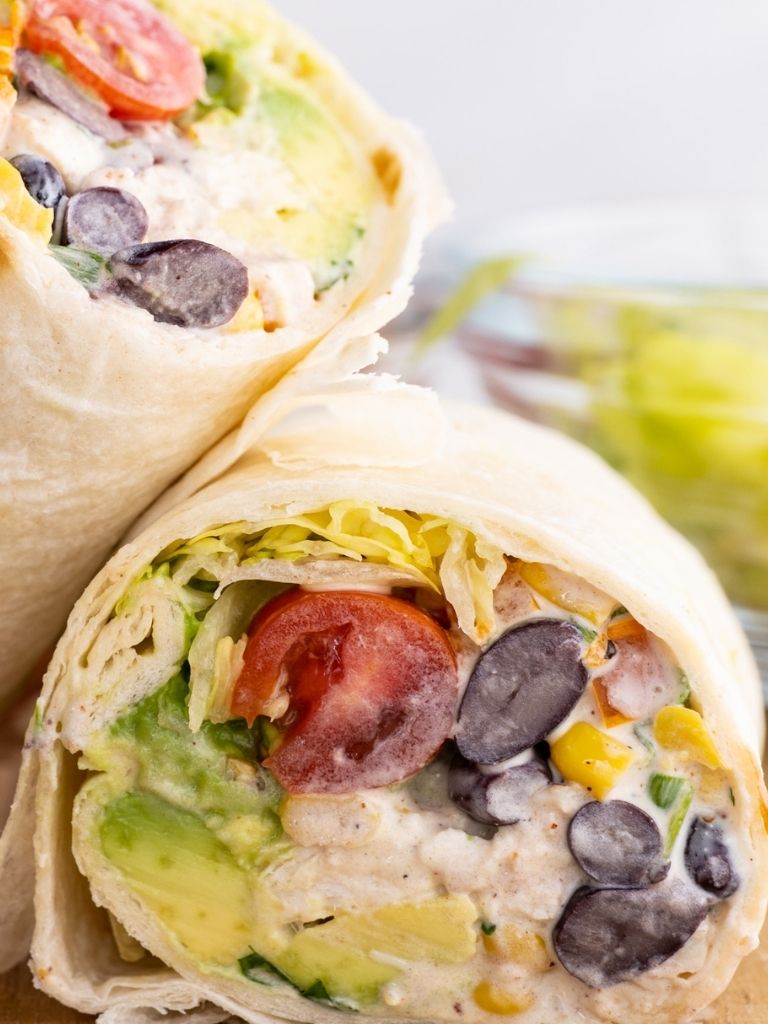 More Easy Chicken Recipes You'll Love
Instant Pot Santa Fe Chicken Burrito Bowls : Everything cooks in the Instant Pot in this easy recipe. Serve over rice and top with all your favorite taco toppings. 
Quick & Easy Chicken Flautas : One of my family's favorite dinners! Ready for the oven in just about 10 minutes. 
Chicken Mexican Haystacks : Made in the slow cooker! A twist to classic haystacks with a creamy sauce, chicken, and served over Fritos and rice. 
Fiesta Chicken Casserole : An easy Mexican inspired pasta casserole that's great with leftover chicken or a rotisserie chicken.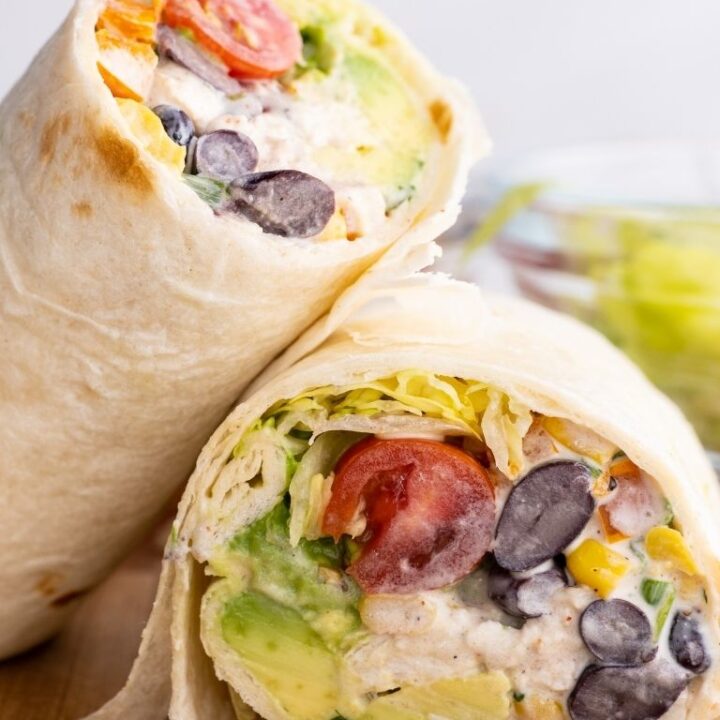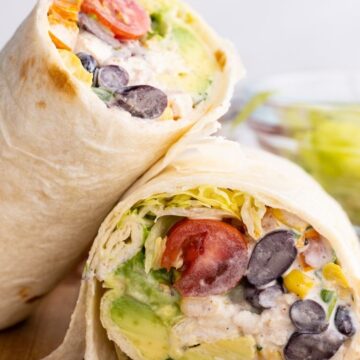 Santa Fe Chicken Salad
Santa Fe Chicken Salad Wraps have a creamy santa fe chicken salad wrapped inside a tortilla with shredded lettuce, tomato, and avocado slices. Perfect for lunch or a grab & go dinner for busy weeknights.
Ingredients
Santa Fe Dressing
1/2 cup sour cream
1/2 cup mayonnaise
1/4 cup thinly sliced green onions
1/4 cup chopped cilantro
2 tablespoons fresh lime juice
½ teaspoon kosher salt
¼ teaspoon black pepper
¼ teaspoon chili powder
¼ teaspoon garlic powder
¼ teaspoon cumin
Chicken Salad
3 cups chopped OR shredded chicken (I use a rotisserie chicken)
1 can (15 oz) black beans drained & rinsed
1 can (15 oz) fire roasted corn drained
1 orange bell pepper finely chopped
Wraps
8-10 large burrito style flour tortillas
halved cherry tomatoes
shredded lettuce
sliced avocado
Instructions
In a large mixing bowl, combine all the creamy dressing ingredients and mix together well.

Add the chicken, black beans, corn, bell pepper, and stir together well until everything is combined and covered in dressing.

Lay a flour tortilla on a plate and place about 1/2 cup of the chicken salad onto the bottom half of the tortilla. Add shredded lettuce, halved tomatoes, and avocado slices. Fold up the sides and then roll up like a burrito. Cut in half and serve.

* Chicken salad can be eaten right away or refrigerated for several hours before serving. Leftover chicken salad can be refrigerated, in a covered container, for 3-4 days. ** I prefer to refrigerate the chicken salad (for 2-3 hours) before serving.*** If serving at a later time, simply store the chicken salad in an air-tight container in the fridge, and store the wrap ingredients separately. When ready to serve, assemble the wraps.
Notes
Corn : After years of testing and making this recipe, the fire roasted canned corn gives the chicken salad the best flavor. But yes, you can use another canned corn variety. Serving Suggestions : This chicken salad can also be eaten with a spoon, over lettuce for a salad, inside a Croissant, or use crackers to scoop it up.  Lime : It's best to use fresh squeezed lime juice. You will need 1 lime for this recipe. 
Nutrition
Calories: 302kcal | Carbohydrates: 32g | Protein: 10g | Fat: 16g | Saturated Fat: 4g | Cholesterol: 23mg | Sodium: 417mg | Potassium: 303mg | Fiber: 4g | Sugar: 4g | Vitamin A: 649IU | Vitamin C: 19mg | Calcium: 56mg | Iron: 2mg