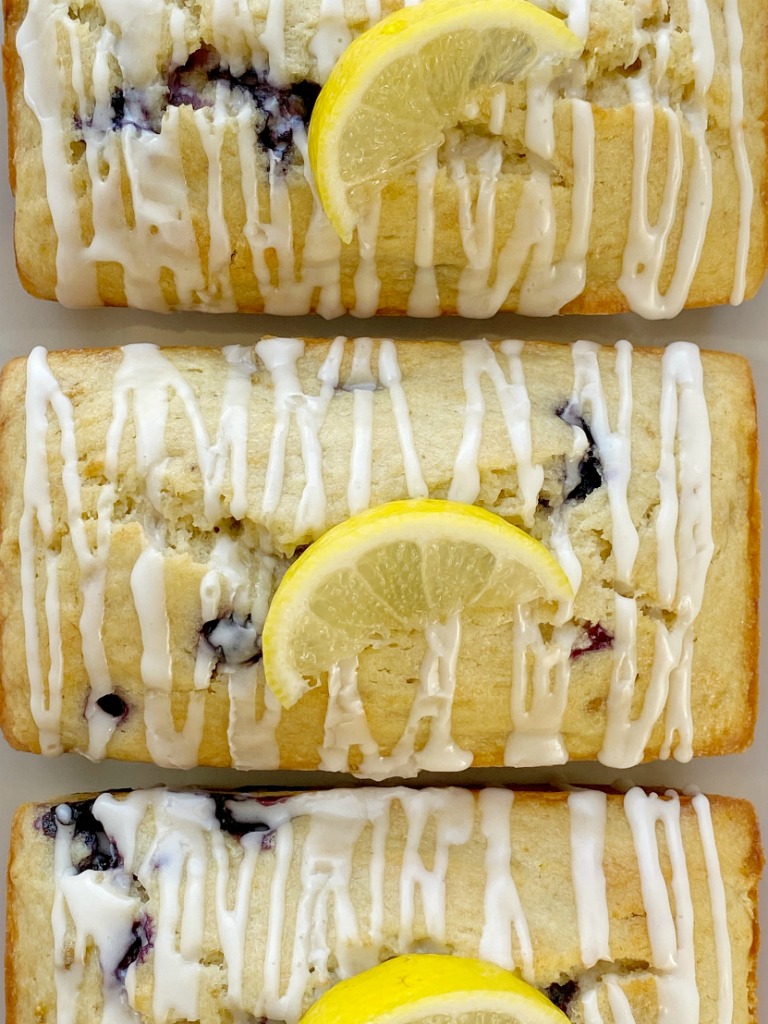 LEMON BLUEBERRY BANANA BREAD
This lemon blueberry banana bread is a great way to use up those ripe bananas that always seem to be on the counter! At least in my house anyways. We also love to make these cinnamon banana bread muffins and this peanut butter chocolate chip banana bread too. 
Loaded with fresh blueberries, fresh lemon zest & juice, and mashed bananas this bread has it all and it's so moist and delicious. Top it off with a sweet lemon glaze for the best quick bread recipe using those browned bananas.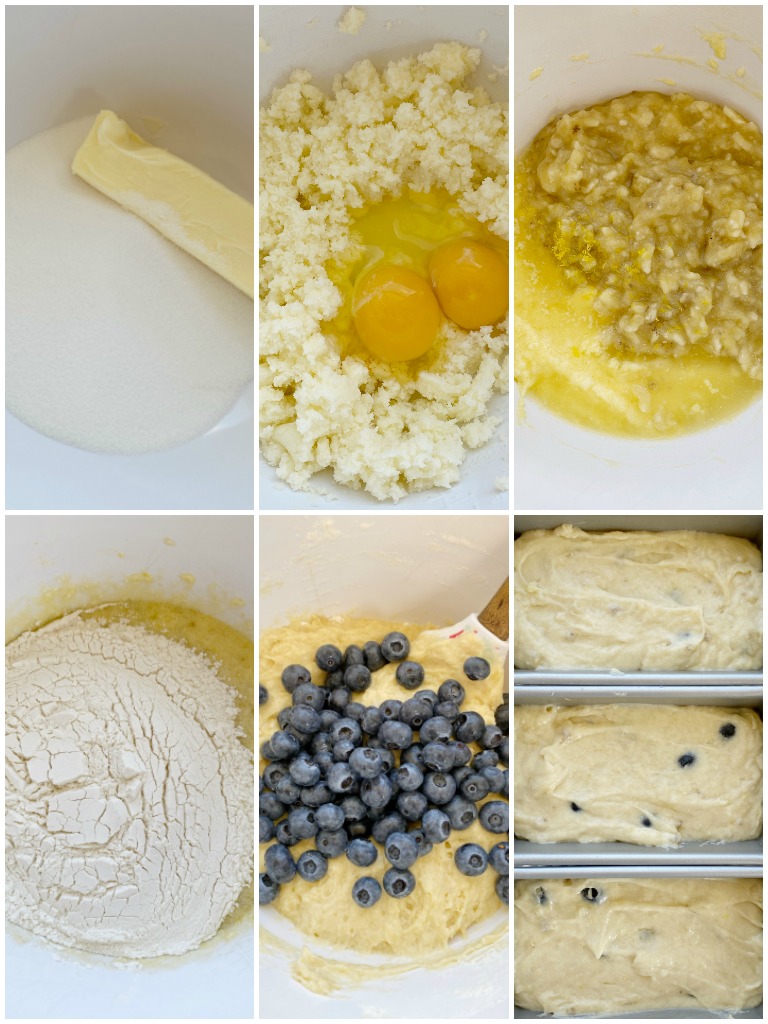 HOW TO MAKE LEMON BLUEBERRY BANANA BREAD
Butter
Granulated Sugar
Large Eggs
Mashed Banana – You need about 4 to 5 browned bananas for this recipe. 
Lemon Zest & Lemon Juice – Fresh is best! Be sure and only zest the very outside layer of the lemon peel. Anything below that first layer is very bitter. 
All-Purpose Flour, Baking Powder, Salt
Fresh Blueberries – Don't try and use frozen. It will add more moisture to the bread. 
Powdered Sugar, Heavy Cream, Fresh Lemon Juice – This is the simple lemon glaze recipe.
MY TIPS FOR THIS RECIPE
– Use fresh blueberries! Frozen blueberries will add additional moisture which will change the bread texture. 
– If wanted, use fresh blackberries or fresh raspberries in place of the blueberries. 
– If you use anything less fat than heavy cream in the glaze then you will need much less of it. Start with 1 tablespoon and add from there. If you use heavy cream, which is what the recipe calls for, you will need the full 3 tablespoons. As with any glaze recipe, add more or less milk and/or powdered sugar to get the right consistency you prefer.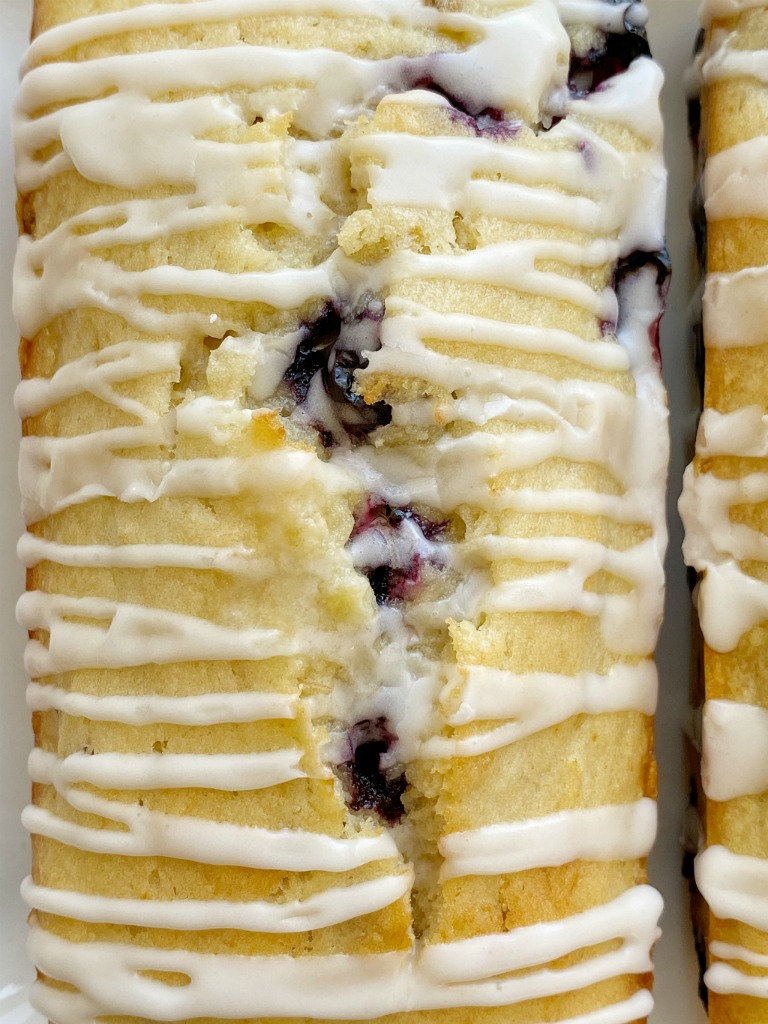 TRY THESE OTHER RECIPES THAT USE BROWNED BANANAS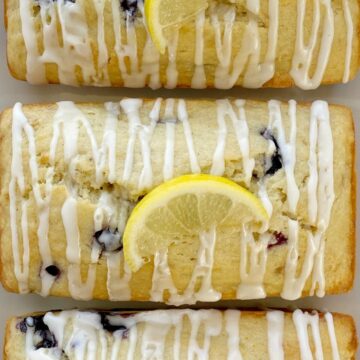 Lemon Blueberry Banana Bread
Lemon Blueberry Banana Bread is the best way to use up those browned bananas. Moist & sweet bread full of fresh blueberries, fresh lemon zest and lemon juice, and bananas.
Ingredients
Lemon Blueberry Banana Bread
1/2 cup (1 stick) salted butter softened
1 cup granulated sugar
2 large eggs
1½ cups mashed bananas about 4-5 bananas
zest of 1 lemon
2 tablespoons fresh lemon juice about 1 lemon
2 cups all-purpose flour
1 teaspoon baking powder
¼ teaspoon salt
1½ cups fresh blueberries washed and dried
Lemon Glaze
1 cup powdered sugar
2-3 tablespoons heavy cream
1 tablespoon fresh lemon juice
Instructions
Heat oven to 350°. Prepare four mini loaf pans (5.75" x 3") by spraying with cooking spray. Set aside.

In the bowl of a stand mixer, or use a mixing bowl with a handheld mixer, beat together the butter and granulated sugar until fluffy and combined. * This takes about 1-2 minutes. At first it won't come together and will look like it's in pieces, but keep beating it and it will come together and look creamy and combined.

Add in the eggs and beat just until combined.

Add mashed bananas, lemon zest, and lemon juice. Beat until combined and use a spatula to scrape down the sides.

In a separate bowl, add the all-purpose flour, baking powder, and salt. Stir with a whisk (this acts like a sifter to break up large clumps). Add flour mixture into the mashed banana mixture and gently stir with a spatula just until combined.

Gently stir in the fresh blueberries using a spatula.

Fill each loaf pan about 3/4 of the way full and even out the top. I use the back of a spoon to do this.

Bake for 30-38 minutes. If needed, lay a piece of tin foil over the top to prevent over browning for the last 10 minutes of cook time. A toothpick inserted into the middle should come out clean with no wet batter. Loafs will be raised and there will be small cracks on the top of the bread. Let the bread cool in the pans for about 30 minutes.

Remove the bread from the loaf pans to glaze. Alternately, you can leave the bread in the loaf pans and let it cool completely before glazing. Or glaze the bread warm. There really is no wrong way!

TO MAKE THE GLAZE : Stir together the powdered sugar, milk, and fresh lemon juice with a whisk. Add more or less milk/powdered sugar to reach desired consistency. You can either use a fork to drizzle the glaze on OR put the glaze into a Ziploc bag and cut the corner off and then glaze the bread for straighter lines, like what is pictured.
Notes
If you use unsalted butter then increase the salt to 1/2 teaspoon or more depending on preference.  I have never made this recipe with frozen blueberries and I do not recommend it. Use fresh blueberries for best results.  You can make this recipe in a 9x5 loaf pan but it will need to cook closer to 55-65 minutes. Lay a piece of tin foil over the top for the last 20 minutes or so of the cook time to prevent over browning. I prefer to make bread recipes that have berries in them in mini loaf pans so the berries don't sink to the bottom.  I had a really large lemon so I was able to get all the lemon juice from 1 lemon. If yours is smaller then you may need 2 of them.  Be sure to only zest the outer layer of the lemon to avoid the bitter lemon peel. Only zest an area once, don't go back over it, as that will be the bitter part.
Nutrition
Calories: 228kcal | Carbohydrates: 39g | Protein: 3g | Fat: 7g | Saturated Fat: 4g | Cholesterol: 41mg | Sodium: 98mg | Potassium: 137mg | Fiber: 1g | Sugar: 24g | Vitamin A: 260IU | Vitamin C: 4mg | Calcium: 21mg | Iron: 1mg