Mozzarella Bacon Broccoli Salad with fresh crisp broccoli, red onion, mozzarella cheese chunks, peas, and bacon. It's covered in an easy sweet mayonnaise based dressing. Bacon broccoli salad is a great side dish recipe with only a few ingredients needed.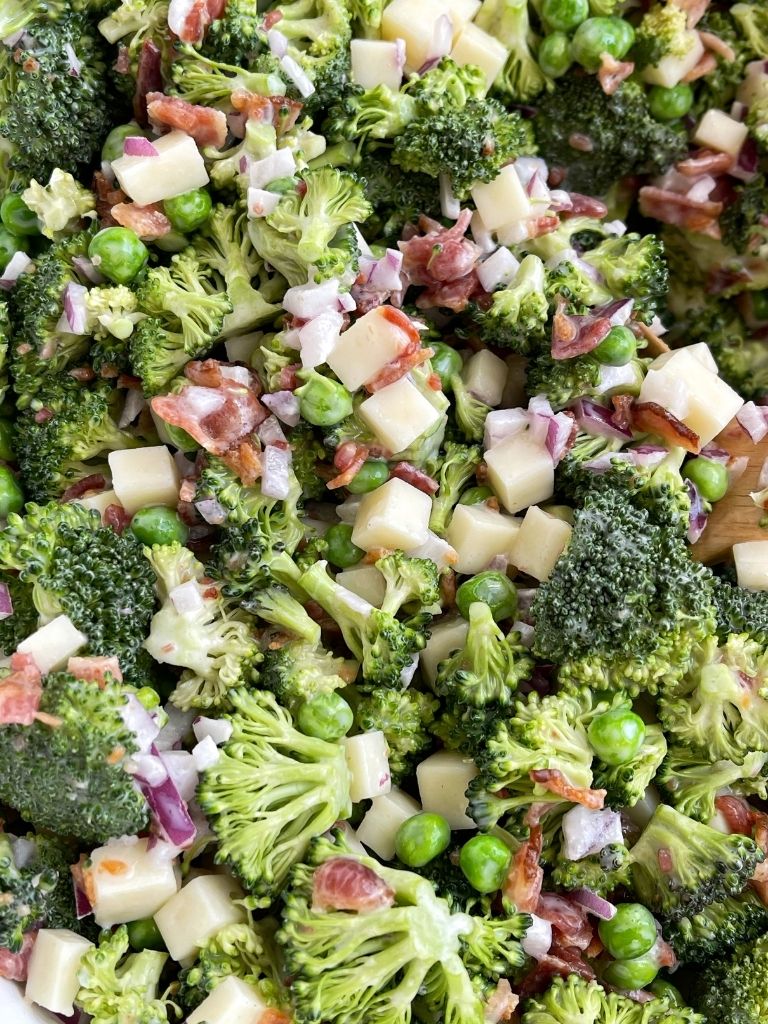 BACON MOZZARELLA SALAD RECIPE
Bacon broccoli salad with mozzarella cheese is full of fresh broccoli, cheese, red onion, peas, and bacon. It's the perfect side dish recipe for gatherings or summer bbq's. 
A broccoli salad with a sweet creamy dressing has always been one of my favorite summer salad recipes. So many textures with the crisp broccoli, salty bacon, and the cheese chunks which pair perfectly with the sweet and creamy dressing. 
INGREDIENTS NEEDED TO MAKE BROCCOLI SALAD WITH BACON AND CHEESE
Chopped Broccoli – I buy a bag of chopped broccoli that has already been trimmed and cut. You can also use broccoli florets that you have trimmed and chopped yourself. 
Mozzarella Cheese
Red Onion – Use as much or as little of the onion as you want. It adds a nice flavor to the salad so don't skip it. I use about half of a large red onion in this recipe. 
Frozen Peas – Make sure the peas are thawed. 
Bacon – You can cook bacon in the oven or the stove top, use bacon bits, or use the microwave bacon in this recipe. 
Mayonnaise – The real, full-fat mayonnaise tastes best in this recipe but you can use the light mayo if that's what you prefer. 
Granulated Sugar
Apple Cider Vinegar
Salt
MY TIPS & HELPFUL HINTS FOR THIS BACON BROCCOLI SALAD
Can I use less sugar in this broccoli salad?

Yes you can. I know there will be some that will not want to use the full amount of sugar called for. Use less (like 1/4 cup or 1/3 cup) if wanted. 
I love the sweet creamy dressing paired with the broccoli, bacon, and cheese. The flavors all blend together so well. 

What to do with leftovers of bacon broccoli salad

The leftovers keep really well in the fridge for several days. I actually think this salad tastes better and better the longer it's in the fridge. The broccoli stays fresh and crisp, and the flavors get better and more developed as it sits. 
Give the leftover salad a good stir to combine it all together before serving. 

Does this have to be refrigerated before serving?

Yes it does. If you want the best flavor then be sure that you refrigerate it for at least 4-6 hours before serving. It can even be refrigerated overnight so you can make it the day before. 
I will be honest and say that the broccoli salad does not taste amazing right after you have made it. But once you let it sit in the fridge it does something magical to the salad and it's so delicious. 
TRY THESE OTHER RECIPES THAT USE BROCCOLI
Ranch Pasta Salad – Spiral noodles, fresh broccoli, tomatoes, and cucumbers in a parmesan and ranch dressing. 
Bacon & Mandarin Broccoli Salad – This broccoli salad has juicy mandarin oranges and bacon in a homemade mayo creamy dressing. 
Broccoli Cheese Soup – Fresh broccoli cheese soup with Velveeta cheese in it!
One Pot Cheesy Chicken Broccoli & Rice – One pot dinner recipe with rice, cheese, chicken, and broccoli. 
One Pot Broccoli Fettuccine Alfredo – Simple one pot dinner recipe with fettuccine noodles and broccoli in an easy homemade Alfredo sauce. Even the pasta cooks in the same pot!
Mozzarella Bacon Broccoli Salad
Ingredients
Bacon Broccoli
2 lbs fresh broccoli trimmed and chopped
1 bar (8 oz) mozzarella cheese chopped small
1 red onion finely diced
1½ cups thawed frozen peas
1 cup cooked and crumbled bacon
Dressing
1 cup mayonnaise
1/2 cup granulated sugar use less if wanted
1 tablespoon apple cider vinegar
½ teaspoon salt
Instructions
Combine the chopped broccoli, cheese chunks, red onion, peas, and bacon into a large mixing bowl.

In a smaller bowl, combine all the dressing ingredients and stir to combine. Pour over the broccoli salad and mix together until it's well combined.

Cover the bowl and refrigerate for at least 4-6 hours before serving, or it can also be refrigerated overnight before serving. Store leftovers covered in the fridge. I love this salad as leftovers. The broccoli stays crisp and the flavors get better and better.
Notes
Broccoli : I use a bag (32 oz) of fresh broccoli that has already been chopped and trimmed. You will find this in the produce section by the bagged salad mixes. I don't like hardly any stem on my broccoli chunks so I will trim it off. I also prefer small chunks of broccoli so I will chop the broccoli into smaller pieces. You could also just buy some broccoli florets and trim the stems off and chop the broccoli.  Red Onion : Use as much or as little as you prefer. I use half of a red onion when I make this.  Bacon : You need about 10-12 slices of bacon to get 1 cup of chopped bacon. You could also use bacon bits or the microwave bacon. I use the microwave bacon from Costco because it cooks up so well and it's crispy.   
Nutrition
Calories: 365kcal | Carbohydrates: 21g | Protein: 13g | Fat: 26g | Saturated Fat: 7g | Trans Fat: 1g | Cholesterol: 38mg | Sodium: 626mg | Potassium: 436mg | Fiber: 4g | Sugar: 14g | Vitamin A: 904IU | Vitamin C: 90mg | Calcium: 169mg | Iron: 1mg