Easy Strawberry Cake starts with a white cake mix, strawberry jello, and fresh strawberry puree. This strawberry cake is topped with a creamy and fluffy fresh strawberry frosting and makes for the best quick and easy dessert recipe. 
EASY STRAWBERRY CAKE
I just love quick and simple dessert recipes like this easy strawberry cake recipe. I am not opposed to using a cake mix in any dessert recipe. In fact, I love those recipes that call for a cake mix because with a few added ingredients it will taste homemade and no one would ever be able to tell the difference, and there is little to no room for error when using a cake mix. Which makes this recipe easy and simple enough for anyone to make. 
It's a strawberry cake made with a white cake mix, strawberry jello, and some fresh pureed strawberries. The fresh strawberries combined with the strawberry jello adds so much flavor to this cake. It's then topped with the creamiest and fluffiest strawberry frosting ever.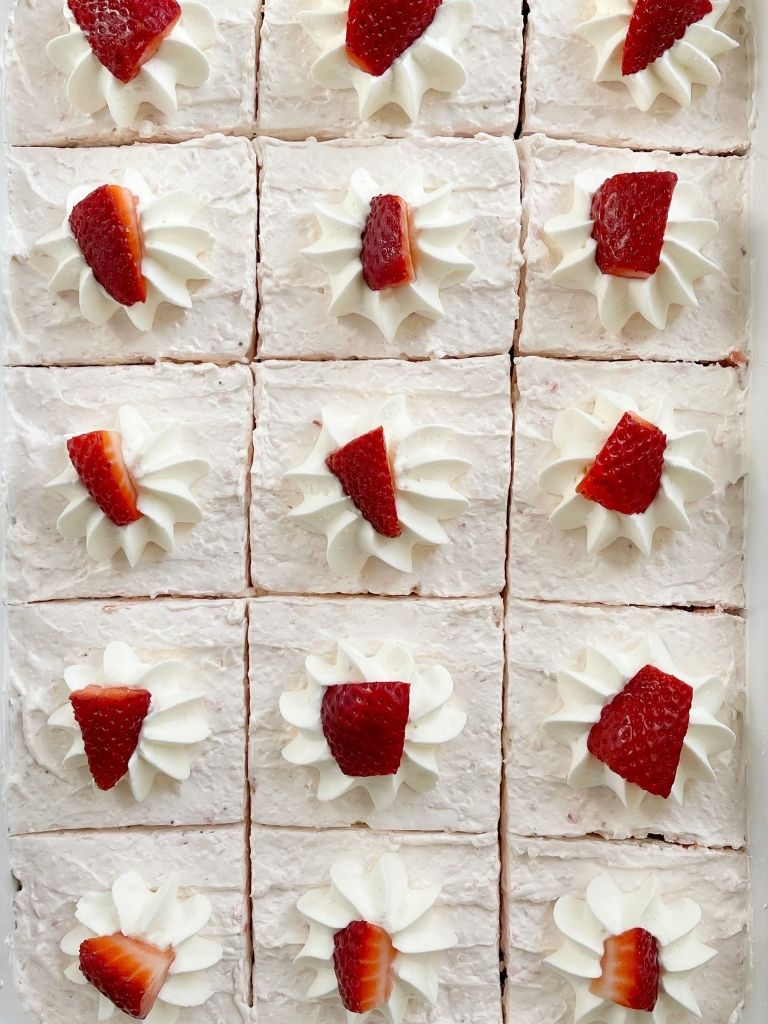 If you want more delicious strawberry dessert recipes then be sure and try my strawberry lemonade cake, this strawberry cream pie, and my personal favorite dessert topped with vanilla ice cream this strawberry raspberry crumble. 
HOW TO MAKE EASY STRAWBERRY CAKE WITH A CAKE MIX AND STRAWBERRY JELLO
White Cake Mix
Large Eggs
Canola or Vegetable Oil
Strawberry Jello
Pureed Strawberries
Cream Cheese
Cool Whip
Powdered Sugar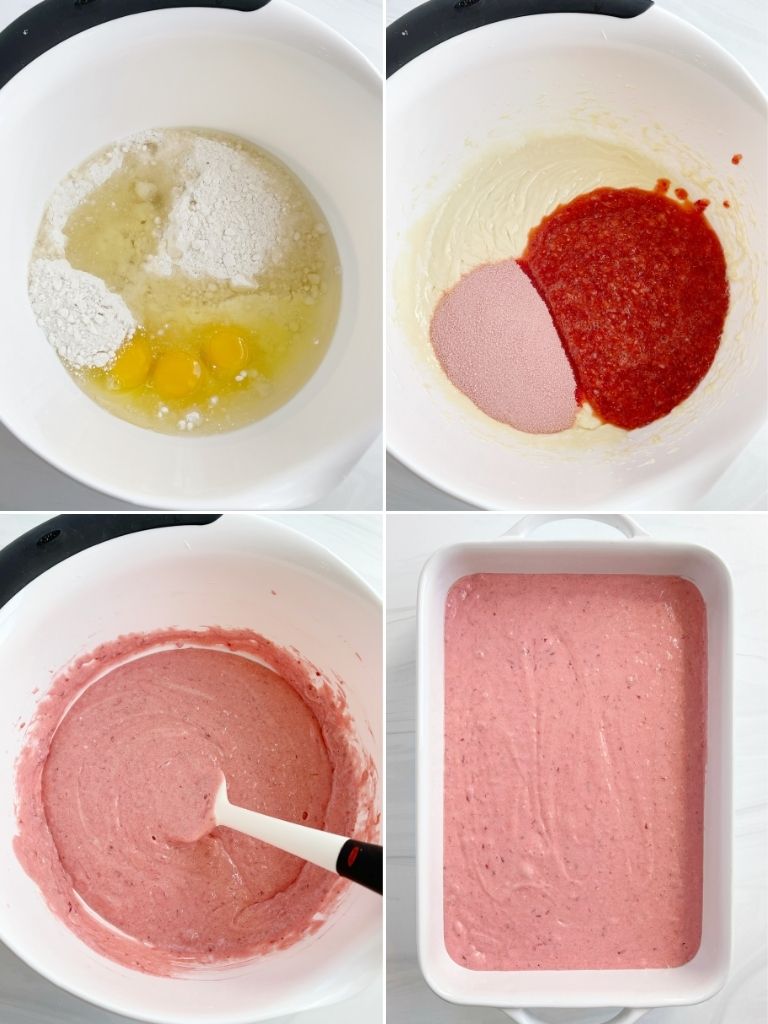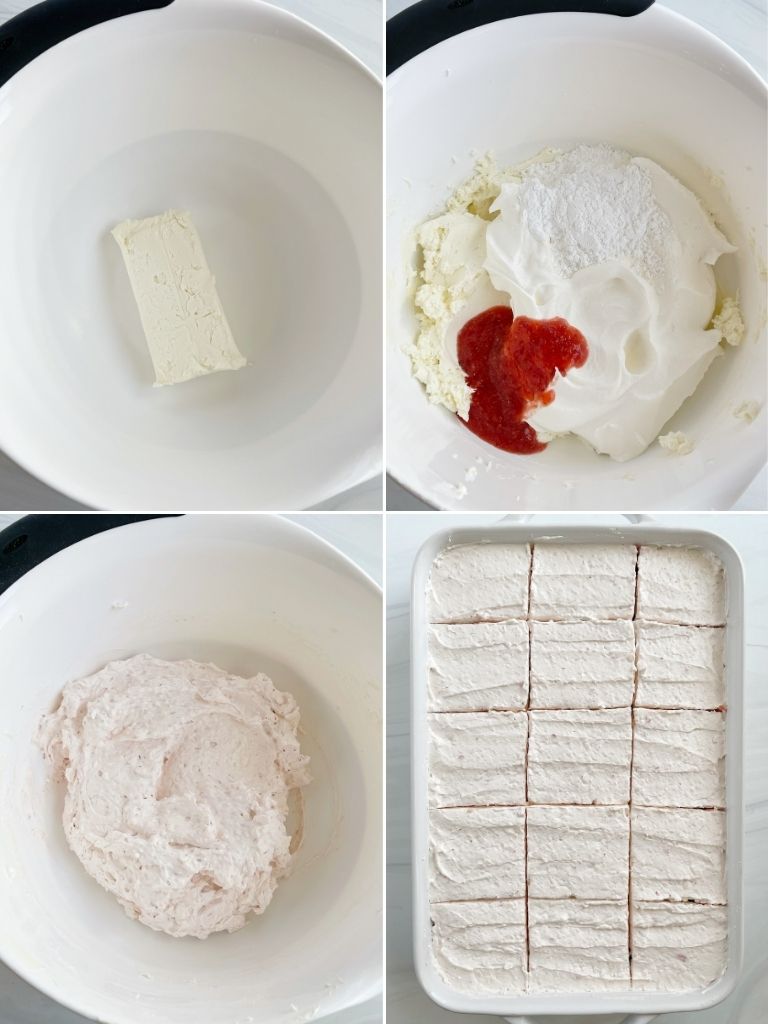 This cake is so simple to make. Simply combine all the cake ingredients into a large mixing bowl and using a handheld mixer, or use the bowl of stand mixer, and blend it all together until it's combined well. You want to remember that we are not going to prepare the Jello before using it in the cake. Just add the dry contents from the Jello box. 
The frosting is just as simple to make. You want to beat the cream cheese first to avoid the frosting having lumps in it. Beat the cream cheese until it's smooth and creamy. Then add the remaining ingredients and blend together well. Spread this over the cake and that's it. 
I only garnished this cake for the pretty pictures. I always just serve this cake as is when I make it at home. The frosting is so creamy that you really don't need any added toppings. I serve each slice of cake with some chopped strawberries. 
MY TIPS & HELPFUL HINTS
Can I make this strawberry cake the day before?

Yes you can! I actually prefer to make it the day before and let it refrigerate overnight. You can refrigerate it frosted or unfrosted. 
I like this cake cold so I prefer it to be refrigerated before serving but it can also be served after it has cooled and been frosted as well.

Can I substitute the Cool Whip?

You sure can. If you don't want to use Cool Whip you can make your own homemade whipped topping. Beat together 1 cup heavy whipping cream + 1/4 cup powdered sugar in a mixing bowl until it's thick and stiff peaks form. Use this in place of the Cool Whip in the frosting. 

How do I store leftovers?

Store leftovers in the fridge. Make sure the baking dish is covered well either with a lid or with Saran Wrap or tin foil. Leftovers actually get better and better as it sits in the fridge. The cake will last for about 5 days in the fridge. 

How do I serve this easy strawberry cake?

I top each slice with some chopped strawberries. 
You can also top each piece with some whipped cream that is either homemade or from a spray can. The frosting is so fluffy and creamy that you really don't need any extra topping on it.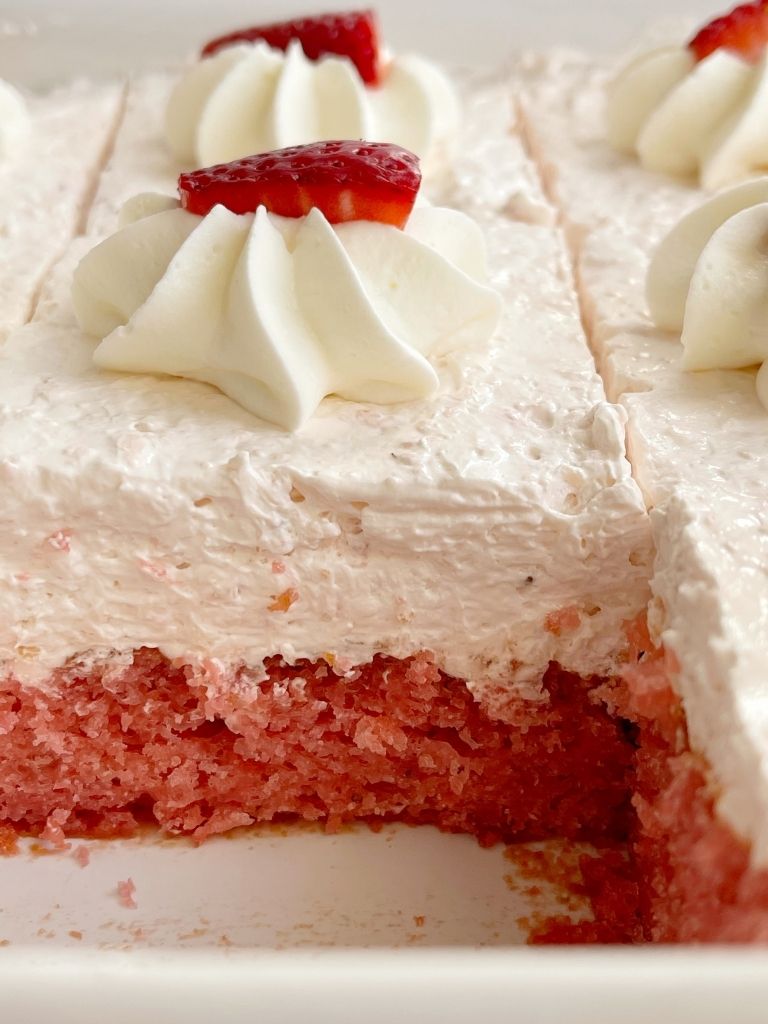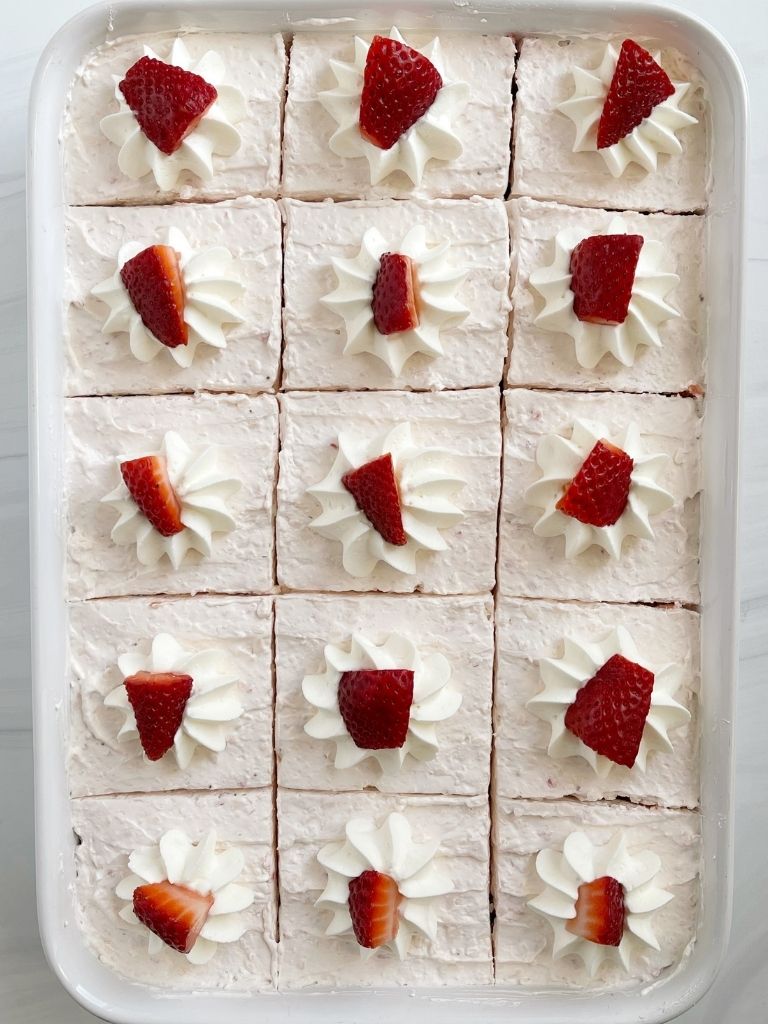 TRY THESE OTHER DESSERT RECIPES THAT START WITH A CAKE MIX
Pineapple Orange Cake – A super moist and delicious cake with a cake mix, mandarin oranges, pineapple, and a fluffy pineapple pudding frosting. This is also sometimes called pig pickin' cake. 
Funfetti Cake Batter Cookie Bars – These cookie bars are loaded with sprinkles and they start with a white cake mix + a sugar cookie mix. 
Cake Mix Monster Cookies – Monster cookies with oats, peanut butter, chocolate chips, and m&m's that begin with a cake mix. 
Easy Cake Mix Sugar Cookies – Sugar cookies that require no rolling out, no chilling time, only 5 ingredients, and they're so easy to make with a cake mix as the base. 
Peach Cobbler Dump Cake – Canned juicy peaches topped with cinnamon, pecans, butter, and a cake mix. Serve with a scoop of vanilla ice cream. 
Easy Lemon Layered Cake – Three layers of moist lemon cake that starts with a lemon cake mix, a box of lemon pudding, and fresh lemon juice and zest.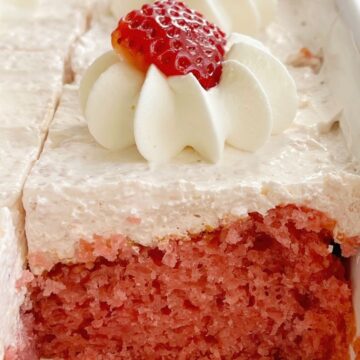 Easy Strawberry Cake
Ingredients
Strawberry Cake
1 box (15.25 oz) white cake mix
3 large eggs
3/4 cup canola or vegetable oil
1 box (3 oz) strawberry Jello
1 cup pureed strawberries *see notes
Fluffy Strawberry Frosting
1 bar (8 oz) cream cheese softened
1 carton (8 oz) Cool Whip thawed
1/2 cup powdered sugar
1/3 cup pureed strawberries
Instructions
Heat oven to 350°. Prepare a 9x13 baking dish by spraying it well with cooking spray. Set aside.

Using a mixing bowl and handheld mixer, or use stand mixer, add all the cake ingredients into the mixing bowl and blend on low speed until it's well combined. Increase speed as needed.

Pour the cake batter into the prepared pan.

Cook for 30-35 minutes or until a toothpick inserted in the middle comes out clean with no wet batter on it.

Let the cake cool completely in the baking pan. * The cake may sink slightly in the middle while cooling which normal.

Once cake is completely cooled you can frost it. FROSTING : In a mixing bowl, beat the cream cheese until it's creamy. Add the remaining ingredients and beat on low speed until everything is well combined. Frost the cake.

The cake can be served right away after frosting or you can store it in the fridge for several hours, or overnight, before serving. I prefer the cake cold so I always make the cake the day before and then let it refrigerate overnight until I need it the next day.Store leftovers, covered, in the fridge for up to 5 days.
Notes
Pureed Strawberries : There are several ways you can do this. Place the washed strawberries into a blender, food processor, or a food chopper and puree. You can also use a potato masher to mash them by hand if wanted. I use a mini food chopper and just puree the strawberries for about 30 seconds. A one pound package of strawberries will make enough puree for the cake and frosting.  To replace Cool Whip : Beat 1 cup heavy whipping cream + 1/4 cup powdered sugar until stiff peaks form. This takes about 4-5 minutes. Use all of this in place of the Cool Whip in the frosting.  Frosting : If you prefer a thinner layer of frosting then half the frosting recipe. I highly recommend making the frosting recipe as is because the creamy, fluffy frosting with the moist cake is really a delicious combo. 
Nutrition
Calories: 347kcal | Carbohydrates: 36g | Protein: 5g | Fat: 22g | Saturated Fat: 13g | Trans Fat: 1g | Cholesterol: 56mg | Sodium: 338mg | Potassium: 166mg | Fiber: 1g | Sugar: 23g | Vitamin A: 286IU | Vitamin C: 8mg | Calcium: 82mg | Iron: 2mg