These Pumpkin Muffins are a Fall must make recipe! Soft-baked, super moist, and they bake up perfectly each and every time. This recipe for pumpkin muffins is always a hit and it uses a entire can of pure pumpkin so there are no leftovers to worry about.
For more delicious pumpkin muffin recipes be sure and make my Honey Wheat Pumpkin Muffins, and these amazing Pumpkin Cream Cheese Streusel Muffins.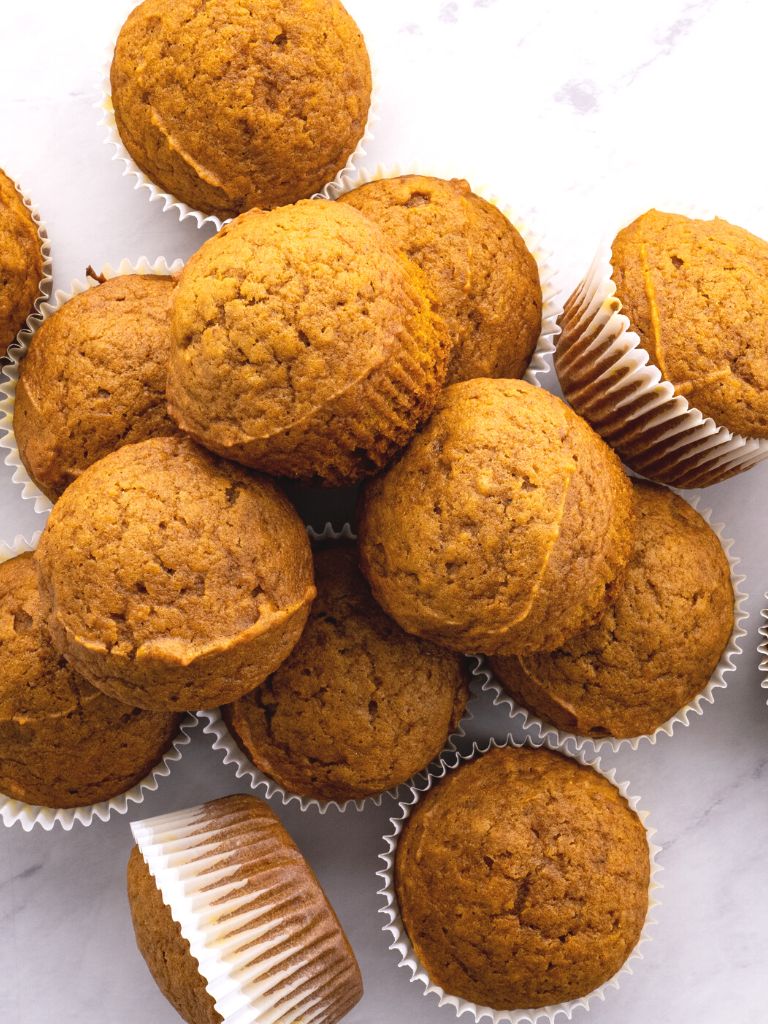 Pumpkin Muffins Recipe
With all these fancy pumpkin desserts and breads, sometimes I just crave the simplicity and deliciousness of a simple pumpkin muffin. 
I don't want to say plain because these are anything but that. Each bite is packed with warm pumpkin flavor and they are so soft! 
I'm always tempted to put a glaze on them or something like that, but once you try a bite you'll realize that they really don't need anything else. They look plain, like these applesauce muffins, but what they lack in "looks" they definitely make up for with the flavor and moistness.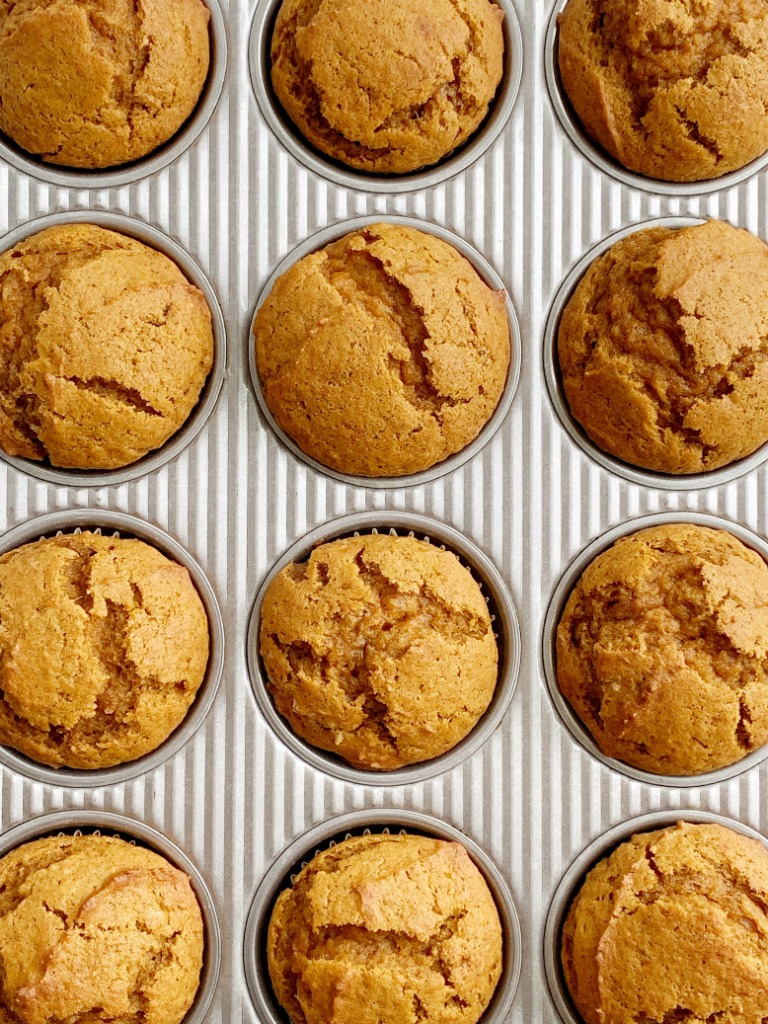 How Many Cups of Pumpkin Are in a 15 ounce Can?
Believe it or not, this is one of the most asked questions when it comes to pumpkin recipes. Why? Because they make a 15-ounce can of pumpkin and a 29-ounce can of pure pumpkin and most recipes call for the 15-ounce can, and few call for an entire large can of pumpkin. Lots of times I only buy the larger cans because it's cheaper and I know I will be making lots of pumpkin desserts so it will last me. 
If you are using a larger 29-ounce can of pumpkin, you will need to measure out 2 cups – 2 tablespoons. A 15-ounce can has almost 2 cups of pumpkin in it. It's short by 2 tablespoons. So just measure out 2 cups and then remove 2 tablespoons and use that in place of a 15-ounce can of pumpkin. 
How to Make The Best Pumpkin Muffins
Learn how to make pumpkin muffins in your own kitchen with simple baking ingredients, and the easy steps below. Be sure and read to the bottom of this post where you will find a printable recipe card, a pin it button so you can save this recipe to Pinterest, and all the detailed ingredients and instructions for making this recipe. 
Dry Ingredients : In a large bowl, combine all the dry ingredients and stir with a whisk to break up clumps. Dry ingredients include all-purpose flour, sugar, brown sugar, baking soda, salt, cinnamon, ground cloves, and nutmeg. 
Wet Ingredients : In a separate smaller bowl combine all the wet ingredients. Large eggs, can of pure pumpkin, oil, and vanilla extract. Use the same whisk and stir it together until it's combined. 
Pumpkin Muffin Batter : Add the wet ingredients into the bowl of dry ingredients and stir together with a spatula or wooden spoon just until it's mixed. 
Muffin Pan : Line a 12-cup muffin pan with liners and fill each one almost all the way full with pumpkin muffin batter. You want the batter to be slightly lower than the top of the muffin liner. This recipe is super forgiving so don't worry if you fill them to the top (which I did this time), they will just need a few additional minutes in the oven. But try to almost fill them to the top, but not quite.
Bake : Cook for 20-22 minutes. Let cool in the muffin pan for a few minutes before removing them to a wire rack to cool completely. It's also ok to just let them cool completely in the muffin pan.
Can I Freeze Pumpkin Muffins?
Yes, these pumpkin muffins freeze perfectly. Bake the muffins as directed and let them cool to room temperature. Store the muffins inside a freezer safe container, like a Tupperware type container or a gallon-sized Ziploc bag. Freeze for up to 3 months. 
When ready to thaw and eat, let the muffins sit out at room temperature for a bit or you can place them into the fridge to thaw completely. I like to warm up the muffin in the microwave for a warm treat. 
How To Store Leftover Pumpkin Muffins
Leftover pumpkin muffins will store well at room temperature, in an airtight container, for up to 5 days. As with any pumpkin recipe, the leftovers seem to get better and better as they sit at room temperature. I rarely freeze these muffins because we prefer them as leftovers. The pumpkin flavor intensifies and the muffins get softer and more moist. 
Recipe Tips
Here are some of my helpful tips so that you can have success recreating this recipe in your own kitchen. 
Use a Large Cookie Scoop : I highly recommend using a large cookie scoop to fill the muffin cups with the batter. This ensures that each one is the same size and it makes the tops of the muffins more perfectly round. I use this large cookie scoop (affiliate link) when I make this recipe. Depending on the size of your muffin cups, you may not need to fill the scoop all the way with batter. The product linked above has 3 cookie scoops and the larger one is perfect for muffin batter, while the smaller two is what I use when making cookies. 
Don't Over Mix : Once you combine the dry ingredients + the wet ingredients, take care to not over mix the batter. You just want to gently mix, with a rubber spatula, until no flour pockets or streaks remain in the batter.
Add Chocolate Chips : If wanted, try adding some chocolate chips into the pumpkin muffin batter. I prefer the classic, plain pumpkin muffins but chocolate is never a bad thing. I would recommend staring with 1 cup and then add more if needed.
Pure Pumpkin : Make sure that you are using 100% pure pumpkin in this recipe. There is also 'pumpkin pie filling' that looks similar to the can of pure pumpkin. Don't use the pumpkin pie filling because it has added  ingredients in it, which will mess up this recipe if used. 
More Pumpkin Recipes You'll Love
Perfect Pumpkin Muffins
Pumpkin Muffins are so soft, moist, bake up perfectly, and loaded with pure pumpkin and warm Fall spices. The perfect pumpkin muffins will make your house smell so amazing!
Ingredients
1¾ cups all-purpose flour
1 cup granulated sugar
1/2 cup light brown sugar
2 teaspoons ground cinnamon
1 teaspoon baking soda
½ teaspoon salt
¼ teaspoon ground cloves
¼ teaspoon ground nutmeg
2 large eggs
1 can (15 oz) pure pumpkin
1/2 cup canola or vegetable oil
1 teaspoon vanilla extract
Instructions
Heat oven to 375° F and place 12 paper liners into each well of a 12-cup standard sized muffin baking pan. Set aside.

In a large bowl, combine the flour, sugar, brown sugar, cinnamon, baking soda, salt, cloves, and nutmeg. Stir with a whisk to break up clumps.

In a separate smaller bowl, combine the eggs, pumpkin, oil, and vanilla extract. Stir with the same whisk until combined together well.

Dump the wet ingredients into the dry ingredients and stir together with a wooden spoon or spatula just until combined and no flour pockets remain in the batter.

Fill each muffin nearly full with pumpkin muffin batter. You want it slightly below the tops of the muffin liners. * Depending on the size of the cupcake liners/baking dish, you can get 12-15 muffins from this recipe.

Bake the muffins for 20-22 minutes. The tops will be nicely puffy and domed and they should look done. When you touch the top lightly it should spring back up. You can also use a toothpick, inserted into the middle of a muffin, to ensure they are cooked thoroughly.

Let the muffins cool in the pan for at least 15 minutes before transferring to a cooling rack or serving plate.
Notes
Muffin Batter : For perfectly shaped muffins use a large cookie scoop to scoop the batter into each muffin liner. You can also just use a spoon or a smaller cookie scoop if that's what you have (but with a smaller one, you will need to two a couple scoops of the batter). Don't Overfill : Depending on the size of the muffin cups your pan has you may be able to get more than 12 muffins out of this recipe. It's important to not over fill. The batter should be below the top of the muffin liner.  Bake All The Way : Do not take out the muffins if they are not baked all the way. It's not like cookies where they will continue to bake. The tops of the muffins should look dry and if they look wet like wet batter, then they need to cook longer. When you gently press on the top of the muffins, they should spring back. Use a toothpick to ensure that they are cooked thoroughly.  The products linked above are affiliate links which means I earn a small percentage if you decide to purchase. As always, I will only ever share links for things that I actually use in my own kitchen. The cookie scoop set has three different sizes. I use the larger size for muffin batter and then the two smaller sized scoops for cookies. I love that set!
Nutrition
Calories: 272kcal | Carbohydrates: 43g | Protein: 3g | Fat: 10g | Saturated Fat: 2g | Polyunsaturated Fat: 5g | Monounsaturated Fat: 2g | Trans Fat: 0.1g | Cholesterol: 31mg | Sodium: 205mg | Potassium: 119mg | Fiber: 2g | Sugar: 27g | Vitamin A: 5561IU | Vitamin C: 2mg | Calcium: 28mg | Iron: 2mg