Skillet Turkey Taco Pasta is a one pot meal made in a skillet pan on the stove top and it can be ready in just 30 minutes. Cheesy, flavorful turkey with tender pasta, beans, tomatoes, and seasonings.
TURKEY TACO PASTA MADE IN A SKILLET PAN
This turkey taco pasta is a one pot dinner recipe that can be ready in just 30 minutes! Everything cooks in one skillet pan including the ground turkey and the pasta. 
I love making one pot dinner recipes. They usually always involve pasta, which my kids love, so I know they will always be a win for dinner. 
Our other family favorite ground turkey recipes are these bbq turkey sloppy joes, turkey taco burrito bowls and this turkey taco rice skillet.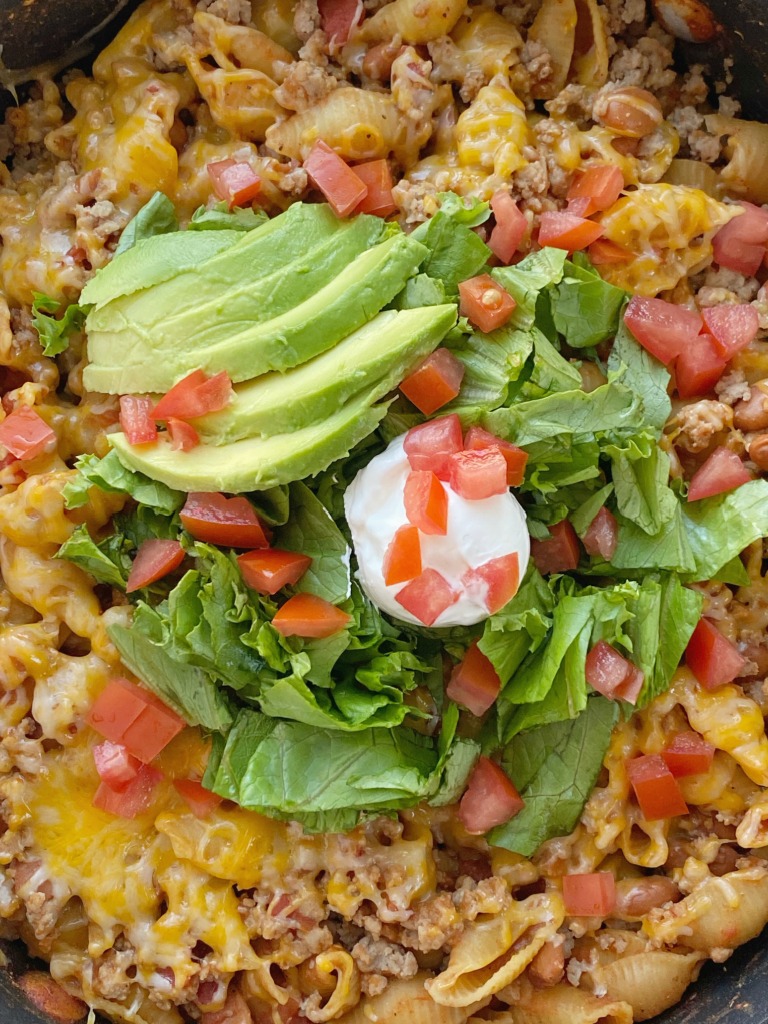 INGREDIENTS NEEDED FOR THIS GROUND TURKEY DINNER RECIPE
Ground Turkey
Salt, Pepper, Garlic Powder, Onion Powder – Dried spices to season the ground turkey.
Petite Diced Tomatoes – I prefer the smaller chop of the petite diced tomatoes but regular diced tomatoes will work just as well. 
Tomato Sauce
Pinto Beans – If you don't like these then feel free to substitute with another bean you do like. 
Salsa Verde – This is green salsa and you can find it by the Mexican food or by the jarred salsa. 
Chicken Broth – I use regular, full salt chicken broth but if you want less sodium then use the reduced-sodium chicken broth. 
Medium Shell Pasta – This is the best pasta to use. It's the perfect size and shape that will hold all the goodness in this dish. 
Oregano, Chili Powder, Worcestershire Sauce, Brown Sugar – Additional Spices for the pasta and tomato mixture. 
Shredded Cheese – I use Colby Jack but feel free to use your favorite. For some spice use Pepper Jack cheese.
HOW TO SERVE TURKEY TACO PASTA
I serve it alongside chopped lettuce, chopped tomatoes, sour cream, and avocado slices. But you can really serve it with anything you want or eat it as is. 
Try serving it with black olives, salsa, jalapeno slices, or chopped cilantro if you want something different. 
And you can never go wrong with more cheese! My kids love to pile some extra shredded cheese onto their serving.
YOU WILL LOVE THESE OTHER ONE POT DINNER RECIPES
One Pot Turkey Chili Mac & Cheese – Ground turkey chili with small shell pasta and plenty of cheese!
One Pot Teriyaki Beef & Rice – Ground beef, rice, veggies, and an easy teriyaki sauce cooks in one pot on the stove. 
One Pot Broccoli Fettuccine Alfredo – Fettuccine pasta, broccoli chunks, in a super creamy alfredo sauce. This is always a favorite at my house. 
Skillet Turkey Taco Pasta
Skillet Turkey Taco Pasta is a one pot meal made in a skillet pan on the stove top and it can be ready in just 30 minutes. Cheesy, flavorful turkey with tender pasta, beans, tomatoes, and seasonings.
Ingredients
1 lb ground turkey
1 teaspoon salt
1 teaspoon garlic powder
1 teaspoon onion powder
½ teaspoon black pepper
1 can (14.5 oz) petite diced tomatoes do not drain
1 can (8 oz) tomato sauce
1/2 cup green salsa verde
1 can (15 oz) pinto beans drained and rinsed
1 teaspoon chili powder
½ teaspoon dried oregano
2½ cups medium pasta shells
1⅓ cup chicken broth
1 teaspoon worcestershire sauce
1 teaspoon brown sugar
1 cup shredded cheese or more to taste
Instructions
In a large skillet over medium heat, cook the ground turkey, salt, pepper, onion powder, and garlic powder. Cook and crumble until ground turkey is no longer pink. Drain the excess moisture and grease. Place a paper towel on a plate and put the drained cooked ground turkey on top of it. Let it sit there until you add it back in later in the recipe.

To the same skillet pan, add the diced tomatoes, tomato sauce, salsa verde, pinto beans, chili powder, oregano, pasta shells, chicken broth, Worcestershire sauce and brown sugar. Stir everything until mixed well.

Bring the mixture to a boil and then reduce heat to medium-low and let simmer until the pasta is tender and most of the liquid is absorbed. About 15 minutes.

Add the cooked ground meat to the pasta mix in the skillet and mix together. Top with shredded cheese. Cover the skillet for 1-2 minutes to let the cheese melt. The sauce will thicken as it rests.

Serve with sour cream, chopped tomatoes, olives, and/or avocados.
Nutrition
Calories: 298kcal | Carbohydrates: 38g | Protein: 25g | Fat: 5g | Saturated Fat: 2g | Cholesterol: 42mg | Sodium: 885mg | Potassium: 689mg | Fiber: 5g | Sugar: 6g | Vitamin A: 508IU | Vitamin C: 10mg | Calcium: 117mg | Iron: 3mg