GROUND TURKEY TACO RICE SKILLET
One pan skillet dinner recipes are some of my favorite meals to make. We love tacos so this turkey taco rice skillet is a fun change to traditional tacos. And it's made with ground turkey which is a healthier option to ground beef.
All the typical taco ingredients but instead it's made in one pan and it can be served so many different ways.
HOW TO MAKE TURKEY TACO RICE SKILLET RECIPE
Ground Turkey – I love ground turkey in this recipe but feel free to use ground beef if that's what you prefer.
Olive Oil & Seasonings – The olive oil provides some needed fat to cook the ground turkey in. I like to drain the meat after cooking because of the added oil. I love using the individual seasonings because I think the taste is better. If wanted, you can use a packet of taco seasoning instead of all the seasonings. I would still add the brown sugar as that adds a lot to the dish to offset the acid from the tomatoes. 
Onion – Use a yellow onion or a white onion.
Beef Broth – I use full salt beef broth in this recipe. I think it adds lots more flavor. If you are worried about the sodium then use the reduced sodium beef broth.
Canned Corn – Use any kind of canned corn you want. I like the fire-roasted corn in this recipe.
Pinto Beans – Feel free to substitute with any bean you prefer. Black beans are a great one to use. 
Petite Diced Tomatoes
Long Grain Rice
Shredded Cheese
HOW TO SERVE THIS TURKEY TACO RICE SKILLET
– Our favorite way to eat this is to top it with all our favorite taco toppings. We love shredded lettuce, chopped tomatoes, and sour cream. There are so many other options like sliced olives, guacamole, avocado, pico de gallo, etc.
– Serve the filling inside flour tortillas for a burrito. Or you can also scoop the filling inside taco shells for a yummy taco meat. 
– Have a 'make your own nacho bar' night for dinner. Lay out all the different toppings and tortilla chips. Everyone can build their own nachos. 
– I love to eat leftovers served over some shredded/chopped lettuce for a salad.
– I have used leftovers to make quesadillas out of the filling for another dinner. Add more cheese inside the quesadilla. 
– My kids love to scoop up the filling with tortilla chips.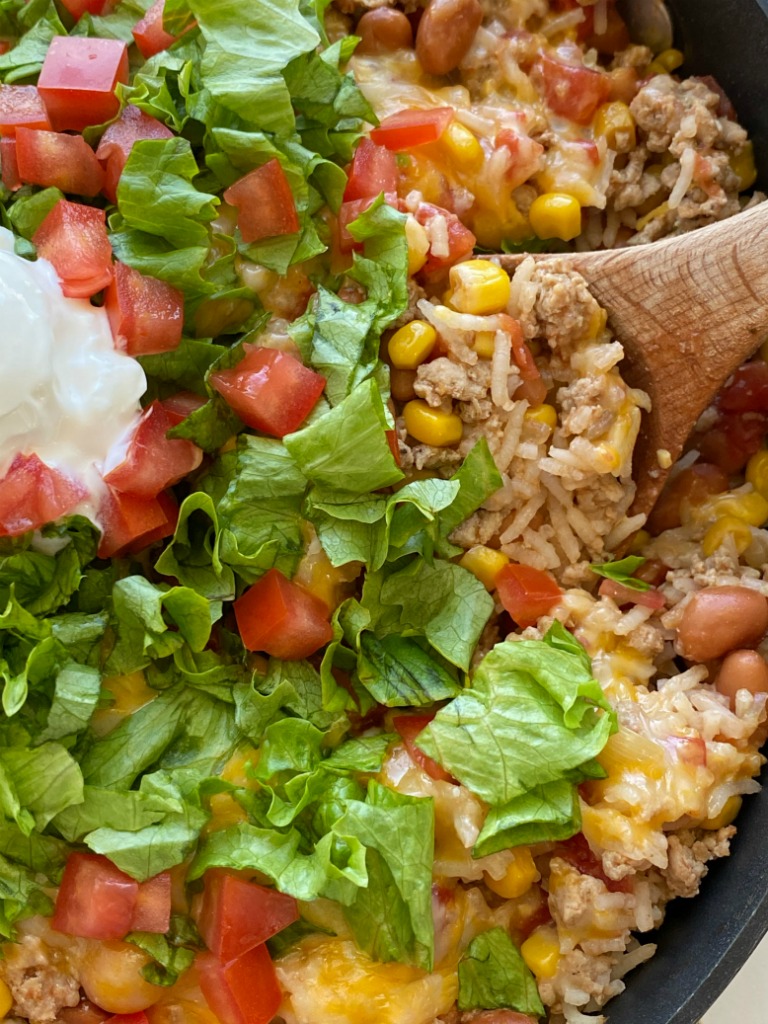 TRY THESE OTHER GROUND TURKEY DINNER RECIPES
Turkey Taco Rice Skillet
Turkey Taco Rice Skillet is a one pan dinner that's loaded with ground turkey, beans, corn, tomatoes, rice, cheese, and seasonings. Simmers in beef broth for an easy skillet dinner recipe with ground turkey.
Ingredients
1 tablespoon olive oil
1 lb ground turkey
1 yellow or white onion finely diced
1 teaspoon cumin
1 teaspoon garlic powder
1 teaspoon onion powder
1 teaspoon chili powder
1 teaspoon salt
1/2 teaspoon ground coriander
1/2 teaspoon brown sugar
1/4 teaspoon black pepper
2 cups beef broth
1 can (15 oz) corn drained
1 can (15 oz) pinto beans drained and rinsed
1 can (14.5 oz) petite diced tomatoes do not drain
3/4 cup long grain rice
1½ cups shredded cheese
Instructions
In a skillet pan add olive oil, ground turkey, onion, cumin, garlic powder, onion powder, chili powder, salt, brown sugar, coriander, and pepper. Cook and crumble, over medium high heat, until ground turkey is no longer pink. Drain grease.

Add beef broth, corn, pinto beans, tomatoes, and dry rice. Stir together and bring to a boil over high heat. Once boiling, cover skillet pan with a lid and reduce heat to low. Cook for 25 minutes or until no liquid remains.

Stir it all together and cover with the shredded cheese. Cover with lid and let the cheese melt for a few minutes.

Serve with your favorite taco toppings or you can pile up the toppings in the skillet pan and serve it that way (as pictured).
Notes
I like to use a can of fire-roasted corn for this recipe. Use any canned corn you prefer or whatever you have in your pantry.  If you would rather use a packet of taco seasoning that is fine. Omit all the spices and instead use a packet of taco seasoning. It really is delicious with the individual seasonings so I would highly recommend making the recipe as is.  Use whatever cheese you love! If you want some spice then use Pepper Jack cheese. I always use Colby Jack because that's what my family loves.  For more spice add some cayenne pepper in with the other seasonings. You can also garnish with jalapenos or add a can of diced green chilies in with the other canned items.  This recipe has been updated and republished since it was first published in 2015. I have made it several times and switched up the seasoning amounts to only 1 teaspoon each. And I reduce the brown sugar to 1/2 teaspoon. I think the taste is better and the lower amount of seasonings when paired with full salt beef broth is really delicious. The brown sugar cuts the acid of the tomatoes and you just need a little bit so it does not end up tasting too sweet. 
Nutrition
Calories: 395kcal | Carbohydrates: 43g | Protein: 32g | Fat: 11g | Saturated Fat: 5g | Cholesterol: 64mg | Sodium: 976mg | Potassium: 744mg | Fiber: 6g | Sugar: 6g | Vitamin A: 500IU | Vitamin C: 9mg | Calcium: 198mg | Iron: 3mg