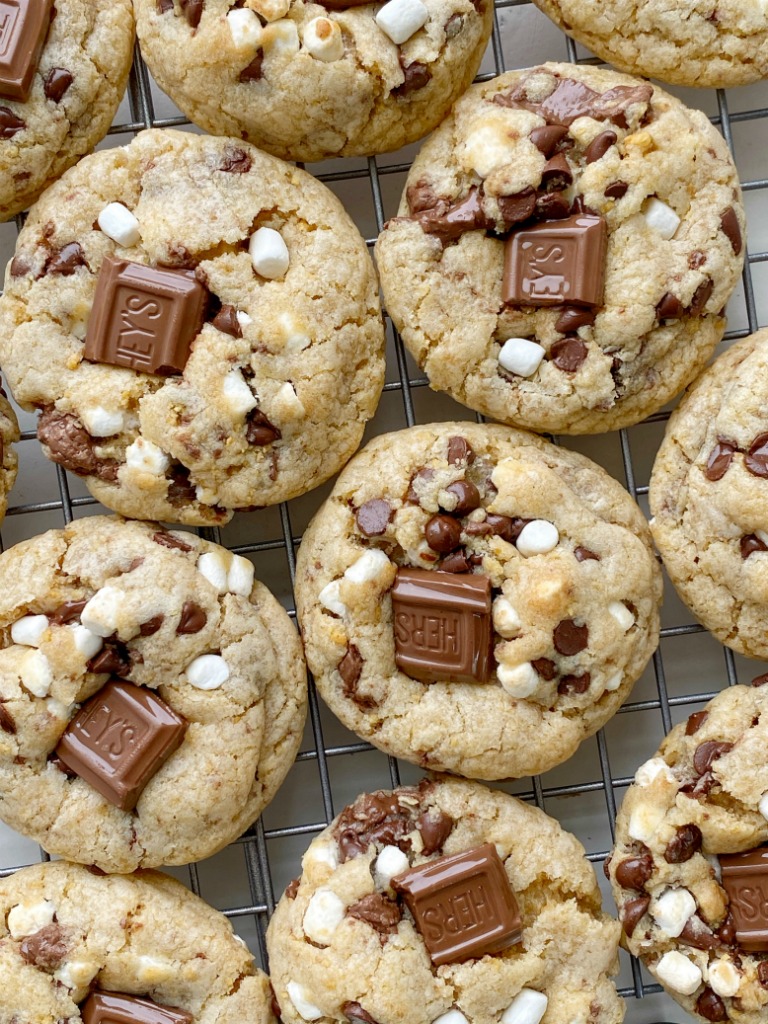 SMORES COOKIES
These smores cookies just may be my very favorite cookie recipe right now! Soft-baked, thick, chewy cookies that are loaded with all things smores. A graham cracker chocolate chip cookie dough base, marshmallow bits, chocolate chips, and Hershey's Milk Chocolate. 
Trust me when I say that these are a must-make this summer and really anytime at all. Gooey, sticky mess and campfire smoke smell not included 🙂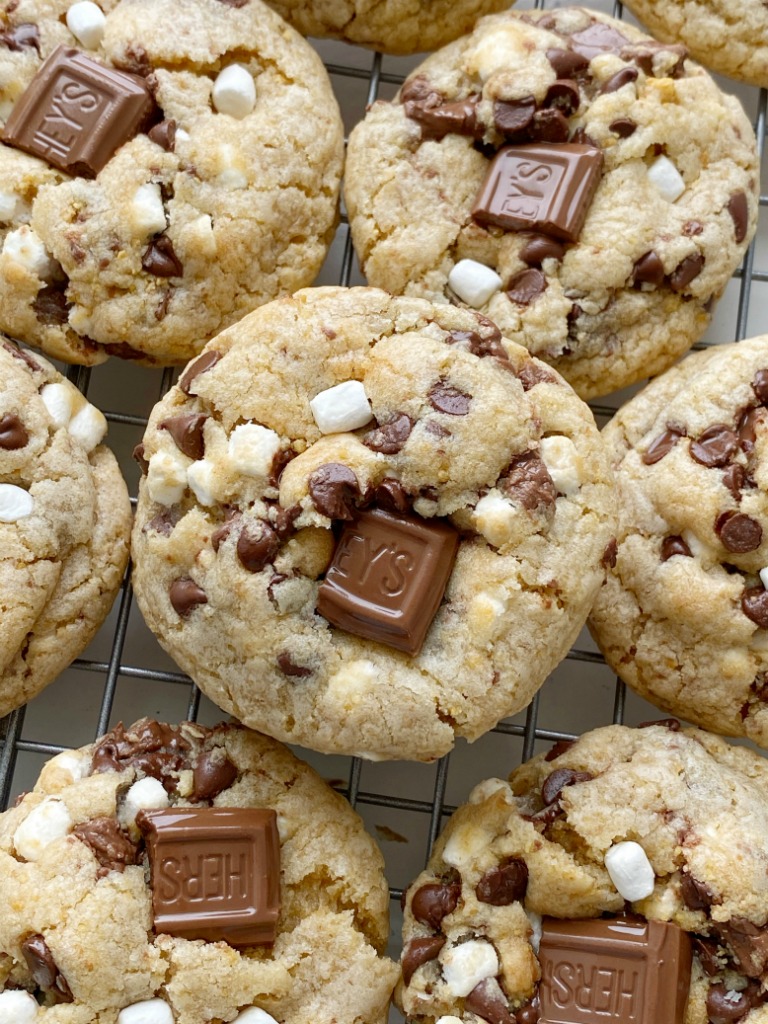 HOW TO MAKE SMORES COOKIES RECIPE
You will need a stand mixer or a mixing bowl with a handheld blender for this recipe. Beat together softened butter and both the sugars until fluffy looking and lighter in color. At least 1-2 minutes. 
Add in eggs and vanilla extract, one at a time, beating after each addition.
Add in all the dry ingredients and mix on low speed until combined. 
Now the good stuff! Chocolate chips, marshmallow bits, and chopped Hershey's chocolate bars. 
Roll the dough into balls (about 2-3 tablespoons and they should look like golf balls) and place on the cookie sheet.
Bake and let cool slightly. 
Gently press a halved Hershey's chocolate square on top of each cookie and additional marshmallow bits.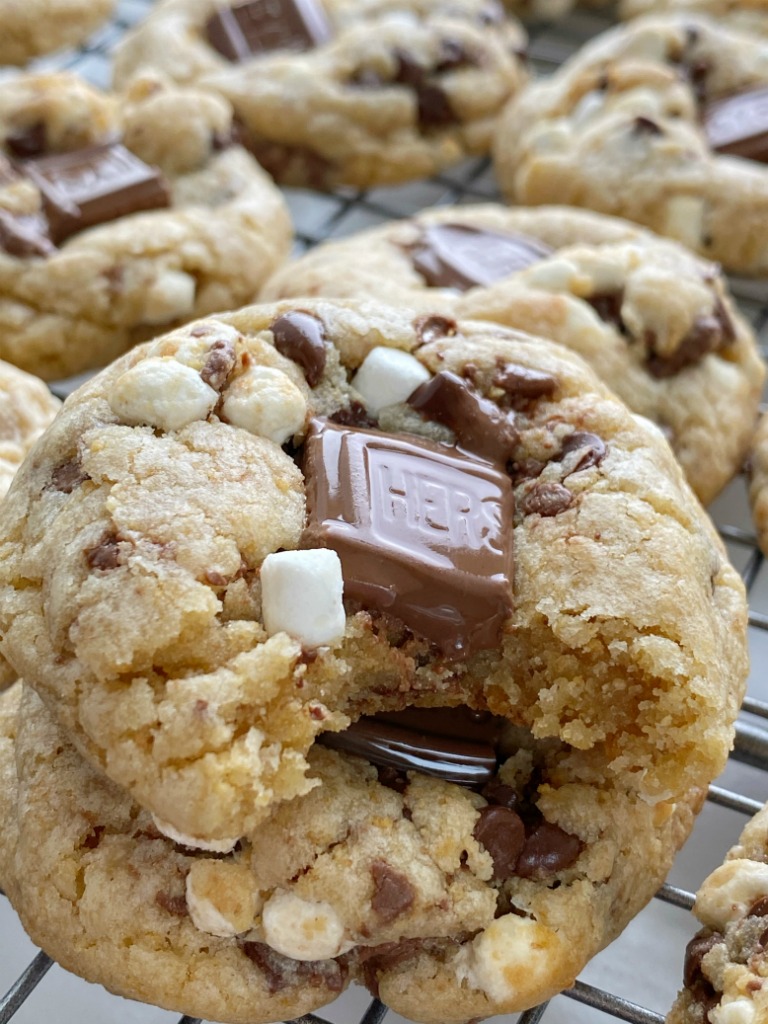 MY TIPS FOR THIS COOKIE RECIPE
– As with any cookie recipe do not overbake these. The cookies will be slightly spread out but still puffy in the middle, and the the outside will be very slightly golden brown. I have never cooked my cookies for more than 10 minutes. They will continue to cook while cooling on the warm cookie sheet.
– Please don't try and substitute with miniature marshmallows. When you bake marshmallows they melt in the oven and become a gooey mess. The Jet Puffed Marshmallow Bits (not affiliate) are hard little marshmallows that keep their shape even while baking. You will find them in the baking aisle. 
– Be sure and buy 5 of the Hershey's Milk Chocolate candy bars for this recipe. The size you want is the check-out stand sized bars that are by the registers. Use 3 of these bars and chop them up and then the other 2 bars are for the tops of the cookies. Break each small square in half for the tops of the cookies. To chop the other bars, simply place the unwrapped bars into a Ziploc bag and use a meat pounder to break them up into smaller pieces. 
– Eat one warm! So incredibly yummy with a cold glass of milk.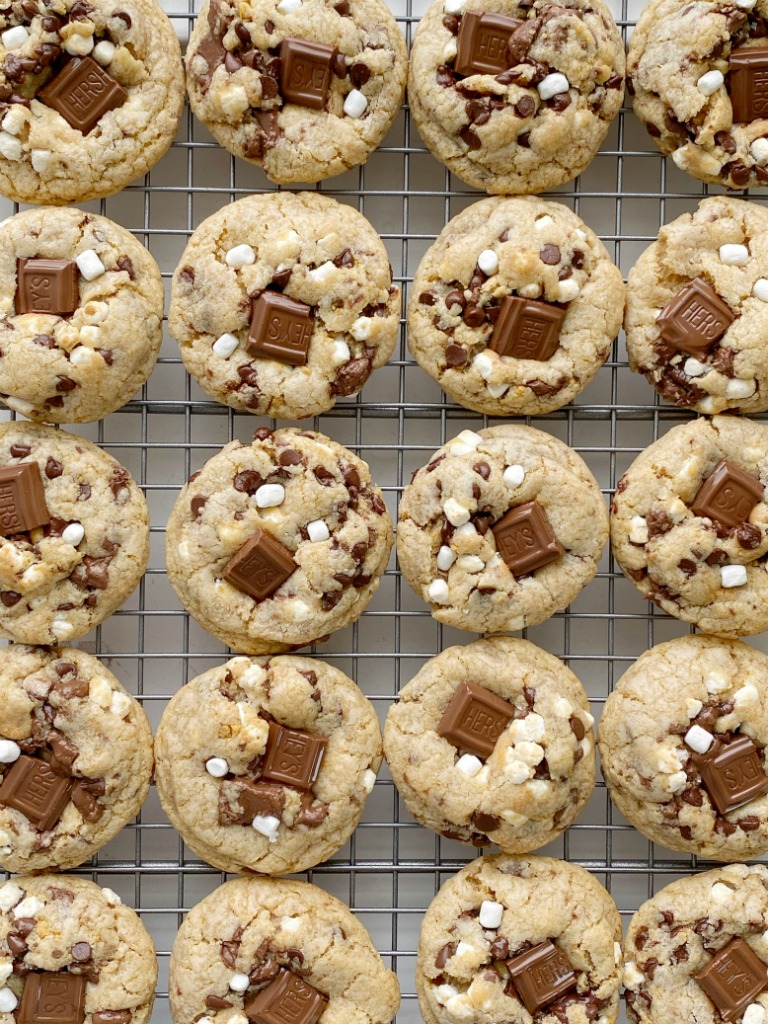 TRY THESE OTHER SMORES RECIPES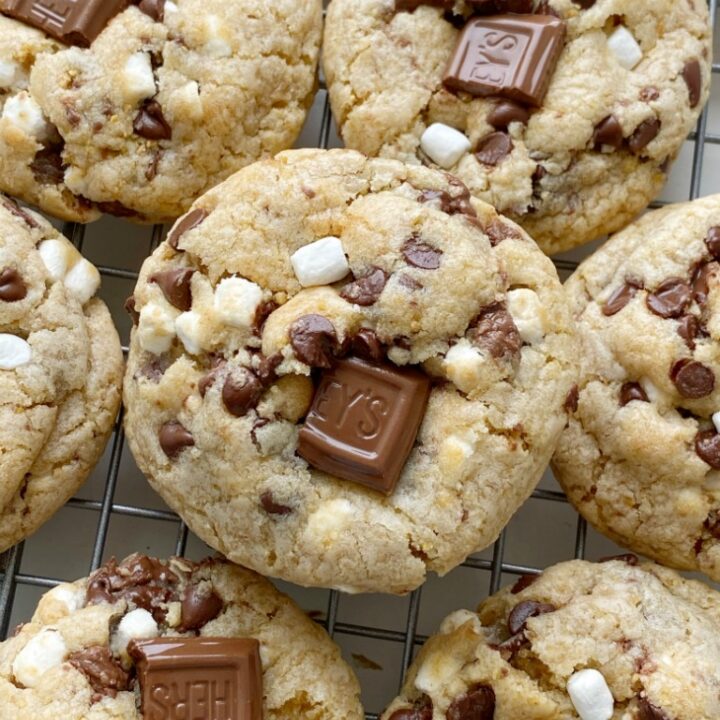 S'mores Cookies
S'mores Cookies are everything you love about classic smores! Graham cracker chocolate chip cookie dough base filled with mini marshmallow bits, Hershey milk chocolate, and chocolate chips. So thick, soft-baked, and chewy.
Ingredients
1 cup (2 sticks) salted butter softened
3/4 cup granulated sugar
3/4 cup light brown sugar
2 large eggs
1/2 teaspoon vanilla extract
2¼ cups all-purpose flour
1¼ cups graham cracker crumbs
2 teaspoons cornstarch
1 teaspoon baking powder
½ teaspoon baking soda
¼ teaspoon salt If used unsalted butter increase to ½ teaspoon
1 cup Jet Puffed Marshmallow Bits
1 cup chocolate chips miniature, semi-sweet, or milk chocolate
3 bars (1.55 oz each) Hershey's Milk Chocolate chopped
Additional Toppings (optional)
2 bars (1.55 oz each) Hershey's Milk Chocolate each square halved
Marshmallow Bits you will have leftover from the jar
Instructions
Heat oven to 350°. Prepare 2 cookie sheets by lining with parchment paper, silpat liner, or spray with cooking spray. Set aside.

In a large mixing bowl with a handheld blender, or use the bowl of a stand mixer with the paddle attachment, beat together the butter, granulated sugar, and light brown sugar until fluffy looking and combined. *At first it will look crumbly and not come together, but after you beat it for 1-2 minutes it will get fluffy and wetter looking.

Add the eggs one at a a time beating after each egg. Add the vanilla extract and beat together until combined.

Add the flour, graham cracker crumbs, cornstarch, baking powder, baking soda, and salt to the bowl. Beat on low speed just until combined, You may have to scrape down the sides of the bowl and/or increase speed slightly to get everything combined. *At this point the dough will look crumbly and almost dry but if you pinch it together with your fingers it should stick and form together.

Add in the marshmallow bits, chocolate chips, and chopped Hershey milk chocolate bars. Beat on low speed just until combined.

Take about 2-3 tablespoons of dough and roll into a ball between the palms of your hand. Place 12 cookies per cookie sheet. Bake for 9-11 minutes. *Cookie dough balls should look like the size of a golf ball.

Let cool on the cookie sheet for a few minutes and then press additional marshmallow bits and halved squares of Hershey milk chocolate onto the tops of each cookie. Let cool completely on the cookie sheet and then move to a cooling rack.
Notes
I would highly encourage you to use the Jet Puffed marshmallow bits. I have good luck finding them on Amazon (not affiliate). Baking mini marshmallows in the oven is a gooey mess and they melt all over. The marshmallow bits are hard little marshmallows that keep their shape while baking. 
My cookie are perfect at about 9 minutes 30 seconds. 
To chop the Hershey chocolate bars place the unwrapped bars into a Ziploc bag and use a meat pounder or a rolling pin to break up the chocolate into smaller pieces. 
This s'mores cookie recipe was originally posted back in 2015. I have updated the recipe after some failed attempts at making the cookies that I had and readers had. I used the old recipe and adapted from this recipe at
Sugar Spun Run
blog. 
Nutrition
Calories: 228kcal | Carbohydrates: 31g | Protein: 2g | Fat: 12g | Saturated Fat: 7g | Cholesterol: 28mg | Sodium: 121mg | Potassium: 72mg | Fiber: 1g | Sugar: 21g | Vitamin A: 207IU | Vitamin C: 1mg | Calcium: 26mg | Iron: 1mg