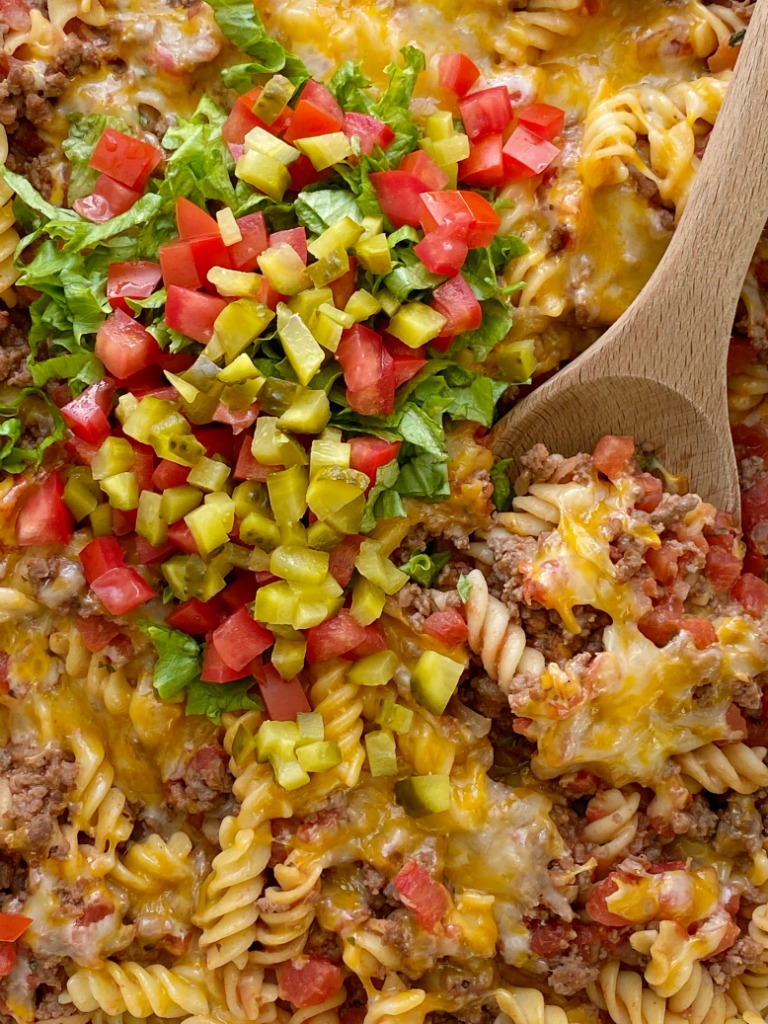 CHEESEBURGER CASSEROLE RECIPE
This cheeseburger casserole is one of the first recipes I posted to this blog! It's a family favorite and it's different than the traditional creamy, canned soup casseroles.
Pasta noodles, ground beef, seasonings, tomatoes, mustard, and cheese make this a family friendly dinner.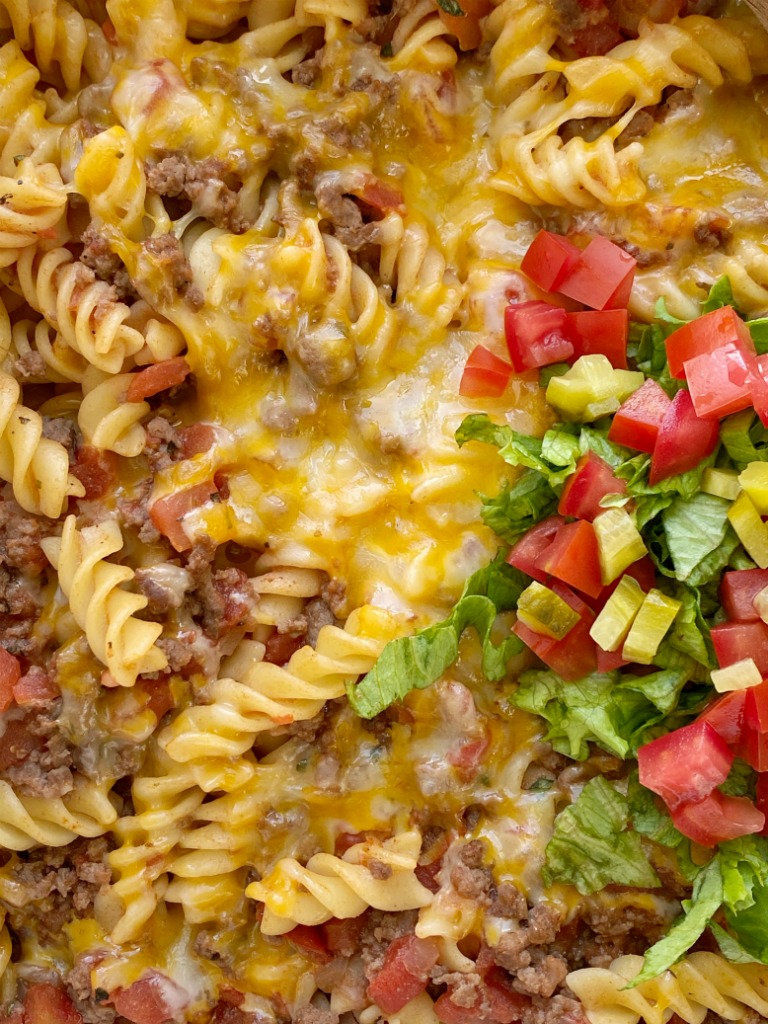 HOW TO MAKE GROUND BEEF CHEESEBURGER CASSEROLE
Spiral Rotini Noodles – Cook to your liking. My kids don't like al dente noodles so I cook for at least 10 minutes. The oven time is only 12 minutes so the noodles won't cook too much more in the oven. 
Ground Beef
Onion, Garlic, Salt, Pepper – You can use fresh garlic cloves that have been minced or pressed. Use chopped garlic from a jar or garlic paste from a tube. I use a yellow onion but you can also use a white onion. 
Petite Diced Tomatoes
Tomato Paste
Dijon Mustard
Parsley, Basil, Salt, Worcestershire Sauce, Sugar – I like to add the additional salt here to flavor the tomatoes but it's optional. Add more or less to taste. All these ingredients season the tomato mixture. The sugar helps offset the acid from the tomatoes so be sure and not skip it. 
Shredded Cheese – Use any kind you want! For a true cheeseburger experience use some shredded American cheese like Velveeta shreds. I use Colby Jack cheese.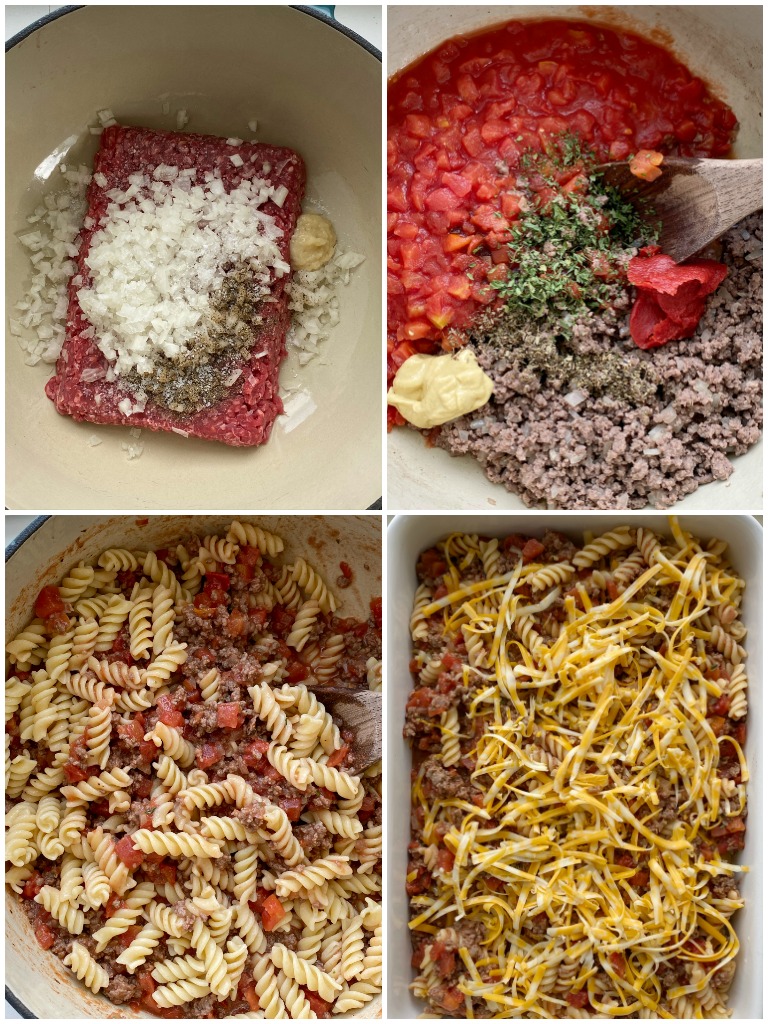 MY TIPS FOR THIS RECIPE
– It's important to salt the boiling water before adding the dry pasta to cook. It will help flavor the pasta. I add about 1-2 teaspoons of salt before I add the pasta in. 
– Use more cheese if you like! My kids love the cheese so I will usually add a bit more 🙂 
– We love this casserole topped with shredded lettuce, diced tomatoes, and chopped dill pickles. 
– Try it with some big mac sauce on top the casserole! Yum!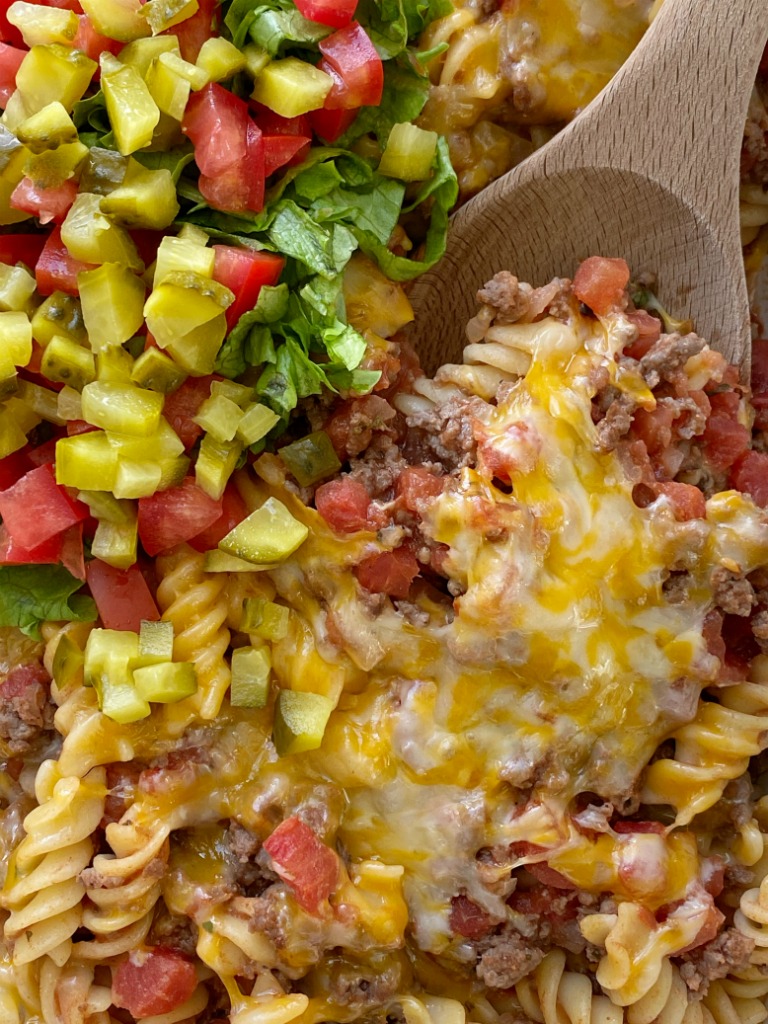 TRY THESE OTHER GROUND BEEF CASSEROLE RECIPES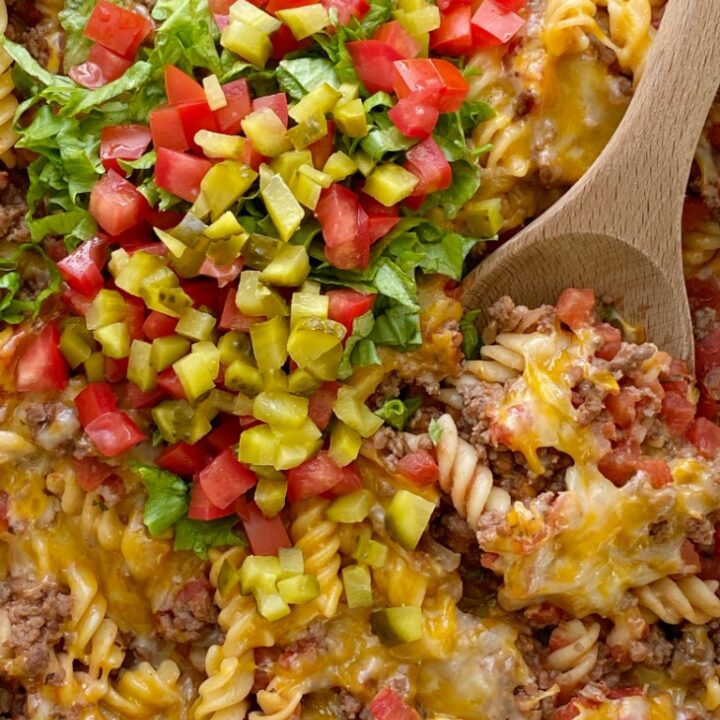 Cheeseburger Casserole
Cheeseburger Casserole is full of cheeseburger favorites like ground beef, onion, garlic, diced tomatoes, spiral pasta, mustard, seasonings, and lots of cheese. Different from traditional creamy, canned soup casseroles and it's family friendly!
Ingredients
2½ cups rotini pasta dry & uncooked
1 lb ground beef
1 yellow or white onion finely diced
2 garlic cloves use fresh garlic, chopped garlic, or garlic paste
1 teaspoon salt
½ teaspoon black pepper
1 can (28 oz) petite diced tomatoes
2 tablespoons tomato paste
1-2 tablespoons Dijon mustard I use 1½ tablespoons
1 teaspoon dried parsley
1 teaspoon Worcestershire sauce
½ teaspoon dried basil
¼ teaspoon salt (I add this but it's optional, taste to see if you need it, add more or less)
¼ teaspoon granulated sugar
2 cups shredded cheese
Optional Toppings & Garnishes
shredded lettuce
diced tomato
chopped dill pickles
Instructions
Heat oven to 350°. Spray a 9x13 baking dish with cooking spray and set aside.

Cook pasta according to package directions. We don't like al dente pasta so I cook mine for around 10 minutes. Remember to add at least 1-2 teaspoons of salt to the boiling water to help flavor the pasta. Drain pasta and set aside in a bowl for later use.

While pasta is cooking cook and crumble the ground beef, onion, garlic, salt, and pepper in a skillet pan (or large pot) over medium-high heat. Drain the grease.

Add the petite diced tomatoes, tomato paste, Dijon mustard, dried parsley, Worcestershire sauce, basil, and sugar into the ground beef and stir. Let cook for a 5 minutes just so everything can combine and flavors can come together.

Add the cooked pasta into the ground beef and stir to combine.

Pour half of the mixture into the baking dish and spread out. Sprinkle with 1 cup of cheese. Pour the other half into the baking dish and sprinkle with the remaining 1 cup cheese.

Cook for 12 minutes. Serve immediately with the toppings or as is.
Notes
Use more cheese if wanted. You can use any cheese you love in this recipe. I use Colby Jack that I shred myself from the block. 
This recipe was first published to the blog in 2015. Adapted from skinnytaste. I have since added more seasonings (based on readers reviews), added a small amount of sugar to offset the acid in the tomatoes, and reduced the Dijon mustard from 2 tablespoons to 1 tablespoon. 
Nutrition
Calories: 322kcal | Carbohydrates: 25g | Protein: 21g | Fat: 15g | Saturated Fat: 7g | Cholesterol: 61mg | Sodium: 697mg | Potassium: 597mg | Fiber: 3g | Sugar: 7g | Vitamin A: 464IU | Vitamin C: 12mg | Calcium: 196mg | Iron: 3mg