3 Ingredient Cinnamon Rolls are so easy to make! Yes, you really only need 3 ingredients to make some frozen cinnamon rolls taste amazing like they were made from scratch. Simple to prepare the night before and they're ready to bake up in the morning. Frozen cinnamon rolls, vanilla pudding, and butter is all it takes!
For more delicious recipes involving cinnamon rolls, be sure and try my Peaches n' Cream Cinnamon Roll Casserole, these Cinnamon Roll Muffins that require no yeast, or my very favorite Easy Caramel Pecan Cinnamon Rolls.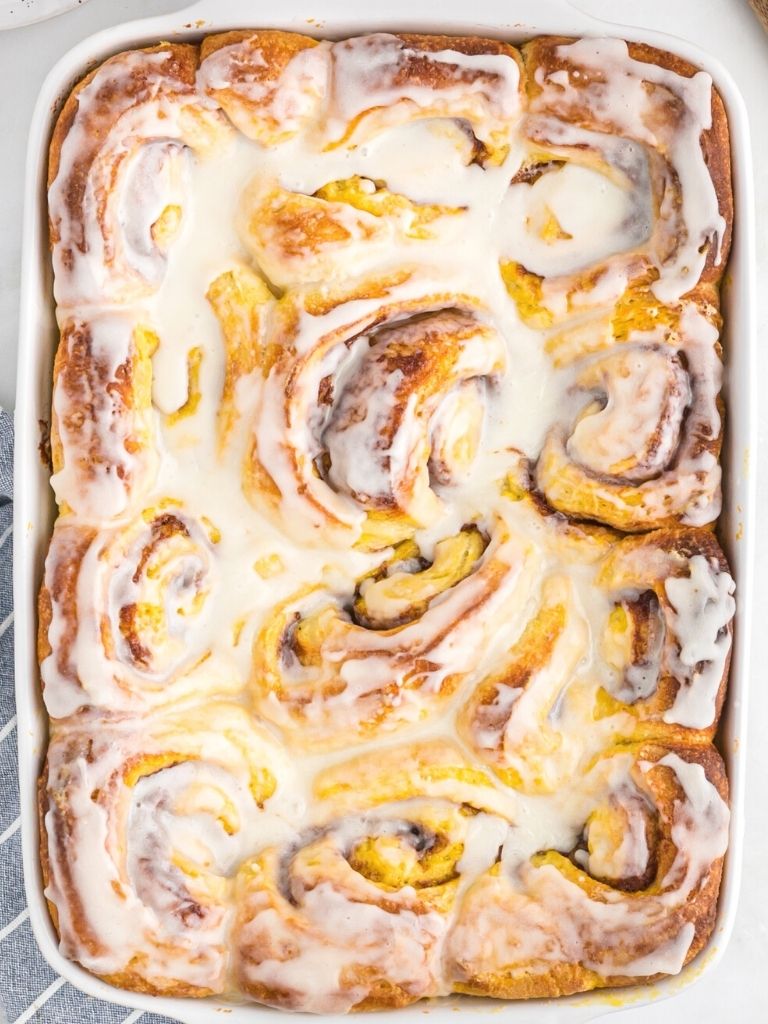 Easy Cinnamon Rolls with 3 Ingredients
Cinnamon rolls are always a favorite treat around my house! Who can resist that warm, cinnamon spiced bread covered in sweet vanilla cream cheese frosting?! This recipe takes simple frozen cinnamon rolls and elevates them into an easy, 3 ingredient cinnamon roll that tastes homemade from a bakery.
It's an overnight recipe with only a few minutes prep time needed the night before. Making "homemade" cinnamon rolls has never been so easy!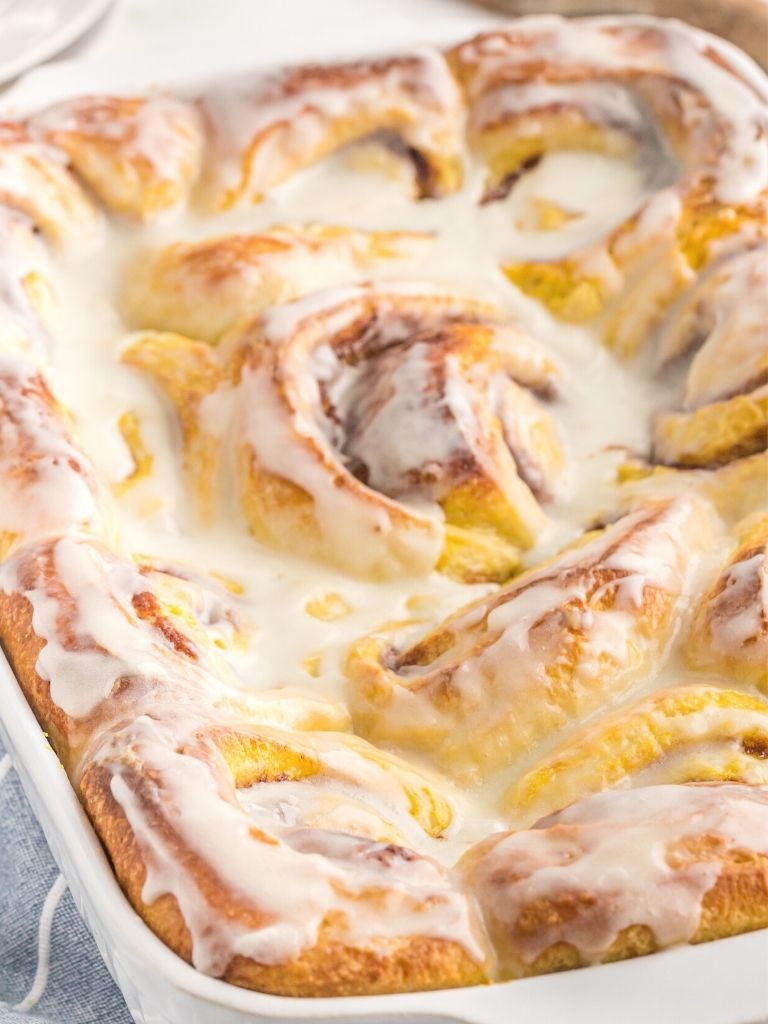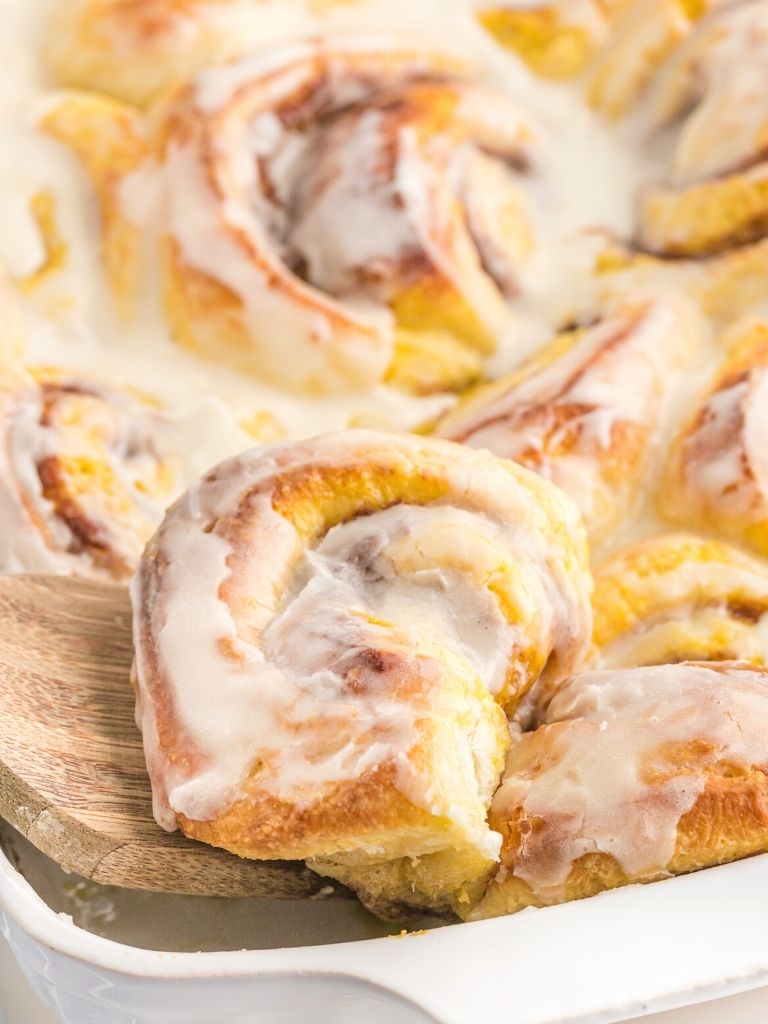 Ingredients You Need & How to Make Easy Cinnamon Rolls
Just like the recipe title says you really do only need 3 ingredients for this easy cinnamon roll recipe. Making them is just as easy as the ingredients!
Frozen Cinnamon Rolls – I usually only see these made by the Rhodes brand (I prefer that brand anyways when it comes to frozen bread items). If you get another brand just make sure that there are 12 cinnamon rolls in the bag, which is what you'll need to make this recipe. 
Cook & Serve Vanilla Pudding – This is different than regular instant pudding. The box should specifically say 'cook & serve' on the front of it, like what is shown below in the picture. 
Butter – You can use salted or unsalted butter in this recipe. I use salted butter for all my baking and cooking. 
Just like the minimal ingredients needed to make this recipe, actually making these easy 3 ingredient cinnamon rolls is just as easy!
Step 1 : Lay the frozen cinnamon rolls into a 9×13 baking dish that has been sprayed with cooking spray. You will have 4 rows with 3 cinnamon rolls in each, like the picture below. 
Step 2 : Sprinkle the dry cook n' serve pudding mix over the cinnamon rolls. Do not prepare this before! Simply sprinkle the dry powder from the box. 
Step 3 : Drizzle the melted butter over top the pudding mix and cover the pan with tin foil. Refrigerate overnight.
Step 4 : Take baking dish out of the fridge and let it sit out at room temperature for 1 hour before baking. Preheat the oven during this time and then bake the cinnamon rolls for 20-25 minutes or until done. Frost with the cream cheese icing that came in the bag or you can make your own.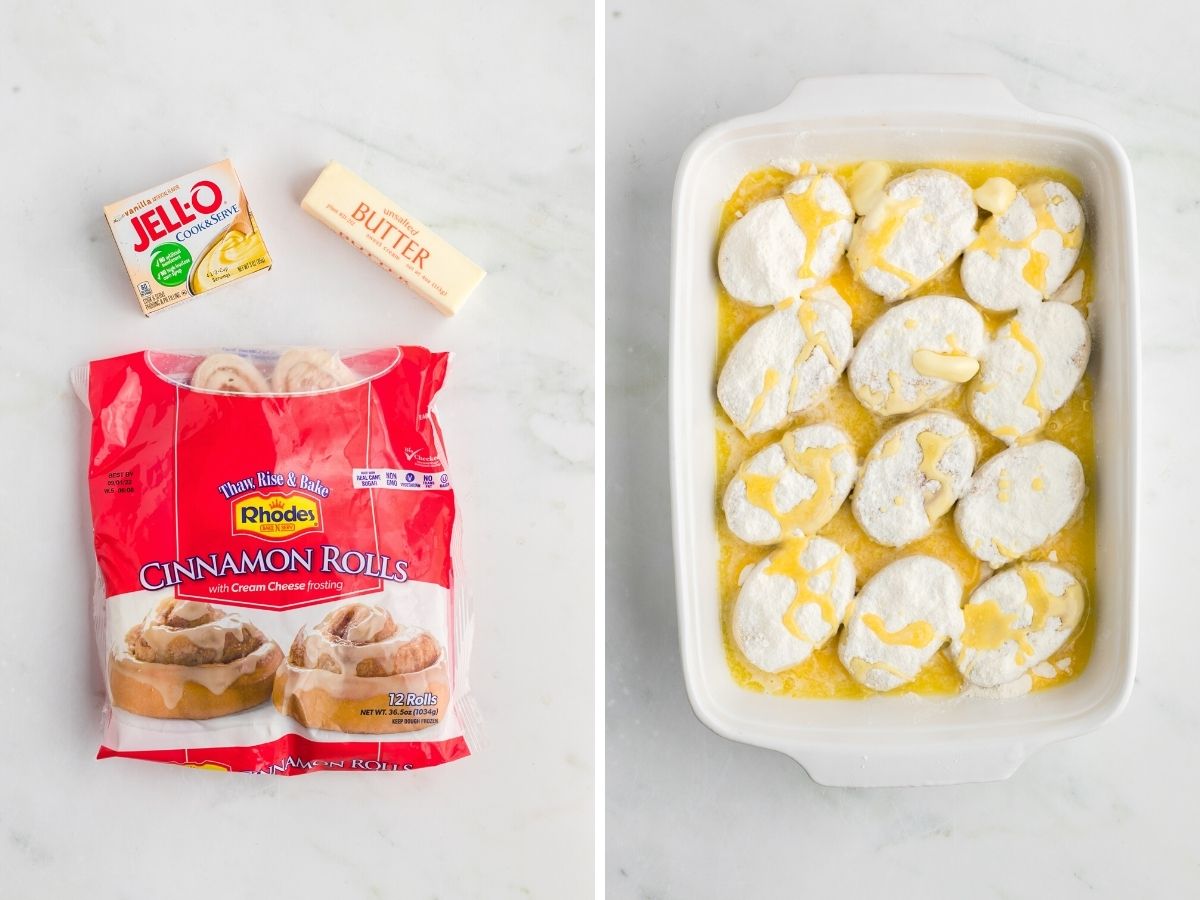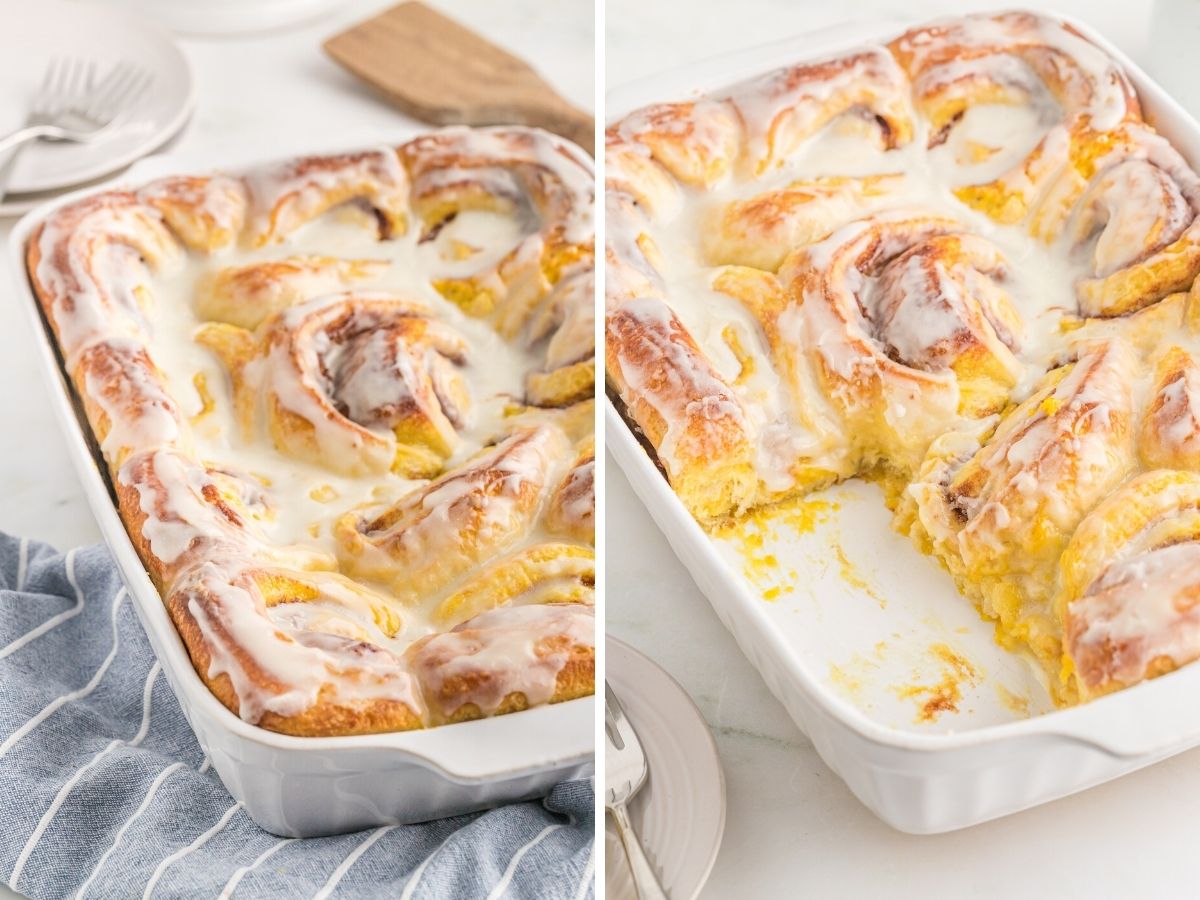 Tips For Success
Here are a few of my helpful tips that will hopefully make this recipe a success in your own kitchen.
Cook & Serve Pudding : This is the most important one! All the boxes look alike but double check to make sure you are using the instant pudding that says 'cook & serve' right on the front of the box. No need to prepare this according to package instructions before using. Simply sprinkle the dry pudding mix, straight from the box, over the cinnamon rolls in the pan. 
Plan Ahead : This recipe is an overnight recipe, meaning that you need to prepare them the day before (prep work is really only a few minutes) and let them refrigerate overnight. This recipe will not work if you try to rush it and prepare it the day of. 
Cooking Spray : Make sure that you spray the baking dish well with cooking spray to help prevent sticking, especially on the sides as the cinnamon rolls rise and bake. 
Leftovers : Cinnamon rolls are best the day they're made but they will stay good for 2-3 days, in an air-tight container, at room temperature. We always warm them up in the microwave before eating.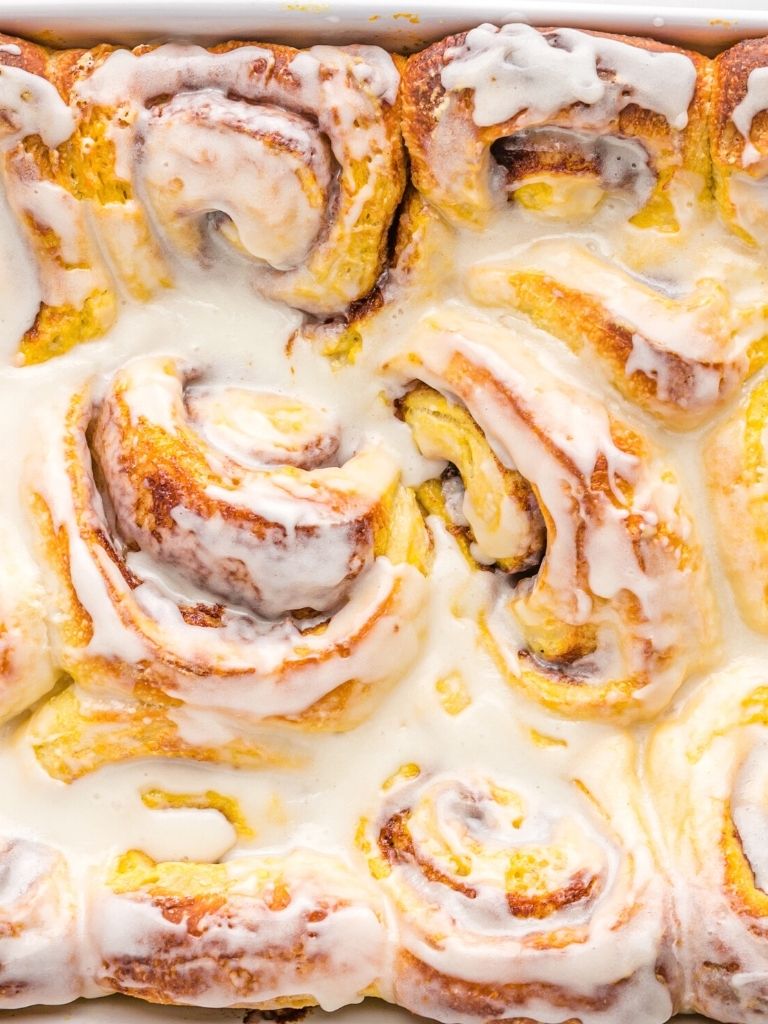 Variation & Substitution Ideas
There really are not many ways to make this recipe different or switch it up. There are a couple thing you can try that I think would work perfectly.
Make Homemade Cinnamon Roll Frosting : Feel free to make your own homemade cream cheese cinnamon roll icing, or try this classic vanilla icing if you want one without cream cheese.  Making homemade will always taste better than the packet that comes with the frozen cinnamon rolls. I've done it both ways and they still get eaten no matter what is smothered on top of them!
Use Frozen Orange Rolls : I have seen frozen orange rolls by the Rhodes brand in the freezer section next to these cinnamon rolls. I think using those would be a delicious replacement if you wanted to try something different with this recipe.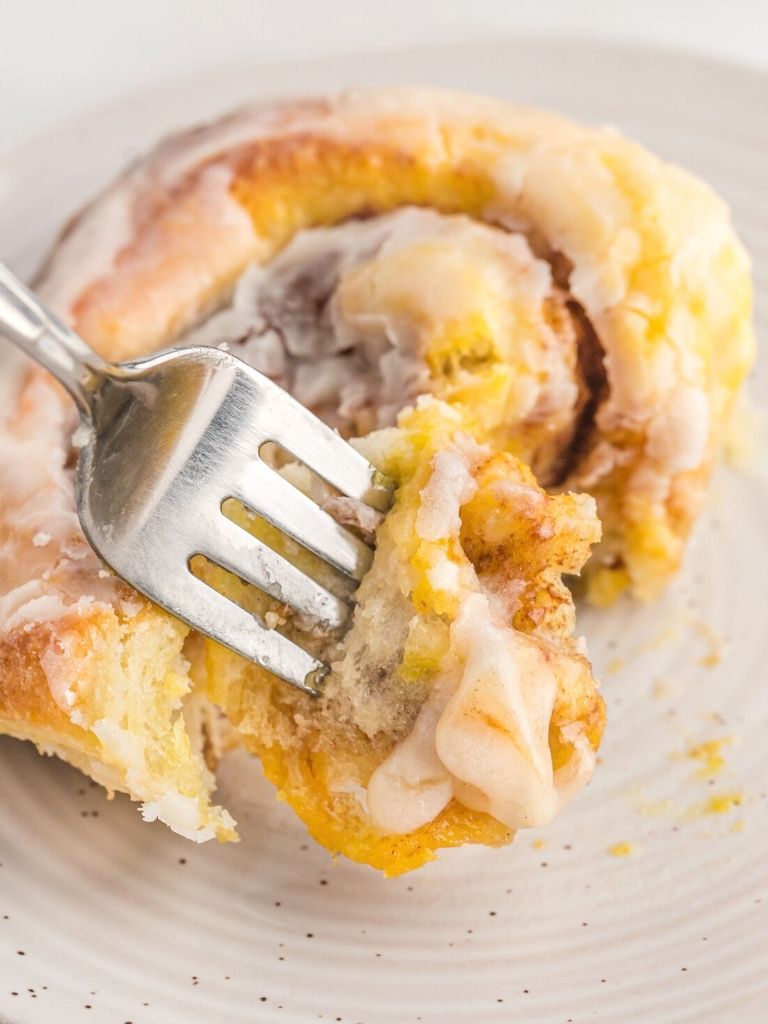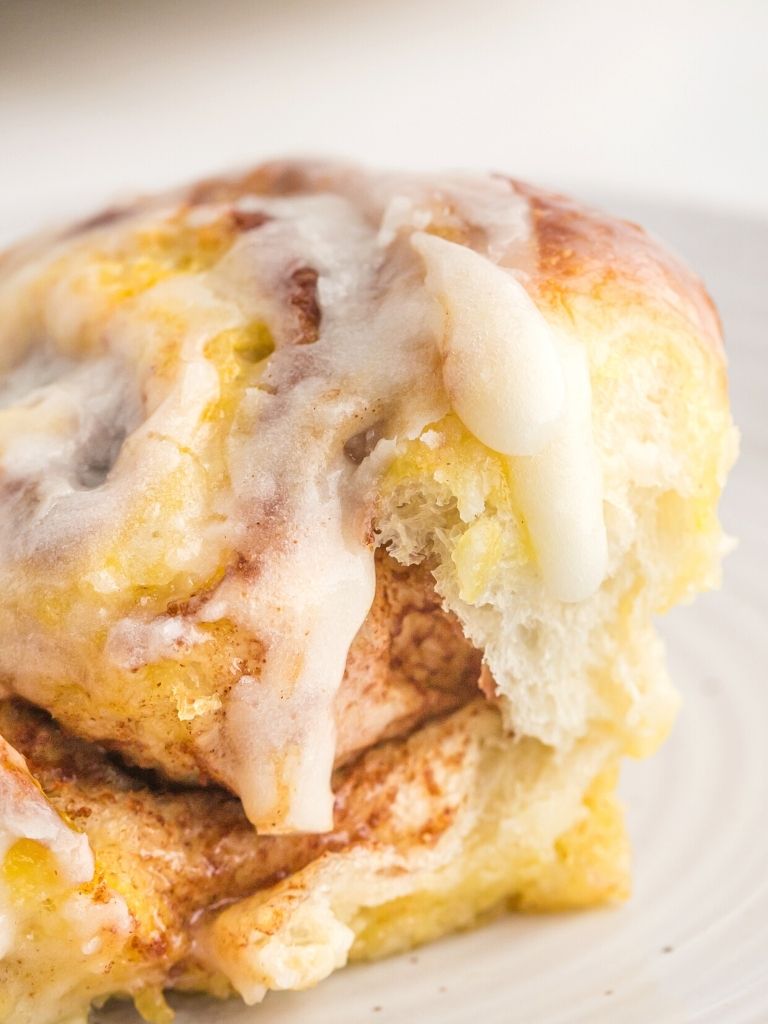 More Breakfast Recipes You'll Love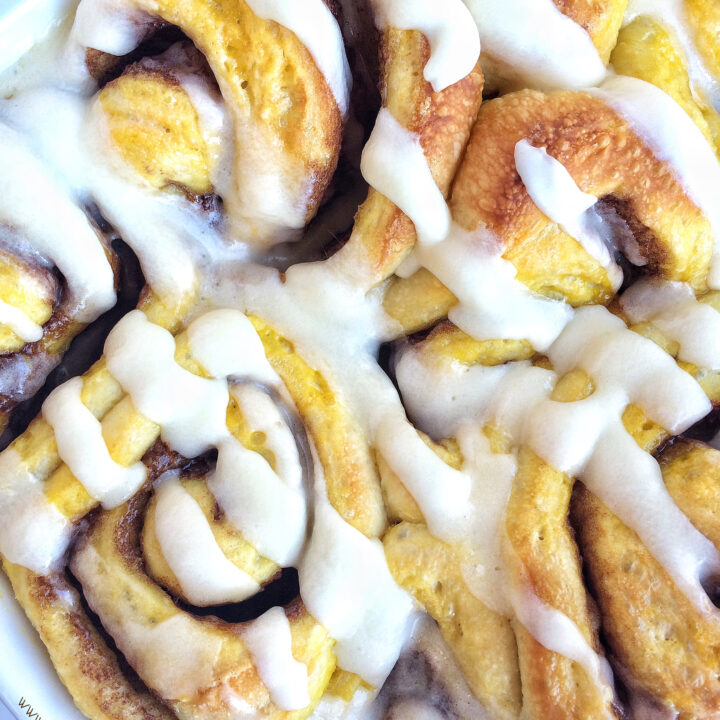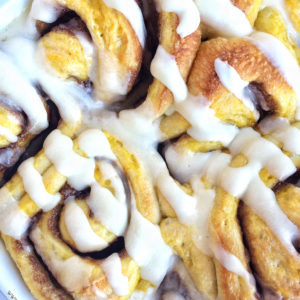 3 Ingredient Cinnamon Rolls
Ingredients
1 bag (36.5 oz) frozen cinnamon rolls (package should have 12)
1 box (3 oz) vanilla cook & serve pudding
1/2 cup (1 stick) salted butter melted
Instructions
Spray a 9x13 baking dish with cooking spray.

Lay the frozen cinnamon rolls into the pan. Three rows with 4 cinnamon rolls in each row.

Sprinkle the cook & serve pudding over the frozen cinnamon rolls. * DO NOT prepare the pudding mix first. Just sprinkle the dry powder mix.

Drizzle the melted butter over the pudding mix/cinnamon rolls.

Cover with tin foil, spray the underside that touches the pan with cooking spray, and place in the fridge overnight.

In the morning pull out the cinnamon rolls and let rise in a warm place until doubled in size (about 1 hour). They should rise to the top of the baking dish.

Heat oven to 350 degrees and cook for 20 minutes. Time may vary so start checking the rolls after 20 minutes. The tops will be a golden brown. Ice the cinnamon rolls, with included icing in the bag, while warm.
Notes
My kitchen is really cold in the mornings so I set the pan of cinnamon rolls on top of a heating pad on the low setting.  I put the icing bags (from the frozen cinnamon roll bag) into the fridge overnight so that they could thaw. In the morning I squeezed them into a Ziploc bag and cut a corner off the bag. This makes the nice icing lines. If that's what you prefer.
Nutrition
Calories: 360kcal | Carbohydrates: 44g | Protein: 3g | Fat: 20g | Saturated Fat: 10g | Polyunsaturated Fat: 1g | Monounsaturated Fat: 2g | Trans Fat: 1g | Cholesterol: 21mg | Sodium: 658mg | Potassium: 4mg | Fiber: 1g | Sugar: 22g | Vitamin A: 246IU | Calcium: 3mg | Iron: 1mg