Honey Teriyaki Chicken is a family favorite dinner recipe that's made in a slow cooker! It's an easy prep dinner with no chopping needed. Just throw everything into the crockpot and let it cook while you go about your day. The chicken is fall apart tender thanks to the long cook time and plenty of the easy homemade teriyaki sauce to keep it moist and flavorful.
Teriyaki is a flavor that my family loves! Some of our other favorites are these Pineapple Teriyaki Chicken Meatballs, One Pan Chicken Teriyaki, and Teriyaki Chicken Rice Bowls.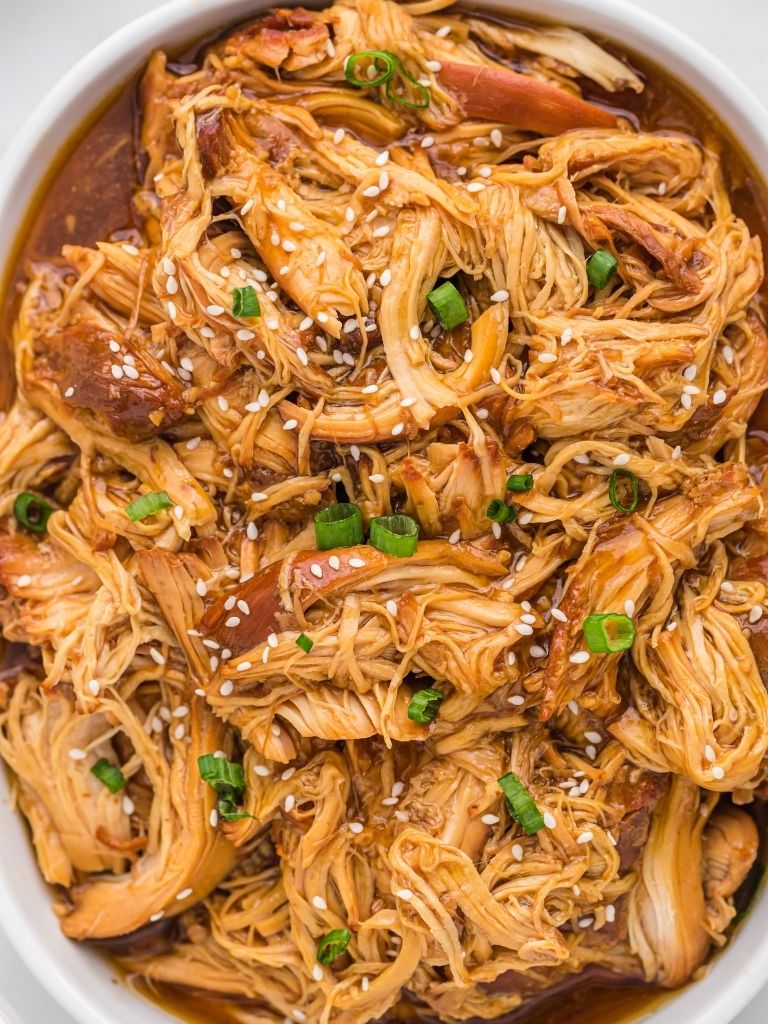 Honey Teriyaki Chicken Recipe
Teriyaki is such a kid-friendly dinner idea with it's sweet & savory sauce and it's usually served over rice. Rice seems to be a universal food that all kids love!
This recipe for honey teriyaki chicken is so delicious with it's super moist shredded chicken, the homemade teriyaki sauce, and you serve it over rice so it's pretty much a guaranteed win at the dinner table. 
Throw all the ingredients into the slow cooker in the morning and then just set it & forget it, and let it do it's thing. No matter how busy the day is you know dinner will be ready to go! Just be sure to throw some rice in a rice cooker (my preferred method) before dinner. 
Ingredients Needed
You will need chicken breasts and then several ingredients to make the homemade teriyaki sauce. It may look like a lot, but its super easy, and there is no chopping needed!
Boneless, Skinless Chicken Breasts – I prefer using chicken breast because it's a leaner meat and it gets super tender in the slow cooker. 
Chicken Broth
Water
Low-Sodium Soy Sauce
Brown Sugar
Honey
Garlic – Use any type of garlic you want. I prefer to use the garlic paste in the tube, you can also use chopped garlic from a jar, or mince/press fresh garlic cloves. They're all great options!
Sesame Oil
Cold Water + Cornstarch – This makes a slurry or paste that is used to thicken the teriyaki sauce for serving. 
How To Make Slow Cooker Honey Teriyaki Chicken
This is an easy slow cooker recipe that is a dump & go kind of prep. With only a few steps this is a simple dinner recipe. 
Chicken : Place chicken breasts into the bottom of the insert of a slow cooker (sprayed with cooking spray).
Teriyaki Sauce : Mix up the teriyaki sauce ingredients in a measuring cup or bowl and stir together well with a wire whisk. Pour it over the chicken.
Cook : Put the lid on and set to LOW heat for 6-7 hours. 
Shred Chicken & Thicken : 30 minutes before the cook time is up, take the chicken breasts out of the slow cooker and put them on a plate, use two forks to shred the chicken. Mix up the cornstarch + cold water slurry and whisk it into the sauce in the slow cooker. Add the shredded chicken back in and let it cook for the remaining 30 minutes. 
Tips For Success
Here are a few of my helpful tips that will make this dinner recipe a hit with your own family.
Cook Time : Be sure and cook the chicken for 6-7 hours. The low & slow cook time is what makes the chicken super tender and it will literally fall apart when you touch it with a fork. 
Low-Sodium Products : Be sure and use low-sodium soy sauce. If you use regular, the teriyaki sauce will be salty. You can use regular chicken broth or reduced-sodium chicken broth. Either one will work in this recipe, it just depends on how much of that salty flavor you want. The slow cooker does tend to mute flavors because of the longer cook time, which is why I use regular chicken broth in this recipe. 
Shredded Chicken Tip : If you want perfectly shredded chicken then put the chicken breasts into a bowl and use a hand mixer to beat it on low speed until it's shredded. I just use two forks & a plate to shred chicken but I know lots of people like this method. Too many dishes for me! 
Honey Teriyaki Chicken FAQ's
How to Store Leftovers

Leftovers of teriyaki chicken keep well in the fridge, in an air-tight container, for up to 3 days. Be sure and save the extra sauce with it so leftovers will be moist and have sauce to drizzle over it. 
You can either heat up leftovers in the microwave or put them into a pot, on the stove top, and warm it up that way .

Can I Freeze Honey Teriyaki Chicken?

Yes you can. Make sure that the chicken is cooled to room temperature and then place it into a freezer-safe container or freezer-safe gallon Ziploc bag. Store in the freezer for up to 1 month. Again, make sure you freeze the extra sauce with it. 
Let thaw in the fridge overnight or just put the frozen chicken into the slow cooker, or soup pot on the stove, and let it thaw and come to temperature. 
You may need to add additional water or chicken broth when reheating and thawing the frozen leftovers. 

Servings Suggestions

We love honey teriyaki chicken served over white rice, drizzled with additional sauce from the slow cooker, and topped with green onions and sesame seeds. 
Make it low carb and eat inside lettuce for a teriyaki chicken lettuce wrap. 
Serve over cauliflower rice or quinoa. 
Make some Fried Rice to go along with it. 
I like to buy some frozen vegetable spring rolls and cook those according to package instructions. 
Supplies Needed
Here are a couple supplies that you will need to make this easy recipe for honey teriyaki chicken. These are an affiliate link, meaning that if you purchase, I will make a very small percentage from the sale. As always, I appreciate the support for the free recipes I post. I will only recommend things that I personally own and love! Promise.
Rice Cooker : I never liked cooking rice before I got this rice cooker! It really is fabulous and the rice turns out perfect each time.
Measuring Cups : It's easiest to make the teriyaki sauce in a larger measuring cup like one of these! I love the OXO brand and these are no exception. 
Slow Cooker : I own 3 of these! I love that the lid locks into place and you can easily take it somewhere because of that. 
More Slow Cooker Chicken Recipes You'll Love
Slow Cooker Honey Teriyaki Chicken
Slow cooker honey teriyaki chicken is a family favorite dinner. Only a few ingredients for a homemade honey teriyaki sauce and some chicken is all you need! The chicken is so tender thanks to the long cook time in the slow cooker. Serve over cooked rice and drizzle with additional teriyaki sauce.
Ingredients
4 boneless, skinless chicken breast (about 2-3 lbs)
1 cup chicken broth
1/2 cup water
1/2 cup low-sodium soy sauce
1/2 cup brown sugar
1/4 cup honey
3 garlic cloves (minced, pressed, from a jar, or garlic paste)
1 teaspoon sesame oil
1/4 cup cornstarch
1/4 cup cold water
Instructions
Spray slow cooker with cooking spray and place chicken breasts into the bottom.

In a mixing bowl combine chicken broth, water, soy sauce, brown sugar, honey, garlic, and sesame oil. Whisk together to combine. Pour over the chicken.

Cook on low heat for 6-7 hours.

30 minutes before serving take out the chicken and place on a plate and shred with two forks.

Mix cornstarch and cold water in small bowl and pour into the teriyaki sauce in the slow cooker. Whisk to combine. Add the shredded chicken back in and let cook on low for the remaining 30 minutes of cook time.

Serve over cooked white rice and garnish with green onions and sesame seeds.
Notes
The recipe as is produces a thinner teriyaki sauce. It is supposed to be this way so that there is plenty to drizzle over each serving as well as keep the chicken moist. If you prepare a thicker teriyaki sauce use less water; like maybe 1 cup of water.
Nutrition
Calories: 245kcal | Carbohydrates: 28g | Protein: 25g | Fat: 4g | Saturated Fat: 1g | Polyunsaturated Fat: 1g | Monounsaturated Fat: 1g | Trans Fat: 1g | Cholesterol: 73mg | Sodium: 776mg | Potassium: 500mg | Fiber: 1g | Sugar: 22g | Vitamin A: 35IU | Vitamin C: 4mg | Calcium: 25mg | Iron: 1mg