One pan Cashew Chicken is a simple dinner recipes that everyone loves! Chunks of chicken are covered in a sweet homemade sauce, crunchy salty bites of cashew, and then topped with green onions. A family favorite dinner recipe that is sure to please. 
For more cashew recipes be sure and try my  Fruity Cashew Chicken Pasta Salad and this Instant Pot Cashew Chicken. 
Cashew Chicken (Easy One Pan Recipe)
This easy skillet cashew chicken is really simple, and it's a quick 30-minute dinner, that's made in just one pan.
An easy homemade sauce that is sweet & savory, chunks of tender chicken breast, and then topped off with crunchy cashews and sliced green onions. It's a family pleasing meal that is not spicy, but can be made spicy, that everyone will love.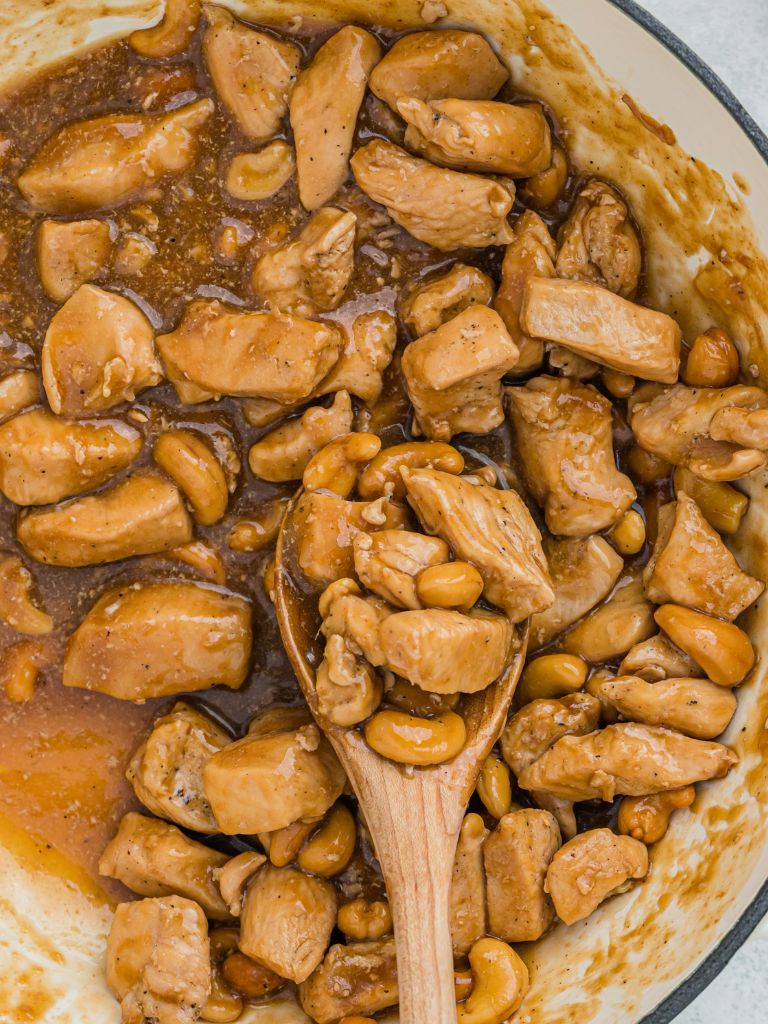 Ingredients Needed
Low-Sodium Chicken Broth – If you do use regular, full-salt chicken broth (which is fine!) then you may want to slightly cut back on the amount of salt you sprinkle on the chicken pieces. 
Reduced Sodium Soy Sauce – Yes, please make sure you are using the low sodium soy sauce. Regular will be way too salty. Unless you love that, then go ahead.
Hoisin Sauce – You can find this by the soy sauce and other Asian ingredients in the grocery store. 
Brown Sugar
Rice Vinegar – Make sure it is the unseasoned rice vinegar.
Garlic – Use fresh chopped garlic cloves, chopped garlic from the jar, or garlic pasta from the tube. 
Ginger – You can peel and shred your own fresh ginger but the easiest thing to do is to buy a tube of ginger paste (in the fridge part of the produce section).
Sesame Oil
Cornstarch – You will use cornstarch in the sauce mixture and for the chicken. This helps thicken the sauce. 
Cashews – I use lightly salted cashews, but any will work. I also like them chopped up a bit more so I put them into a Ziploc bag and pound them to chop them up a bit. 
How to Make Cashew Chicken in a Skillet Pan
Learn how to make this easy one pan skillet cashew chicken with the steps below. Be sure and read to the bottom of the post where there is a printable recipe card, a pin it button so you can save it for later, and a recipe card with all the details and tips for success. 
Sauce Mixture : Begin by mixing up the homemade sauce. I mix mine into a 2-cup glass measuring cup but you could also use a small bowl. You will also need a whisk to get it combined and smooth. Set it aside for later. 
Cook Chicken Chunks : Add the olive oil, chunks of chicken, salt, and pepper into a large skillet pan. Cook over medium-high heat until the chicken is white and looks cooked. No need for a thermometer yet, as it will simmer in the sauce for 10 minutes later. The chicken produces a lot of liquid while cooking, which I always like to drain out, but that is completely optional. 
Simmer : Add the prepared sauce from above into the skillet pan. Bring it to a boil, once boiling, reduce heat to medium low and let it simmer for 10 minutes. At this point you will need to check and make sure that the chicken is up to temperature (165 degrees F), before adding the cornstarch + water and cashews. 
Add-Ins : Once the sauce is thickened and darker in color and chicken is cooked through, mix together the cornstarch + water and add it into the pan along with the cashews. Stir to combine. Let it cook for just a few minutes. 
Serve : Serve over cooked rice of choice and garnish with sliced green onions. 
Cashew Chicken FAQ's
Serving Suggestions

Rice : White rice is my family's preferred way of serving cashew chicken. There will be extra sauce so it's perfect to drizzle any extra sauce over the rice. You can also use brown rice if you prefer. 
Cauliflower Rice : Try buying a bag of frozen cauliflower rice to serve alongside this cashew chicken. 
Fried Rice : Making some fried rice is another great option for serving. 
Lettuce Wraps : Serve this cashew chicken inside lettuce wraps. 
Garnishes : This is so good garnished with sliced green onions! I definitely recommend it. 

How To Store Leftovers

Leftovers will keep well in the fridge, in an airtight container, for up to 4 days. 
You can store the rice separate from the cashew chicken, or combine them into one dish. I prefer to combine them because then the rice does not dry out because of the sauce. 
Heat up leftovers in the microwave or a skillet pan. Add some additional water or both, if necessary, if reheating leftovers on the stove top. 

What Kind of Chicken Should I Use?

It's best to use boneless, skinless chicken breast for this recipe. It's leaner, cooks fast in the skillet pan, and I think it's the easiest chicken to use when serving kids. I have never personally used anything other than chicken breast, but you can try using chicken thighs. Make sure you trim them of any fatty pieces and the cook time will be increased. 

Substitution & Variation Ideas

Make It Spicy! : Add some hot sauce, red chili flakes, or some red cayenne pepper. The recipe as is, is not spicy but full of lots of flavor, so if you want some heat you will need to add it in. 
Brown Sugar : The amount as is, is perfect, but if you want a sweeter sauce then add more. If you want less sweet then just reduce the brown sugar amount. I would not recommend leaving out the sugar all together. You do need some sweetness to balance out the vinegar and ginger flavors. 
Recipe Tips
Here are a few of my helpful tips so that you can have success recreating this recipe in your own kitchen ♥
Small Chunks of Chicken : Cut the chicken into small, bite-sized chunks so that they will cook in the time given. If the chunks are larger than the cook time will increase slightly. You don't have to cook the chicken all the way through in the first step, but it should be white in color and looked mostly cooked. It simmers for an additional 10 minutes in the second step where you will need to check the temperature. 
Low-Sodium Products : It's important to use reduced-sodium products as called for in the recipe. I have tested this recipe with full salt products and though it was too salty, but everyone is different, so if you prefer a salty dish then use full-salt products. Generally, the low-sodium products are preferred in this recipe. 
Garnish : This cashew chicken is elevated when served with sliced green onions. I highly recommend it!
You'll Love These Other Skillet/One Pan Dinners
Cashew Chicken
One pan Cashew Chicken is a simple dinner recipes that everyone loves! Bites of chicken are covered in a sweet homemade sauce, crunchy salty bites of cashew, and then topped with green onions. A family favorite dinner recipe that is sure to please. 
Ingredients
Sauce
1 cup low-sodium chicken broth
1/3 cup low-sodium soy sauce
1/4 cup hoisin sauce
3 tablespoons brown sugar
2 tablespoons rice vinegar
1 tablespoon cornstarch
4 garlic cloves (minced, pressed, chopped from a jar, or garlic paste)
2 teaspoons fresh ginger (I use ginger paste)
1 teaspoon sesame oil
Cashew Chicken
3-4 boneless, skinless chicken breasts (cut into small bite-sized pieces)
1 tablespoon olive oil
1 teaspoon kosher salt
¼ teaspoon black pepper
1 cup cashews
1 tablespoon cornstarch
1 tablespoon cold water
Instructions
Combine all the sauce ingredients in a glass measuring cup or a bowl. Whisk together to break up clumps. Set aside.

Add olive oil and chicken chunks to a skillet pan. Sprinkle with salt and pepper.

Cook chicken, over medium-high heat, for 8-10 minutes. Stirring to turn the chicken every couple minutes until it looks cooked and the outside is white. It should be mostly cooked, but not to temperature as it will cook in the sauce later. * Chicken gives off a lot of liquid while cooking, so at this point I like to drain the liquid from the skillet pan. This is optional.

Add the sauce to the skillet pan and bring to a boil. Once boiling, reduce heat to medium-low, and let simmer for 10-12 minutes. Chicken should be cooked through to a temperature of 165° F.

Stir together the cornstarch and water with a fork. Add this to the chicken, along with the cashews. Stir and let it cook and thicken for a few minutes before serving.

Serve over white rice and garnish with green onions.
Notes
Chicken : You will need about 2 pounds of chicken breast for this recipe. Make sure to cut the chicken into small, bite-sized pieces, so it will cook quicker. If they are larger, the cook time will be longer.  Nutrition Information : Calorie count is just for 1 serving of the Cashew Chicken. It does not include cooked rice for serving.  Make It Spicy : This recipe as is, is not spicy, just full of flavor. If you want some spice then try adding some hot sauce, red cayenne pepper, and/or red pepper chili flakes.  Use Reduced-Sodium Products : It's important to use the low-sodium broth and soy sauce that the recipe calls for. If using regular, the dish will be saltier, which might be great for some people. 
Nutrition
Calories: 284kcal | Carbohydrates: 22g | Protein: 18g | Fat: 15g | Saturated Fat: 3g | Cholesterol: 37mg | Sodium: 740mg | Potassium: 432mg | Fiber: 1g | Sugar: 11g | Vitamin A: 17IU | Vitamin C: 1mg | Calcium: 22mg | Iron: 2mg
This post has been updated with new pictures, more helpful text, and the original recipe is the same. Older pictures below for reference.