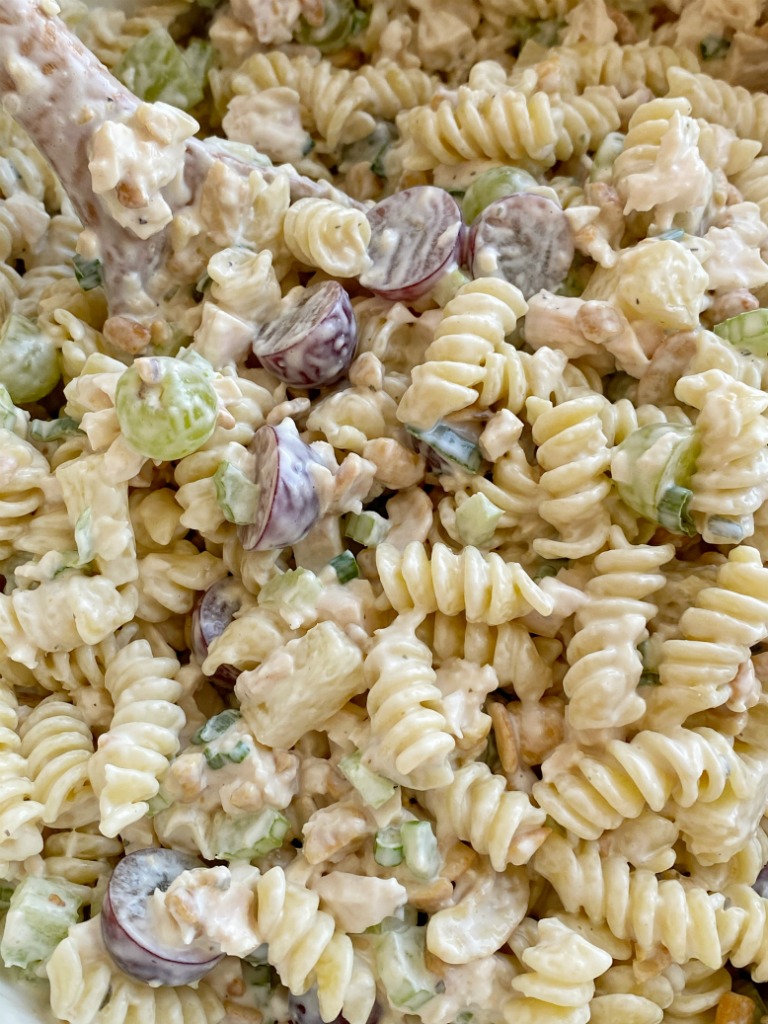 CHICKEN PASTA SALAD RECIPE
This chicken pasta salad just happens to be my very favorite pasta salad recipe on my site. I first posted it years ago and finally got around to updating it with new pictures that better showcase the delicious salad. 
Out of the hundreds of recipes on my site, lots get forgotten or overlooked, like this fruity cashew chicken pasta salad. So much flavor. So much texture. And it makes a ton so it's perfect to take to a large gathering or potluck.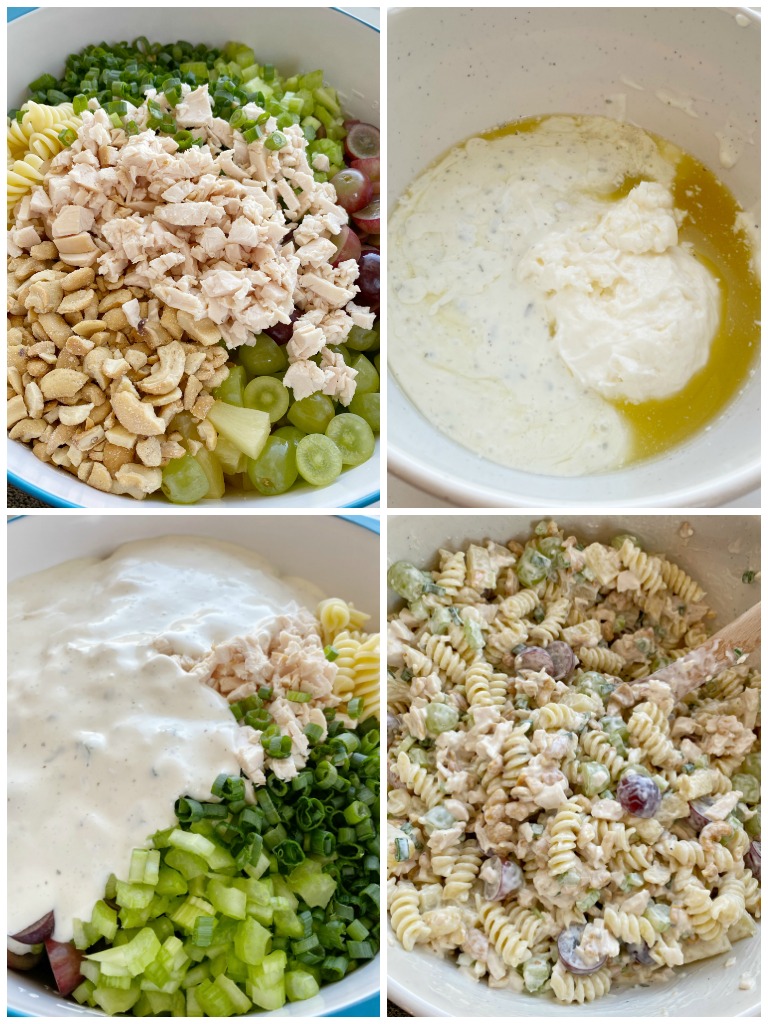 CASHEW CHICKEN PASTA SALAD WITH GRAPES, PINEAPPLE, AND CELERY
Spiral Rotini Pasta – I have found that this pasta is best for the salad. The spirals hold all the creamy dressing and I think this pasta shape looks really good in pasta salad recipes. But of course, if you prefer another pasta shape (like bowtie, large shell, etc) then go ahead and use that. 
Cooked Chicken Breast – You need 3 cups of cooked, chopped chicken for this recipe. I always use a rotisserie chicken from Costco and I get the 3 cups needed. You can also just cook some chicken breasts in a slow cooker with a can of chicken broth, on LOW heat for 6-7 hours. Shred or chop and use that in the salad. 
Pineapple Tidbits – If you prefer crushed pineapple then that can easily be substituted. Just make sure that you drain the pineapple really well & remember to reserve some of the drained juice from the can. 
Celery
Red and Green Seedless Grapes – I love using both colors but you could use all red or all green depending on what you have at home or what you can buy in the store. 
Lightly Salted Cashew Halves & Pieces
The creamy dressing is a simple mixture of mayonnaise, ranch dressing, pineapple juice, and salt.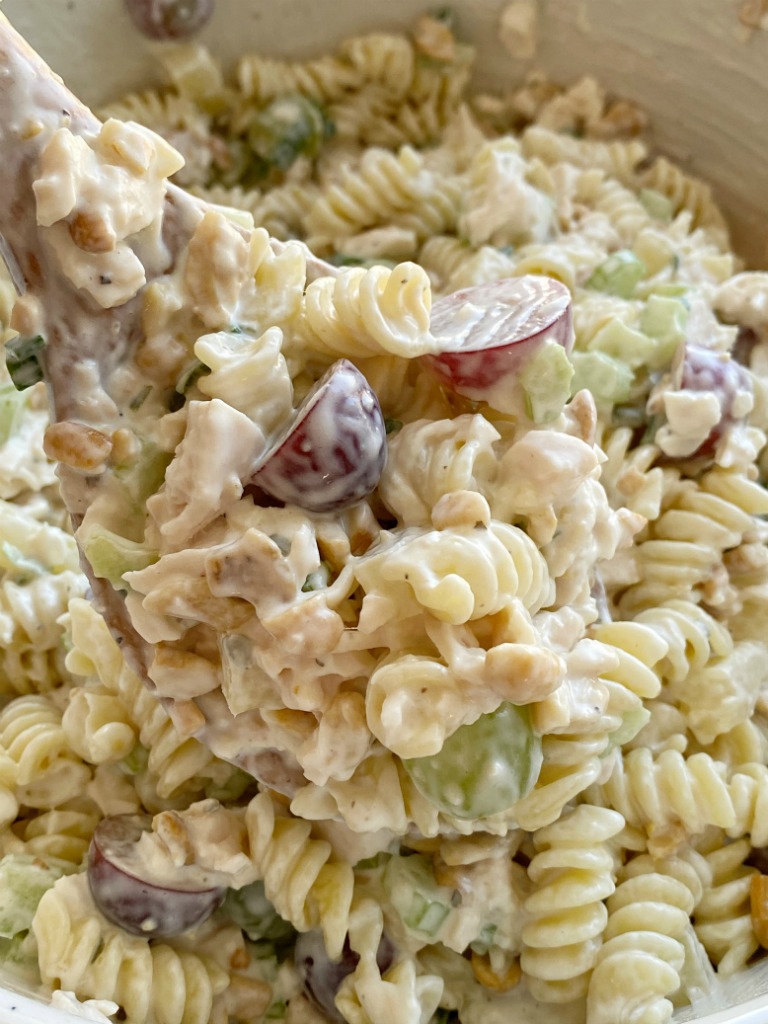 MY TIPS FOR MAKING THIS CHICKEN PASTA SALAD
If you use bottled, store-bought dressing be sure and use one that you really love. My favorite is the LiteHouse brand. You find it in the refrigerated area of the produce section. 
As mentioned above, my homemade ranch dressing is amazing in this recipe and one recipe of it makes exactly what you need.
You can use full fat mayonnaise or lite mayonnaise is also fine too. 
Like most pasta salads, this will dry out the longer it's in the fridge. I prefer to serve this within 1-2 hours of making it, or right away. Be sure and use cold ranch dressing in the salad to keep it cold. Leftovers are still delicious but you may have to add some additional mayo, ranch, and/or pineapple juice to moisten it up.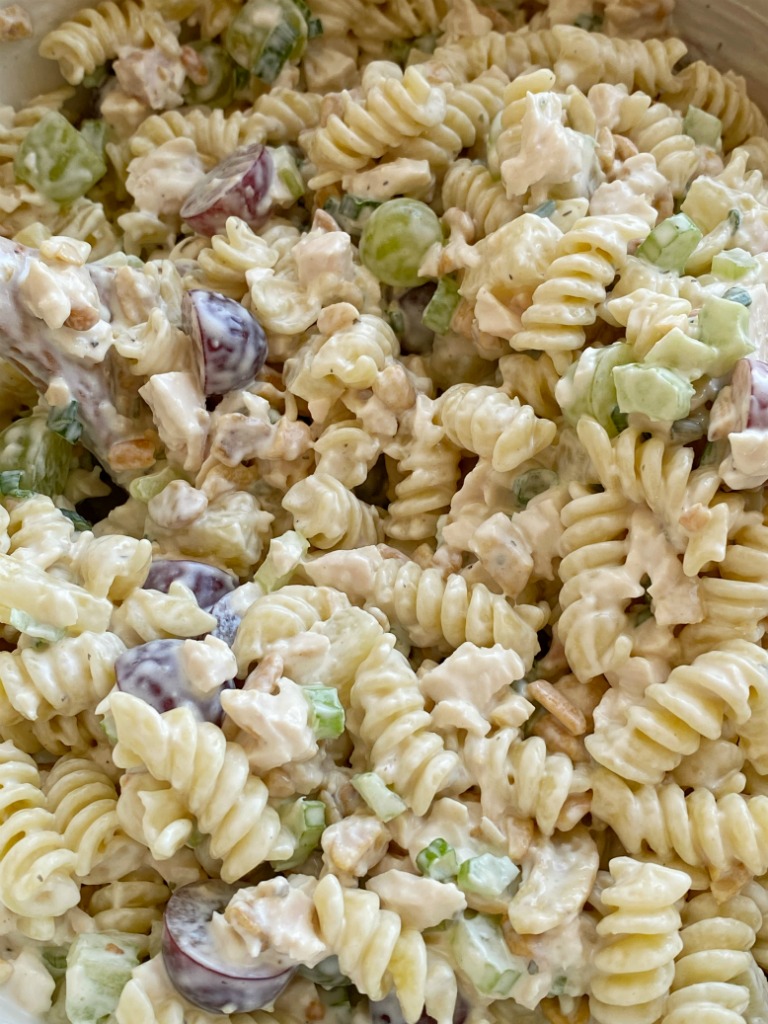 TRY THESE OTHER CASHEW CHICKEN RECIPES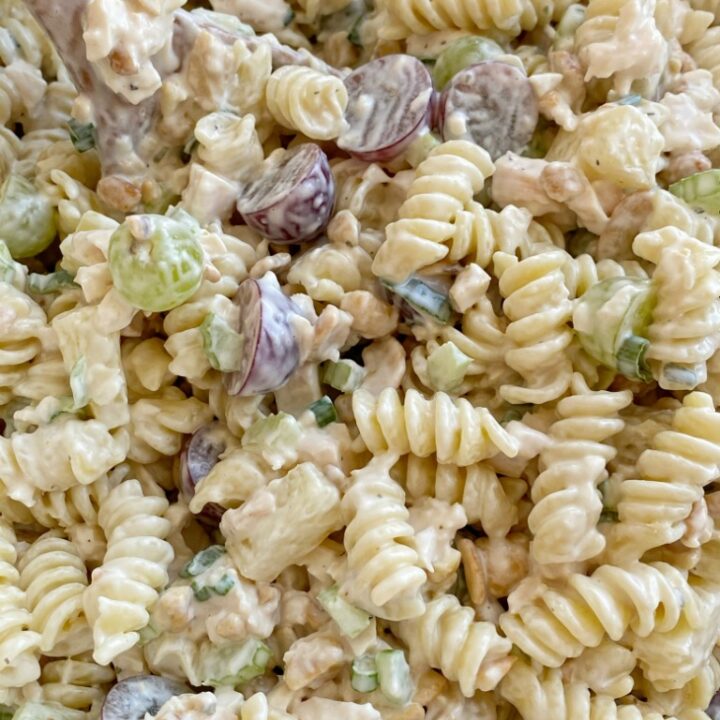 Fruity Cashew Chicken Pasta Salad
Cashew Chicken Pasta Salad is a creamy pasta salad recipe that's full of texture and flavor. Grapes, pineapple tidbits, celery, green onion, cashews, and chicken in a creamy ranch dressing sauce and spiral pasta noodles.
Ingredients
Chicken Pasta Salad
1 box (16 oz) rotini pasta
3 cups cooked chicken (shredded or chunked)
1 can (20 oz) pineapple tidbits, drained (reserve juice from can)
1 cup sliced celery
1 cup red seedless grapes, halved
1 cup green seedless grapes, halved
1 cup sliced green onions
2 cups lightly salted cashew halves & pieces (chopped smaller if wanted)
Creamy Dressing
1 cup ranch dressing
1 cup mayonnaise
1/3 cup reserved pineapple juice
1/2 teaspoon salt (more or less to taste)
Instructions
Cook pasta according to package instructions. Drain and rinse the pasta under cold water.

Combine the cooked pasta, chicken, drained pineapple tidbits (reserving the juice for the dressing), celery, grapes, green onions, and cashews into a LARGE mixing bowl. Stir together.

In a smaller bowl, combine all the creamy dressing ingredients and whisk together until smooth. Pour over the pasta salad and stir everything together until combined.

** It's best to use cold ranch dressing and cold mayonnaise so that the salad stays cold and you can serve it right away. This salad is best served right away or within 1-3 hours of making it. Leftovers are fabulous but the salad will dry out the longer it's in the fridge. Add additional mayonnaise and/or ranch to moisten.
Notes
Use your favorite store-bought ranch dressing OR try my
homemade ranch dressing
recipe.
You can use all one color of grapes if needed. I love the combination of both for looks and flavor which is why it calls for both colors. 
You can use the cashews straight from the container OR place them inside a Ziploc bag and crush them into smaller pieces. You don't want crumbs but if you prefer the smaller pieces then this is a great way to get them. I always chop them up a bit before adding into the salad. 
Nutrition
Calories: 445kcal | Carbohydrates: 37g | Protein: 14g | Fat: 28g | Saturated Fat: 5g | Cholesterol: 31mg | Sodium: 356mg | Potassium: 361mg | Fiber: 2g | Sugar: 11g | Vitamin A: 146IU | Vitamin C: 6mg | Calcium: 36mg | Iron: 2mg