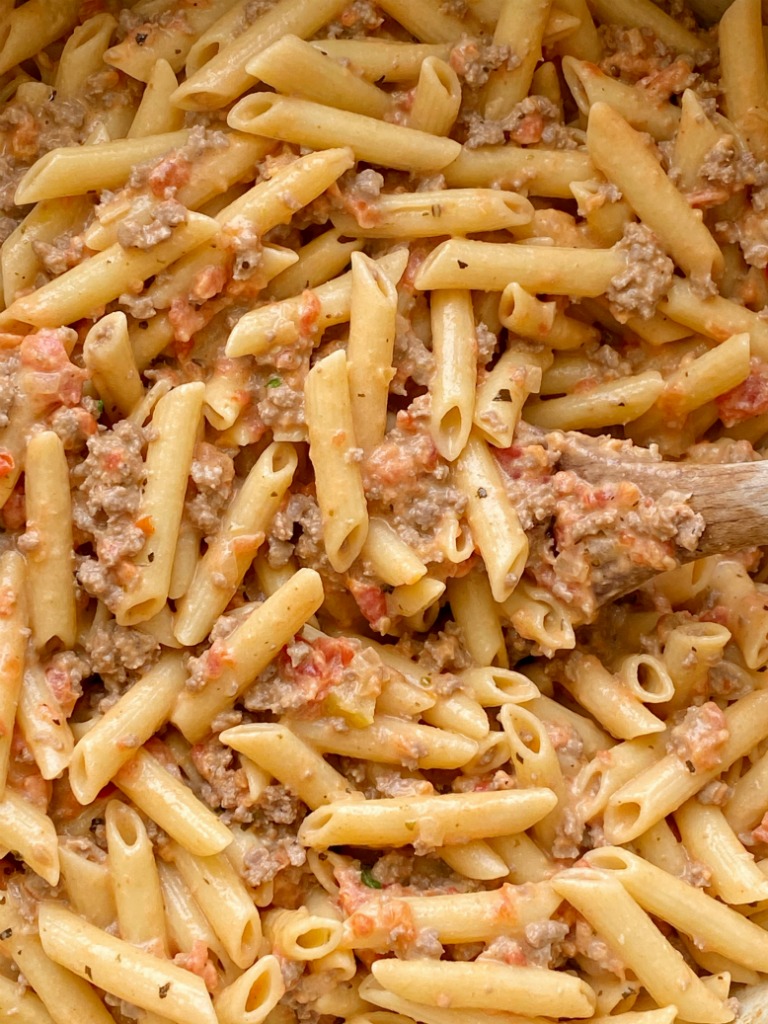 CREAMY TOMATO BEEF PASTA
Most of my family's favorite dinner recipes are pasta! It's kind of the universal food right?! Kids love it and there are so many ways to prepare it and serve it. 
This creamy tomato beef pasta is a family favorite and I know your family will love it too. On the dinner table in just 30 minutes and no one can resist this creamy ground beef pasta.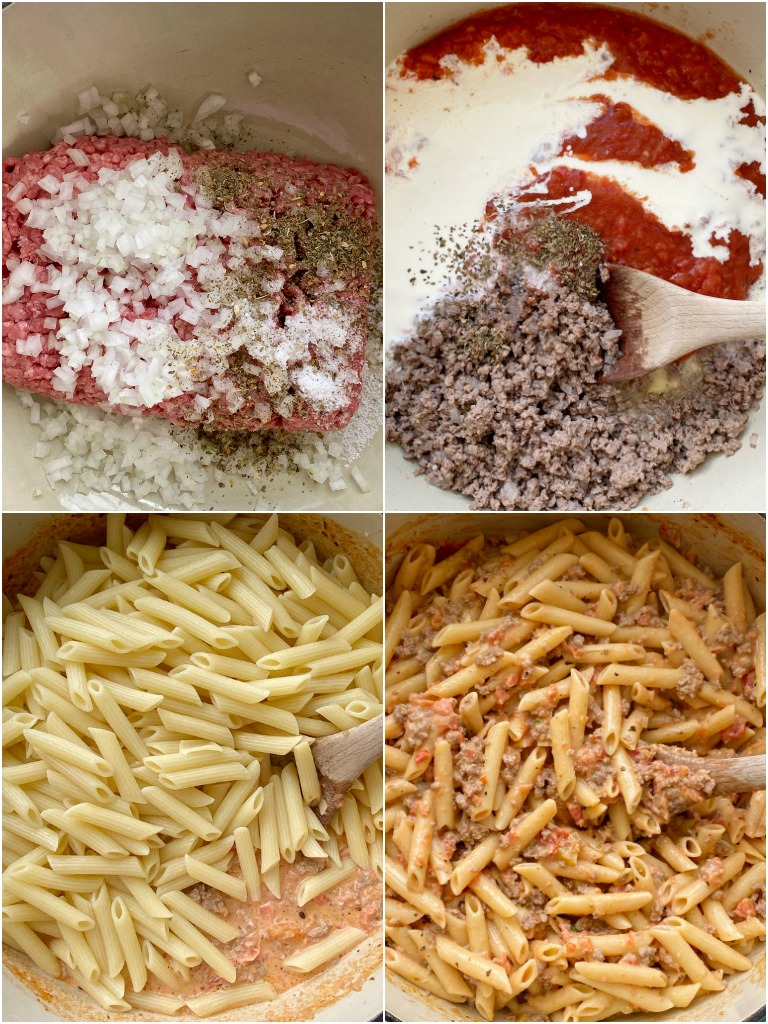 EASY PASTA DINNER WITH GROUND BEEF
Tube Shaped Pasta – I have found that the tube shaped pastas like ziti, penne, rigatoni work the best for this recipe. The creamy tomato meat sauce gets stuck inside the pasta noodles and it's really yummy. But feel free to use any pasta that you have in your pantry. Anything will work in this recipe just make sure its 16 oz of pasta. 
Onion – Use a white onion or a yellow onion for this recipe. 
Salt & Italian Seasoning – This cooks with the ground beef to flavor it. 
Garlic – You can use fresh garlic cloves that have been minced or pressed. Use chopped garlic from a jar. Or use garlic pasta from a tube, this is what I use and you can find in the refrigerated section of the produce area. 
Italian Style Diced Tomatoes – These are the canned diced tomatoes that have garlic, basil, and oregano in them. Sometimes labeled as 'Italian Style' on the can. I always throw these into a food processor or blender and pulse them several times to get rid of the large chunks of tomato. This is completely optional. 
Heavy Cream – Don't try and substitute with something else as it will just make the pasta sauce runny and not creamy and thick. 
Salt, Dried Basil & Granulated Sugar – More spices to flavor the cream and tomatoes, and sugar to cut the acid from the tomatoes.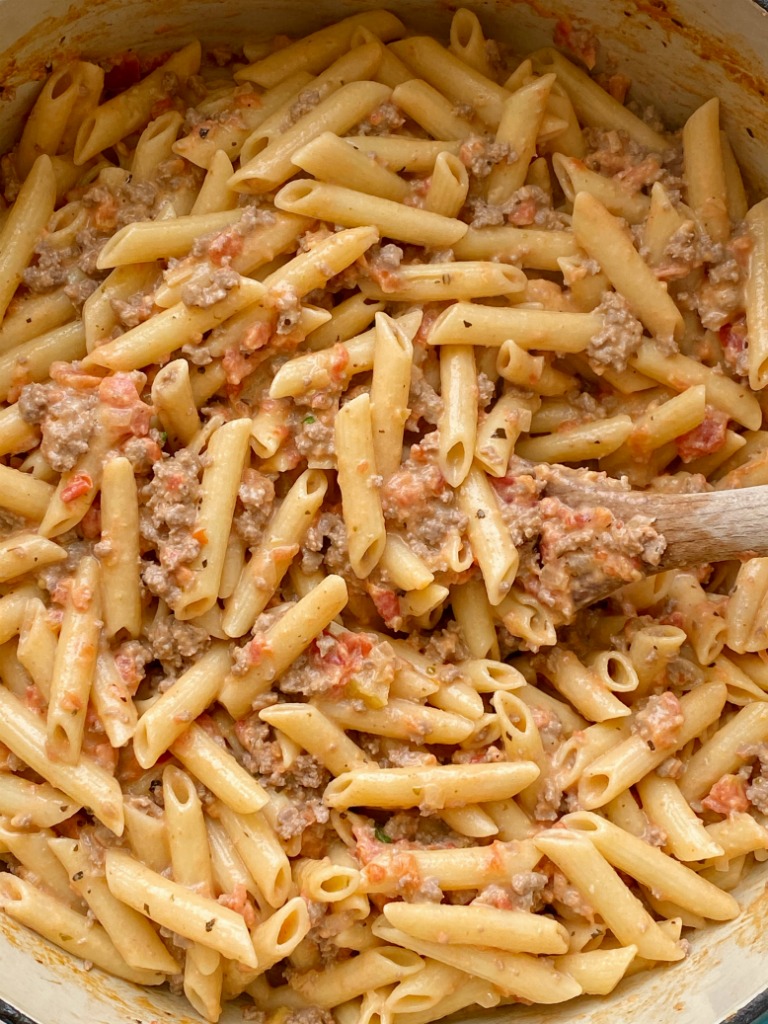 MY TIPS FOR CREAMY TOMATO BEEF PASTA
– When you add the pasta into the creamy tomato sauce it will seem like there is too much liquid. Once you turn off the heat and let the pasta sit there for 2-3 minutes, it will thicken up nicely. 
– This is really good garnished with some shredded parmesan cheese. 
– As mentioned above, if you want little chunks of tomatoes or a smoother sauce then go ahead and add the canned diced tomatoes into a blender or food processor and pulse it several times. 
– It may seem odd to add seasonings in two different times but trust me, it's what you need. The pasta needs seasoning along with the tomatoes and cream. And the ground meat itself needs lots of seasoning as well. 
– Feel free to substitute the ground beef with ground turkey or ground Italian sausage. 
TRY THESE OTHER PASTA DINNER RECIPES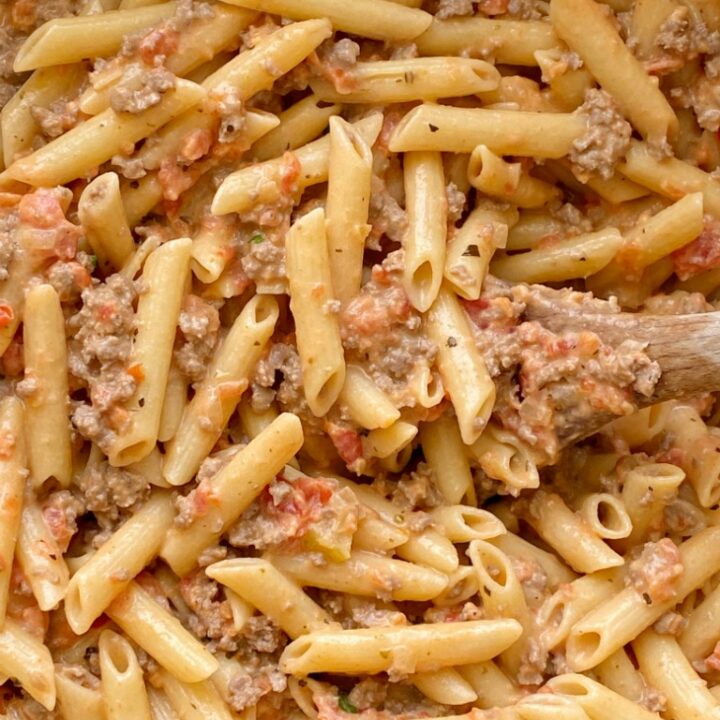 Creamy Tomato Beef Pasta
Creamy Tomato Beef Pasta is a 30 minute dinner recipe that the entire family will love! Pasta noodles covered in a creamy tomato ground beef meat sauce. Simple and easy to make.
Ingredients
1 box (16 oz) rigatoni, penne, or ziti pasta can use any tube shaped pasta
1 lb ground beef
1 onion finely chopped
1 teaspoon salt
1 teaspoon Italian seasoning
2 cloves garlic
2 cans (14.5 oz each) diced tomatoes with garlic, oregano, basil Italian style
1 ¼ cups heavy cream
½ teaspoon salt
½ teaspoon dried basil
½ teaspoon granulated sugar
parmesan cheese for garnish
Instructions
In a pot, over medium high heat, add ground beef, onion, salt, Italian seasoning, and garlic. Cook until no longer pink, crumbling the meat as you cook it. Drain.

Add the diced tomatoes, heavy cream, salt, dried basil, and sugar. Stir together and bring to a boil. Once boiling, reduce heat to low and let simmer for about 10 minutes while the pasta cooks. * I dump the 2 cans of diced tomatoes into my blender or processor and pulse it a few times. My kids don't like chunks of tomatoes so this helps chop them up more. I actually prefer it this way too.

Cook pasta according to package directions. Don't forget to add about 1 tablespoon salt to the boiling water before you add the past in. This helps flavor the bland pasta. Drain pasta. Do not rinse.

Add drained pasta into the pot with the creamy ground beef mixture. Stir together. Turn off the heat and let it sit for a few minutes so the sauce can thicken.

Serve and garnish with shredded parmesan cheese.
Notes
To make this a 30 minute meal, be sure and start your pot of water for the pasta first thing, before you start the ground beef. It will take about 5-8 minutes for a pot of water to come to a boil to cook pasta. 
If wanted, feel free to substitute the ground beef with ground turkey or some ground Italian sausage. If you want some spice then be sure and use the hot Italian ground sausage. My family prefers ground beef so that's what I always use.
For some spice add some red pepper flakes in with the salt and dried basil (when you're adding in the tomato and heavy cream). 
You really can use any pasta you prefer or have in your pantry. I love the tube shaped pastas like penne, ziti, rigatoni, etc. But any will work just fine. 
For best flavor use an 80/20 or 85/15 ground beef. You drain the extra fat and grease anyways, so use the fattier ground beef for the better flavor. 
recipe adapted from 5 Boys Baker
Nutrition
Calories: 489kcal | Carbohydrates: 50g | Protein: 20g | Fat: 23g | Saturated Fat: 12g | Cholesterol: 90mg | Sodium: 639mg | Potassium: 544mg | Fiber: 3g | Sugar: 5g | Vitamin A: 667IU | Vitamin C: 11mg | Calcium: 88mg | Iron: 3mg