Easy Meal Plan week 1 has kid-friendly & family approved dinner recipes with some side dish ideas and extra treats thrown in! Meal planning made easy to help get you started for the week or follow it each day and have your menu planning done for you. Meal planning ideas full of tried & true family tested recipes that even the kids will love.
EASY MEAL PLAN IDEAS FOR FAMILIES
Hello! Welcome to the start of my weekly easy meal plans. I used to do these back when I first started this food blog of mine (in 2015) and I never received much feedback from them so I assumed that no one used them. 
I was so wrong! As soon as I deleted them to clean up my site a bit I got so many comments, messages, and emails asking where they went. I know they are helpful for me and my entire goal with this site of mine is to help you get delicious recipes on the table for your own family. So I have started the weekly meal plans back up just for you!
My #1 tip for meal planning is to print out the recipes you are making for the week. That way you know right where they are when you're ready. It happens to me all the time where I see something I plan on making for dinner, buy the ingredients, and then when it comes time to make dinner I can't remember where I found the recipe at. So print off the recipes you are making, make a list of the ingredients you need, schedule a grocery pick-up or take the list with you to the store, and you're all set.
Be sure and go read by meal planning tips and tricks to help you get started. As always, use the recipes you like and switch them to days that work best for you. This meal plan can either be a starting point or you can follow it as is and have it all done for you. Enjoy!
A one pan easy dinner recipe that's made right on the stove top in 30 minutes. Chunks of chicken, rice, beans, and tomatoes simmer in seasoned chicken broth. Everything you love about chicken burritos but without the tortilla and made really easy in one skillet pan. 
I find this to be a pretty complete meal once you get all the toppings on it. I don't serve it with a side dish. I just serve it with all the toppings like shredded lettuce, tomatoes, guacamole, sour cream, etc.

Simple to make with frozen meatballs, gravy packet, beef broth, cream of mushroom soup, and evaporated milk which makes the creamy gravy sauce so smooth and creamy. Serve over egg noodles or rice. Top with green onions. 

A crispy coating of breadcrumbs, croutons, and parmesan cheese and dipped in Caesar dressing. The coating stays on this crispy baked chicken so well thanks to the egg!
Side Dish Idea : I love to serve this with a Caesar salad that you can find in the bagged salad area of the grocery store. It's so easy because it's one of those salad kits that comes with everything you need. 

Easy to make, creamy, cheesy, and filled with chunks of ham and shredded cheese. This semi-homemade macaroni and cheese with ham is a family favorite dinner recipe!

This is my family's favorite meatless dinner. It is hearty enough and filling on it's own that you won't even miss the meat. 
Side Dish Idea : I always serve this with cut fruit. Whatever is in season. 

SATURDAY – Kitchen's Closed! You deserve a break OR eat leftovers from the week.

Ground beef, potatoes, carrots in a richly seasoned tomato beef broth base. This stew recipe is more kid-friendly because of the smaller ground beef instead of larger beef chunks that you normally find in stew. 
Side Dish Idea : I make my 1 hour buttery rolls OR buy some frozen rolls that you just have to heat up in the oven. You can also stop by a bakery and buy some rolls too. 
TREAT & DESSERT FOR THE WEEK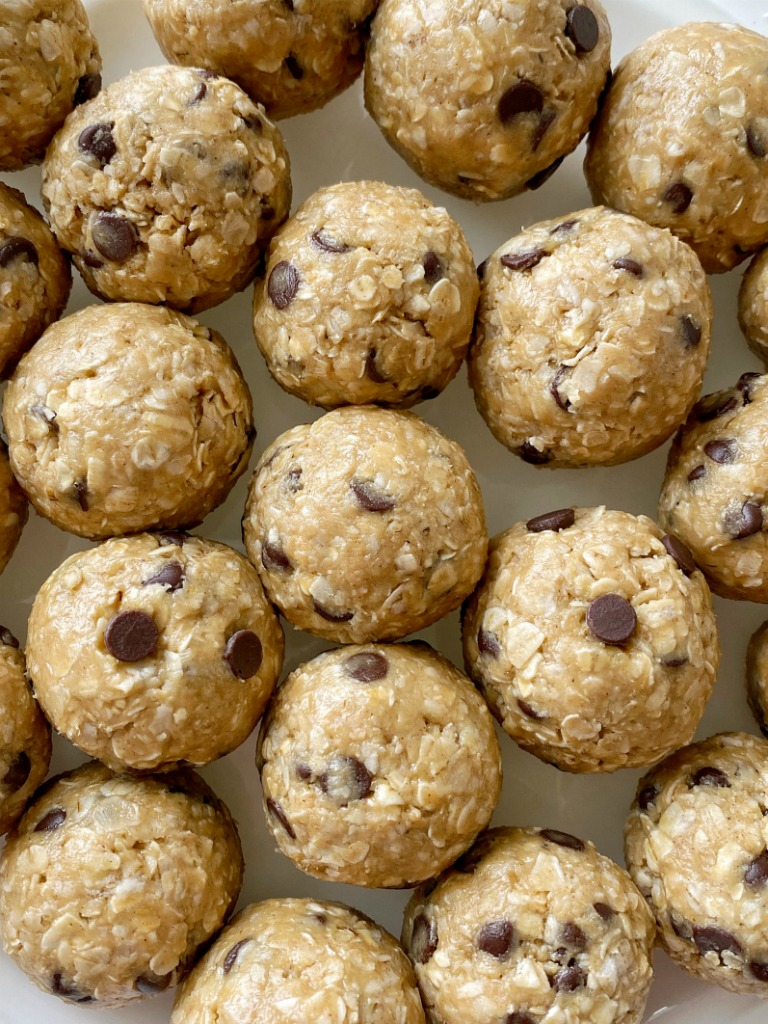 4 INGREDIENT ENERGY OATMEAL BALLS