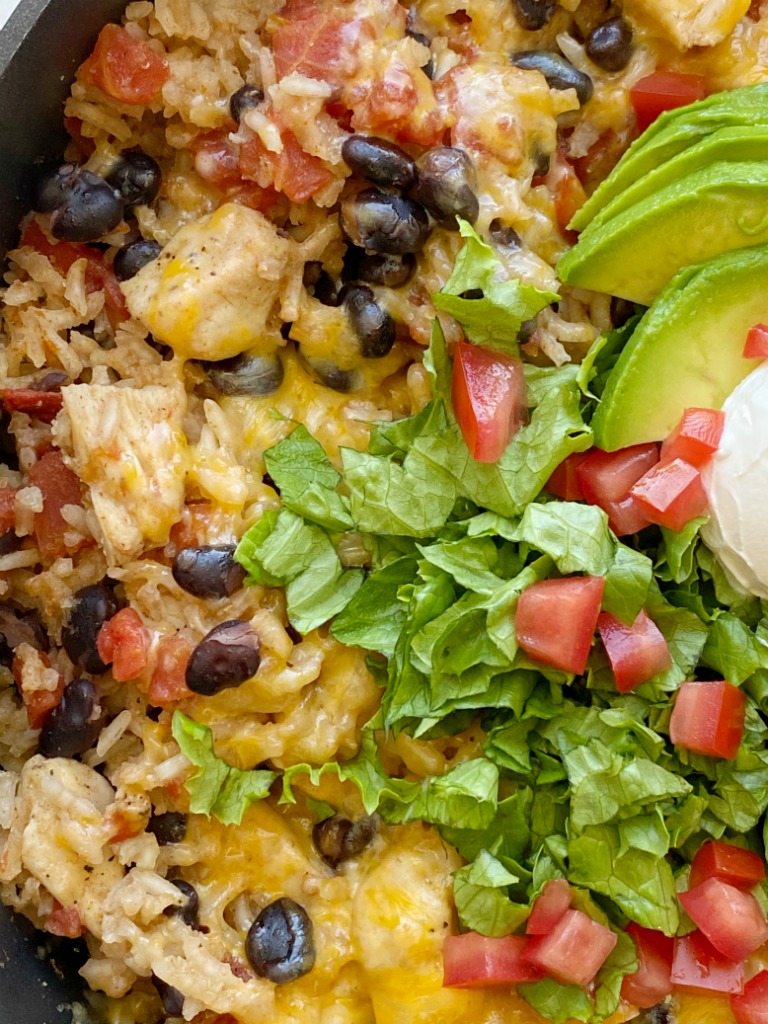 CHICKEN BURRITO SKILLET
This chicken burrito skillet cooks up in one pot on the stove top and it's everything you love about a chicken burrito but without the tortilla and made in 30 minutes in one skillet pan. 
Chunks of chicken, black beans, diced tomatoes, and rice cooks in seasoned chicken broth and then it's topped with cheese.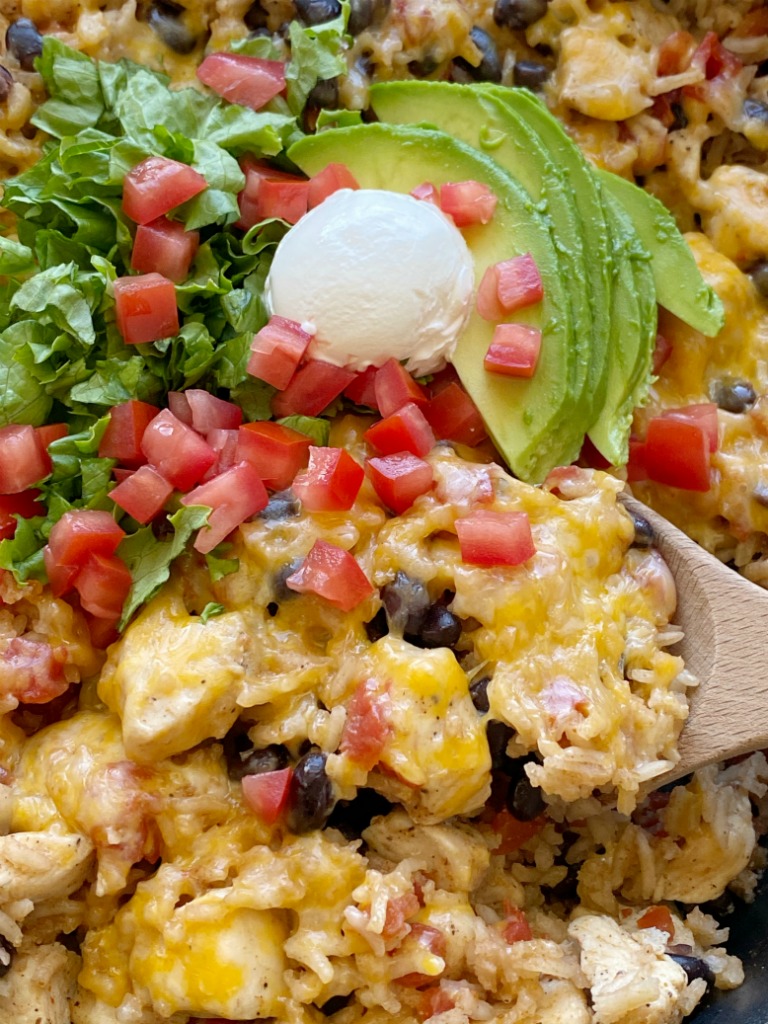 HOW TO MAKE CHICKEN BURRITO SKILLET
Boneless, Skinless Chicken Breasts – Cut these into bite-sized chunks that are about 1-inch pieces. 
Salt & Pepper – Seasoning for the chicken as it cooks in the skillet pan. 
Long Grain White Rice – Uncooked, dry rice. Do not prepare beforehand. 
Black Beans
Petite Diced Tomatoes – I prefer using the petite diced tomatoes because they are chopped smaller which makes it easier for kids to eat and they blend in better. 
Cumin, Garlic Powder, Onion Powder, Chili Powder
Chicken Broth – I prefer to use full sodium chicken broth in this recipe for the flavor it adds. If you use low-sodium chicken broth then you may have to add some additional salt in with the other seasonings. 
Shredded Cheese – Use any kind you want! I always use Colby Jack cheese but you can use Monterey Jack cheese, Pepper Jack for some spice, or even Cheddar Cheese. 
MY TIPS FOR THIS EASY SKILLET DINNER RECIPE
– This recipe can easily be customized to your heat & spice preference. It's pretty mild as is because I want my kids to eat it! Use a can of Rotel tomatoes in place of the petite diced tomatoes. Use Pepper Jack cheese. Add more chili powder or add some cayenne pepper in with the other seasonings. You could also add in a can of diced green chilies. 
– This recipe has been tested with white long grain rice. If you use brown rice then you will have to experiment on your own as brown rice needs longer cook time and it needs more water. 
– Don't like black beans? Use a can of pinto beans or another bean that you like. You could even leave the beans out if wanted and add a can of corn in it's place.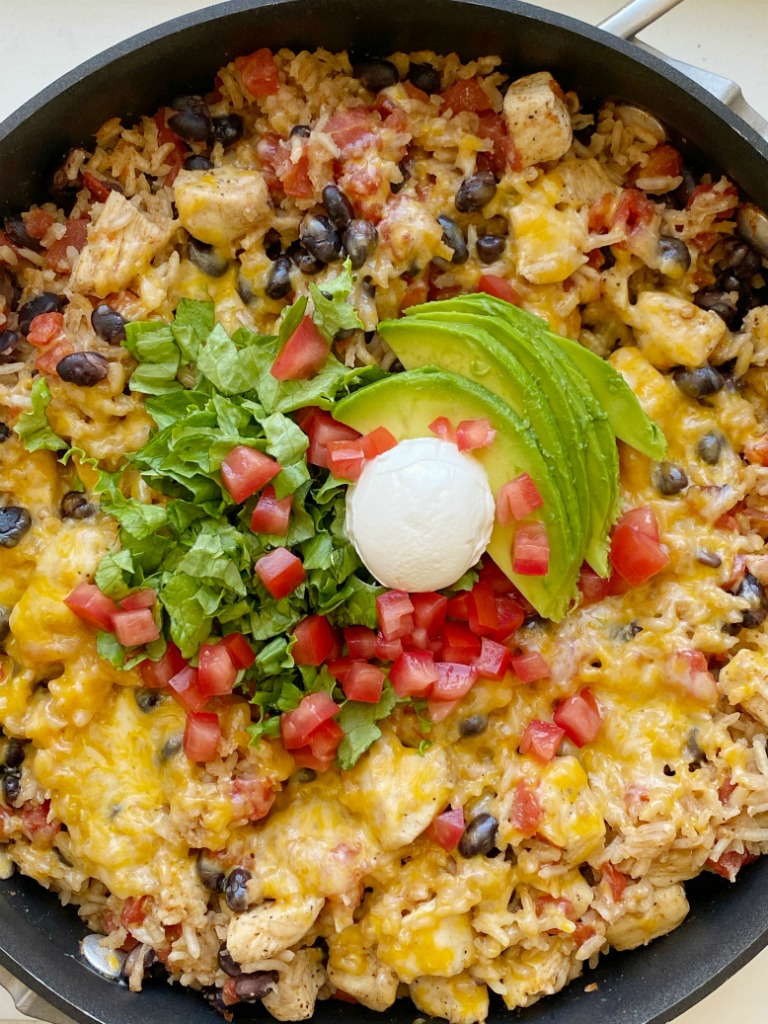 TRY THESE OTHER SKILLET RECIPES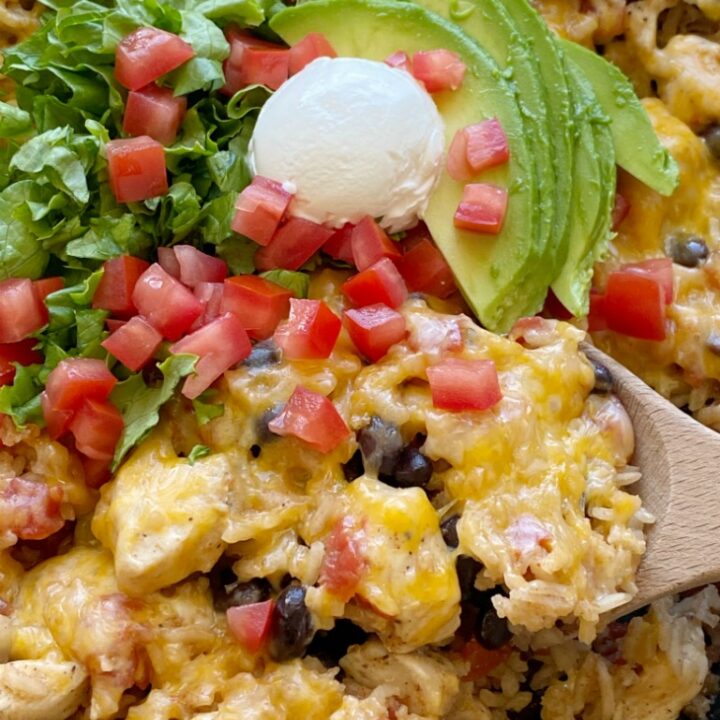 Chicken Burrito Skillet
Chicken Burrito Skillet is a one pan easy dinner recipe that's made right on the stove top in 30 minutes. Chunks of chicken, rice, beans, and tomatoes simmer in seasoned chicken broth.
Ingredients
2 tablespoons olive oil divided
2 boneless, skinless chicken breasts cut into 1" bite-sized pieces
1/2 teaspoon salt
1/4 teaspoon pepper
1 cup uncooked long grain white rice
1 can (15 oz) black beans drained and rinsed
1 can (14.5 oz) petite diced tomatoes drained
1 teaspoon cumin
1 teaspoon garlic powder
1 teaspoon onion powder
1 teaspoon chili powder
2½ cups chicken broth
1 cup shredded cheese
chopped tomatoes, sour cream, avocado optional toppings
Instructions
In a large skillet pan, over medium-high heat, add 1 tablespoon of olive oil, chicken chunks, salt, and pepper. Cook chicken until no longer pink and slightly browned, about 5 minutes. Remove chicken from pan (I put it on a paper towel lined plate) and drain the juices from the pan.* The chicken does not need to be completely cooked through but it should be cooked most the way (it will look cooked).

In same pan, over medium-high heat, add remaining 1 tablespoon oil and rice. Sauté rice until lightly browned, while stirring constantly, for 1-2 minutes or until rice is slightly browned and smells fragrant.

Stir in beans, canned tomatoes, seasonings and broth; bring to a boil. Once boiling, place chicken on top (DO NOT stir into rice mixture).

Cover with a lid and reduce heat to medium-low. Let cook for 20 minutes or until all liquid is absorbed and rice is cooked through.

Remove from heat. Sprinkle with cheese. Let stand, covered, until cheese is melted. Serve with all your favorite burrito toppings, flour tortillas, or over shredded lettuce.
Notes
This recipe has been tested and made every single time with full-salt, regular chicken broth. If you use low-sodium chicken broth then you may have to add some additional salt in with the other seasonings.  Serving size & calorie count is for about 1 1/2 cups of the chicken burrito skillet. This recipe feeds 6 people. More if you are feeding lots of little kids. 
Nutrition
Calories: 422kcal | Carbohydrates: 48g | Protein: 30g | Fat: 12g | Saturated Fat: 4g | Cholesterol: 63mg | Sodium: 859mg | Potassium: 885mg | Fiber: 8g | Sugar: 3g | Vitamin A: 400IU | Vitamin C: 14mg | Calcium: 159mg | Iron: 3mg