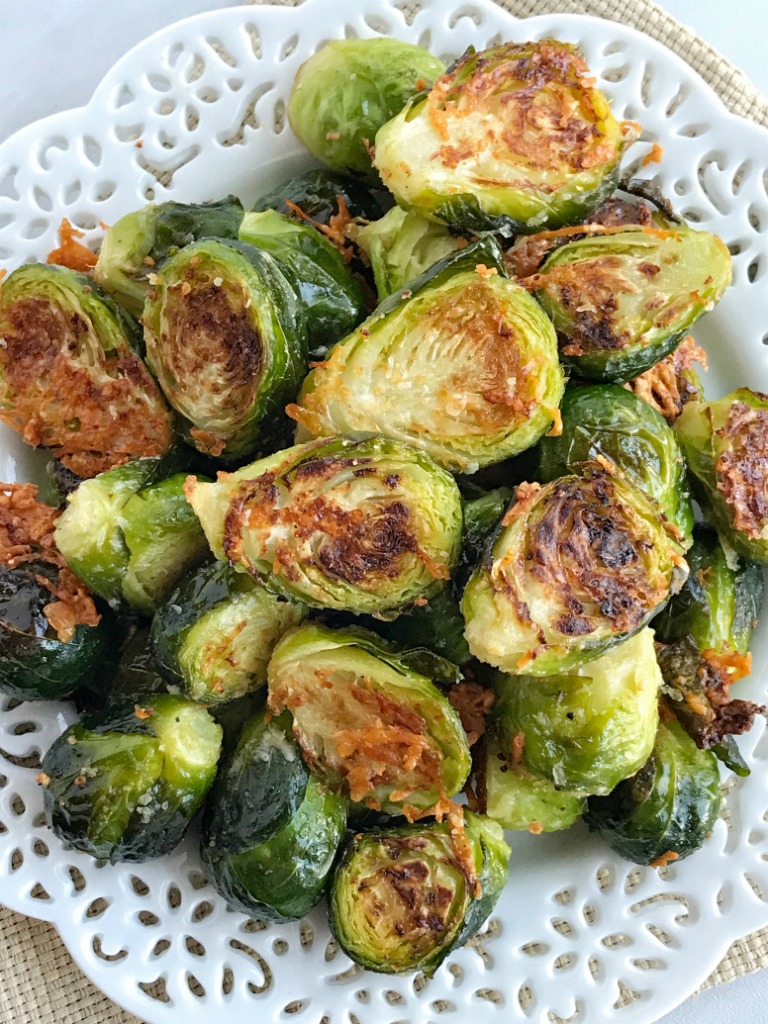 ROASTED BRUSSELS SPROUTS
If you're not familiar with brussels sprouts they are little cabbage like vegetables. When they are roasted in the oven they get this crispy and charred exterior that is so delicious. 
I usually just make a meal out of these oven roasted brussels sprouts. They are so good and I am betting even the brussels sprouts haters will end up loving these!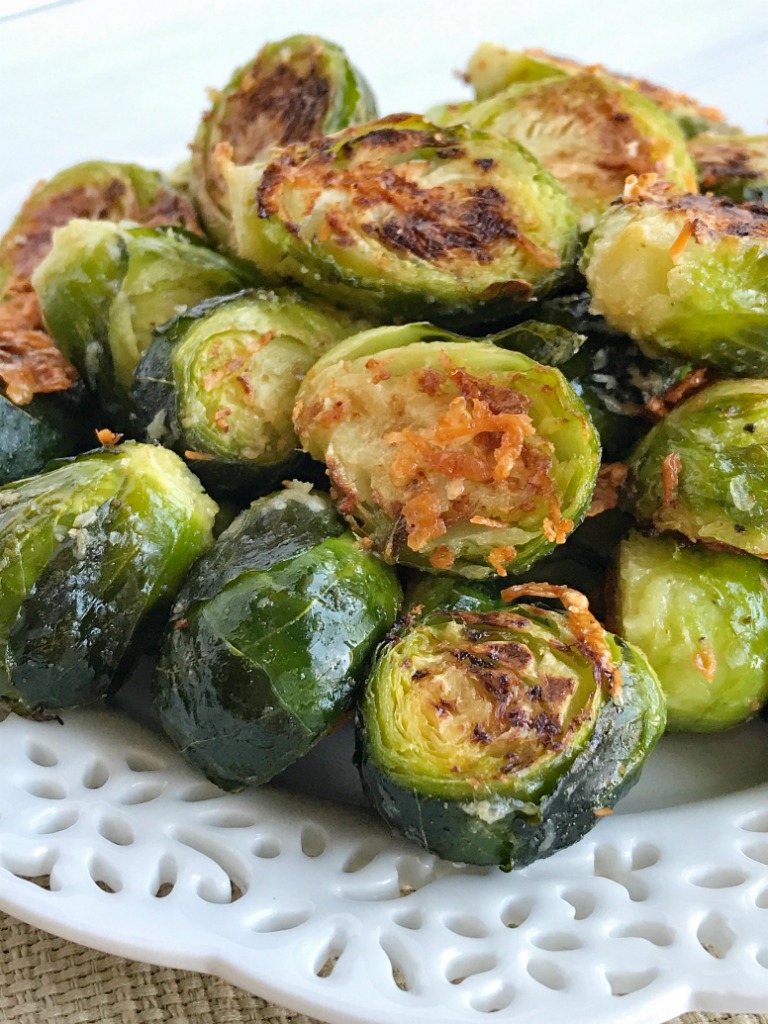 HOW TO MAKE ROASTED BRUSSELS SPROUTS
Fresh Brussels Sprouts – I always buy the already packaged bag of brussels sprouts at the grocery store. You will find it by the salad bags and other vegetables. The end will have a knob, which I always cut off, but you don't have to. 
Olive Oil
Parmesan Cheese – You can use any kind you want. The pre-shredded stuff, the grated stuff in the can, or you can shred your own. Shredded Parmesan cheese tends to burn easily in the oven. I usually use freshly shredded Parmesan cheese or the cheaper grated stuff in the can. 
Garlic Powder
Salt & Pepper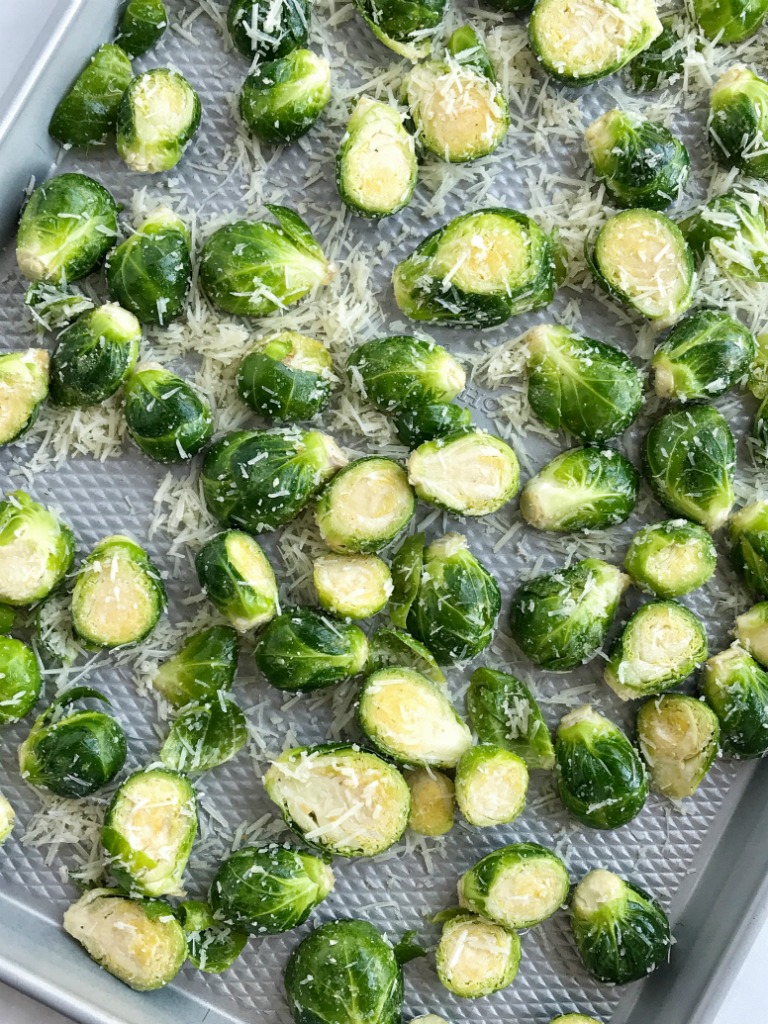 TIPS FOR ROASTING BRUSSELS SPROUTS
Try as much as possible to not have the brussels sprouts touching or on top of each other. You want them spread out on the baking sheet so they get that nice crisp and char on the outside. If you use a pan that is too small or they are touching, you will end up steaming them instead of roasting. 
You can use fresh garlic if that's what you prefer.
You can buy brussels sprouts that are already trimmed OR buy the regular, untrimmed bunch of brussels. Make sure you take the outer skin layer off (it's usually dirty and damaged) and trim the knob off the end of the end. 
The brussels do need to be cut in half. It's an extra step and requires a cutting board and knife, but you need them halved so they will get that crispy, charred outside all around.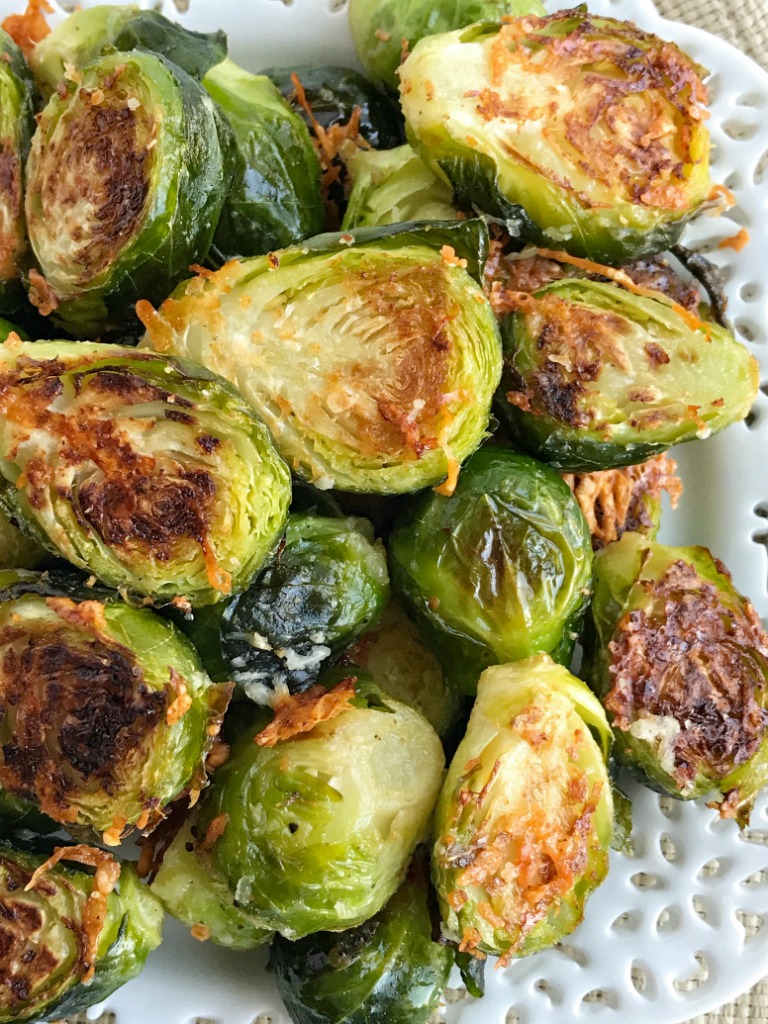 TRY THESE OTHER SIDE DISH RECIPES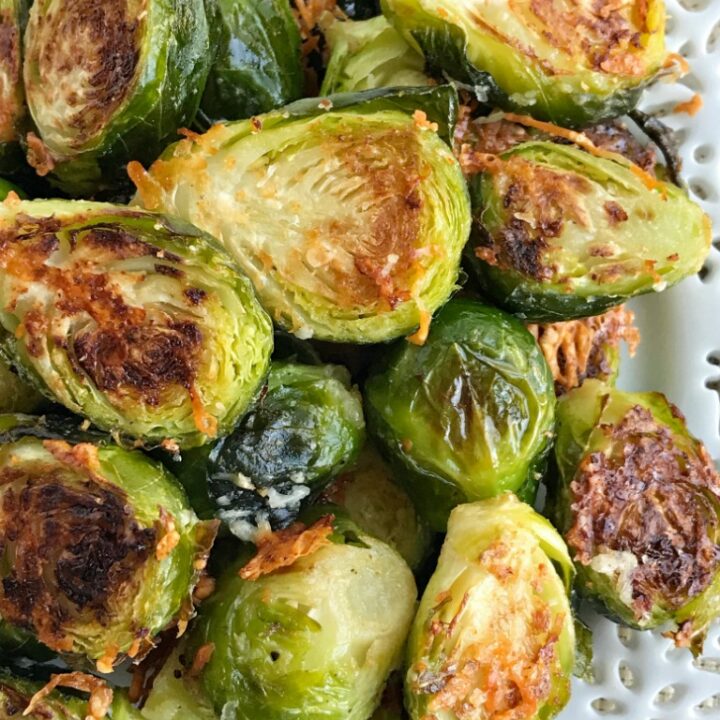 Oven Roasted Parmesan Brussel Sprouts
Oven Roasted Parmesan Brussels Sprouts are a healthy and delicious side dish that are easy to make. Fresh brussels sprouts roasted with olive oil, parmesan, and seasonings. 
Ingredients
1 1/2 lbs brussel sprouts (trimmed & halved)
2 tablespoons olive oil
1/3 cup parmesan cheese
1 teaspoon garlic powder
1/2 teaspoon salt
1/4 teaspoon pepper
Instructions
Heat oven to 425 degrees. Very lightly spray a cookie sheet with cooking spray.

In a bowl, combine brussel sprouts (that have been halved and ends trimmed) with the remaining ingredients. Toss together to coat all the brussel sprouts.

Spread onto the cookie sheet making sure they are not touching.

Cook for 16-20 minutes. Serve immediately.
Notes
COOK TIME: All ovens cook so differently so if you need to cook these for longer, then do that! Mine are usually perfect around 18 minutes, but if your oven is older then you may need closer to 20 minutes or more.    This recipe is so versatile. Add in additional seasonings if wanted.   You can use the cheaper grated parmesan cheese in the green can or shredded parmesan cheese that comes pre-shredded, or even shred your own fresh parmesan cheese.    I always use extra virgin light olive oil as the flavor is very mild. 
Nutrition
Calories: 114kcal | Carbohydrates: 11g | Protein: 6g | Fat: 6g | Saturated Fat: 2g | Cholesterol: 4mg | Sodium: 312mg | Potassium: 447mg | Fiber: 4g | Sugar: 3g | Vitamin A: 898IU | Vitamin C: 96mg | Calcium: 113mg | Iron: 2mg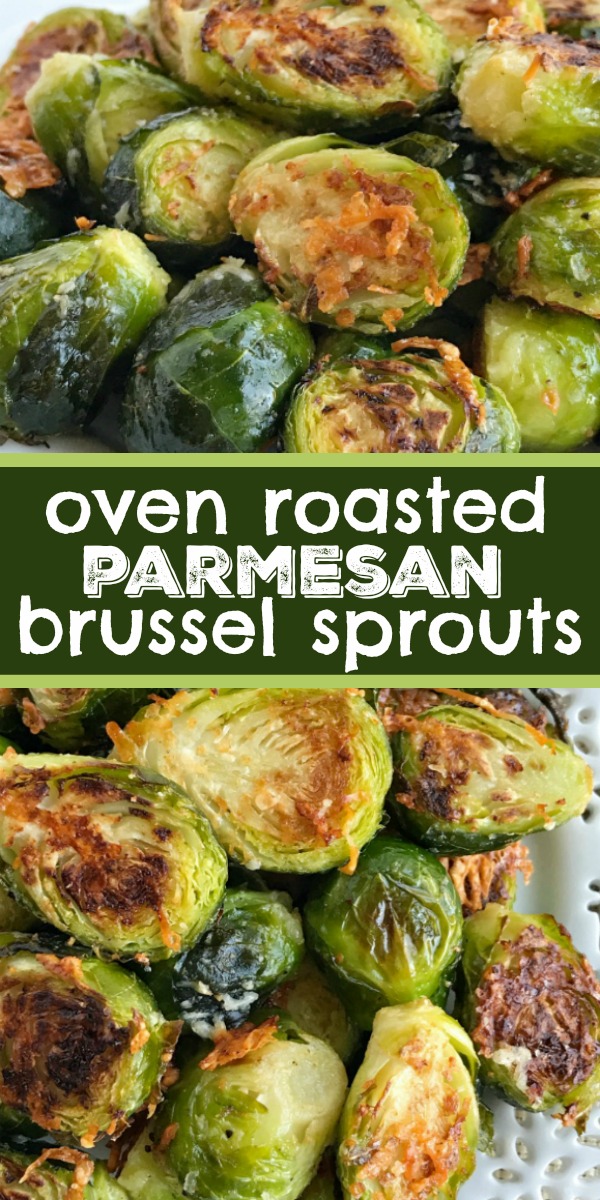 Recipe originally published September 2017.
It has been updated and republished April 2020.