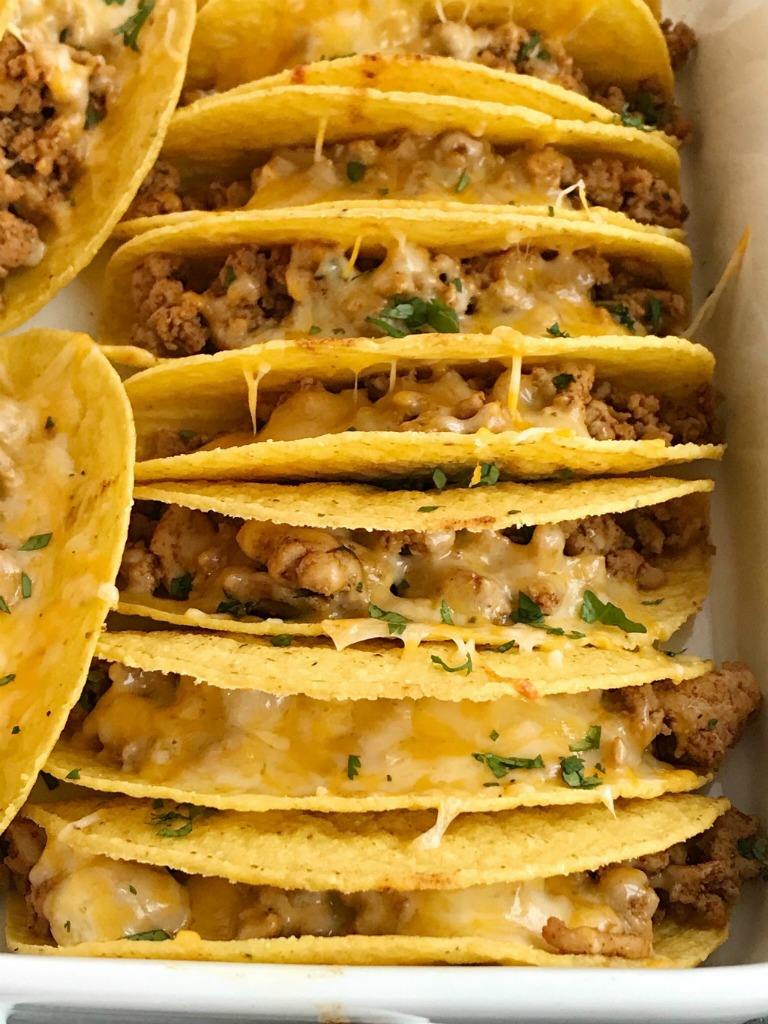 GROUND CHICKEN BAKED TACOS
We're a house divided when it comes to Mexican food dishes. I seriously can't get enough of it, my husband eats it but he'd rather be having a steak & potatoes, my 6 year old LOVES rice only, the other two refuse to go anywhere near rice & beans but they will eat the meat parts, and the baby shoves anything he can into his mouth 🙂 
Because of this I am always on the look out for new Mexican food dinner recipes that don't have rice or beans in it.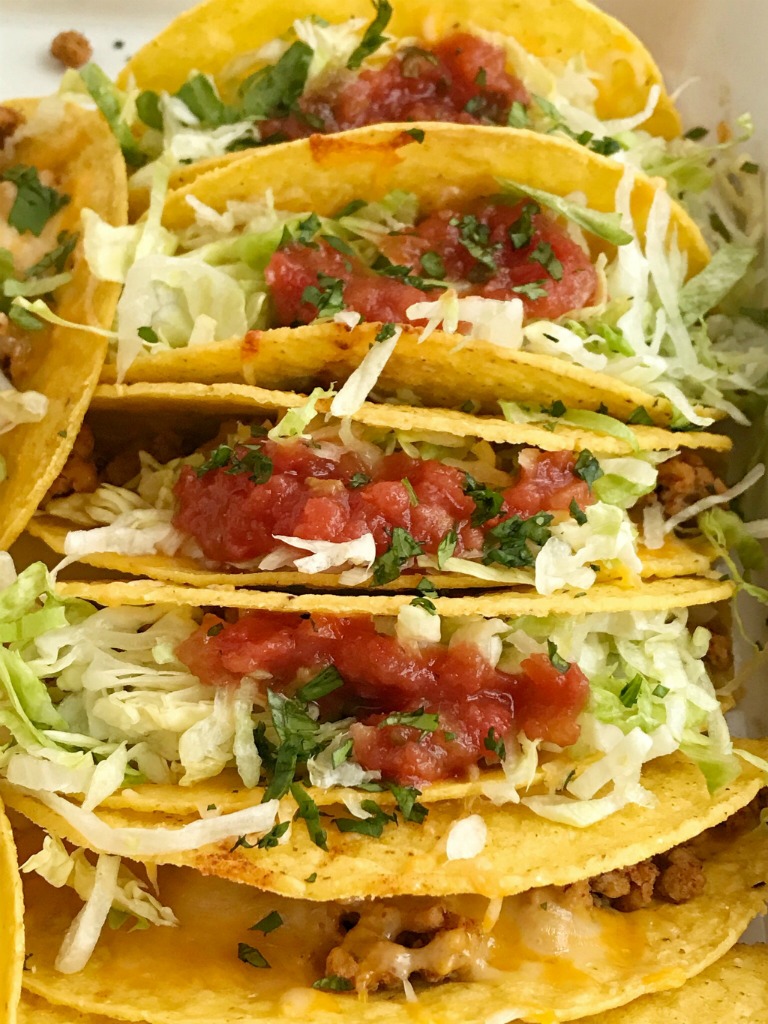 That's why these baked ground chicken tacos are a favorite of ours. Just ground chicken, chicken broth, and some spices. Stuff that into some crispy corn taco shells and top with cheese.
The trick that makes these tacos so amazingly yummy is that you bake them in the oven!
The cheese gets melty and the taco shells get nice and crispy. You can have them all ready at the same time so people can just grab their own taco and load it up with what they want.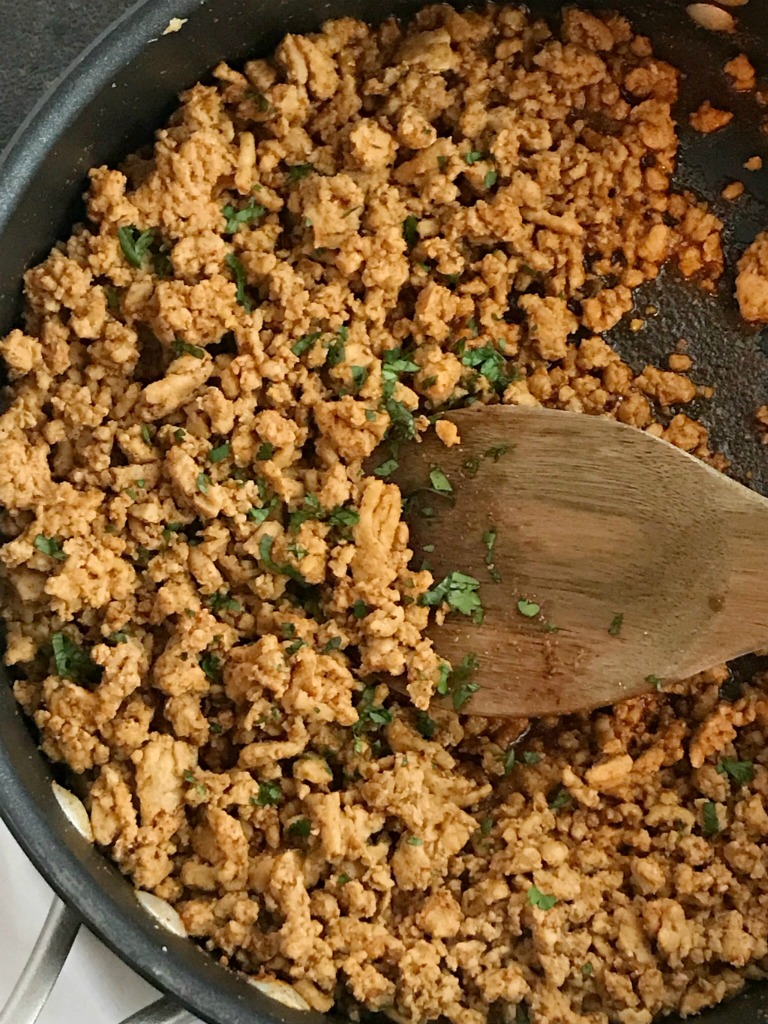 One of my favorite ways to make recipes "healthier" is to use ground chicken or ground turkey. It's lower in fat and I think it tastes much better than ground beef. Especially when you bake it with cheese and top it with all the toppings.
I used my homemade DIY taco seasoning + some chicken broth to make this ground chicken super flavorful and not spicy! It has flavor but it's not spicy for the little kids.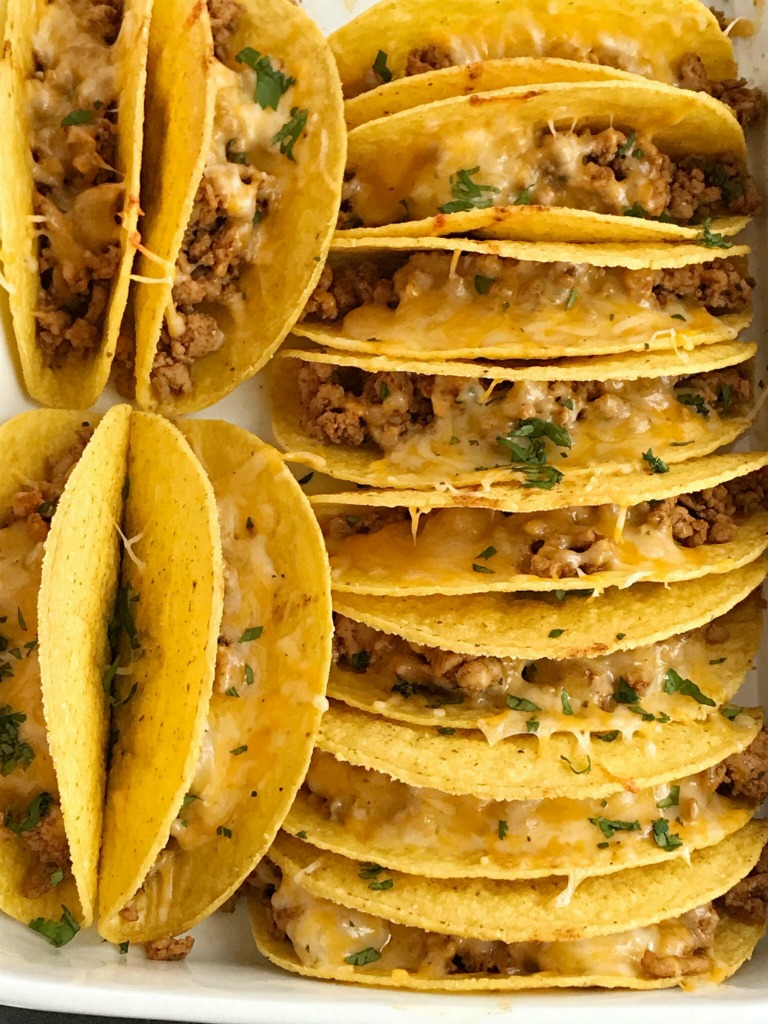 It can be a bit tricky to get the shells to stay up in the baking dish but just maneuver the shells, lean them up against each other so that they stay upright. You will be able to fit all 12 shells in the baking dish. 
By the time the oven is heated up the ground chicken taco meat will be ready to go. Stuff that meat filling into each corn taco shell and then sprinkle cheese into each taco. Bake up the tacos until they're nice and crispy. 
While the tacos are cooking, load up bowls with all your favorite taco toppings. We love shredded lettuce (I buy the pre-shredded bagged lettuce), salsa or pico de gallo, avocado, guacamole, sour cream, chopped cilantro. The options are endless!
What to serve with chicken tacos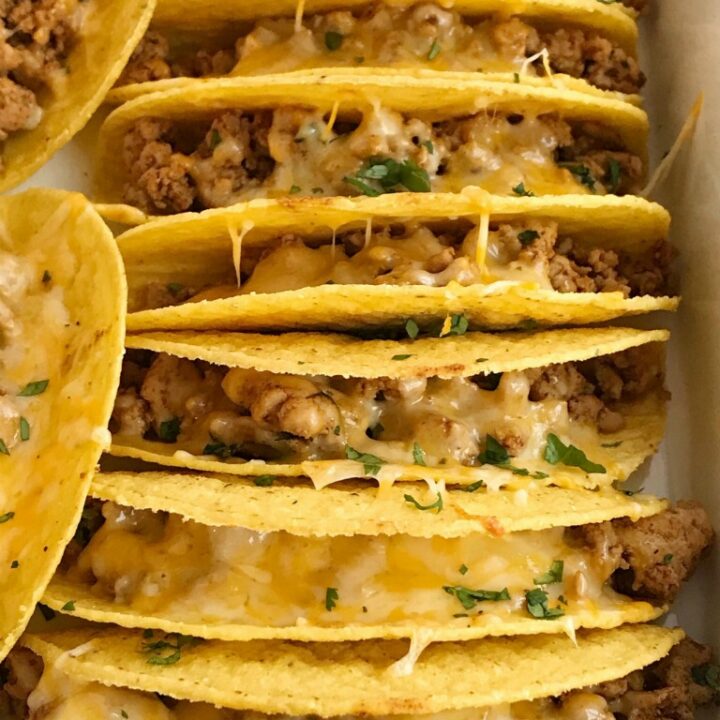 Baked Ground Chicken Tacos
Baked Ground Chicken Tacos are an easy, 30 minute dinner recipe! Crispy corn taco shells are filled with tender and flavorful ground chicken with homemade taco seasoning. So much flavor and healthy too! Load up the cheesy crispy tacos with all your favorite toppings.
Ingredients
1 lb ground chicken
1 tablespoon olive oil
2 teaspoons chili powder
2 teaspoons cumin
1/2 teaspoon salt
1/2 teaspoon garlic salt
1/4 teaspoon garlic powder
1/4 teaspoon onion powder
1/4 teaspoon paprika
1/4 teaspoon coriander
1/4 teaspoon dried oregano
1/4 teaspoon black pepper
1/2 cup chicken broth
12 corn taco shells
1-2 cups shredded cheese
Instructions
Heat oven to 400 degrees. Combine all the spices into a small bowl so they are ready to go when needed (this makes it much easier!). If wanted, you can substitute all the spices/seasonings with a packet of chicken taco seasoning or taco seasoning.

Cook olive oil and ground chicken in a skillet pan over medium-high heat and cook until no longer pink. Crumble and break up the chicken as it cooks. Drain if needed (ground chicken does produce some liquid. Like water).

Add the seasonings and chicken broth. Stir together and let it simmer for 2-3 minutes until liquid is absorbed.

Arrange the 12 corn tortillas in a 9x13 baking dish. Divide the ground chicken mixture evenly between the 12 tortillas. Add shredded cheese to each taco. Cook for 6-8 minutes or until desired crispiness.

Sprinkle with chopped cilantro (if wanted) and top with all your favorite taco toppings.
Notes
I know the recipe ingredients look long but most of it is just measuring out the spices. Once you do that, this recipe comes together really quickly. Measure out the spices beforehand and then when it's time to add them it's much easier because you just dump them all in. 
My favorite kitchen tool is this
meat chopper
(affiliate). It crumbles up ground meats so well. I could not live without one!
The ground chicken mixture is very versatile. If you want more of a tomato base then use tomato sauce instead of chicken broth. Add a can of refried beans or canned beans to the ground chicken. You could even add a can of drained diced tomatoes or corn. 
Save this recipe for later and PIN IT to PINTEREST