Parmesan Roasted Potatoes are crispy on the outside and soft on the inside. Chunks of potato roast in the oven in olive oil, parmesan cheese, dried seasonings, and they take just minutes to prepare. We also love these garlic parmesan roasted sweet potatoes or these roasted red potatoes if you want more oven roasted potato side dish recipes.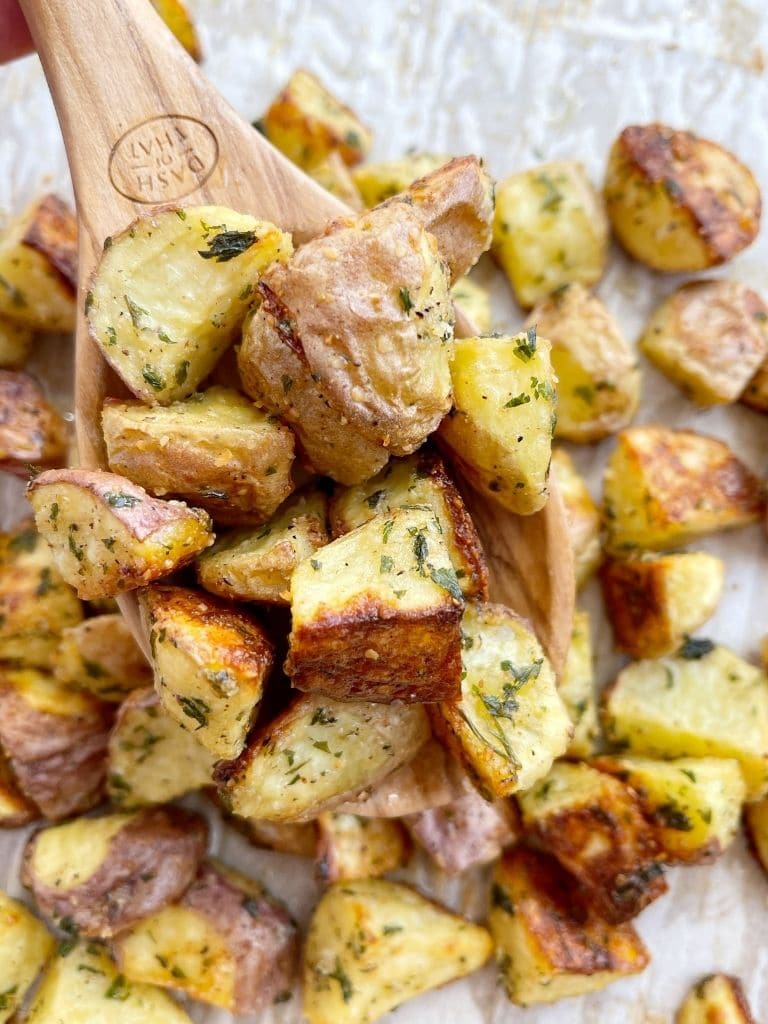 PARMESAN ROASTED POTATOES
Parmesan roasted potatoes are one of my family's favorite side dishes. I don't make side dishes a lot for dinner because then my kids don't eat the main dish. But when I do make one I always turn to roasted potatoes. 
The crispy exterior, soft potato inside, and then of course the perfect blend of olive oil and seasonings make these the best oven roasted potatoes. And they could not be easier to make!
WHAT INGREDIENTS DO I NEED TO MAKE CRISPY PARMESAN ROASTED POTATOES?
Chopped Potatoes – I prefer to use yellow potatoes (sometimes called Yukon Gold potatoes) or red potatoes when I roast potatoes in the oven. They have the best flavor to them compared to regular white potatoes. I also like to use the baby potatoes. I find a big bag of them at Costco and they make the best roasted potatoes. Whatever you use, make sure you leave them in large pieces. You want each potato piece to be about 1-inch or a large bite sized piece. 
Olive Oil – I always use extra virgin 'light tasting' olive oil. Regular olive oil can have a very strong taste to it and not everyone likes that. Just check to see what olive oil you are using and if you're serving these to kids you may want to make sure you use an extra light olive oil that is labeled 'light taste'.
Grated Parmesan Cheese – The best stuff to use, and what this recipe is tested with, is the cheap grated parmesan that you get in the plastic container. The brand is Kraft and you will find it in the spaghetti sauce aisle by the pizza sauce. The freshly shredded parmesan cheese will burn very quickly in the oven which will make the potatoes taste bitter.
Dried Parsley
Garlic Powder
Salt & Pepper
MY TIPS & HELPFUL HINTS FOR THIS RECIPE
Use the cheap parmesan cheese in the green can

No need to spend the money on a wedge of "real" parmesan cheese. The freshly grated parmesan cheese actually will not work well in this recipe because it burns very easily. Use the cheaper, grated parmesan cheese that comes in the plastic can. Usually by the Kraft brand that you can find by the spaghetti sauce and pizza sauce at the grocery store. 

What do I do with leftovers?

Leftovers can be stored in a covered container (like Tupperware type stuff) in the fridge for 2-3 days. The leftovers can easily be reheated in the microwave, or put them on a salad, but just know that they will not be as crispy as they are when they're fresh. 

What do I serve with parmesan potatoes?

Make sure to leave the potatoes in large chunks (about 1-inch pieces)

You don't want to cut the potatoes too small or else they won't have time to really crispy up before the potato is done baking. 
I use the baby potatoes and then cut them into 4 pieces. 
Make sure each potato chunk is about 1-inch. So large bite sized pieces is what you want. 
WHY THIS RECIPE WORKS
The oven temperature is the key to a really great crispy and flavorful roasted potato. You want the temperature high! Don't be alarmed at the 450 degree temperature called for in the recipe. It is correct.
It is an easy side dish recipe to make! Chop up some potatoes and mix them together with some simple pantry ingredients like olive oil, dried seasonings, and parmesan cheese.
The recipe makes 6 servings so it's a perfect side dish for a family dinner. The recipe can easily be doubled if you have a larger crowd. 
TRY THESE OTHER POTATO RECIPES
Roasted Sweet Potato & Black Bean Enchiladas – Enchiladas with a delicious filling of roasted vegetables with black beans, red pepper, sweet potatoes, and spices. Covered in a creamy green chili enchilada sauce and cheese. 
Crock Pot Scalloped Potatoes – Ultra creamy and cheesy scalloped potatoes made right in your slow cooker.
Instant Pot Mashed Potatoes – Creamy mashed potatoes made easy in the Instant Pot!
Shepard's Pie Baked Potatoes – Baked potatoes topped with a homemade shepherds pie filling. We love these with lots of shredded cheese on top.
Maple Cinnamon Roasted Sweet Potatoes – Chunks of sweet potatoes roast in a sweet cinnamon and maple mixture. 
Parmesan Roasted Potatoes
Parmesan Roasted Potatoes are crispy on the outside and soft on the inside. Chunks of potato roast in the oven in olive oil, parmesan cheese, dried seasonings, and they take just minutes to prepare.
Ingredients
3 cups chopped potatoes (see note below)
2 tablespoons olive oil
2 tablespoons parmesan cheese
2 teaspoons dried parsley
½ teaspoon garlic powder
½ teaspoon salt
¼ teaspoon black pepper
Instructions
Heat oven to 450°. Prepare a cookie sheet (12"x18") by spraying it with cooking spray or lining it with parchment paper for easy clean up.

Combine all the ingredients into a mixing bowl and stir together until all the potatoes are coated in the olive oil and seasonings.

Spread the potatoes onto the prepared pan. Making sure to not have them touch each other, you want them separated so they roast on all sides.

Cook for 22-28 minutes. Stir and flip the potatoes at the halfway point during the cook time. Potatoes will be crispy & browned and a fork will be easily able to pierce the potato.

Serve immediately.
Notes
POTATOES : Red potatoes or yellow potatoes (also called Yukon Gold potatoes) are the best potato to use for this recipe. I prefer to use baby potatoes that come with a combination of red and yellow potatoes.  You can peel the skin off of the potatoes or leave it on. Either way works fine. I peel the bad parts, and then leave the other skin on. Roasted potatoes are good with the skin on, as that is the part that will get crispy.  Make sure you cut the potatoes into large bite sized pieces. About 1-inch pieces.  PARMESAN CHEESE : Please use the cheap grated parmesan cheese that comes in the plastic container. You will find it on the shelves in the pasta & pizza sauce aisle. The freshly grated parmesan cheese, either from a wedge or the refrigerated shredded parmesan cheese, will burn very easily in the oven and make the potatoes taste bitter. NUTRITION INFORMATION : The recipe makes 6 servings with each serving as 1/2 cup of roasted potatoes. 
Nutrition
Calories: 75kcal | Carbohydrates: 6g | Protein: 1g | Fat: 5g | Saturated Fat: 1g | Cholesterol: 1mg | Sodium: 228mg | Potassium: 177mg | Fiber: 1g | Sugar: 1g | Vitamin A: 17IU | Vitamin C: 3mg | Calcium: 25mg | Iron: 1mg