This is the ultimate collection of No Bake Pie Recipes. You will love these family favorite pie recipes that are all so easy to make with simple ingredients and minimal prep time. No bake pies are the perfect dessert for any Holiday gathering, summertime sweets, or an easy dessert for the family.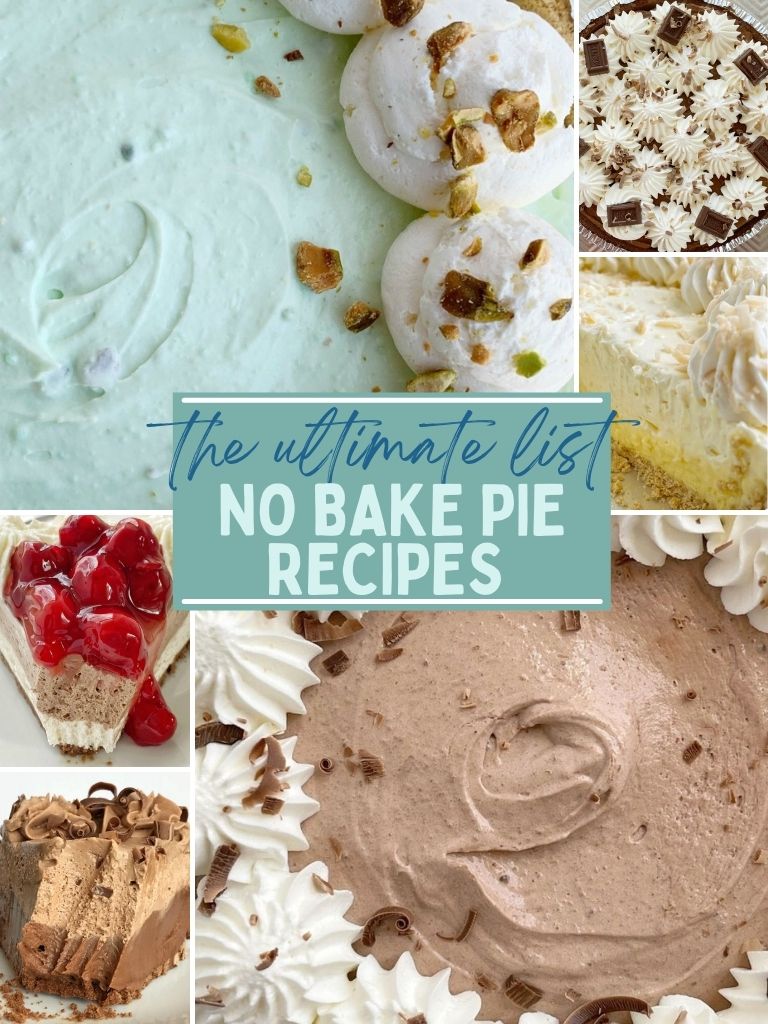 The Best No Bake Pie Recipes
My favorite thing to make for any gathering or Holiday is dessert! No Bake Pies are the perfect dessert option because they can be made ahead of time and most of these recipes involve very minimal prep time.
I've rounded up all the best no bake pies here for you. This No Bake Oreo Cream Pie is made as my kids' birthday cakes because they love it so much. And this easy No Bake Banana Cream Pie is a Thanksgiving favorite and gets made every single year. 
Tips For Making A No Bake Pie
Plan Ahead : It's important to plan ahead when making a no bake pie because they are so much better with at least 8 hours of refrigeration time. I prefer to make the pie the day before and let it refrigerate for 24 hours before serving. No bake pies will get thicker, creamier, and better with time in the fridge. 
Quality Ingredients : I am a fan of saving money anyway I can, especially at the grocery store, but when buying cream cheese for these recipes buy the name brand stuff (Philadelphia). It has the best thick texture and the best flavor for these pies. 
Full Fat Dairy : When making no bake pies, that usually call for cream cheese, Cool Whip, and sometimes sour cream, be sure and use the full-fat products. The light stuff or reduced-fat has a thinner texture to it (more water) and the taste is not as good. Full fat also offers the better texture for pies. 
Make It Easy : Most of these pies call for a store-bought graham cracker or Oreo crust. Make it easy on yourself and use the store-bought crusts. I actually prefer them over homemade because they hold together better. Whenever I make my own crumb crust they always fall apart when slicing and you end up with lots of loose crust crumbs. Some of the recipes call for Cool Whip and some call for freshly whipped cream (from heavy whipping cream). These recipes were designed to be yummy so use Cool Whip when it's called for. Of course, you can always substitute homemade but easy is good, right?! 
Click on the picture to go directly to the recipe.