STRAWBERRY RASPBERRY CRUMBLE RECIPE
This strawberry raspberry crumble is the best way to make a fruit crumble dessert. Fresh, sweet, juicy strawberries and raspberries are topped with a sweet brown sugar oat crumble topping. 
The warm sweet berries with the crispy sweet topping is the best dessert. Especially when you top it with a scoop of vanilla bean ice cream.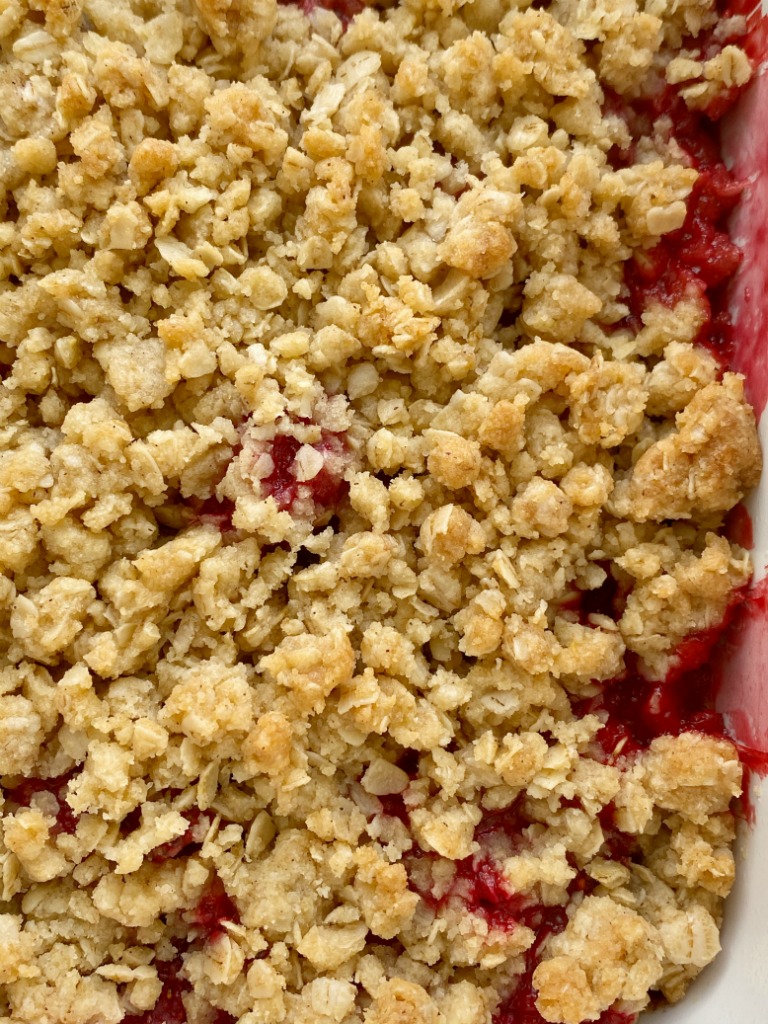 HOW TO MAKE STRAWBERRY RASPBERRY CRUMBLE
Strawberries – If the berries are small then chop in half. If they are larger cut them into fourths. Rinse them in a colander to get all the dirt off and then dry them on top of paper towels to get most the moisture out of them. 
Raspberries – No need to chop these, just use them whole. Same as the strawberries, be sure and wash them in a colander and then let them sit on a paper towel so the water can drain. 
Flour & Sugar – This is for the berries to sit in while you prepare the crumble. 
Butter, Flour, Quick Oats, Sugar, Brown Sugar, Salt, and Cinnamon – This makes the crumble topping. I always use salted butter wen baking. If using unsalted butter you may want to add an additional 1/4 teaspoon salt to the crumble.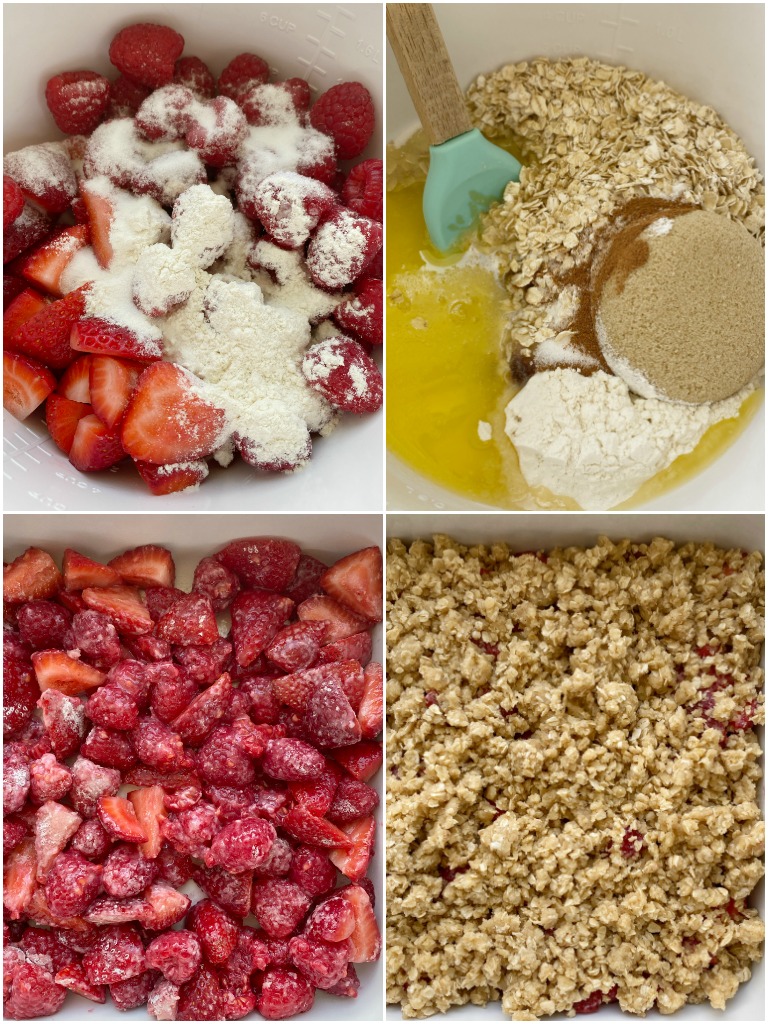 MY TIPS FOR THIS FRUIT CRUMBLE RECIPE
– No need to cut or chop the raspberries. Just measure the raspberries whole. 
– Measure the 2.5 cups of strawberries after you have chopped them. You want 2.5 cups of chopped strawberries. 
– I have never tried this recipe with frozen fruit so I cannot say with certainty how it would work out. I am sure it may be fine but you will just have to experiment if you choose to use frozen fruit. 
– If you prefer an all sweet crumble (with no slight tartness from the fruit) then you may want to increase the sugar in the fruit from 2 tablespoons to 3 tablespoons. Or more as needed. The recipe as is, is sweet with some tart notes from the berries. I think it's the perfect balance of sweet, tart, and sweet crisp from the crumble.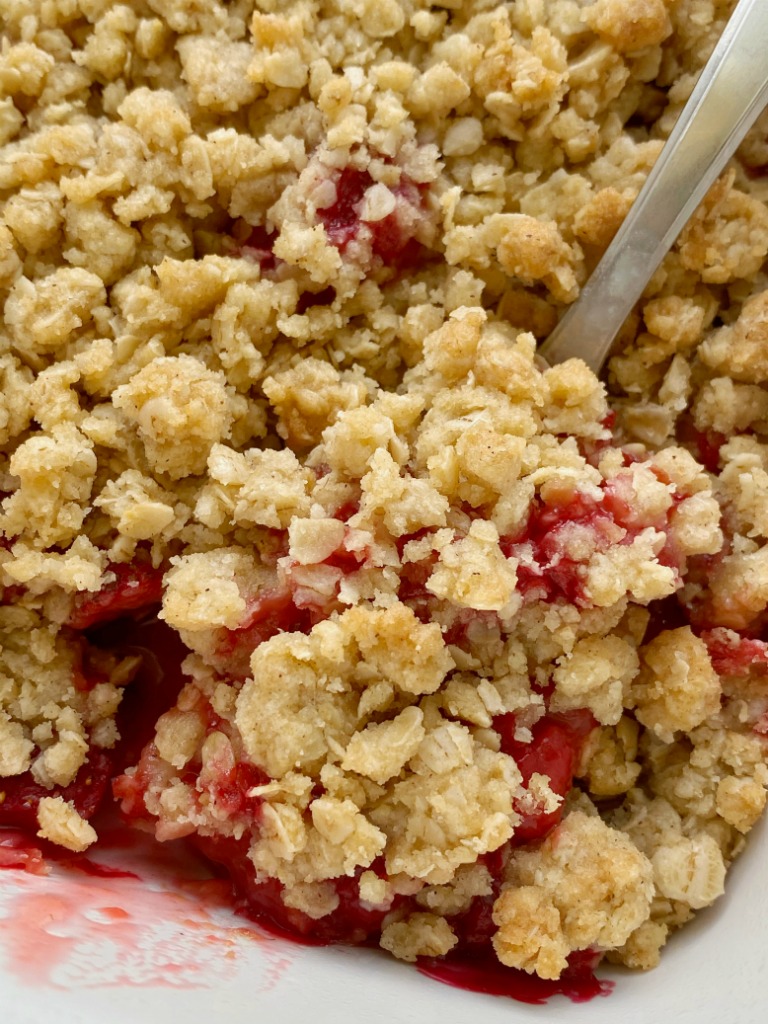 TRY THESE OTHER FRUIT CRISPS AND CRUMBLE DESSERT RECIPES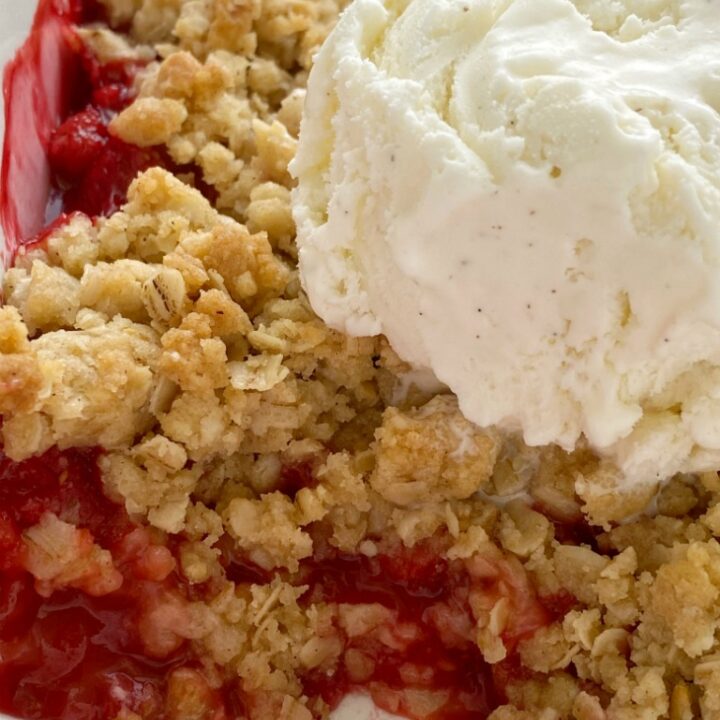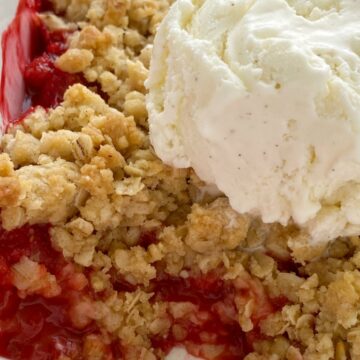 Strawberry Raspberry Crumble
Strawberry Raspberry Crumble with juicy sweet fresh berries & topped with a sweet brown sugar oat buttery crumble. Serve with vanilla ice cream for the best fruit crumble dessert.
Ingredients
2½ cups chopped strawberries washed and dried well
2½ cups raspberries washed and dried well
2 tablespoons all-purpose flour
2 tablespoons granulated sugar
Oat Crumble
1/2 cup (1 stick) butter melted
3/4 cup all-purpose flour
3/4 cup quick oats
1/4 cup granulated sugar
1/4 cup light brown sugar
¼ teaspoon salt
¼ teaspoon ground cinnamon
Instructions
Heat oven to 350°. Prepare a 8x8-inch baking dish or 9x9-inch and spray with cooking spray. Set aside. * If doubling this recipe use a 9x13-inch baking pan

In a small bowl combine the chopped strawberries, raspberries, flour, and sugar. Stir together, gently, until all the berries are coated in the flour mixture. Let the berries sit while you prepare the crumble.* A tip for drying berries is to first rinse them in a colander, then lay out several layers of paper towels on the counter and put the rinsed berries on top the paper towels to dry. The berries don't have to be all the way dry but you want most the water out of them.

Combine all crumble ingredients in a small mixing bowl and stir together until moist crumbs form.

Dump the bowl of berries into the prepared pan (juice and all if there is any) and layer the top evenly with the crumble.

Cook for 30-35 minutes. Let cool for about 10 minutes in the pan before serving so the sweet berry sauce can thicken before serving.

This is best served warm with a scoop of vanilla ice cream. We love vanilla bean ice cream with this crumble.
Notes
There are about 6 servings of berry crumble in this recipe with each serving being about 1 cup of crumble. Ice cream on top will be additional calories.  You will need a 12 oz container of fresh raspberries for the 2.5 cups of raspberries called for in the recipe.  Measure the strawberries after chopping them. So 2.5 cups chopped strawberries is what you need.
Nutrition
Calories: 367kcal | Carbohydrates: 53g | Protein: 4g | Fat: 17g | Saturated Fat: 10g | Cholesterol: 41mg | Sodium: 236mg | Potassium: 232mg | Fiber: 6g | Sugar: 27g | Vitamin A: 489IU | Vitamin C: 48mg | Calcium: 41mg | Iron: 2mg