CORN SALSA RECIPE
Corn Salsa is the perfect summertime side dish or a delicious chip dip! So many ways to serve this flavor packed salsa recipe that's loaded with all the good stuff like sweet corn, avocados, tomatoes, cilantro, and green onions in an easy to make olive oil Italian dressing vinaigrette.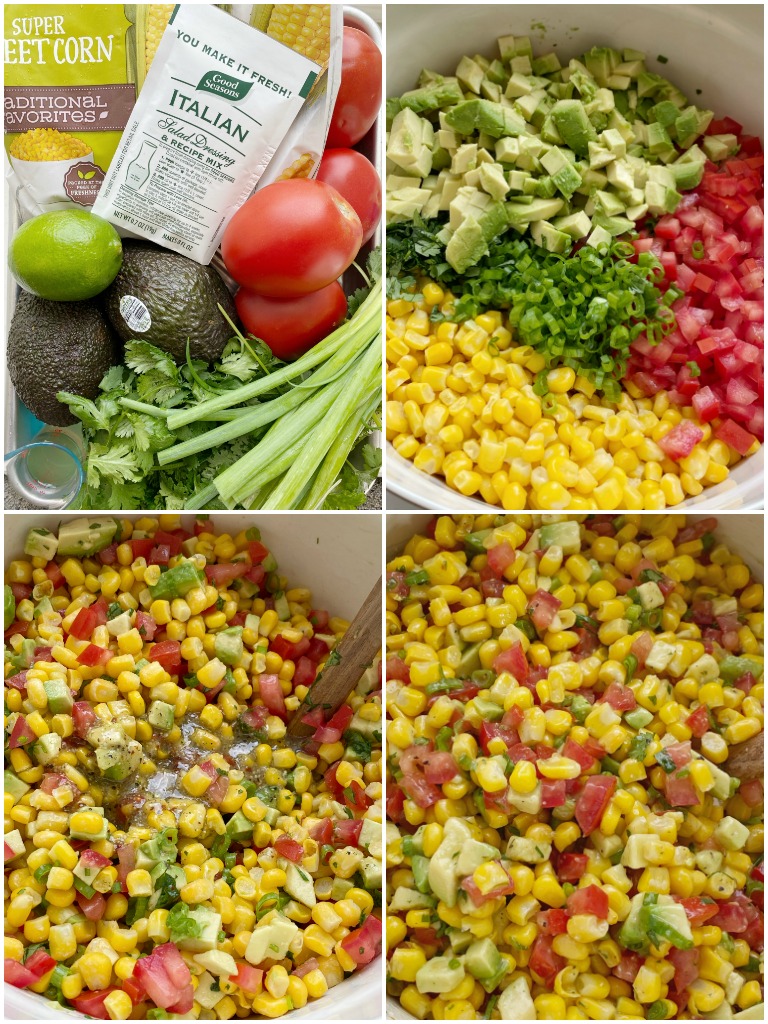 HOW TO MAKE CORN SALSA
Frozen Corn – This does need to be thawed before using. If you are planning on refrigerating the salsa for a few hours before serving then there is no need to thaw it all the way. I have also used 2 bags (16 oz) of white & yellow frozen corn too. I love the extra sweetness it adds. 
Roma Tomatoes – It's best to take the seeds out of the tomatoes before chopping and adding to the salsa. Chop into small pieces, about the same size as the corn kernels, so the salsa is a uniform size. 
Avocados – If you love avocados then add 3 of them! There really are no rules to this salsa. 
Green Onions & Cilantro
Olive Oil, White Wine Vinegar, Lime Juice, Italian Seasoning Packet – I love using white wine vinegar in this salsa recipe because it has a much more milder taste than regular white vinegar. Feel free to use white vinegar if that's what you have in your kitchen. It won't make a huge difference…. I just prefer the muted taste of the white wine vinegar.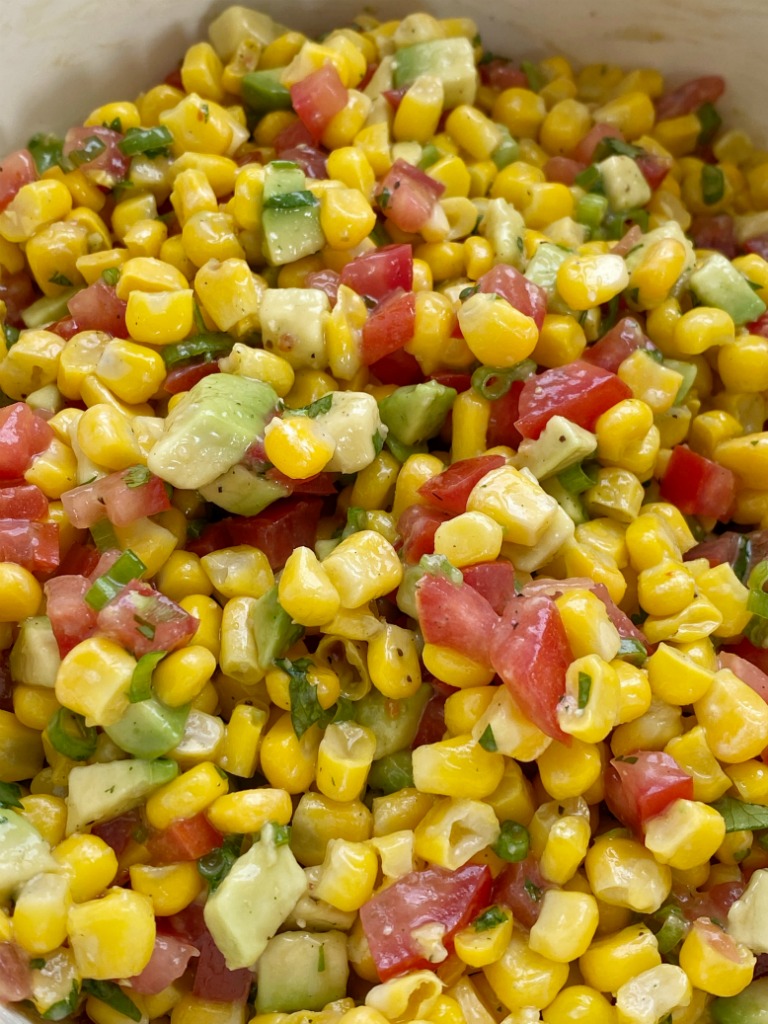 HOW TO SERVE THIS CORN SALSA RECIPE
There are so many options and ways to serve this corn salsa! 
– We love to eat this corn salsa with some tortilla chips or Fritos corn chips. It stays well in the fridge for a couple of days which makes it easy to snack on.
– You can also serve this over some grilled chicken or steak for an easy, healthy dinner. 
– Use as topping for tacos or burrito bowls. I love topping these turkey taco burrito bowls with this salsa. 
– Serve as a healthy side dish for gathering or bbq's. 
TRY THESE OTHER SALSA & DIP RECIPES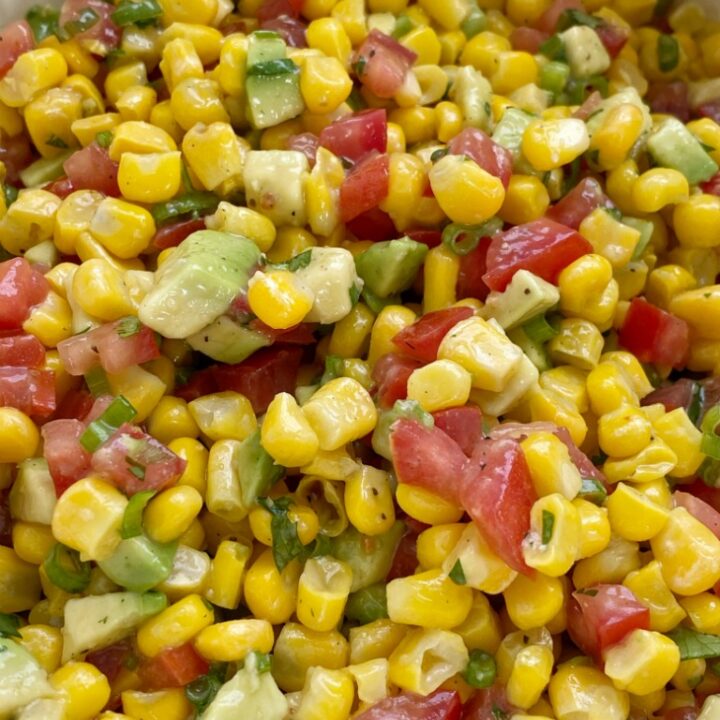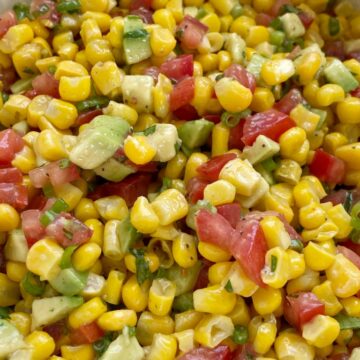 Corn Salsa
Corn Salsa is the perfect blend of flavor and textures! Creamy avocados, frozen sweet corn, green onion, cilantro, and tomatoes in an easy Italian dressing olive oil vinaigrette. Serve as a healthy side dish, as salsa with tortilla chips, or on top of grilled meats.
Ingredients
1 bag (32 oz) frozen corn thawed
4 roma tomatoes seeded and chopped
2 large avocados chopped
1/3 cup thinly sliced green onion
1/3 cup chopped cilantro
2 tablespoons olive oil
2 tablespoons white wine vinegar
1 tablespoon fresh lime juice about 1 lime
1 packet (0.7 oz) Italian Salad Dressing Mix do not prepare, just add the contents of the packet
Instructions
Add the thawed corn, tomatoes, avocado, green onion, and cilantro into a mixing bowl. Stir together.

In a small bowl or glass measuring cup, whisk together the olive oil, vinegar, lime juice, and contents of Italian Salad Dressing packet until combined. Pour over the corn salsa and stir together until everything is coated in the dressing.

Can be served right away or refrigerated for 2-3 hours before serving. Because of the vinegar and lime juice the avocados will not brown right away. Leftovers are good but as time goes on the avocados will brown slightly. * I prefer to let the corn salsa refrigerate for a few hours before serving so the flavors can soak into the corn and veggies.
Notes
It's hard to determine serving size for this recipe. I decided that if serving as a side dish or salsa that you could at least get 15 servings at 124 calories each. Each serving would come out to about 3/4 cup of corn salsa.  If you want to make this heartier then add a can of drained and rinsed black beans or pinto beans into the corn salsa. 
Nutrition
Calories: 124kcal | Carbohydrates: 18g | Protein: 3g | Fat: 6g | Saturated Fat: 1g | Sodium: 20mg | Potassium: 353mg | Fiber: 4g | Sugar: 1g | Vitamin A: 223IU | Vitamin C: 10mg | Calcium: 9mg | Iron: 1mg