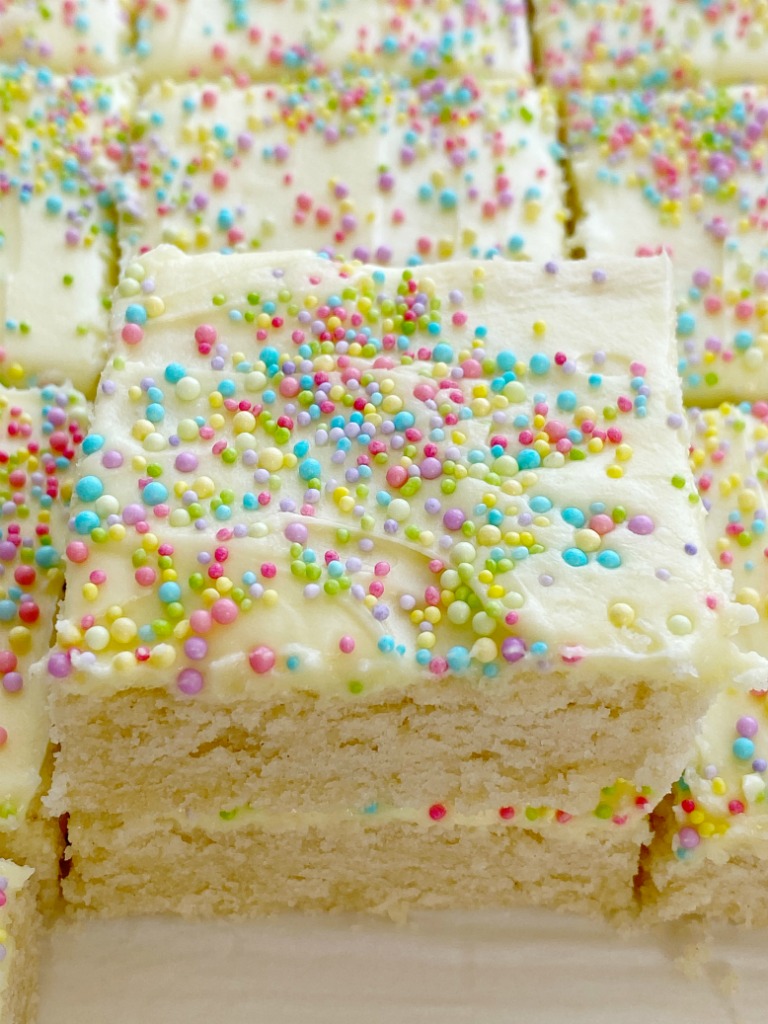 SUGAR COOKIE BARS
It's no secret around here that sugar cookies anything are a favorite. I already have this recipe for cookie sheet sugar cookie bars on the site and they have been a long time favorite. 
Sometimes you just want a smaller pan (and not a cookie sheet worth of bars) and today's recipe is just that. 
If you live in Utah then you know about a drink and cookie place called Swig. They have these amazing sugar cookies with crinkly edges that are so sweet and yummy. These bars are a play on those cookies! The crackly sugary top and the not super sweet frosting are the best part. 
HOW TO MAKE THE BEST SUGAR COOKIE BARS
In the bowl of a stand mixer, or use a bowl and handheld blender, beat together butter, canola oil, granulated sugar, and powdered sugar until it's creamy and lighter in color. 
Beat in a large egg, water, and vanilla extract. 
Add the dry ingredients of flour, salt, baking powder, and baking soda and mix on low speed until combined, increasing speed as needed to mix it all together. 
Dump the dough into a 9×13 pan and spread it out. The dough will be in pieces but should easily come together as you press it into the pan with your fingers. The dough is supposed to be moist crumbles. It's different than traditional cookie bar dough. 
Bake and let the bars cool completely before frosting. Frost and top with whatever sprinkles you want. Leftovers can be stored at room temperature or in the fridge if you like them cold.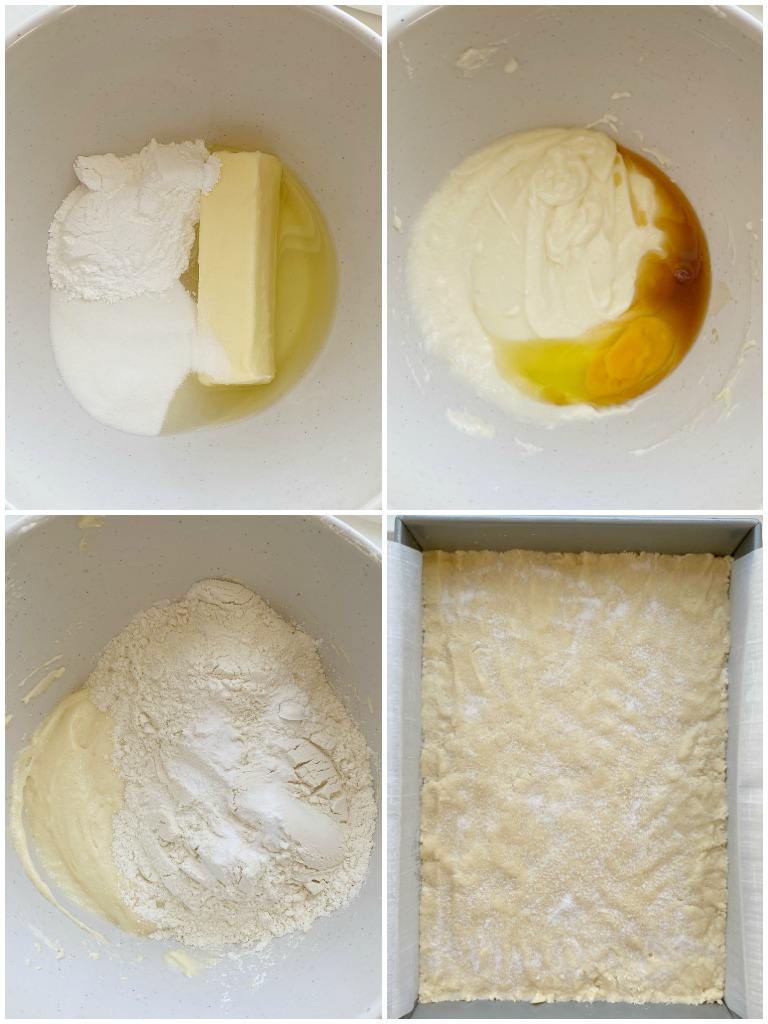 MY TIPS FOR MAKING THIS RECIPE
– Change up the frosting color and sprinkles for any occasion! Or if you are not into food dye then simply leave the frosting white. 
– Careful not to overbake these bars! If you do, they will be crumbly and really dry. The edges of the bars should only be a very lightly golden brown color. Middle of the bars should still be very pale but not look wet like it's raw batter. 
– We prefer these bars cold! But they are good at room temperature too. 
– Line the baking pan with parchment paper and be sure and leave some extra hanging out. That way you can easily lift the bars out of the pan to frost and cut them nicely.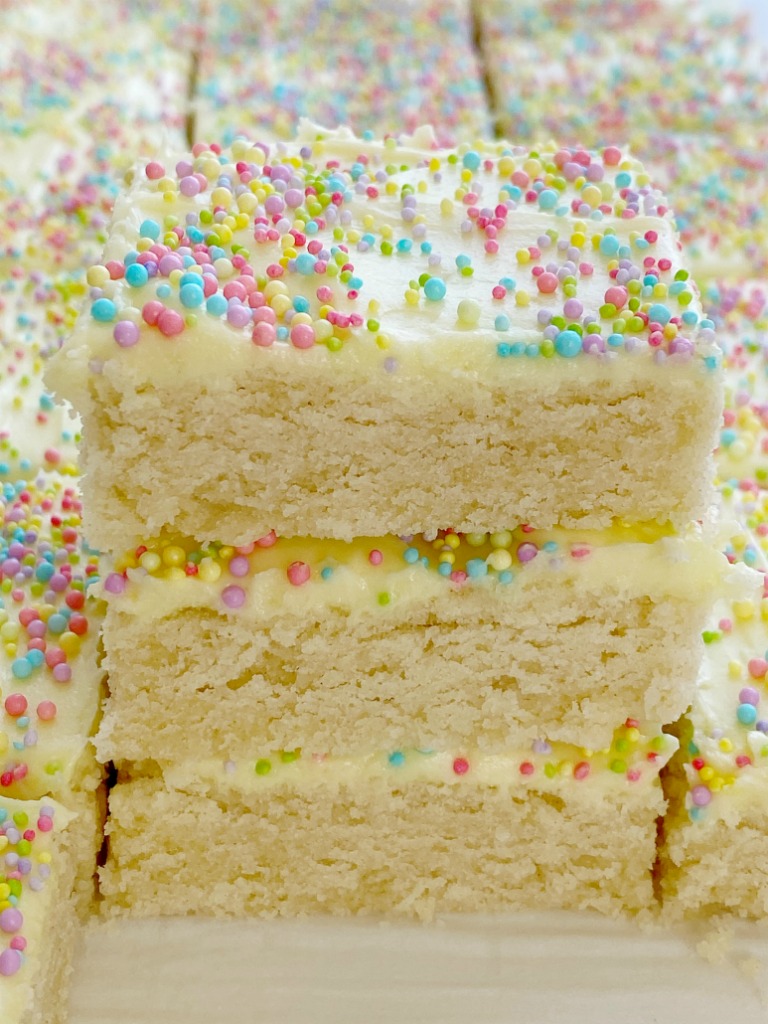 TRY THESE OTHER FAMILY FAVORITE 9X13 PAN DESSERTS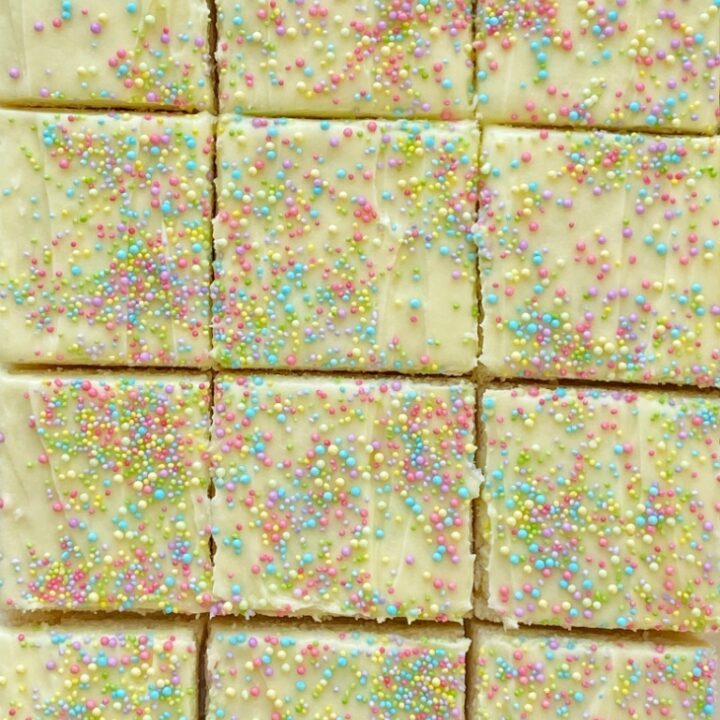 Sugar Cookie Bars
Sugar Cookie Bars made in a 9x13 pan that are soft, sweet and topped with the best (not too sweet) frosting and sprinkles! Change up the frosting color and sprinkles for any occasion.
Ingredients
Sugar Cookie Bars
1/2 cup (1 stick) butter softened
1/2 cup + 2 tablespoons granulated sugar
1/4 cup + 2 tablespoons powdered sugar
1/4 cup + 2 tablespoons canola oil OR vegetable oil
1 tablespoon water
1 large egg
1 teaspoon vanilla extract
2¾ cup all-purpose flour
½ teaspoon salt
½ teaspoon baking powder
¼ teaspoon baking soda
1 tablespoon granulated sugar (for the top of bars before baking)
Frosting
4 tablespoons butter softened
2 tablespoons sour cream
¼ teaspoon almond extract
2 cups powdered sugar
2 tablespoons heavy cream (less if you use lower fat milk)
Instructions
Heat oven to 350°. Spray a 9x13 baking pan with cooking spray or line with parchment paper. *I prefer to line with parchment paper because then I can lift the bars out, frost them, and cut them easier.

In the bowl of a stand mixer, or use a mixing bowl and a handheld blender, add the butter, sugar, powdered sugar, and oil. Beat until creamy, combined, and lighter in color.

Add water, egg, and vanilla extract. Mix until combined.

Add flour, salt, baking powder, and baking soda. Mix on LOW speed (to avoid a flour puff) and increase speed as needed, just until dough is combined and no flour streaks remain. *The dough will look like it's crumbled, but that's ok, this dough is a different dough than traditional.

Dump dough into the prepared pan and use your fingers/hands to spread it out evenly, while pressing down gently on the dough. Sprinkle 1 tablespoon of sugar over top.

Cook for 11-13 minutes. The edges should be a very pale golden brown while the middle of the bars will still be very pale. *Obviously every oven cooks differently. I never cook mine for longer than 12 minutes. If yours need more time, then let it bake longer. Watch carefully because you don't want to overbake these.

Let the sugar cookie bars cool completely in the pan.

MAKE THE FROSTING: Beat together the butter, sour cream, powdered sugar, and almond extract until combined. Add in the cream, starting with 1 tablespoon, and add more if needed. You want the frosting to be thicker so it will stay on top the bars. It's ok if you don't use the full amount of heavy cream or milk listed in recipe. * If you use anything that's less fat than heavy cream you will need less of it. Start with a small amount and add as needed.
Notes
This recipe has been tested and made with salted butter. If you use unsalted butter you may want to add additional salt if preferred.  The dough is supposed to be large moist crumble pieces. It won't look like traditional cookie dough. It's ok. As you press it into the pan it will come together. 
Nutrition
Calories: 224kcal | Carbohydrates: 31g | Protein: 2g | Fat: 10g | Saturated Fat: 4g | Cholesterol: 25mg | Sodium: 115mg | Potassium: 27mg | Fiber: 1g | Sugar: 20g | Vitamin A: 212IU | Calcium: 11mg | Iron: 1mg