These Valentine's Day Minute to Win It games are perfect for a party, with friends & family, and even for a fun family night. These games all use conversation hearts! Only a few other household supplies are needed.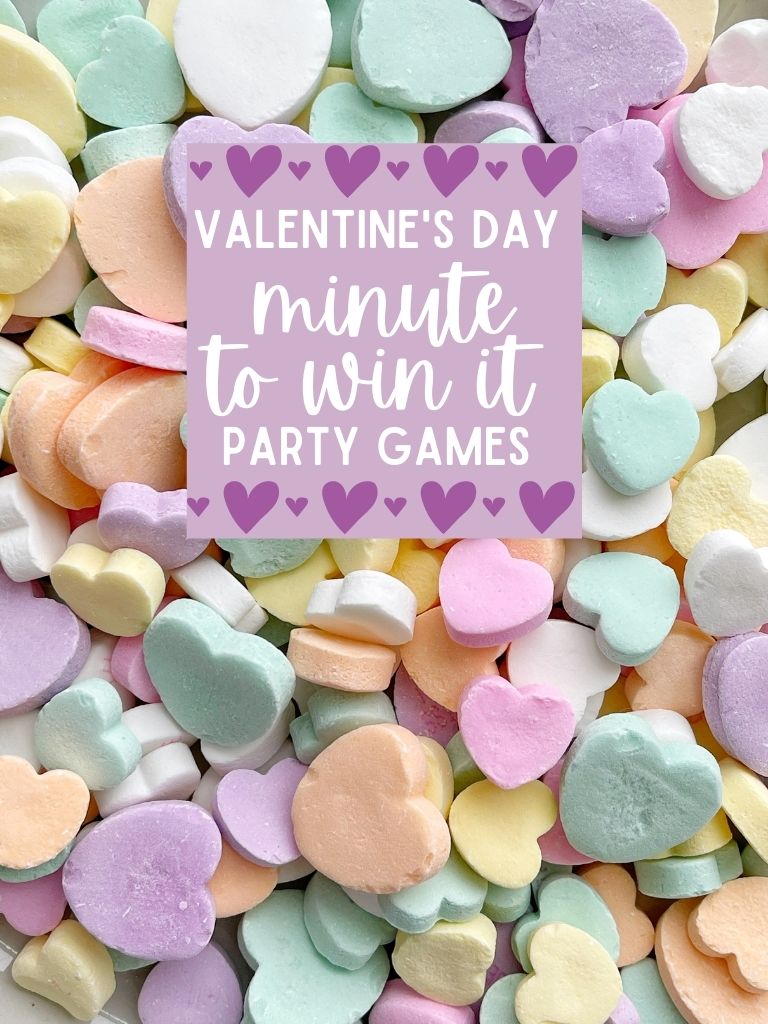 MINUTE TO WIN IT GAMES FOR VALENTINE'S DAY
My family loves to play these Valentine's Day minute to win it games. I used to watch Minute to Win It all the time! Do you guys remember that show with Guy Fieri as the host? Contestants had 1 minute to do something and then they moved on if they could finish it or scored a certain number of points.
These Valentine's Day Minute to Win It games are a variation of that game. Do this with family, friends, at a Valentine's classroom party, or for whatever else you have going on.
Either play as individuals, play in teams, play against the other team, or set criteria for moving on to the next level. For example, you have to stack 25 conversation hearts in 1 minute to move on to the next round.
It would also be fun to have little prizes after each round for the winner. Or if you're playing in teams, whoever wins a round they score 1 point for their team. At the end of all the games, the team with the most points, wins! 
There are lots of different ways to play so have fun with it!
HEART-A-STACK
WHAT YOU NEED

Valentine's Conversation hearts – For more of a challenge use the smaller sized conversation hearts. If there are lots of little ones then try using the larger sized conversation hearts. I must say this is harder to do than it sounds!

HOW TO PLAY

Player(s) must stack as many conversation heats as they can in 1 minute. If your pile falls over you have to start over. At the end of 1 minute the player with the tallest stack wins! 
This is a great game to do with multiple people at one time. 
PICK ME UP, VALENTINE!

WHAT YOU NEED

Conversation Hearts
Valentine's Mix M&M's (pink, red, and white m&m's)
Other small, similar shaped candies like heart jelly beans, etc. This is optional and only if you want more of a variety if candy. 
Plastic Plates
Plastic Straws
HOW TO PLAY

Place candies on 1 plate and then place an empty plate next to it. Each player has to use only a straw to move as many candies from one plate to the other.
After 1 minute, or whatever amount of time you choose, the player with the most candies moved to the other plate wins! 
The key is to suck up air through the straw to get the candy to attach to the other end and then you can move it over to the other plate.
If you want to make this even harder have the plates several feet apart and the person has to walk between the plates while keeping the candy at the end of the straw. 
DON'T BREAK MY HEART RELAY
WHAT YOU NEED

Conversation Hearts
Plastic Cups or Paper Cups
Plastic Spoon

HOW TO PLAY

Place a plastic cup that is filled with conversation hearts at one end of the room (or space you're using) and then place an empty plastic cup at the other end.
Each person has 1 minute, or whatever amount of time you choose, to move as many conversation hearts from one cup to the other using only a plastic spoon.
At the end of the time the person with the most conversation hearts moved, wins!
To make this harder use the small ice cream sample spoons to move the heart candies. 
You can also make the players hold the spoon in their mouth (as opposed to hands) while they try to move the heart candies from one cup to the other cup. This is really challenging so I would suggest just doing it the regular way (hands and spoons) if playing with little kids.  
CANDY FACE
WHAT YOU NEED

HOW TO PLAY

Each person starts with a conversation heart on their forehead. Without using their hands you have to move the candy from the forehead into your mouth.
The key is to tilt your head back and then scrunch and move your face muscles to maneuver the candy down to your mouth. 
You can play this game in groups of two, three, four, or more! If playing in a group you can see who can get the candy into their mouth first.
Or play individually and time each person. Whoever can get the candy into their mouth in the fastest time, wins! Each player has 1 minute to move a conversation heart from their forehead down into their mouth without using anything!
BALLOONS
WHAT YOU NEED

2 balloons per person playing. Not helium balloons. Use the balloons that you blow up yourself.  
I like to use pink or red balloons for Valentine's Day

HOW TO PLAY

Using only one hand each player must keep the two balloons from touching the ground for 1 minute, or whatever time you choose.
If you want this to be more challenging then use 3 balloons.
You cannot hold the balloons. You have to keep them in the air for the full 1 minute with your other hand behind your back. 
To make this easier for kids let them use both hands to keep the two balloons in the air. 
BOTTLE DROP
WHAT YOU NEED

Narrow neck glass bottle or plastic bottles (like a 20 oz soda bottle or water bottle)
Conversation Hearts

HOW TO PLAY

Have the player stand on top of a chair and try to drop the candy hearts into the bottle that is on the ground.
The player with the most hearts in their bottle after 1 minute, wins!
CUPID'S ARROW
WHAT YOU NEED

Plastic straws
Q-tips
2 large bowls or trays
Masking tape

HOW TO PLAY

Place the bowl or tray at one end of the playing area.
2-3 feet behind the tray or bowl (more or less depending on who's playing) place a masking tape line.
Make sure each player has a bowl of q-tips next to them. 
The player must stand behind the line and using the straw they must "shoot" cupid's arrow (aka a Q-tip) and try to get as many q-tips/arrows as they can into the bowl or tray.
To do this you must place the straw in your mouth, load it with an arrow (q-tip), and then blow the arrow out the end of the straw and aim for the bowl or tray.
I always find really cute, cheap plastic heart shaped trays at Walmart for this game. You will find them in the Valentine's Day section. 
TRY THESE VALENTINE'S DAY RECIPES
Sugar Cookie Bars – Use pink frosting and heart shaped Valentine's themed sprinkles.
Easy Red Velvet Sheet Cake – This recipe starts with a doctored up cake mix and it has the best cream cheese frosting on top. 
Valentine's Day Caramel Pretzel Bites– An easy treat recipe with a pretzel, Rolo candy, pink or red m&m and topped with heart sprinkles. 
Skinny Chocolate Cake– Each piece is less than 200 calories and no one would even know! Chocolate is always a great treat for Valentine's Day. 
Cake Mix Sugar Cookies – Use pink and red frosting and decorate with Valentine's themed sprinkles. These are so easy and simple to make thanks to the cake mix. 
Perfect Sugar Cookies – I always love to have a decorate your own cookie area for any party. Kids love to do this. Lay out bowl of frosting and an assortment of sprinkles and small candies. 
Sugar Cookie Truffles – Made out of crushed sugar cookies and dipped in chocolate! Use pink or red sprinkles for the tops of these. 
100 Best Valentine's Day Treats – So may to choose from in this awesome list of Valentine's Day themed treats. 
5 Minute Valentine's Snack Mix – Full of so much goodness! Quick and easy to make too.