Turkey Chili Taco Soup is loaded with all the best southwest flavors. Ground turkey, chili beans, corn, tomato, and taco seasonings combine for one deliciously hearty chili taco soup. Top with cheese, sour cream, guacamole, and crushed tortilla chips.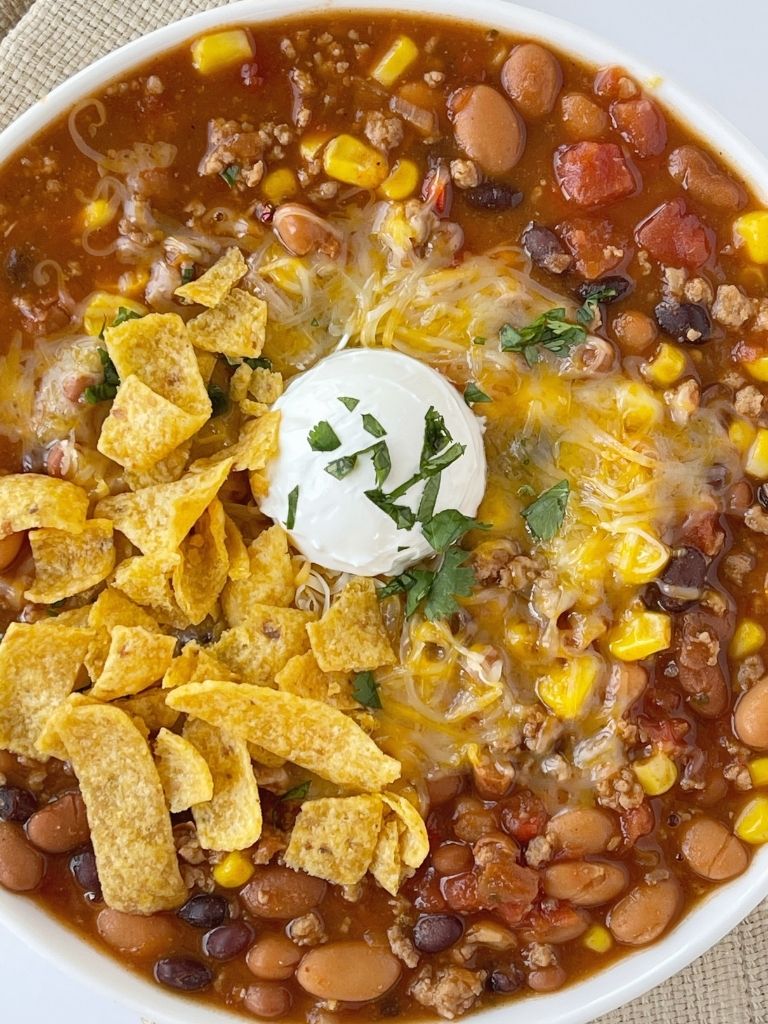 TURKEY CHILI TACO SOUP
Turkey chili taco soup with healthy ground turkey, three kinds of beans, salsa, corn, and lots of seasonings to give it the perfect flavor! I love the combination of chili + taco soup. Top it off with some sour cream, shredded cheese, and tortilla strips or chips. 
Ground turkey is one of my favorite ground meats to use in recipes. All my kids love it, it's healthier, and you really can't tell the difference compared to using ground beef. Some of our other favorite ground turkey recipes is this one pot Turkey Chili Mac & Cheese this Turkey Taco Rice Skillet and these Turkey Taco Burrito Bowls which have been pinned over one million times!
HOW TO MAKE TURKEY CHILI TACO SOUP
In a soup pot, or you can use a skillet pan, brown the ground turkey with olive oil, onion, bell pepper, and salt. When the ground turkey is no longer pink drain the excess grease. If you use a separate skillet pan then add the cooked ground turkey into a soup pot. 

Add the remaining ingredients - taco seasoning, oregano, chili powder, cumin, beef broth, diced tomatoes, chili beans, black beans, pinto beans, tomato sauce, salsa, and frozen corn. Stir it well to mix. 

Let simmer for 30 minutes. 

Top each serving with sour cream, shredded cheese and whatever else you like. 

Leftovers keep well in the fridge for 2-3 days OR you can freeze leftovers. When reheating you may have to add additional beef broth or water. 
MY TIPS & HELPFUL HINTS
Can I make this in a crock pot?

Yes you can! I have never done it but it can easily be adapted for the crock pot. Simply cook the ground turkey with the olive oil, pepper, onion, and salt as directed in the recipe, drain it and then add it into the insert of the slow cooker. Add the remaining ingredients and cook on LOW heat for about 6 hours. Or less because the meat is already cooked so you are basically just combining the flavors and letting it "simmer'. 

Can I substitute the beans with something else?

This turkey chili taco soup calls for three different kinds of beans. Pinto beans, black beans, and chili beans. The chili beans, which are pinto beans in a mild chili sauce, really add a lot to this soup and gives it that 'chili' taste and thickness. However, you could substitute the other beans with something else. Other great choices are kidney beans, white navy beans, white cannelloni beans, or just use two cans of black beans if you don't want the pinto beans. I would suggest using the chili beans no matter what. 

How do I make this turkey chili spicy?

The recipe as is, is perfect for kids even. But if you want it spicy then there are a few things you can do. Add some cayenne pepper or additional chili powder. Add a can of diced green chilies. Use a can of hot chili beans (pinto beans in a hot chili sauce). You could also top the servings with jalapeño peppers. 

How do I serve this?

Our favorite way to serve this turkey chili taco soup is with sour cream, shredded cheese, and Fritos Corn chips. You could also top it with avocado chunks, jalapeño slices, chopped cilantro, or tortilla chips. Lots of different ways. 
TRY THESE CHILI RECIPES
YOU WILL ALSO LOVE THESE GROUND TURKEY DINNER RECIPES