A delicious recipe for Easy Vegetable Beef Soup made with ground beef. This recipe uses common ingredients and it can be easily doubled if you're feeding a crowd or want leftovers for lunch. With a serving of vegetables and protein, this hearty soup is a healthy and satisfying meal.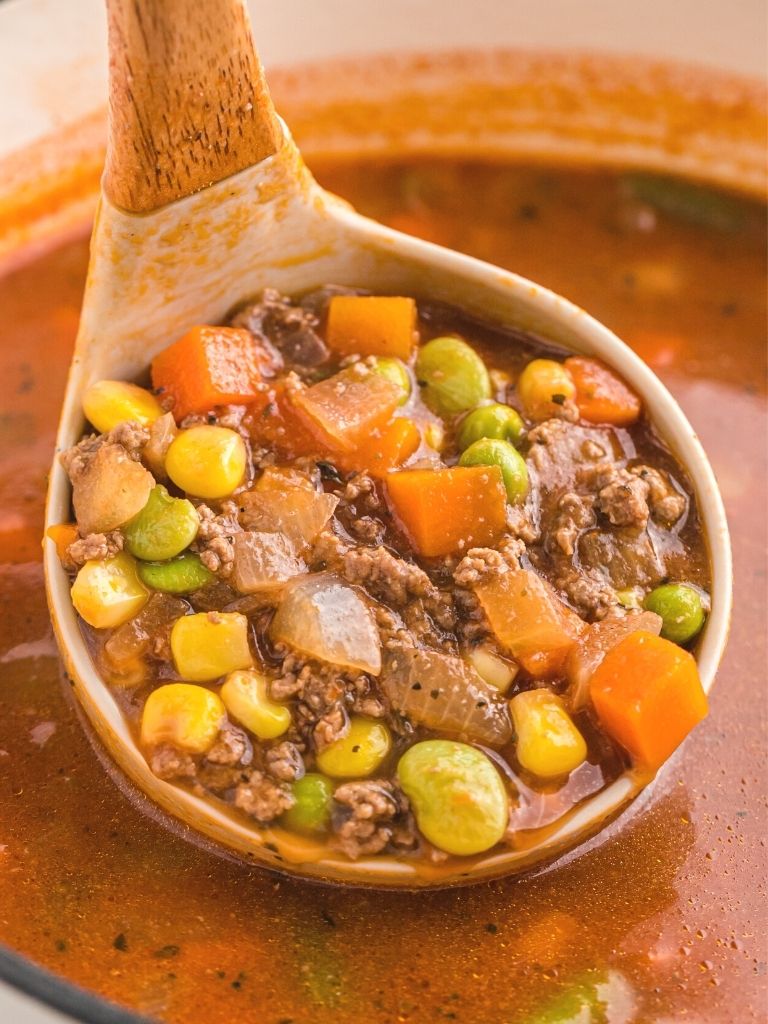 Easy Vegetable Beef Soup Recipe
It's safe to say I have a thing for vegetable beef soup recipes. One of the all-time reader favorite recipes, that happens to have hundreds of 5 star reviews, is this Hamburger Vegetable Soup.
This easy to make vegetable beef soup, that's made with ground beef, is a one pot recipe that is total comfort food and made with some easy ingredients like frozen vegetables, dried seasonings, and lean ground beef.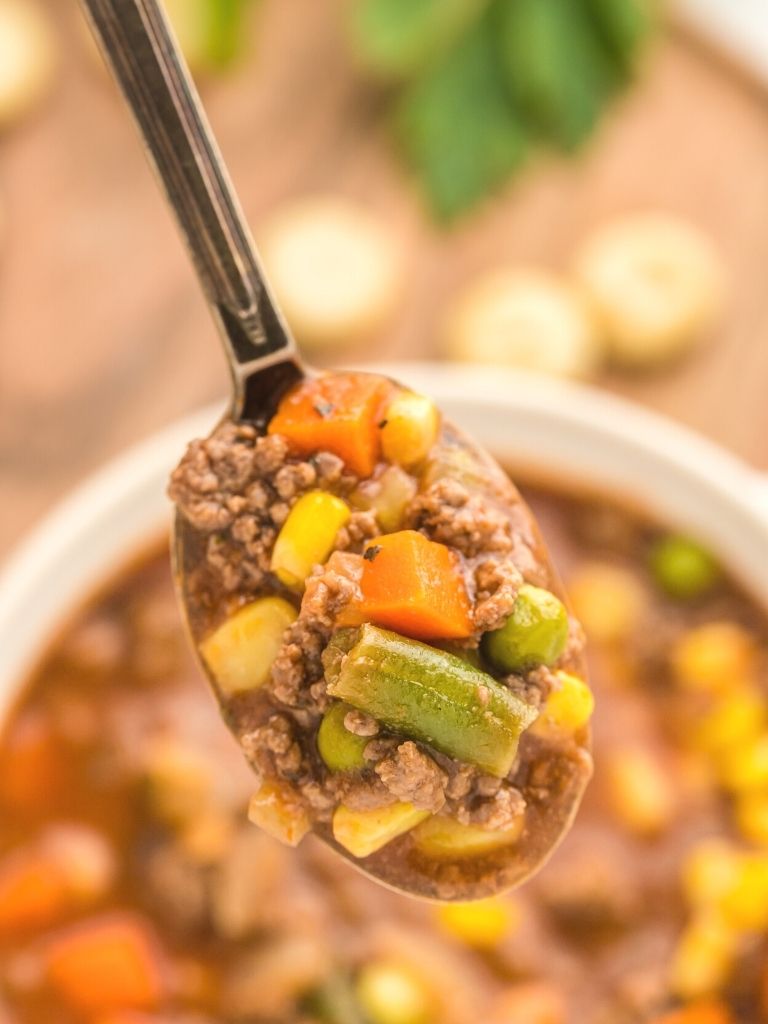 Ingredients Needed
This quick version of vegetable beef soup has two secret ingredients that sound odd (trust me!) but they give this soup so much flavor. You will only need simple ingredients like frozen vegetables and ground beef to make this soup. 
Ground Beef – I always use lean 93/7 ground beef and I still drain it. Even with the lower fat ground meat you will still have some liquid pool up as it cooks. I just drain it off before adding the other ingredients. 
Beef Broth – The recipe calls for the full-salt version of beef broth and you need it! This soup relies on the hearty flavors from the beef broth, and the two "surprise ingredients". 
Frozen Vegetables – You need frozen mixed vegetables + frozen corn. Put them out on the counter to thaw before you begin chopping the onion and cooking the ground beef. This way they are slightly thawed and will cook during the simmering time. 
Soy Sauce – This is the first surprise ingredient! Traditionally you see this in Asian & Chinese inspired dishes but the salty flavor it adds goes perfectly with this soup. I use the reduced-sodium soy sauce. If you use the full salt soy sauce you might find the soup a tad too salty or not. Depending on your salt preference. 
Molasses – I know. I know. Totally weird. But it adds a thick, dark, slightly sweet flavor to the soup and it's amazing. It's even worth buying molasses just for this recipe (that's what I did anyways). There really is no substitute but if you must, try using dark brown sugar or even dark corn syrup. But again, I've never substituted this ingredient so I can't promise the results if you choose to.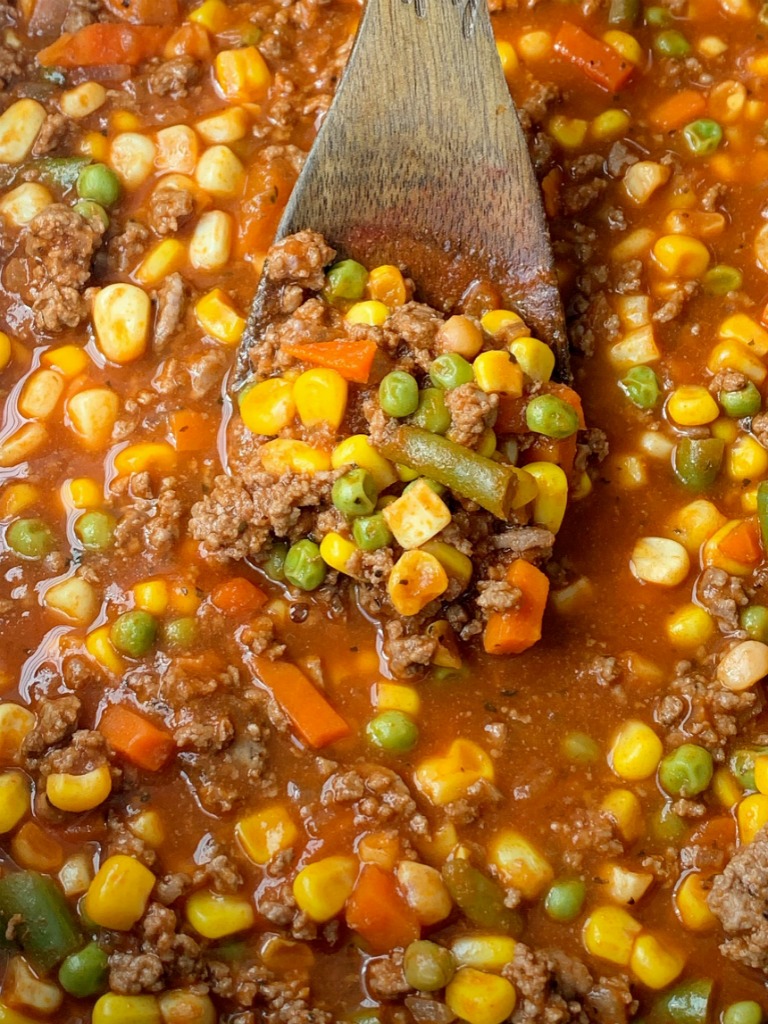 How To Make Vegetable Soup With Ground Beef
You only need one pot to make this recipe!
Ground Beef : Brown and crumble the ground beef with the chopped onion, garlic powder, and basil. Drain the excess grease from the pot. 
Soup : Add the remaining ingredients like beef broth, tomato sauce, frozen vegetables, molasses, and soy sauce. 
Simmer : Bring the soup to a boil. Once boiling, reduce heat and let it simmer for at least 20-30 minutes before serving.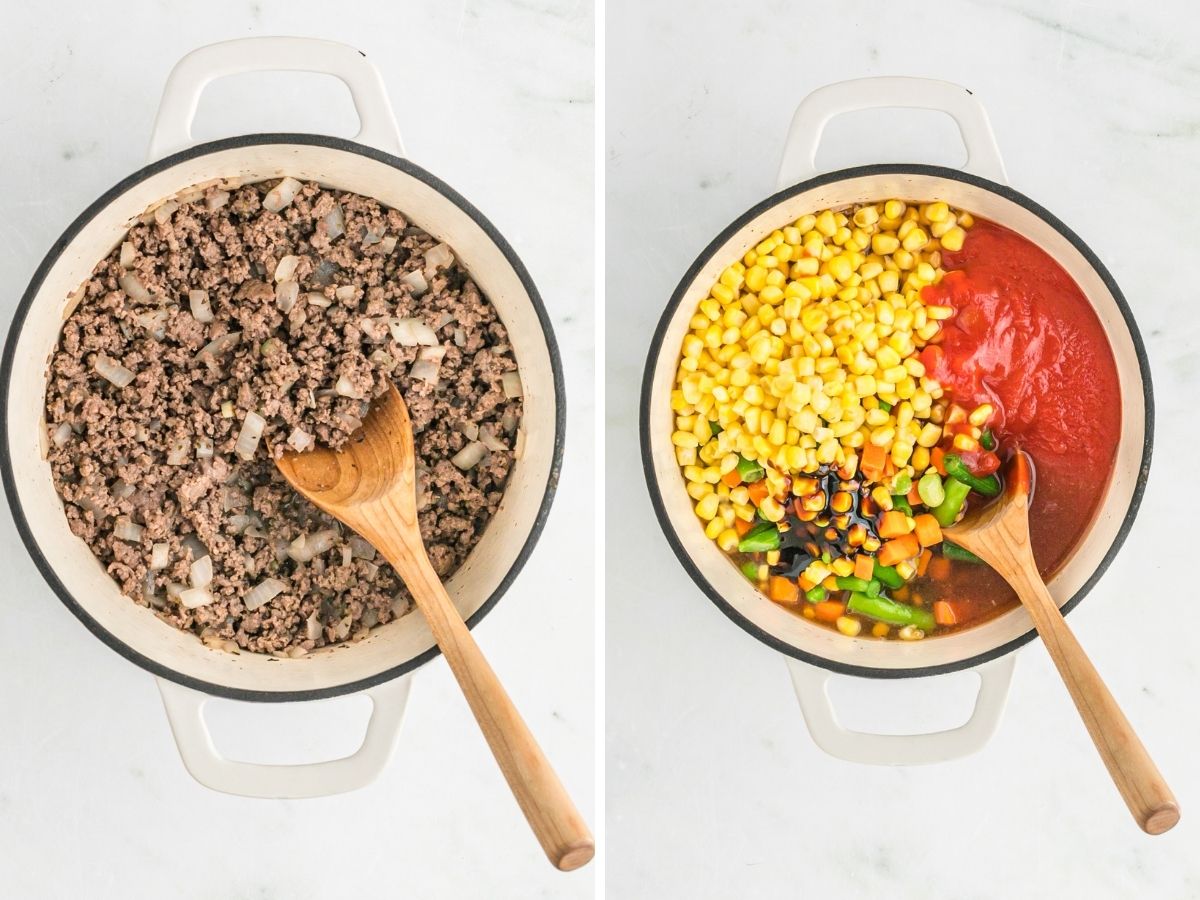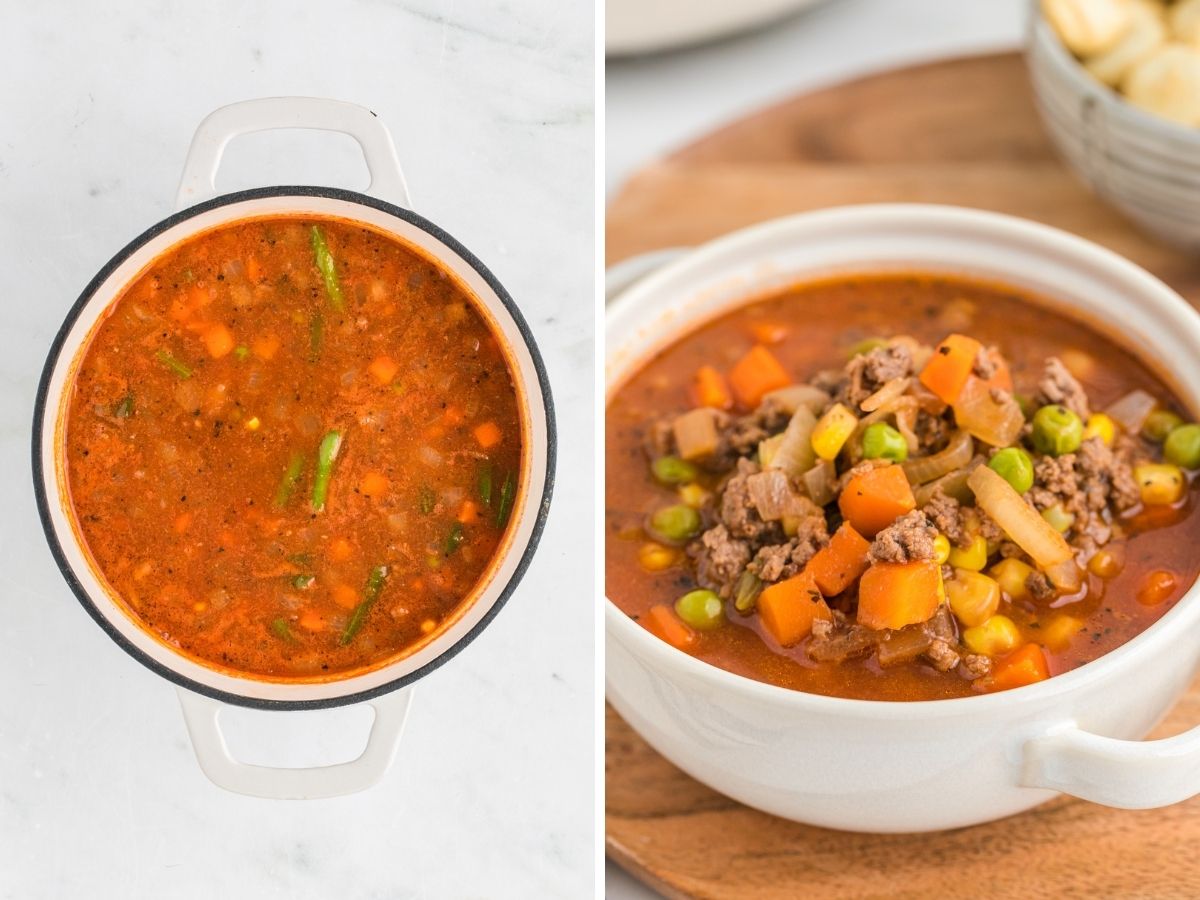 Tips For Success
Here are a few of my tips for making this recipe a success in your own kitchen.
Drain Ground Beef Grease : Make sure you drain the ground beef after cooking it. All that extra grease in the soup will give it an oily film over top. 
Let Simmer : Make sure you let the soup simmer for 20-30 minutes so the flavors can develop. This soup is so much better after it's had time to simmer all together.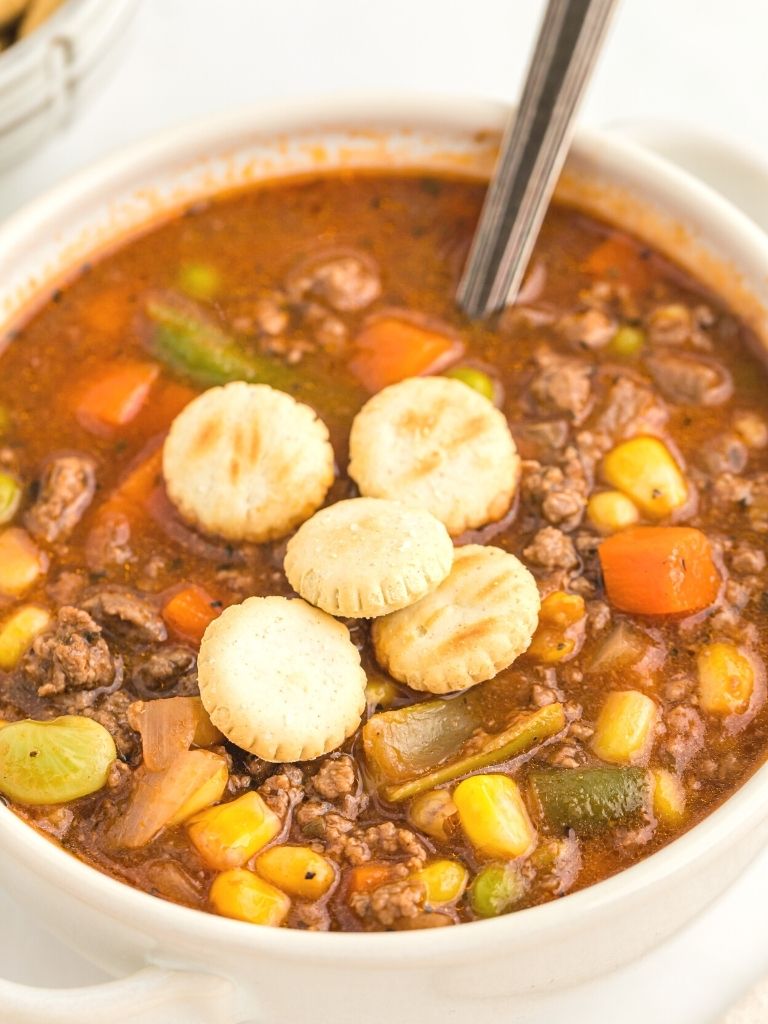 Variation & Substitution Ideas
There are a few ways that you can change up this hearty soup recipe. Here are a few ideas and things I have done. 
Switch Out Protein : Instead of ground beef try using ground turkey or ground chicken. 
Frozen Vegetables : Use any frozen vegetable you like!
Tomato Sauce : I have used tomato sauce w/ garlic, basil, oregano when I've made this recipe. Instead of using plain classic tomato sauce, try using a seasoned tomato sauce. 
Seasonings : Feel free to add additional seasonings if wanted. Fresh garlic can be used, add some Italian seasoning, add salt & pepper depending on taste preference. Lots of ways to adapt this recipe to whatever you want. 
Easy Vegetable Beef Soup FAQ's
Serving Suggestions
Can I Freeze Vegetable Beef Soup?

Yes! This soup freezes perfectly. Make sure it's cooled to room temperature. Store the soup inside a freezer-safe container (I use a gallon-sized Ziploc bag) and freeze for up to 1 month. 
When ready to eat, you can thaw and warm it up in a soup pot on the stove. Put the frozen soup inside the slow cooker. Or let the soup thaw in the fridge overnight. 
You may have to add some additional beef broth when reheating frozen leftovers or leftovers. 

How To Store Leftovers

Leftovers can safely be stored in an air-tight container, in the fridge, for 3-4 days. 
I think it's easiest to warm up leftovers in the microwave, but you can also put them into a pot and heat up on the stove top.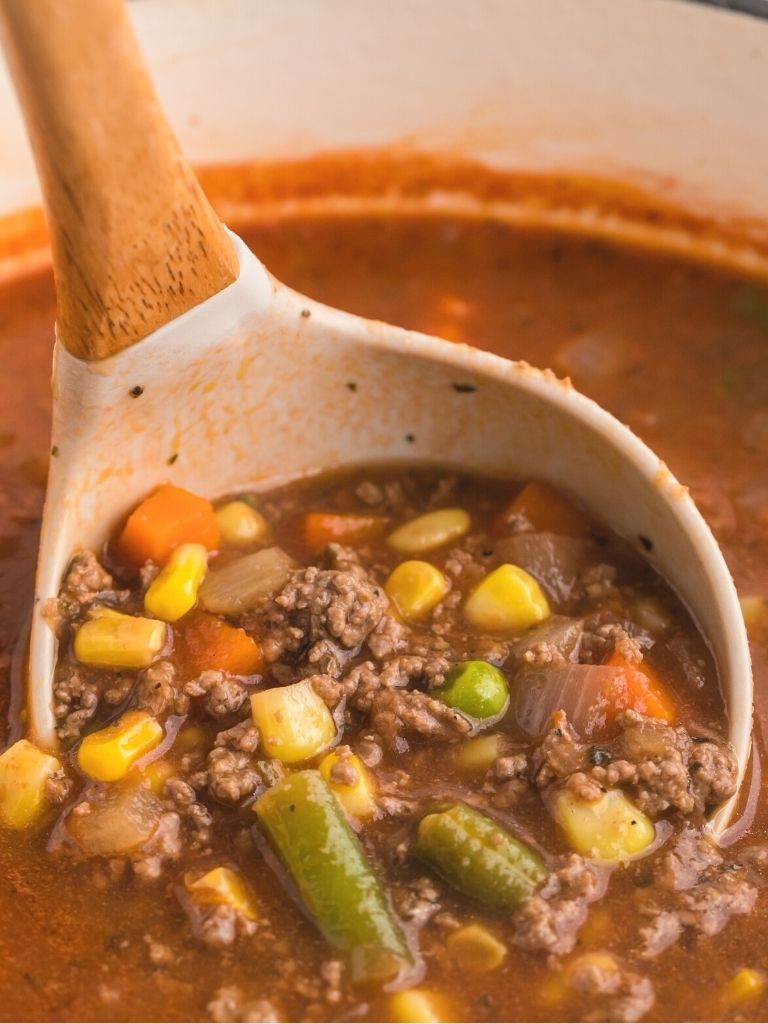 More Soup Recipes With Ground Beef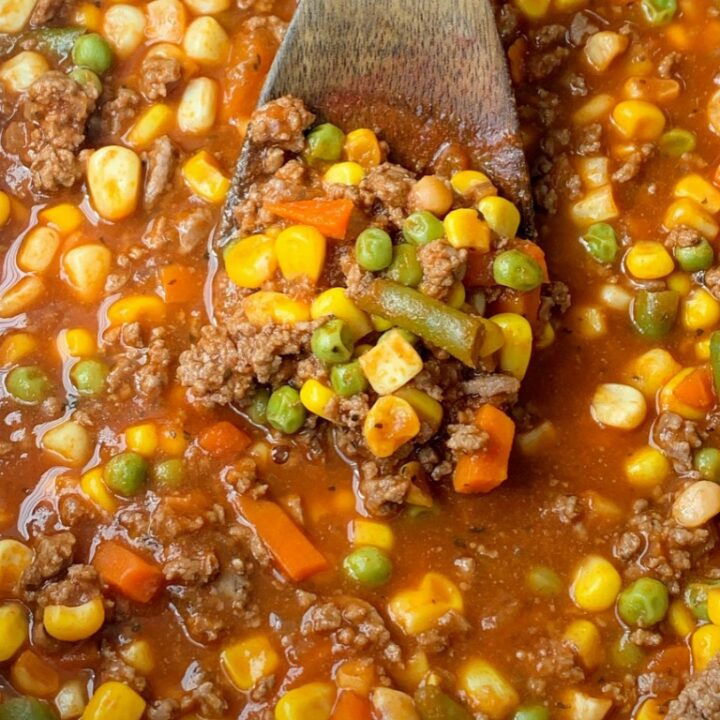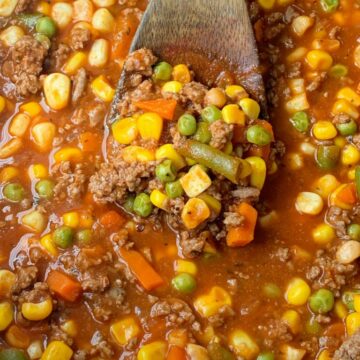 Quick Vegetable Beef Soup
Vegetable Beef Soup only needs one pot and 30 minutes on the stove. Ground beef, frozen vegetables, tomato sauce, beef broth, and a couple surprise ingredients make this vegetable beef soup so delicious & easy to make!
Ingredients
1 lb lean ground beef
1 small onion finely chopped
1 teaspoon garlic powder
1 teaspoon dried basil
1 1/4 cups beef broth
1 can (15 oz) tomato sauce
1 1/2 cups frozen mixed vegetables
1 1/2 cups frozen corn
1 tablespoon low-sodium soy sauce
1 tablespoon molasses
Instructions
Place frozen vegetables out on the counter to thaw slightly. This ensures that they will cook within the simmering/cook time of the soup. *I just leave them out while I chop the onion and cook the ground beef.

In a large soup pot, over medium-high heat, cook & crumble ground beef, onion, garlic powder, and dried basil until beef is no longer pink. Drain.

To the same pot, add the beef broth, tomato sauce, slightly thawed vegetables, soy sauce, and molasses. Stir together and bring to a boil. Once boiling, reduce hear to medium-low and let simmer for 15-20 minutes. Stirring occasionally.
Notes
1 cup + 3/4 cup (1 3/4) is the serving size for the calories listed. That is a big serving for kids, so if you are feeding a family with young kids then there is no need to double the recipe. If you are serving 5 or more adults, then you may want to double the recipe. There are 6 in my family and we always have plenty of leftovers of this soup. At least enough for 2 lunches.    I have only ever used the full-salt beef broth in this recipe. I worry that if you use the reduced-salt (50% less sodium) then you may find the soup very bland.     
Nutrition
Calories: 266kcal | Carbohydrates: 31g | Protein: 26g | Fat: 6g | Saturated Fat: 2g | Cholesterol: 56mg | Sodium: 1133mg | Potassium: 1144mg | Fiber: 6g | Sugar: 9g | Vitamin A: 3361IU | Vitamin C: 20mg | Calcium: 59mg | Iron: 5mg