Southwestern Corn with frozen sweet corn, chopped tomato, cilantro, and fresh lime juice makes for an easy side dish recipe. It's a healthier side dish option for any dinner but we especially love serving this with enchiladas or as a topping for burrito bowls.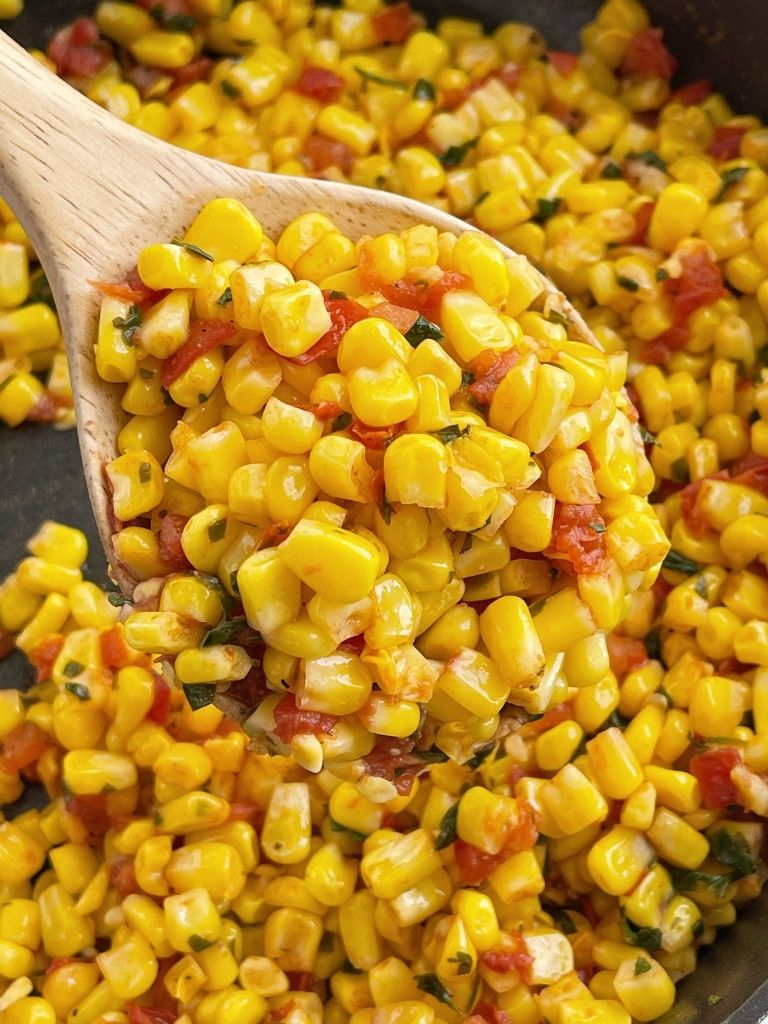 SOUTHWESTERN CORN
Southwestern corn is an easy corn side dish recipe that is made in just one skillet pan. This recipe uses frozen corn, which I love, because it keeps well in the freezer and it's easy to keep it on hand. Feel free to use fresh corn.
Frozen corn mixed with seasonings, chopped cilantro, chopped tomatoes, and fresh lime juice. It's a healthier side dish option that is great for heavier Mexican food dinner recipes like enchiladas, tacos, or casseroles. 
I have a big collection of corn recipes here on the blog so be sure and try out my other favorites like this honey butter skillet corn, avocado & tomato corn salad, corn salsa, and one of my very favorites this Fritos corn salad.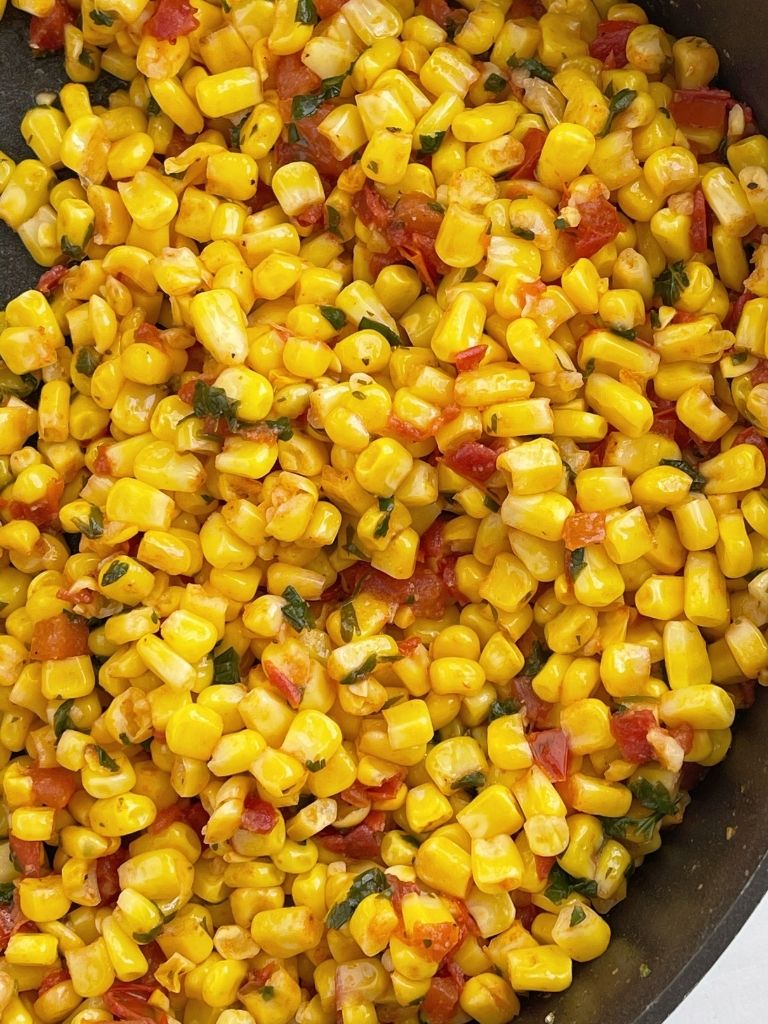 INGREDIENTS FOR MAKING SOUTHWESTERN CORN
Frozen Corn
Butter
Chopped Tomatoes
Fresh Lime Juice
Salt & Cumin
Chopped Cilantro
The frozen corn cooks with the butter for a few minutes in a skillet pan. Once the corn has softened, add the remaining ingredients and let it simmer for 5-10 minutes. This recipe is very adaptable so if you want more spice or heat, or want to add some jalapeños, then go ahead. Read below for some variations and ideas. 
TIPS & HELPFUL HINTS
Can I make this spicy?

Yes you can and there are so many ways. 
Add some chili powder or cayenne red pepper in with the other dried seasonings. 
Add chopped jalapeño peppers, either chopped or from a can.
Add a can of diced green chilies. 

Can I use fresh corn?

Yes you can fresh corn in this recipe. 
You will want about 3 cups of fresh corn kernels to make this.

What do I do with the leftovers?

The leftovers keep really well, in a covered container, in the fridge for 3-4 days. You can either eat the leftovers cold or warm them up in the microwave. The leftovers are also really good in salads or use them inside burritos, enchiladas, or quesadillas. 

What do I serve this southwestern corn with?

Can I use bottled lime juice?

For the best flavor use fresh squeezed lime juice. If you have to then bottled lime juice can be used but I would suggest sticking with fresh lime juice.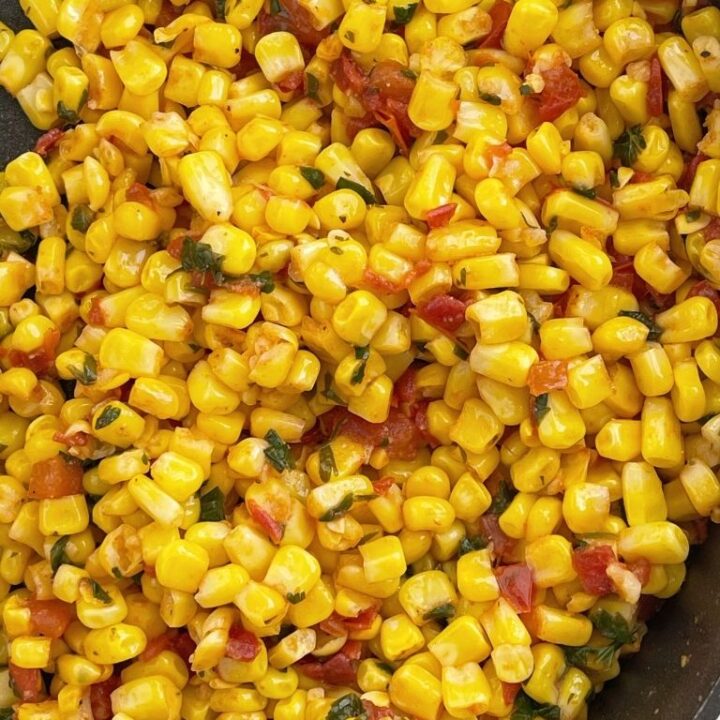 Southwestern Corn
Ingredients
1 tablespoon butter
1 bag (16 oz) frozen sweet corn or use 3 cups fresh corn
3 roma tomatoes chopped and seeded
1/4 cup chopped cilantro
1 tablespoon fresh lime juice
½ teaspoon salt
½ teaspoon cumin
Instructions
In a skillet pan, over medium high heat, add the butter and frozen corn. Cook, stirring occassionaly, until butter is melted and corn is softened. About 5-8 minutes.

Stir in the chopped tomatoes, cilantro, lime juice, salt and cumin. Stir together to combine and cook for 5 minutes.

Serve immediately.
Notes
CORN : Use fresh corn or frozen corn. I like to use the super sweet corn but feel free to use whatever corn you prefer. I also like to use the gold n' white corn frozen corn which is yellow corn + white corn.  CILANTRO : I know some people hate cilantro and if that's the case just leave it out.  LIME : You will need about 1 large lime to equal the lime juice needed.  CAN I MAKE IT SPICY? Yes! Add some chili powder or cayenne red pepper. Add some freshly chopped jalapeños or use canned jalapeños. Add a can of diced green chilies. 
Nutrition
Calories: 98kcal | Carbohydrates: 19g | Protein: 3g | Fat: 3g | Saturated Fat: 1g | Trans Fat: 1g | Cholesterol: 5mg | Sodium: 216mg | Potassium: 307mg | Fiber: 3g | Sugar: 1g | Vitamin A: 368IU | Vitamin C: 11mg | Calcium: 10mg | Iron: 1mg