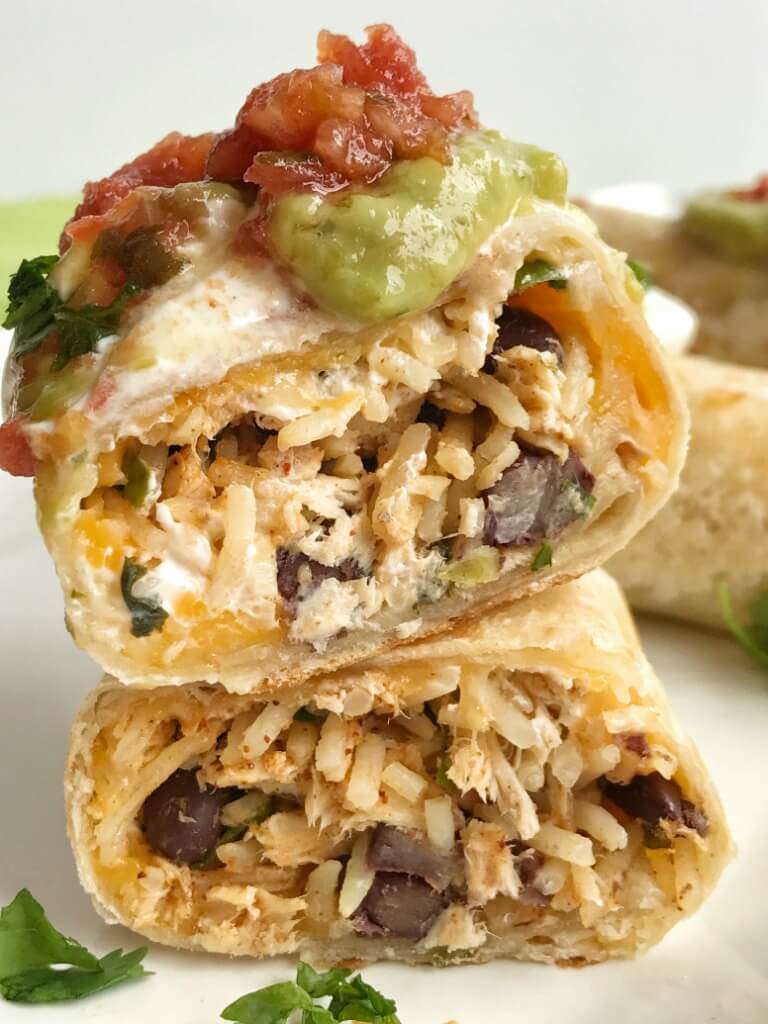 During the summer it is impossible for me to go grocery shopping during the day with all 4 kids. I just can't. I've tried it a few times and each time I spend double the grocery budget for that week. It's bad. I am obsessed with sticking with my grocery budget so it kind of ruins my week when I go over it 🙂 I'm weird like that!
Are you that way too? I try really hard to only go to the store once a week and not overspend. The only way to do this is not bring any kids with me. Hence the reason I was out until 11 pm.
These burritos are such a family favorite. An easy mixture of rice, chicken, beans, lime juice, and some spices get stuffed inside a crispy tortilla with creamy sour cream and gooey cheese. So good!
I usually always make these burritos when I have leftover rice. Especially this cilantro lime rice. We love it in these burritos. You could also use leftover Mexican rice too. Or, any rice really. 
Same with the chicken. Cook up some chicken, use leftover chicken, or use a rotisserie chicken. So many options to make it as fast and easy as you want. 
How to make chicken skillet burritos
Start by sprinkling some cheese on the tortilla and then dolloping some sour cream over the cheese. Only like 3-4 little dots of it. Not a ton because you don't want the burrito too wet. But if you do, then pile that sour cream high 🙂
Add some of the burrito mix of chicken and beans and fold the tortilla up like a burrito. 
Spray both sides with cooking spray and pan fry in a skillet. No oil needed in the skillet pan. Just lay the burrito down and cook for 3-4 minutes on each side until nice and crispy. 
My tips for making this chicken burrito recipe
These are the perfect option when you have leftover rice, shredded chicken or even leftover taco meat. 
They are super versatile! Use whatever bean you prefer or what you have on hand. Use leftover ground taco meat in place of the chicken, or even leftover sweet pork. 
Spraying the tortilla with the cooking spray is what gets the burrito nice and crispy in the skillet pan. So be sure you don't skip that step. 
Recipe calls for warm rice. Either heat it up in the microwave if using leftover rice, or just make it for this recipe and use when it's warm. You can even use the 1 minute packs of rice to make this a really quick recipe. 
Try these other Mexican food chicken recipes
Crispy Southwest Chicken Skillet Burritos
These Crispy Southwest Chicken Skillet Burritos are so easy to make, versatile, and a quick & easy 30 minute dinner! All your favorite burrito fillings cooked to crispy perfection in a skillet pan. 
Ingredients
1½ cups rice (heat it up if using leftover rice)
1 teaspoon chili powder
1 teaspoon cumin
½ teaspoon garlic salt
2 cups shredded or chopped chicken
1 can (15 oz) black beans drained & rinsed
1/4 cup chopped green onion
1/4 cup chopped cilantro
juice of 1 lime
2 cups shredded cheese
1 cup sour cream
8 burrito-sized large tortillas
Instructions
In a large bowl stir the rice, chili powder, cumin and garlic salt until combined. Add in the chicken, black beans, green onions, cilantro, and lime juice. Stir together to combine.

Sprinkle some cheese over a tortilla, leaving 1/2-inch border around edges, then dollop about 3-4 dots of sour cream over the cheese.


Add some chicken/rice mixture (about 1/3 cup) and arrange down the center of the tortilla.

Fold up burrito style (fold in sides and then roll up from the bottom) or just fold into a wrap style. Repeat with remaining tortillas.

Spray both sides of each burrito with cooking spray and place in a skillet pan over medium-high heat. Cook for 3-4 minutes on each side or until desired crispiness.

Serve with salsa, sour cream, and guacamole!
Notes
Depending on how much you stuff the burritos, you will get between 6-8 burritos. I put 1/3 cup of the burrito filling onto each tortilla and get 8 burritos out of the recipe.  Use any shredded cheese you want!
Nutrition
Calories: 458kcal | Carbohydrates: 58g | Protein: 19g | Fat: 17g | Saturated Fat: 8g | Cholesterol: 47mg | Sodium: 567mg | Potassium: 380mg | Fiber: 6g | Sugar: 3g | Vitamin A: 526IU | Vitamin C: 1mg | Calcium: 235mg | Iron: 3mg
Save this recipe for later and PIN IT to PINTEREST