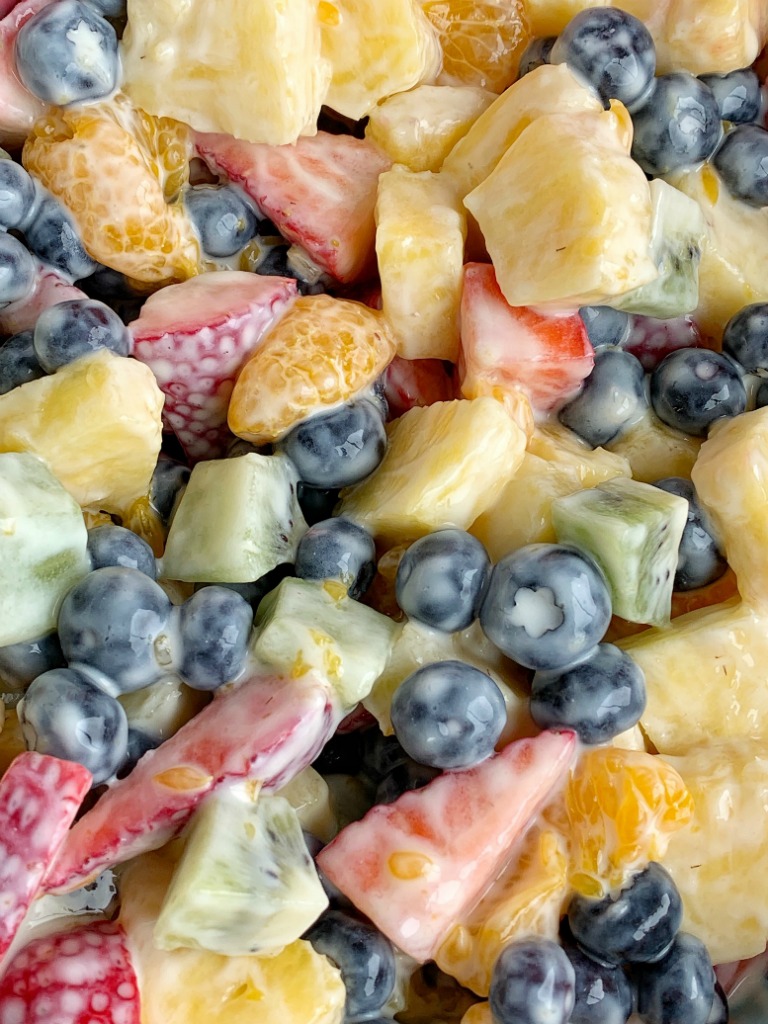 LEMON YOGURT FRUIT SALAD
Now that fresh fruit like strawberries, blueberries, and pineapple are more in season all I can think about when I walk through the produce is a fruit salad.
Lots of fruit salads call for marshmallows and maybe a pudding mix. I'm not a huge of that. Instead, I chose to make a creamy dressing of lemon yogurt, fresh lemon juice, and honey.
The honey brings out the fruits natural sweetness!
INGREDIENTS FOR FRUIT SALAD WITH YOGURT
Fresh pineapple chunks
Blueberries
Chopped Strawberries
Kiwi
Mandarin oranges
Lemon yogurt
Fresh lemon juice
Honey
This fruit salad with lemon yogurt dressing is so simple to make! Simply add all your chopped fruit into a mixing bowl. In a separate mixing bowl whisk together the lemon yogurt, fresh lemon juice, and honey. Pour it over the fruit and gently mix it together. 
MY TIPS FOR THIS RECIPE
– Make sure that the fruit is well drained! I drain the fruit, one at a time, in a colander and then lay the fruit on a paper towel to drain any excess liquid. I then take another paper towel and place it on top of the fruit. This will help really soak up an leftover juices. 
– Once you make the salad it needs to be served right away to prevent lots of liquid and juice build-up in the bottom of the mixing bowl. 
– If you are taking the salad somewhere or eating it later, be sure and keep the fruit and yogurt dressing in separate bowls and then mix together when you are ready to serve. 
– I imagine you can use any fruit + yogurt combination you love for this fruit salad. Just make sure to follow the same measurement amounts that are in the recipe below. 
– The options are endless for the fruit and yogurt combinations. Try using key lime yogurt + fresh lime juice + honey. Or you can use orange cream yogurt + orange juice + honey. 
TRY THESE OTHER RECIPES THAT USE FRESH LEMON JUICE
Lemon Yogurt Fruit Salad
Lemon Yogurt Fruit Salad with a creamy honey lemon yogurt dressing with fresh lemon juice. Fresh pineapple, strawberries, blueberries, kiwi, and canned mandarin oranges.
Ingredients
2 cups chopped strawberries
2 cups chopped fresh pineapple
2 cups blueberries
4 kiwis skin peeled & chopped
1 can (15 oz) mandarin oranges drained well
1 container (6 oz) lemon yogurt
1 tablespoon honey
juice of 1/2 a lemon about 1 tablespoon lemon juice
Instructions
Add the strawberries, pineapple, blueberries, kiwi, and mandarin oranges into a large mixing bowl (or the bowl you're serving it in).

In a small bowl mix together the yogrt, lemon juice, and honey. Stir together well and pour over the fruit. Gently stir it all together and serve right away.

* If you are not serving this fruit salad right away then keep the fruit and yogurt dressing in separate bowls and mix together right before serving it.
Notes
I find that 1 tablespoon honey is a perfect amount. But if you prefer sweeter or your fruit is not super sweet, then increase the honey up to 2 tablespoons (more or less to taste). To make life easier, I always buy the cut pineapple spears in the produce area of the grocery store. It's faster than cutting and trying to take the skin off of a pineapple. 2 cups of chopped strawberries is about a one (1 lb) container of strawberries. Serve right after making this salad! If you are not serving right away or taking it somewhere, leave the fruit in one bowl and the dressing in another. Combine together right before you're ready to serve.  Make sure all the fruit is well drained. After washing the fruit, I lay it on a paper towel and then use another paper towel to dab the fruit. This helps take off any extra moisture from the fruit.  If you want extra lemon flavor, zest the lemon before juicing it. I would not add too much lemon zest, maybe like 1/4 teaspoon. Zest can be bitter so don't add too much.
Nutrition
Calories: 138kcal | Carbohydrates: 34g | Protein: 2g | Fat: 1g | Saturated Fat: 1g | Cholesterol: 2mg | Sodium: 15mg | Potassium: 392mg | Fiber: 5g | Sugar: 25g | Vitamin A: 451IU | Vitamin C: 100mg | Calcium: 71mg | Iron: 1mg