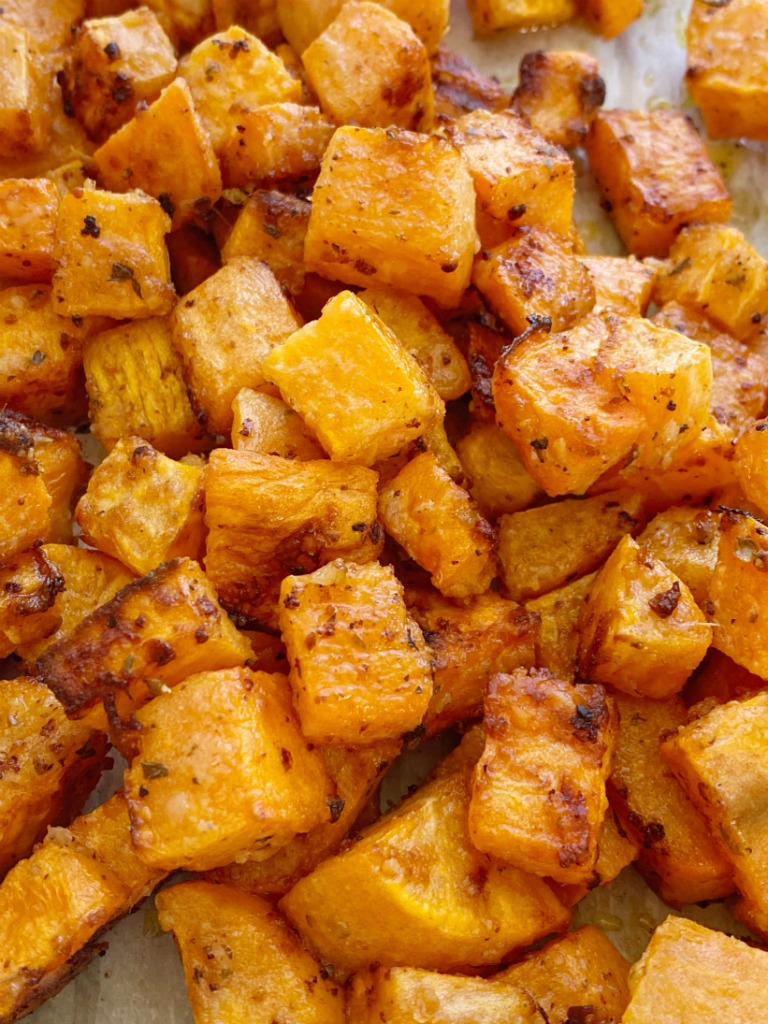 ROASTED SWEET POTATOES
Roasted sweet potatoes are the best side dish! These sweet potatoes have a crispy, charred outside and a soft center. They're perfectly seasoned with butter, olive oil, fresh garlic, parmesan cheese, garlic salt, and Italian seasoning.
Even my kids love these which is a big bonus! They're sweet but savory at the same time. If you love sweet potatoes like we do then be sure and make my favorite sweet potato casserole or try these roasted maple cinnamon sweet potatoes.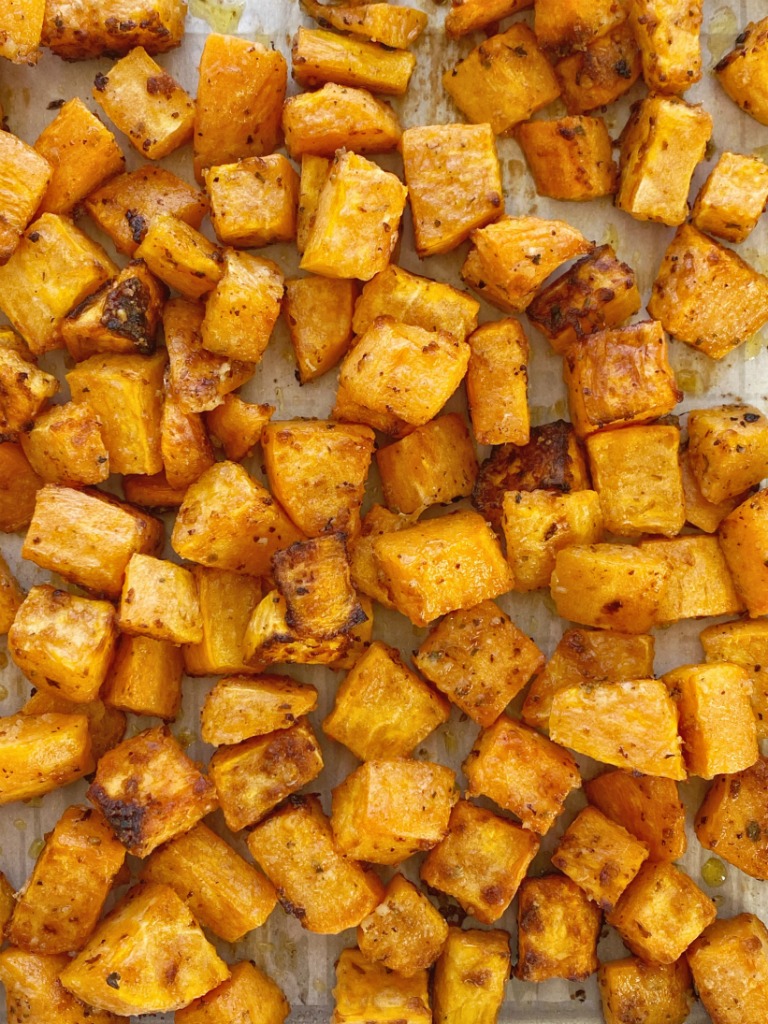 ROASTED SWEET POTATOES WITH GARLIC AND PARMESAN
Sweet Potatoes – These are also called Yams and they are the ones with the dark orange skin. You only need 3 cups of chopped sweet potatoes so 2 large ones will do the trick. 
Butter – I use salted
Olive Oil – I use extra-virgin olive oil as it has virtually no taste. If you love the heavy olive taste than use regular olive oil. 
Parmesan Cheese – Use the cheap grated stuff. You could use fresh grated Parmesan cheese or bagged shredded Parmesan cheese but it tends to burn at the high oven temperature which can leave a bitter taste. For best results use the cheap grated stuff. 
Garlic Salt & Italian Seasoning
HOW TO ROAST SWEET POTATOES
The key to perfect roasted sweet potatoes is the high oven temperature. This recipe calls for the oven to be at 400 degrees. This is what helps the exterior of the potatoes get that nice crispy char while leaving the inside soft. 
It's also important when roasting vegetables to stir it a couple times during the cook time. This helps all sides of the sweet potatoes get that crispy charred exterior. For this recipe plan on stirring up the potatoes two times during the 25 minute cook time.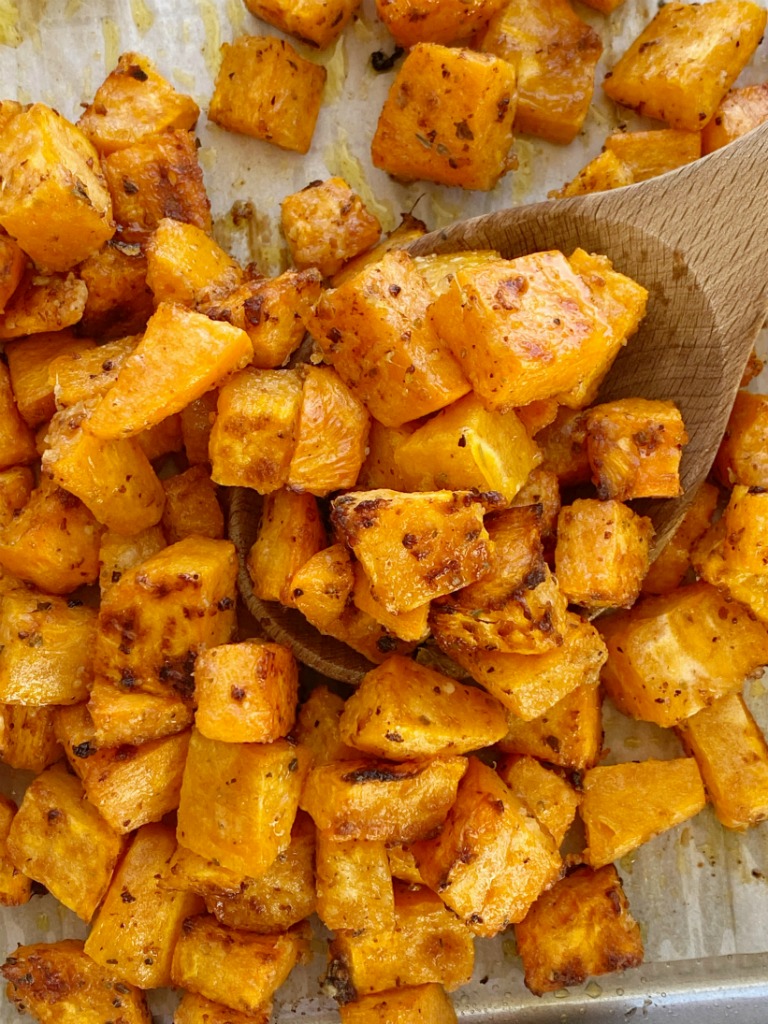 MY TIPS FOR THIS SWEET POTATO RECIPE
Be sure to not cut the sweet potatoes too small. Aim for about 1-inch sized chunks. That way they are big enough to get crispy charred sides and the soft center. If you cut the sweet potatoes smaller then they will need less cook time so watch carefully. 
Use a gallon-sized Ziploc bag to mix the sweet potatoes + all the other ingredients in. This way the only dish you'll use is the cookie sheet for baking. Or use a bowl.
Can I use frozen sweet potatoes? I would recommend not using them but I have gotten comments before about people trying it and liking the results. I think fresh is the best way to go with roasted vegetables. I have never used frozen sweet potatoes for this recipe so I would not feel comfortable saying that it would work. 
What kind of Parmesan cheese should I use for roasted sweet potatoes? I highly recommend using the cheap, grated stuff that comes in the plastic can with the green top. You will find it in the pasta aisle with the pizza sauce and spaghetti sauces. You can use fresh grated parmesan cheese or the bagged pre-shredded parmesan cheese but it burns at this high temperature which will make it taste slightly bitter (in my opinion). 
TRY THESE OTHER ROASTED VEGETABLES
Roasted Garlic Parmesan Sweet Potatoes
Roasted Garlic Parmesan Sweet Potatoes are roasted in butter, olive oil, parmesan cheese, and seasonings. A crispy charred outside with a soft sweet potato center. One bowl and a few simple ingredients are all you need for this delicious side dish recipe.
Ingredients
3 cups chopped sweet potatoes cut into 1-inch chunks
2 tablespoons butter melted
1 tablespoon olive oil
2 cloves garlic
1/4 cup grated parmesan cheese
½ teaspoon garlic salt
½ teaspoon Italian seasoning
Instructions
Heat oven to 400°. Prepare a cookie sheet by lining with tin foil or parchment paper. * If using tin foil, I like to lightly spray the tin foil with cooking spray to prevent sticking. I prefer using parchment paper when making this recipe.

Combine the chopped sweet potatoes, melted butter, olive oil, garlic, Parmesan cheese, garlic salt, and Italian seasoning in a mixing bowl. Stir everything together until all the potatoes are coated in the mixture.

Evenly spread the potatoes onto the prepared baking sheet. Spread out the potatoes to be sure that none are on top of each other or touching.

Bake for 25 minutes. Stirring up the potatoes at least twice during the cook time so that all sides can get crispy and roasted. *All ovens are different so yours may need some additional time or slightly less. I have found 25 minutes to be the magic cook time.

Serve immediately. These are best served fresh. Store leftovers, covered, in the fridge and reheat in the microwave or air fryer.
Notes
Garlic : Use fresh garlic cloves that have been minced or pressed through a garlic presser. Use chopped garlic from the jar. Or use garlic paste from the tube. Whatever you use just make sure it's equivalent to 2 cloves garlic. 
Nutrition
Calories: 131kcal | Carbohydrates: 14g | Protein: 3g | Fat: 7g | Saturated Fat: 3g | Cholesterol: 14mg | Sodium: 328mg | Potassium: 224mg | Fiber: 2g | Sugar: 3g | Vitamin A: 9587IU | Vitamin C: 2mg | Calcium: 71mg | Iron: 1mg