These Chicken Flautas are a quick and easy dinner recipe that only take 10 minutes to prepare! This flautas recipe uses canned chicken (no one will ever know your secret!), dried seasonings, cream cheese, salsa, and shredded cheese for a fast dinner that everyone will love. 
We love to dip these chicken flautas in this copycat Cafe Rio dressing and garnish the flautas with shredded lettuce, pico de gallo, and sour cream. Yum!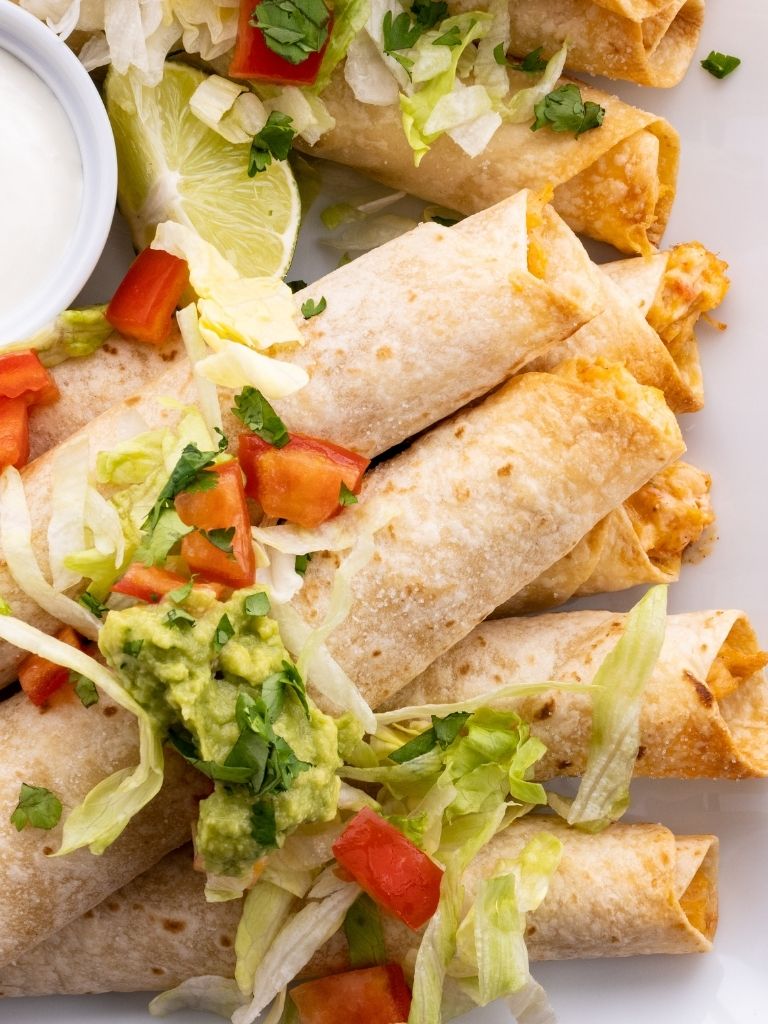 Chicken Flautas Recipe
This recipe for chicken flautas is one of those super simple dinner recipes that are much needed on those busy weekdays.
It's not completely homemade, but rather a semi-homemade dinner, with some easy ingredients that really cut down on the prep time. 
These chicken flautas use canned chicken. Yes, I said canned chicken! I promise you that no one will ever guess how easy these are to make. No need to worry about precooking chicken or picking up a Rotisserie chicken from the grocery store. Canned chicken has a long shelf life so this is one of those dinners that you can always have on stand-by. 
This 7 can chicken taco soup is another way to use up canned chicken.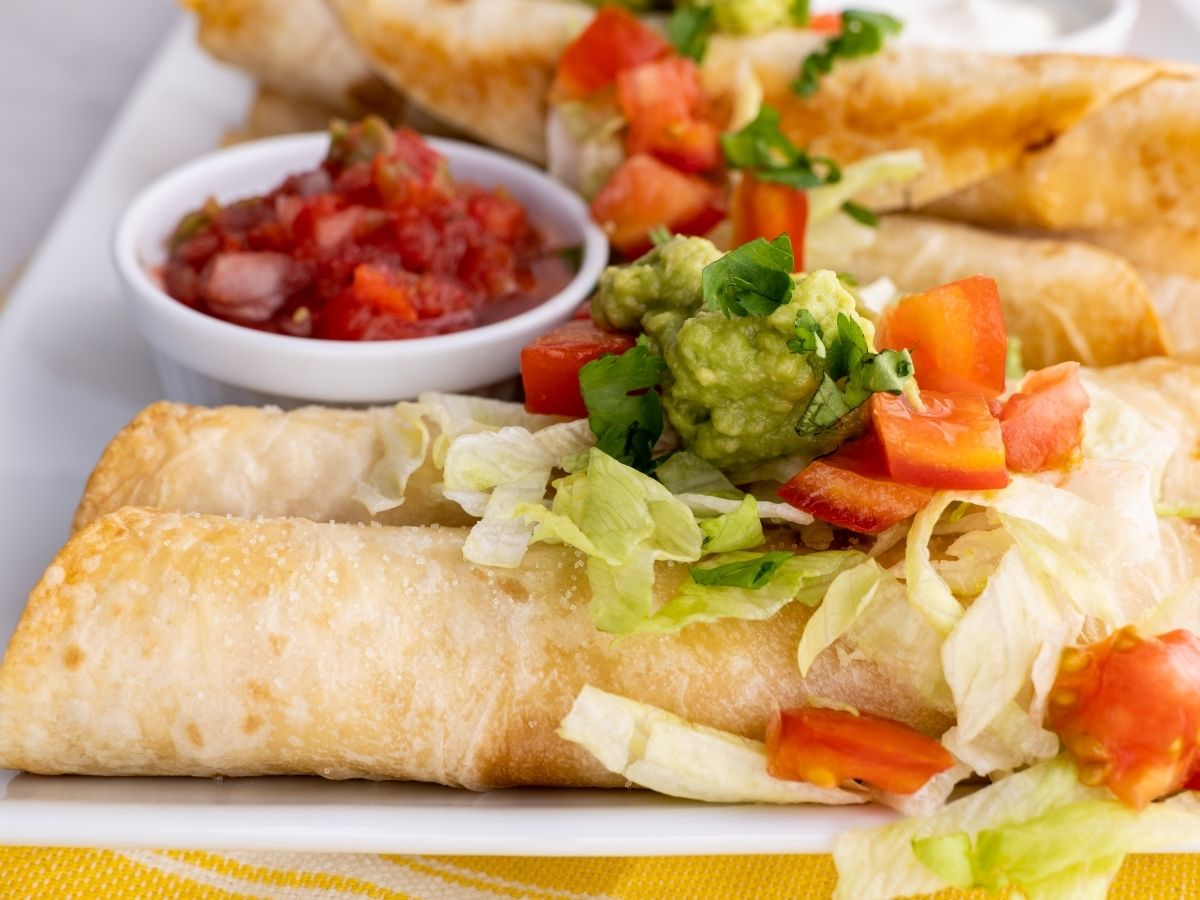 What You'll Need
Making these chicken flautas is so easy. All you need are some easy ingredients!
Canned Chicken – Don't let this scare you! I love the Kirkland brand of canned chicken that you can get at Costco. It's high quality chicken and the shelf life is amazing on it. A Costco membership is worth it just for their canned chicken. Be sure you drain the chicken and flake it with a fork before using it. 
Cream Cheese – Light or regular fat cream cheese can be used. 
Salsa – Any salsa you want!
Shredded Cheese – Any cheese you like. I prefer to shred cheese from a block but the bagged shredded cheese will also work. 
Cumin, Garlic Powder, Onion Powder, Chili Powder – Some easy dried seasonings is all you need.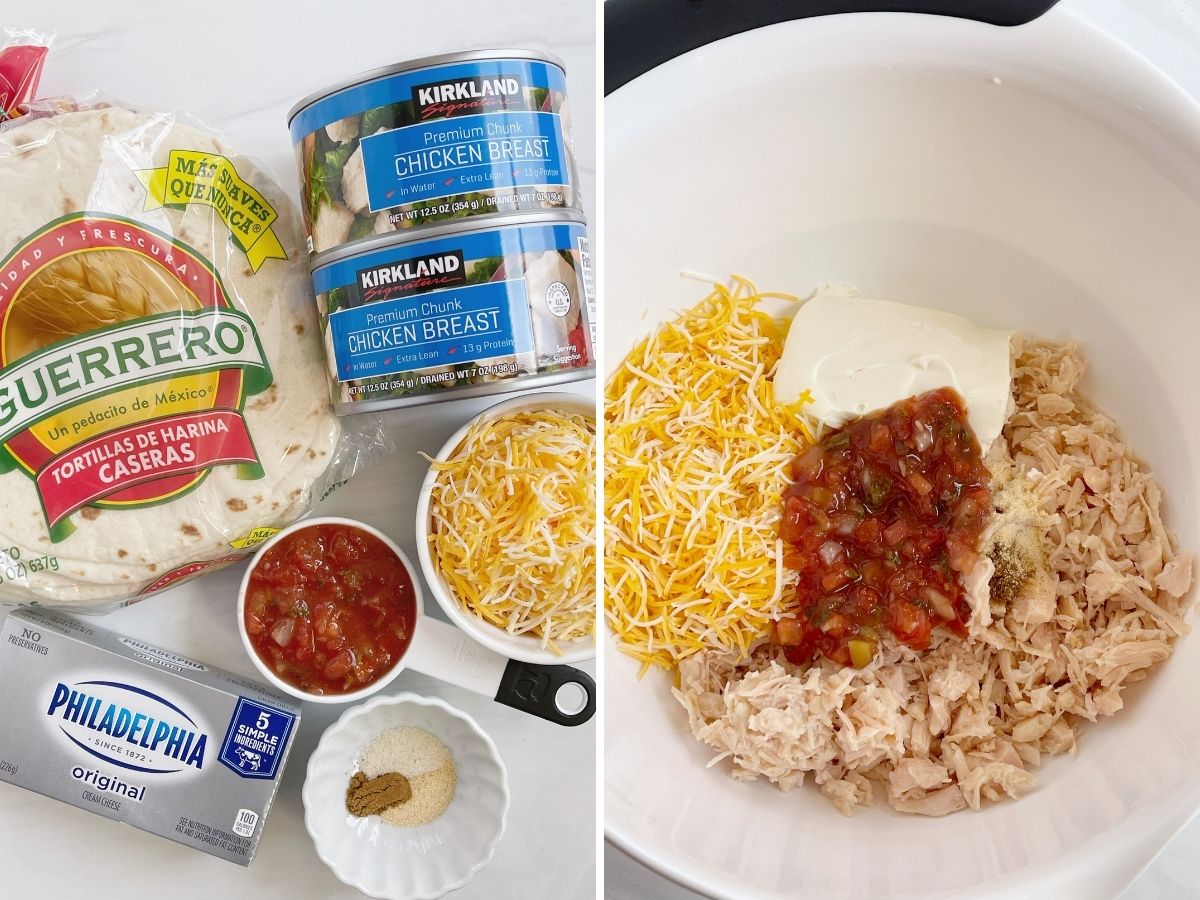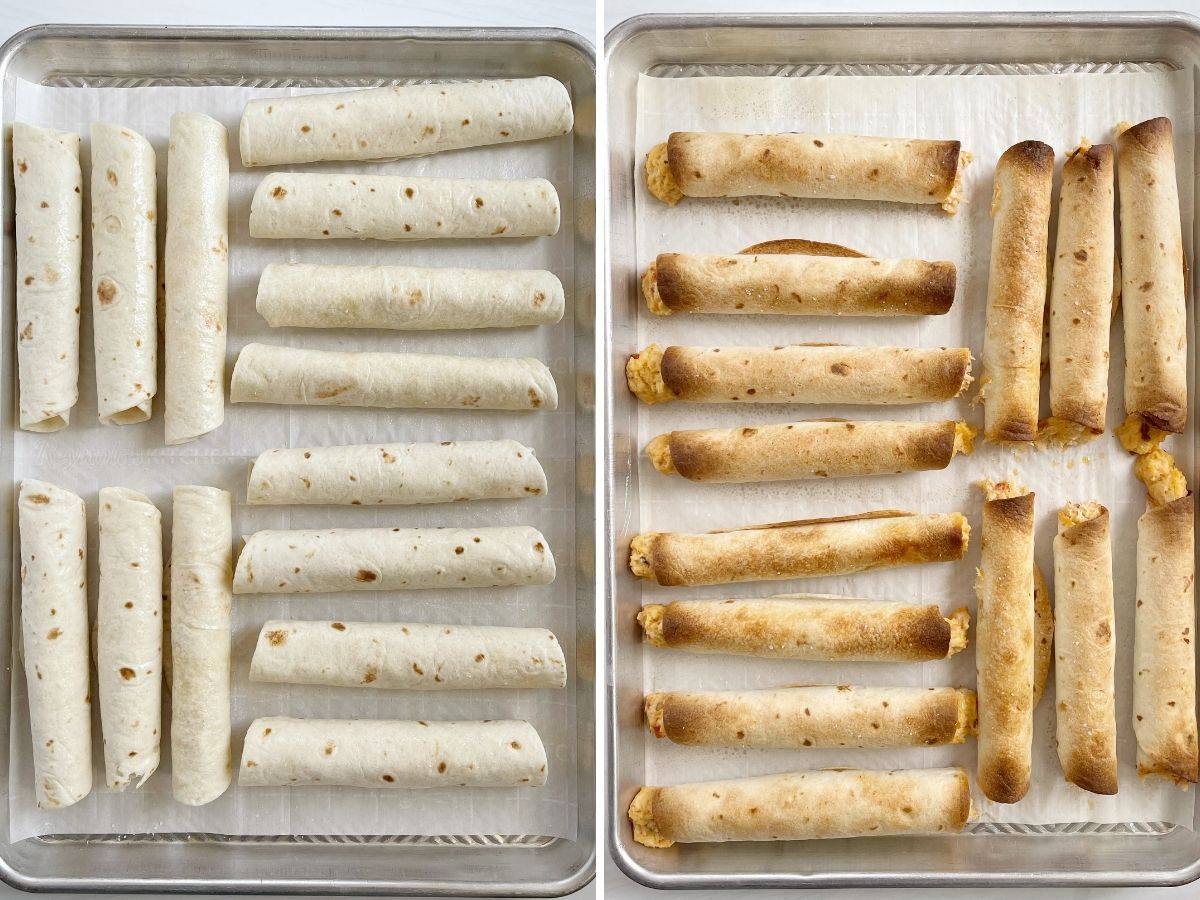 How To Make Chicken Flautas
Only 10 minutes of prep time needed and they're so simple to make.
Drain & Flake Canned Chicken : Prepare the canned chicken before starting. I use a colander and dump the chicken into it so the juices are all drained. Add the chicken to the mixing bowl and shred it up with a fork.
Cream Cheese : Make sure the cream cheese is nice and soft before using it. Otherwise, you can end up with chunks of cream cheese that will be hard to mix in with the rest of the ingredients. I put the cream cheese into the microwave for about 30 seconds before adding it into the mixing bowl. 
Flautas Mixture : Combine all the ingredients together into the mixing bowl and stir well. 
Make the Flautas : Put a few tablespoons of flauta mixture onto each tortilla and roll up. Place seam side down on the baking sheet. Spray the tops with cooking spray and sprinkle with some kosher salt on top, if wanted. Cook according to directions until nice and crispy.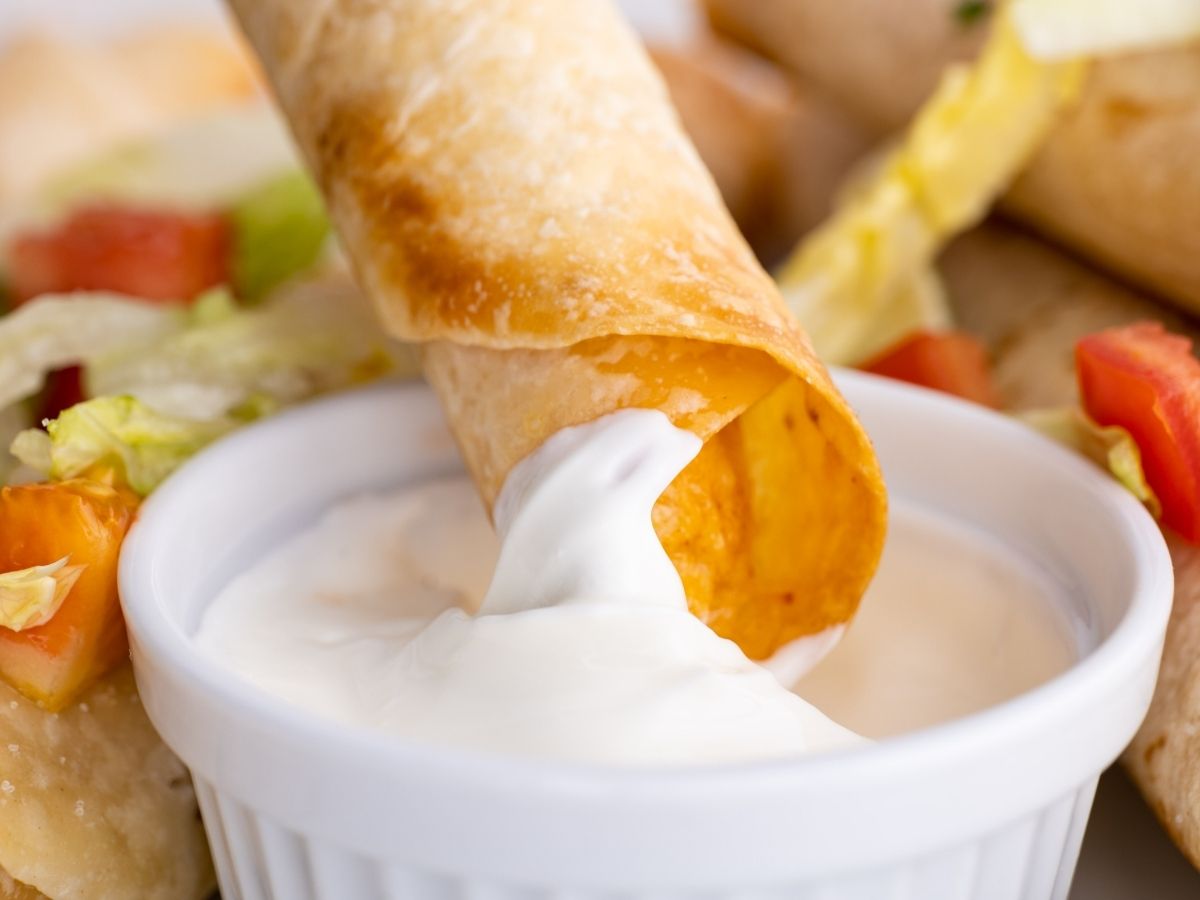 My Tips For Success
I have a few tips that will help you make this in your own kitchen at home. 
Spray The Tops With Cooking Spray – In order to get that really crispy flauta exterior be sure you spray them with cooking spray. This helps the flour tortilla get really crispy while baking. It will mimic that fried crunch that we all love. 
Toppings – Take these flautas to the next level and serve them with sour cream, guacamole, shredded lettuce, and pico de gallo. It really makes the flautas even more delicious!
Softened Cream Cheese – Make sure that the cream cheese is softened before adding it into the mixing bowl. If it's too cold, it will be harder to mix in smoothly with the other ingredients. I place the cream cheese (unwrapped obviously) onto a microwave-safe plate and microwave it for about 30 seconds before using it. This way it's nice and soft and mixes in perfectly smooth.
Canned Chicken – The recipe is written for the canned chicken. If you choose to use shredded cooked chicken or a Rotisserie chicken then you may have to adjust the seasonings depending on taste and if the chicken is seasoned or not. The best canned chicken is the Kirkland brand from Costco. So if you have a membership there then be sure to grab a pack!
Variation Ideas
There are so many ways to change up this recipe! Make it different each time or experiment with different ideas and see what your family likes. 
Make It Spicy! : Use shredded pepper jack cheese. Add some extra chili powder or add red cayenne pepper. Add some diced jalapeño into the chicken flauta mixture. Use hot salsa.
Flavored Cream Cheese : Instead of using regular cream cheese try using the jalapeño cream cheese or the chive and onion cream cheese. 
Use Corn Tortillas : I would not advise this because corn tortillas don't turn out as well as using flour, but if you want to, use corn tortillas instead.
Make It Lower Carb : Use the Carb Balance flour tortillas or gluten-free flour tortillas. 
Cheese : Use any shredded cheese you want!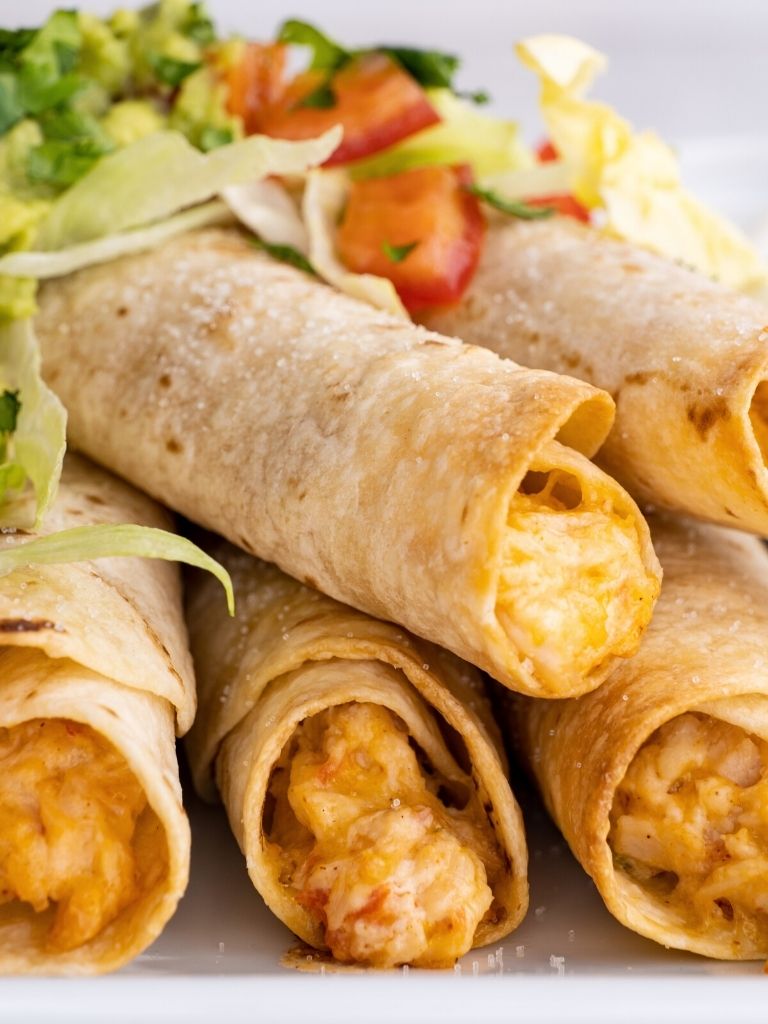 Serving Suggestions For Chicken Flautas
We love to dip these flautas in some sour cream and guacamole and garnish them with shredded lettuce and pico de gallo. 
Serve with some easy mexican rice or instant pot cilantro lime rice on the side. 
How To Store Leftovers
Store leftover flautas in a covered container, in the fridge, for up 3-4 days. 
When you are ready to eat simply heat them up in the microwave OR you can throw them in the air fryer to crisp them back up again. 
Can I Freeze Chicken Flautas?
Yes you can freeze chicken flautas! Prepare as directed (do not cook) and double wrap the uncooked flautas in tin foil and freeze for up to 3 months. I place the double wrapped foil flautas inside a gallon-sized freezer safe Ziploc bag for extra protection. 
I would image you can also freeze these cooked. Let them in the fridge and either crisp them up in the air fryer or bake them in the oven until they are warmed and crisp.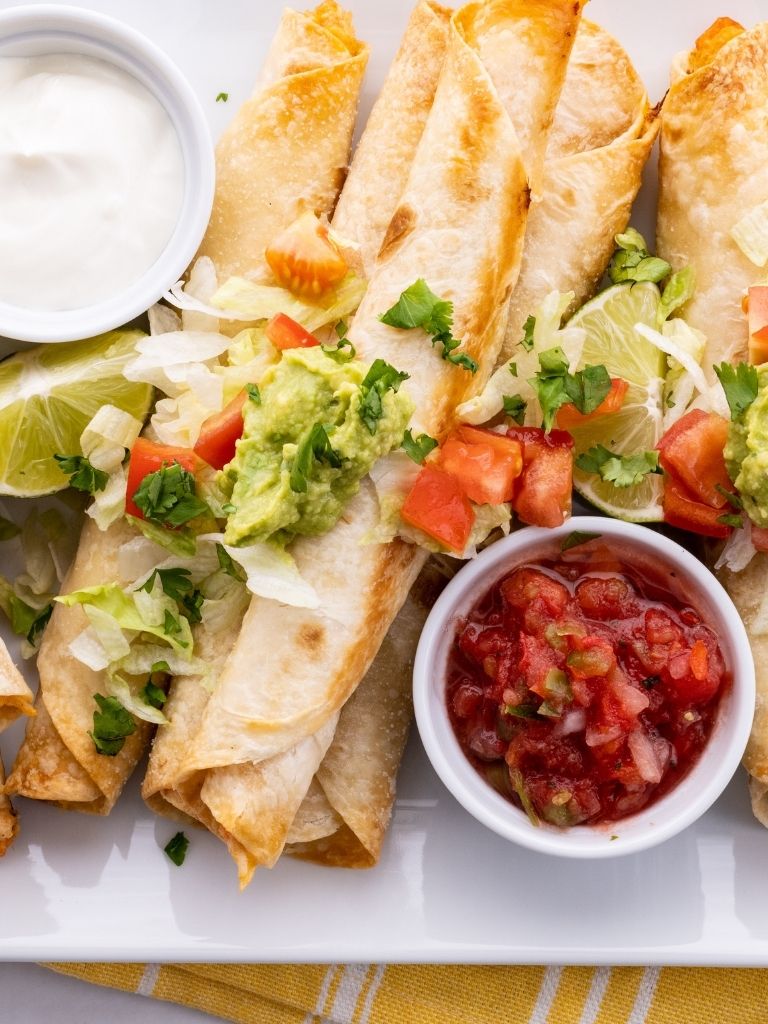 More Easy Mexican Inspired Recipes You'll Love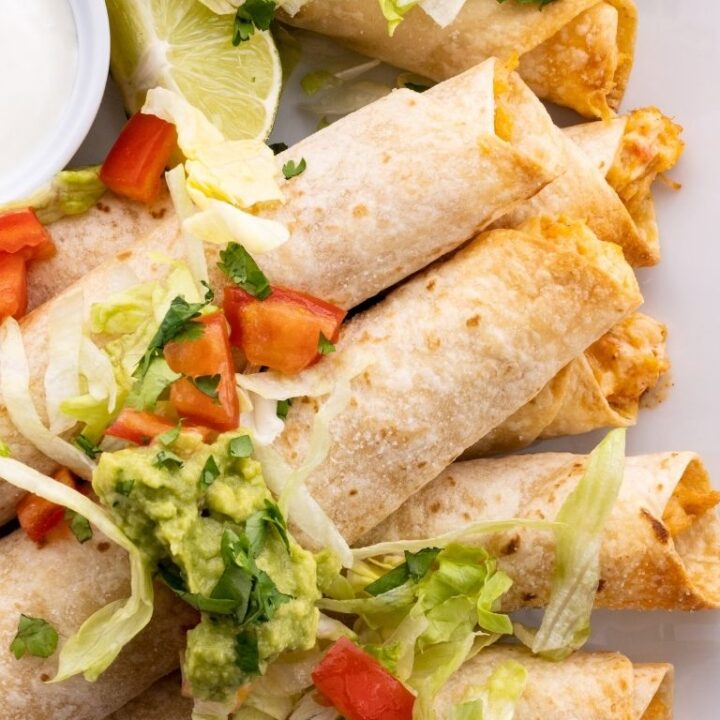 Quick & Easy Chicken Flautas
These Chicken Flautas are a quick and easy dinner recipe that only take 10 minutes to prepare! This flautas recipe uses canned chicken (no one will ever know your secret!), dried seasonings, cream cheese, salsa, and shredded cheese for a fast dinner that everyone will love. 
Ingredients
2 cans (12.5 oz each) chicken drained & flaked
6 oz cream cheese softened
1/3 cup salsa
1 cup shredded cheese any variety
¼ teaspoon cumin
¼ teaspoon garlic powder
¼ teaspoon onion powder
¼ teaspoon chili powder
12 8" flour tortillas
Instructions
Heat oven to 400°. Prepare a cookie sheet by lining with parchment paper or tin foil, or you can spray the pan with cooking spray.

Combine drained and flaked chicken, cream cheese, salsa, cheese, cumin, garlic powder, onion powder, and chili powder into a mixing bowl. Stir together until well combined. 

Spread 3 tablespoons (a large spoonful) of chicken mixture onto a tortilla. Roll up tightly and place seam side down on a cookie sheet. Repeat with remaining tortillas. *If you use smaller tortillas then you won't need the full 3 tablespoons of filling, so adjust accordingly.

Spray the tops of the flautas with cooking spray. Don't soak them but you want them to have a decent coating of cooking spray so they will get really brown and crispy. I also like to sprinkle some kosher salt on top of the sprayed flautas, but this is totally optional.

Bake for 18-20 minutes or until they reach desired crispness that you want. Let cool for about 5-10 minutes before serving so the filling can cool and come together. Serve with dips of your choice (sour cream, salsa, guacamole).
Notes
Tortillas : I used 8" flour tortillas and got 12 flautas. If you use smaller tortillas then you will have more flautas. It just depends on how big or small you want the flautas to be.  Chicken : Don't be scared of the canned chicken. It's what makes these flautas so quick and easy to make, and you honestly can't even tell. If you are totally against the canned chicken you can always use about 3 cups of shredded chicken or some rotisserie chicken. But again, this recipe is written for the canned chicken which is already flavored and salted. So you may have to adjust things if not using canned chicken. But try the canned chicken just once! It may just surprise you.  Cream Cheese : 6 oz of cream cheese is almost all of an 8 oz block of cream cheese. I've experimented with using the entire bar of cream cheese, but it's just way too much. So yes, not using it all annoys me too, but 6 oz is the perfect amount. You could also try using flavored cream cheese like the chive & onion or jalapeño cream cheese for some spice.  Cheese : Use any kind you want. I use either Colby Jack or Cheddar cheese. If you want some spice then use Pepper Jack Cheese.  Make It Spicy! : Add some cayenne red pepper. Use pepper jack cheese. Add additional chili powder. Use hot salsa.  This recipe has been updated in July 2021 with two additions to the recipe. I have been making these for years and found that adding onion powder and chili powder really make them that much better. So the addition of 1/4 teaspoon of chili powder & onion powder is new and I highly recommend it. Omit those two spices if you prefer the original recipe with just the cumin and garlic powder. 
Nutrition
Calories: 218kcal | Carbohydrates: 17g | Protein: 11g | Fat: 12g | Saturated Fat: 6g | Cholesterol: 36mg | Sodium: 463mg | Potassium: 128mg | Fiber: 1g | Sugar: 2g | Vitamin A: 357IU | Vitamin C: 1mg | Calcium: 119mg | Iron: 1mg
Recipe has been updated with new pictures and more helpful text in August 2021