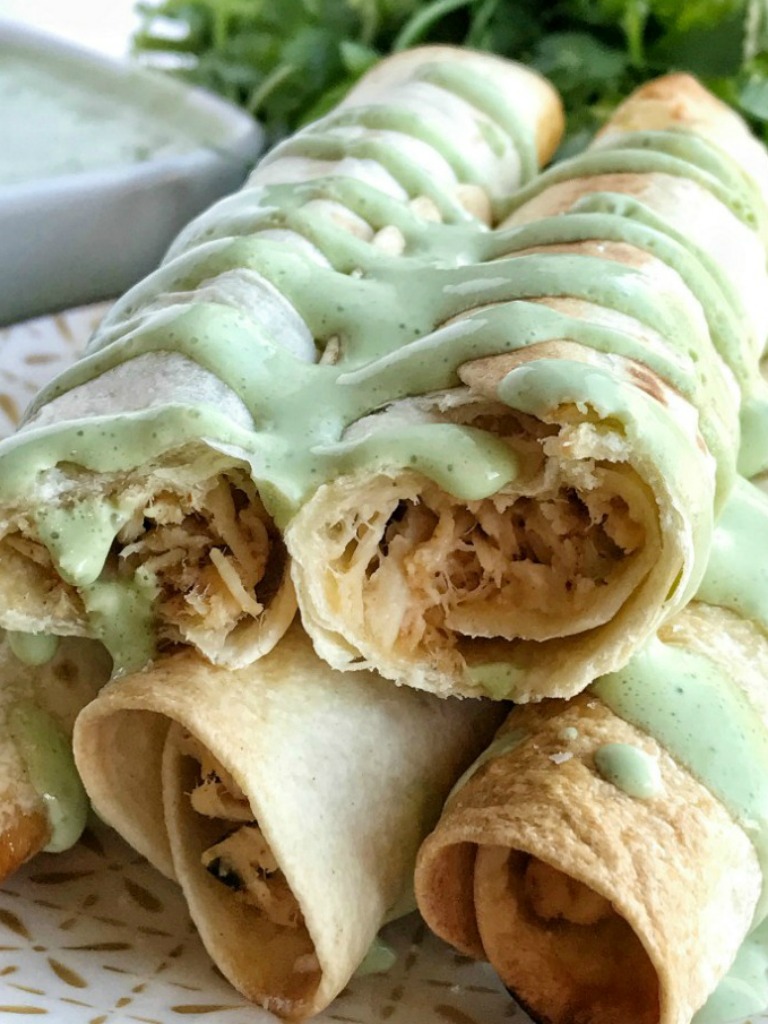 CHICKEN TAQUITOS
There are some recipes on this blog of mine that never really get the attention they deserve. Like these baked honey lime chicken taquitos. Which is why I just had to bring these from the depths of the recipe archives and share them again. 
They're sweet + spicy (slightly), creamy, and so crispy you'd think they were deep fried. But these are baked!
Mix up a super easy 4 ingredient dipping sauce and you pretty much have the best dinner ever. 
HOW TO MAKE HONEY LIME CHICKEN TAQUITOS
Combine the softened cream cheese with the lime juice, honey, and all the seasonings. Give it a good stir to mix it all together. 

Add in the shredded chicken, cheese, and cilantro. Mix together. 

Place 1-2 tablespoons of the mixture onto a tortilla and spread it out. Roll up the tortilla and place seam-side down on a cookie sheet. Repeat with all the tortillas. 

Spray the tops with cooking spray. Don't soak them, rather give it a light spray and then sprinkle some salt on top if wanted. I love using kosher salt for this.

Bake until browned and crispy!
I love the combination of the sweet honey and the chili powder. The honey comes through nicely which makes these basically the best kid-approved food ever.
I don't know about your kids but I know that mine will basically eat anything, and I mean ANYTHING, if it tastes sweet!
Plus, you can use your hands to eat these and dip it into the sauce so that also makes if very kid-friendly too. My kids gobble these up and they are one of those dinners that I can count on them eating with no complaints.
MY TIPS FOR MAKING THIS RECIPE
The secret to getting the taquitos really crispy (like deep fried taquitos) is to spray them before you put the tray in the oven. This makes them so crispy and browned while in the oven. 

When you put the taquitos on the cookie sheet do not have them touching. If they are, all sides won't get nice and crisp. 

If you don't want to make the dipping sauce you could serve these alongside some sour cream, guacamole, or even salsa. 

I normally cook the chicken breasts + a can of chicken broth in the slow cooker for about 6 hours. Shred it up and then use it in these taquitos. You could also use leftover chicken or even Rotisserie chicken. 

Use any kind of shredded cheese you want. 

I buy the smallest tortillas (6" I think). You can use any size you want but if you want more taquitos go for the smaller tortillas. 
The cherry on top is this easy 4-ingredient dipping sauce to go along with the taquitos.
My tip is to make this in the morning and let it sit in the fridge all day. I prefer it cold anyways and it tends to thicken up slightly while sitting in the fridge.
Put these on your menu plan. I promise they won't disappoint! Come back and let me know what you think. If you love that honey + lime combo then be sure and try out these oven baked honey lime crispy tacos or this honey lime cilantro marinated grilled chicken.
Whenever I make these for dinner my cilantro lime rice is a must! I love drizzling some of the salsa verde sauce on the rice. Yum!
Baked Honey Lime Chicken Taquitos
Baked Honey Lime Chicken Taquitos are a family favorite dinner! A creamy, perfectly seasoned chicken mixture rolled up in a crispy flour tortilla and baked. No deep frying these taquitos! Dip in an easy 4 ingredient sour cream salsa verde sauce.
Ingredients
honey lime chicken taquitos
4

oz

cream cheese

1

tablespoon

fresh lime juice

about 1 lime

¼

cup

honey

1

teaspoon

chili powder

½

teaspoon

cumin

½

teaspoon

garlic powder

¼

teaspoon

salt

3

cups

shredded chicken

1

cup

shredded cheese

any kind you want

¼

cup

chopped cilantro

20

small flour tortillas

the small 6" size
creamy salsa verde dip
1

cup

sour cream

⅓

cup

green salsa verde

1

tablespoon

fresh lime juice

about 1 lime

handful of chopped cilantro
Instructions
Heat oven to 425 degrees. Line a large cookie sheet with tin foil sprayed lightly with cooking spray or cover with parchment paper.

Put cream cheese in a large bowl and microwave for 20 seconds to soften. Mix in the honey, lime juice, chili powder, cumin, garlic powder, and salt. Stir. Add in the chicken, cheese, and cilantro. Stir together until combined.

Warm up tortillas to get them soft (they will be easier to work with). Place about 2 tablespoons of the chicken mixture onto the tortilla and roll up. Place seam side down on the cookie sheet. Repeat until chicken is gone.

Spray the tops of the taquitos with cooking spray (this gets them golden brown and crispy). If desired, take a pinch of kosher salt and sprinkle over the taquitos. Bake for 18-20 minutes. Let cool for a few minutes before serving.

For the sauce: Put all ingredients in a blender and blend until combined and creamy.
Notes
You can use any cheese you want in this recipe. Pepper jack for some spice, Monterey jack, Colby jack, Cheddar; any type you love.
3 cups shredded chicken is equal to about 2-3 chicken breasts. I cook mine in the slow cooker with a can of chicken broth. Cook on low for 6-8 hours and then shred with two forks.
Flour tortillas are our favorite but you can also use corn tortillas. They are still delicious. We just prefer the flour tortilla.
If you want more spice then increase the chili powder and/or add some cayenne pepper. The recipe as is, is not spicy and great for little kids. 
The small flour tortillas come in a pack of 20 so you will have enough with 1 package. They are about 6". They also have smaller tortillas, like 4", called 'street tacos' if you want smaller taquitos and you'll get more taquitos out of the recipe. 
Nutrition information is 1 taquito with a little less than 1 tablespoon of the dressing with it. 
Nutrition
Calories:
200
kcal
Carbohydrates:
20
g
Protein:
10
g
Fat:
9
g
Saturated Fat:
4
g
Cholesterol:
32
mg
Sodium:
342
mg
Potassium:
136
mg
Fiber:
1
g
Sugar:
6
g
Vitamin A:
288
IU
Vitamin C:
1
mg
Calcium:
81
mg
Iron:
1
mg