Chicken Mexican Haystacks are a delicious tex-mex twist with chicken, beans, corn, and a creamy sauce that cooks in the slow cooker all day. Serve it haystack style with Fritos corn chips, rice, and all the toppings. Everyone will love making their own!
CHICKEN MEXICAN HAYSTACKS
Chicken Mexican Haystacks are a tex-mex twist to the traditional Hawaiian haystacks. A haystack starts with rice and then it's topped with a creamy chicken mixture (usually a gravy type sauce) and all the toppings. 
I just love anything with a tex-mex twist which is how this recipe was born. It starts with a layer of Fritos corn chips, topped with rice, some creamy tex-mex chicken gravy, and then topped with all the toppings like lettuce, cheese, avocado, tomatoes, olives, and sour cream. 
My kids don't even like beans but they devour this meal every time because they can make their own plate. Kids will always eat better when they can create their own plate. I love to lay out all the stuff on the counter or table and let everyone go at it and create their own chicken Mexican haystack. 
HOW TO MAKE CHICKEN MEXICAN HAYSTACKS IN THE SLOW COOKER
Boneless, Skinless Chicken Breast – You will need four of them for this recipe. It's equal to about 2-3 pounds of chicken. 
Black Beans
Diced Tomatoes
Frozen Corn
Chicken Broth
Sour Cream
Cream Cheese
Green Chilies
Sweet Onion
Ranch Seasoning & Chicken Taco Seasoning Packet
For assembling the haystacks you will need some Fritos corn chips, cooked rice of your choice, and all your favorite taco toppings. We love to use shredded lettuce, shredded cheese, sour cream, avocado slices, chopped tomatoes, and black olives. But you can use anything!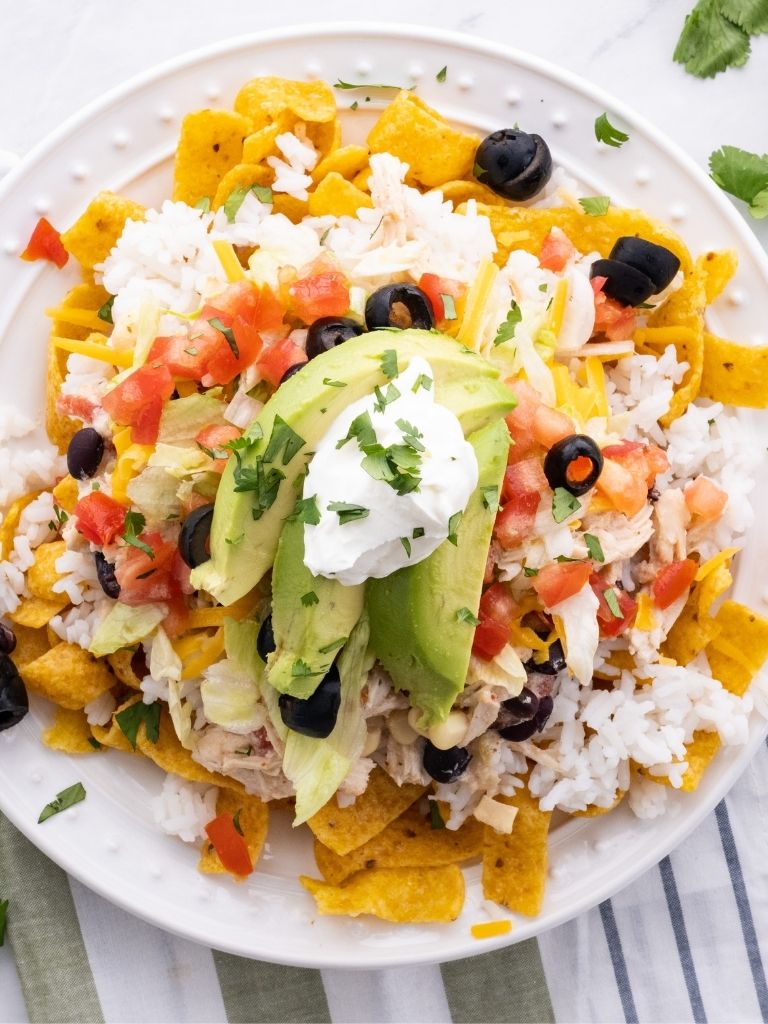 FREQUENTLY ASKED QUESTIONS FOR THIS RECIPE
How do I serve Mexican chicken haystacks?

Start with Fritos corn chips and then top it with some cooked rice, and a scoop of the creamy chicken mixture, and then all the toppings. 
I make this stove top cilantro lime rice or this Instant Pot cilantro lime rice when I make this recipe. You can also use this easy Mexican rice or use the microwave pouches of rice from the grocery store. You can even use leftover rice that has been heated up or plain white rice. 

Can I substitute the black beans?

Yes you can. Use any canned bean that you like. Pinto beans are another great option if you don't like black beans. 

What if I can't find the chicken taco seasoning packet?

The chicken taco seasoning packet is very common so you should have no problems at all finding it at the grocery store. I love the little extra flavor the chicken taco version has but if you can't find it then substitute with a packet of taco seasoning. 

Can I make this spicy?

Yes and there are so many ways to do that. 
Use a packet of spicy taco seasoning. Use a can of hot green chilies (instead of the mild). Add in some cayenne red pepper or extra chili powder. Top the haystacks with jalapeños or hot salsa. Use a can of Rotel diced tomatoes w/ green chilies. 

Can I freeze chicken Mexican haystacks?

This recipe makes a lot of food! You can either cut the recipe in half OR freeze the leftover chicken mixture from the slow cooker. 
When you thaw it, it will be slightly curdled because of the dairy in it (cream cheese and sour cream). Add a little chicken broth or water to it and heat it up on the stove top and  it should come back together and be fine to serve again. 
I put leftovers inside a freezer safe gallon-sized Ziploc bag and freeze it that way. 

What do I do with leftovers?

You can freeze the leftovers. 
Eat the leftovers another day for a leftover day dinner. 
Use the chicken mixtures inside quesadillas or as a nacho topping.
I love to spread tortilla chips on a cookie sheet, top with some of the leftover chicken mixture from these haystacks, and then some shredded cheese. Cook it in the oven at 400 degrees until it's warmed through and the chips are crisp. 
TRY THESE OTHER MEXICAN INSPIRED DINNER RECIPES
Easy Mexican Biscuit Casserole
Chicken Mexican Haystacks
Ingredients
4 boneless, skinless chicken breasts
1 can (15 oz) black beans drained and rinsed
1 can (15 oz) petite diced tomatoes do not drain
1½ cups frozen corn
CREAMY TEX MEX SAUCE
1 can (14.5 oz) chicken broth
1 can (4.5 oz) chopped green chilies
4 oz cream cheese
1 cup sour cream
1 vidalia sweet onion roughly chopped
1 packet ranch seasoning mix
1 packet chicken taco seasoning
MEXICAN HAYSTACKS
Fritos corn chips
cooked rice
shredded lettuce, cheese, tomato, avocado, olives, etc (your favorite taco toppings)
Instructions
Put chicken breasts into the slow cooker. Add the beans, tomatoes, and corn.

In a blender combine all ingredients for the creamy sauce and blend until smooth and combined.

Pour into the slow cooker and mix everything together. Cover with lid and cook on low for 6-7 hours or until chicken is tender and can easily shred.

Take the chicken out and shred it. Add it back into the slow cooker and mix everything together. Serve it haystack style with Fritos corn chips, rice, and toppings of your choice. You can also keep this on the warm setting until ready to serve.
Notes
NUTRITION INFORMATION : Included nutritional information is for 1/2 cup Fritos corn chips, 1/2 cup cooked white rice, and 1 cup of the chicken mixture from the slow cooker. It does include additional toppings.  CHICKEN BROTH : I use a can of reduced-sodium chicken broth but you can use regular chicken broth as well if wanted.  CHICKEN : If the chicken breast you are using are really big (like the larger sized Costco or Sam's Club) then using 3 of them will be fine. For normal chicken breasts that you get in the grocery store, you will need 4 of them.  Want it spicy? Use a can of hot green chilies. A packet of spicy taco seasoning. Add some chili powder or cayenne red pepper. Top the haystacks with jalapeños or hot salsa.  You can use light cream cheese and/or light sour cream in this recipe if you prefer. This recipe has been republished in May 2021 with better and more helpful text along with new pictures and a video for the recipe. No changes to the recipe were made. 
Nutrition
Calories: 483kcal | Carbohydrates: 63g | Protein: 15g | Fat: 19g | Saturated Fat: 5g | Trans Fat: 1g | Cholesterol: 36mg | Sodium: 429mg | Potassium: 429mg | Fiber: 6g | Sugar: 2g | Vitamin A: 216IU | Vitamin C: 5mg | Calcium: 120mg | Iron: 2mg