Easy Meal Plan week 2 has kid-friendly & family approved dinner recipes with some side dish ideas and extra treats thrown in! Meal planning made easy to help get you started for the week or follow it each day and have your menu planning done for you. Meal planning ideas full of tried & true family tested recipes that even the kids will love.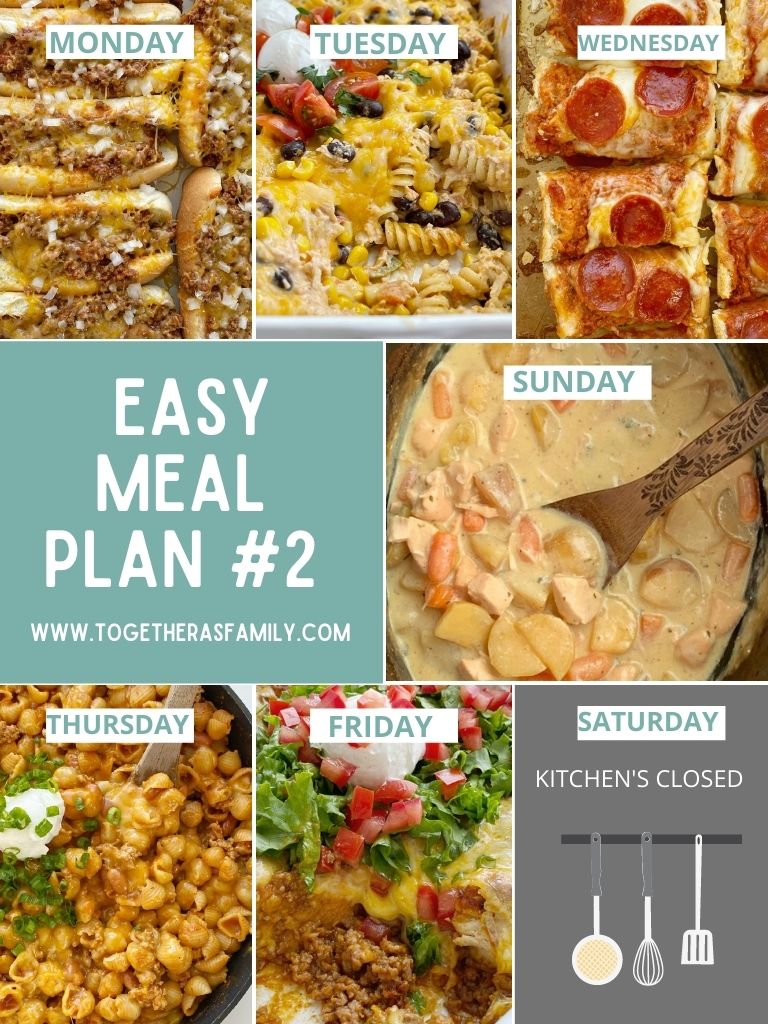 EASY MEAL PLAN FOR FAMILIES
I'm back with another weekly meal plan for you! Not only do I love sharing these for you but I also love that I get to bring out some older recipes that may not have gotten the attention they deserve. As always, feel free to use this meal plan as a starting point or follow it day by day.
I like to print off all the recipes I am making for the week and leave them in the kitchen or at my desk. That way I have them right there for me when it's time to start dinner. Otherwise, I find myself scrambling trying to remember where I found 'that one recipe I was going to make tonight'. 
There are some good ones this week. And if you want to see some more meal plans then go ahead and visit my easy meal plans for families or my meal plan week 1. Enjoy friends.
I always get the question of "why would you need the slow cooker to make a chili dog?!" I am here to tell you that the slow cooker is the best kept secret to the perfect chili dog. The homemade chili and the hot dog cook together in the slow cooker which infuses so much flavor and makes the hot dogs so soft and delicious. Top it with shredded cheese and diced onion.
SIDE DISH : I like to serve this with chips on the side and fruit. 

The perfect dinner recipe to use up a rotisserie chicken. No chopping needed. Just boil the pasta and combine everything together in one dish. This is a favorite around here.
SIDE DISH : I actually don't serve a side dish every night because my kids tend to eat just the side dish and not the main dinner. So as boring as it may be, I serve this one as is and with a few toppings for the casserole. 

The secret to that soft bread center and a crispy outside is the oven temperature. This pizza is actually preferred over the real pizza in my house. If you are a bread/dough type of person when it comes to pizza then you will love this one. Switch out the toppings for whatever you like. 
SIDE DISH : I always buy a chopped Caesar salad for this recipe. It's the bagged lettuce salad kits that you will find in the produce area of the grocery store. 

Probably one of my very favorites. It does not get the attention it deserves and that makes me sad sometimes. Chili + Mac and cheese in a one pot dinner recipe. So good. 
SIDE DISH : Again, I don't serve this with a side dish. I just put out some sour cream and diced green onions so my kids can "decorate" the top of their serving. That's what they like to call it and it makes them excited to eat dinner when they can decorate it. 

An easy casserole made with refrigerated biscuits, ground beef, taco seasonings, and topped with all your favorite taco toppings. A delicious twist to classic tacos.

SATURDAY – KITCHEN'S CLOSED

A creamy chicken stew with chunks of chicken, potatoes, and carrots in a creamy chicken broth ranch base.
SIDE DISH : I like to serve this with some type of bread. Homemade bread, rolls, frozen rolls that you thaw and cook. Anything will work.
TREAT & DESERT FOR THE WEEK