Frozen beef taquitos are a fun twist to this easy and quick Taquito Casserole. This easy casserole requires no chopping, no pre-cooking and only a couple minutes prep. So great for a busy weeknight. Serve with your favorite taco toppings for a yummy, kid-approved, and fun dinner!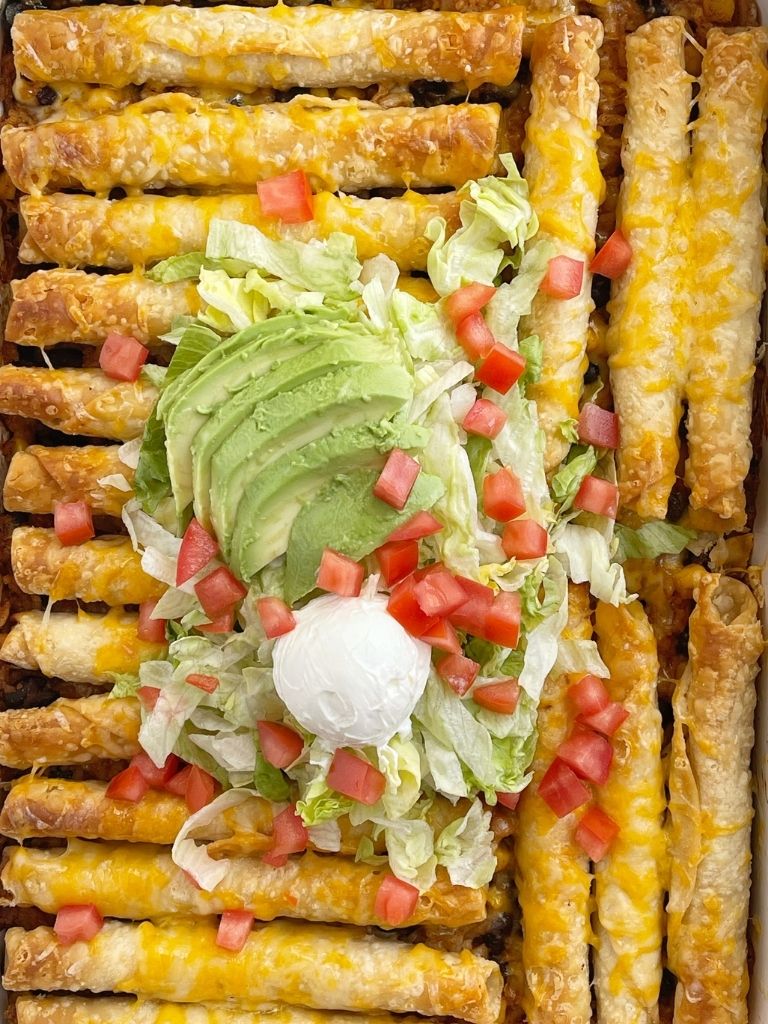 EASY TAQUITO CASSEROLE
This taquito casserole is one of my favorite dinners to make. You know those days that you just want super kid-friendly food that is sure to make everyone happy? Well this casserole is just that. 
No chopping needed which means no pulling out the cutting board and knife. In fact there really is no prep and pre-cooking involved at all. It uses leftover rice, frozen corn, canned enchilada sauce, cheese, and frozen beef taquitos. 
If you want more easy, no chopping needed casserole recipes then be sure and try my ziti pasta bake, creamy beef noodle bake, pepperoni pizza biscuit casserole, or this ham macaroni and cheese casserole. 
INGREDIENTS NEEDED FOR TAQUITO CASSEROLE
Frozen Beef Taquitos – You need 20 taquitos for this recipe. The box that you will find in the store (20 oz) has 21 taquitos. You can either smush them to make them fit OR just use 20 of them. I just use 20 of them and discard the leftover one taquito. I would advise not trying to make them all fit because they will be overlapping, which might mean that the taquitos don't get as crispy while they cook. 
Cooked Rice – This can be any rice. I always just make some white rice right before I start making this for dinner. If you have leftover rice from another dinner then use that. You can also cook some microwave rice that comes in those pouches. You need 2 cups of cooked rice so make sure that whatever you use or make, that it equals the 2 cups called for. 
Frozen Corn 
Black Beans – We prefer the black beans in this recipe but feel free to switch them out if you prefer a different bean. 
Mild Enchilada Sauce – If you want spice then by all means use a medium or hot enchilada sauce. I serve kids so I keep it mild. Plus, keep in mind that the taquitos have some spice to them so when you combine that with enchilada sauce and the taco seasoning packet it could easily get "too spicy" for young kids. 
Mild Taco Seasoning – I have tested this recipe dozens of times and the mild taco seasoning tastes much better. But yes, you can substitute it with a different taco seasoning if you prefer. 
Shredded Cheese – I use Colby Jack cheese but you can use anything you want here.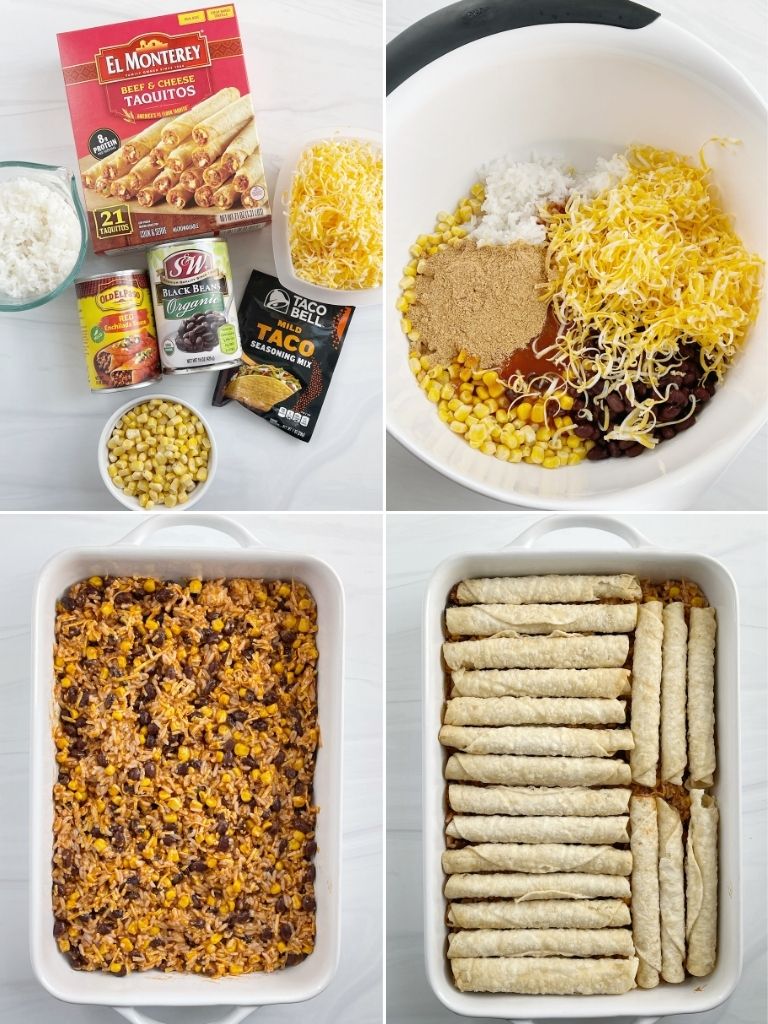 MY TIPS & HELPFUL HINTS FOR THIS EASY CASSEROLE RECIPE
Is this casserole spicy?

It does have a "bite" to it but if you follow the recipe as written, it's not so bad that kids won't eat it. My kids still eat it fine. The frozen taquitos are not mild and they do have some spice. That's why the recipe calls for mild enchilada sauce + mild taco seasoning. If you want a really spicy casserole then use regular taco seasoning or hot, and a medium or hot enchilada sauce. You could also use Pepper Jack cheese.

How long will leftovers last?

 This casserole actually reheats fairly well. The taquitos will not be as crispy as they are when it's fresh out of the oven. I just microwave a portion of the leftovers. Store leftover casserole in a covered container or just tightly cover the baking pan with tin foil. Leftovers are good for about 3-4 days after.

How do I serve taquito casserole?

We love ours served with shredded lettuce, chopped tomatoes, sour cream, and avocado slices. 
I put the toppings in bowls and then everyone can top their portion however they like. 
Use any of your favorite taco toppings for this. Salsa, guacamole, pico de gallo, more cheese, jalapeños, etc. are all great choices.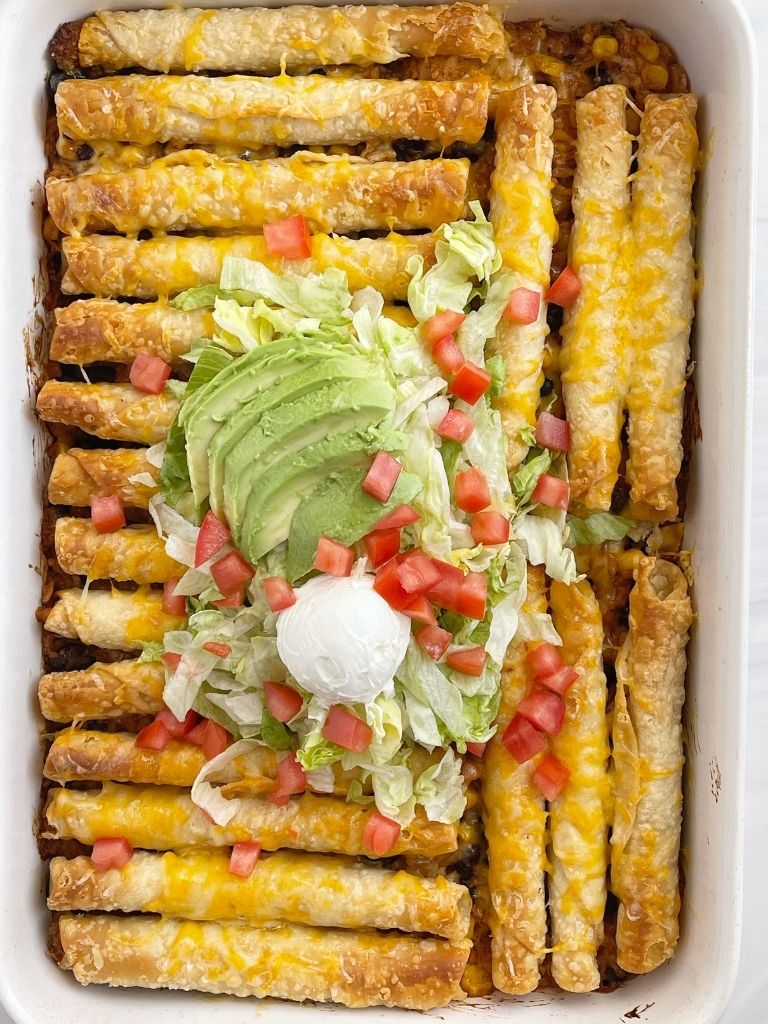 TRY THESE OTHER FAMILY FAVORITE DINNER RECIPES
Baked Honey Lime Chicken Taquitos
Chicken Enchilada Rice Casserole
Cheesy Taco Spaghetti Casserole
Beef Taquito Casserole
Ingredients
2 cups cooked rice
1½ cups frozen corn
1 can (15 oz) black beans drained & rinsed
1 can (10 oz) mild red enchilada sauce
1 packet mild taco seasoning
2 cups shredded cheese
1 box (20 oz) frozen beef & cheese taquitos
Instructions
Heat oven to 375°. Prepare a 9x13 baking dish and spray with cooking spray. Set aside.

In a large mixing bowl, combine cooked rice, frozen corn, black beans, enchilada sauce, taco seasoning, and 1 cup of the cheese. Stir together until combined. Evenly spread this into the prepared pan.

Layer 20 frozen beef taquitos over the rice mixture in the pan. * The box comes with 21 taquitos so you will have 1 extra taquito.

Cook for 30-35 minutes or until the taquitos are crispy and a nice golden brown color.

Sprinkle the remaining 1 cup cheese over the taquitos and put it back in the oven for 2-3 minutes. Just until the cheese is melted.

Serve with all your favorite taco toppings.We feel that sour cream is a must! We also like chopped toamtoes and shredded lettuce with ours.
Notes
Enchilada Sauce : You can use green or red enchilada sauce. The green mild enchilada sauce is more milder in taste so if you're worried about spice then use green enchilada sauce. Cheese : Use any variety of shredded cheese you want. I use Colby Jack cheese, but another great choice is Cheddar Cheese or Pepper Jack cheese if you want spicy.  Serving Size : Serving size, and nutrition information, is for 2 beef taquitos + the rice mix that is underneath. Toppings are not included and are additional. The nutrition information includes using white rice in the recipe.   Recipe has been updated & republished with more helpful text and better pictures in March 2021. Recipe is the same. 
Nutrition
Calories: 353kcal | Carbohydrates: 48g | Protein: 17g | Fat: 12g | Saturated Fat: 4g | Cholesterol: 18mg | Sodium: 671mg | Potassium: 252mg | Fiber: 6g | Sugar: 3g | Vitamin A: 672IU | Vitamin C: 4mg | Calcium: 129mg | Iron: 2mg