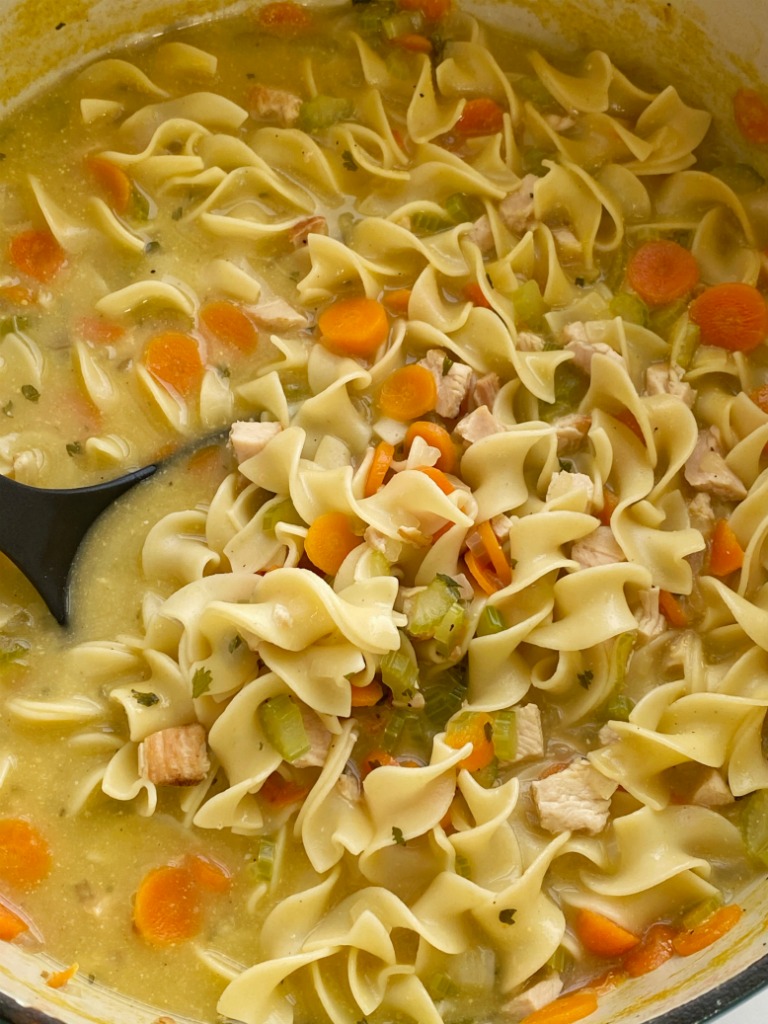 CHICKEN NOODLE SOUP RECIPE
Classic chicken noodle soup gets a makeover with this easy one pot recipe. Chicken broth, cream of chicken soup, seasonings, fresh vegetables, chunked chicken, and egg noodles all cook in the same pot.
Warm, comfort food that is ready in about 30 minutes. If you love the creamy version then try my recipe for creamy chicken noodle soup.
Don't forget to serve this with my soft & fluffy 1 hour rolls. Or get some frozen rolls for a quick & easy side. 
HOW TO MAKE CHICKEN NOODLE SOUP
Chicken Broth - This recipe has been tested and written using full salt chicken broth. You can also use chicken stock with great results as well. Chicken stock is darker and has a deeper flavor to it which is why it does really well in this soup. 
Cream of Chicken Soup - If you don't like the cream of chicken soup then feel free to substitute with cream of celery soup. 
Cooked Chicken - Use leftover chicken, bake chicken breasts in the oven, or get a rotisserie chicken and make it really easy. I buy this precooked fire grilled chicken from Costco and use that. It comes in a 8 pack of individually packaged chicken pouches. I use a few of them in this recipe. Super easy!
Carrots - I use baby carrots because there is no need to peel them and they are already small so all you have to do is slice them thin. 
Celery
Onion - A yellow, white, or Vidalia sweet onion will work great in this soup. I prefer yellow so that's what I use. 
Dried Parsley, Black Pepper, Chicken Base - If you use reduced-sodium chicken broth then you will need to add some salt in with the spices. Start at ½ teaspoon and go from there. You can use chicken base (that is like a past) or use chicken bouillon granules. 
Uncooked Egg Noodles - Throw them into the pot, dry and uncooked, and let the noodles cook with the soup. 
HELPFUL TIPS FOR THIS RECIPE
Can chicken noodle soup be frozen? Yes it can but with some modifications. I would suggest not freezing the soup with the cooked egg noodles. As they will be mushy once they thaw and possibly just fall apart in the soup. Instead, cook the soup as called for in the recipe but do not add the egg noodles. Freeze the noodles-less chicken soup and when ready to serve, cook up some egg noodles and add them into the soup as it reheats and thaws. You may have to add additional chicken broth. 

To make this really easy to prepare use a Rotisserie chicken for the meat. You want chicken that is already cooked. It can be leftover chicken, bake up some chicken breasts in the oven, or throw some chicken breasts into the slow cooker with a can of chicken broth and let it cook all day (6-7 hours). The chicken literally falls apart and is perfect for this soup.

Use full salt chicken broth. You need the salt for the noodles and veggies. If all you have is reduced-sodium then just be sure and taste the soup and add salt if necessary depending on preference. 

I use chicken stock when I make this recipe. Same thing as chicken broth but a darker color with a slightly deeper richer flavor. 

How long will chicken noodle soup last in the fridge? My kids love this soup so I always store leftovers in a air-tight container for 3-4 days. Any longer and the noodle start to get too soft. 
TRY THESE OTHER FAMILY FAVORITE SOUP RECIPES
Easy One Pot Chicken Noodle Soup
Chicken Noodle Soup cooks in just one pot! Cooked chicken, egg noodles, fresh veggies simmer in one pot in a seasoned chicken broth base. So warm and comforting and even better than the canned soup.
Ingredients
6

cups

chicken broth

or chicken stock

1

can (10 oz)

cream of chicken condensed soup

1

cup

thinly sliced carrots

1

cup

thinly sliced celery

1

yellow onion

finely chopped

1½

cups

cooked chicken

chunked or shredded

2

teaspoons

dried parsley

1

teaspoon

chicken base or chicken bouillon granules

¼

teaspoon

black pepper

3

cups

uncooked egg noodles
Instructions
In a large soup pot (with a lid), over medium-high heat, combine the chicken broth, cream of chicken soup, carrots, celery, onion, chicken, parsley, chicken base, and pepper. Stir together and bring to a boil.

Once boiling, cover with lid, reduce to heat medium and let simmer for 10-15 minutes (depending on how large the veggies are or how soft you want them).

Add the egg noodles and let cook for 10 minutes or until egg noodles are cooked to your preference.

*To speed this up cover the pot with the lid while the noodles are cooking. This is what I do.

Serve immediately. Store leftovers in an airtight container in the refrigerator for 3-4 days. You may have to add some additional water when reheating as the noodles will absorb any leftover moisture the longer it sits in the fridge.
Notes
Celery & Carrots : Slice these very small and thin so they will soften in the short cook time. If you leave them in larger pieces then you will need to cook it longer to get the veggies softer.  Chicken Paste or Bouillon : You can either 1 teaspoon chicken base (like a paste) or use a granulated chicken bouillon that comes in a jar. Chicken : Make sure it is cooked! Bake chicken in the oven, throw some in the slow cooker with a can of chicken broth (cook on low for 6-7 hours), or use a rotisserie chicken for easy prep.  Egg Noodles : If you prefer less noodles then only use 1 ½ cups egg noodles. Or you can increase the broth if you want more broth in your soup.  Chicken Broth : I prefer to use full salt chicken broth but feel free you use low-sodium if you prefer. I normally use a 32 oz container (4 cups) of full salt chicken stock + 1 can (2 cups) low-sodium chicken broth. 
Nutrition
Calories:
206
kcal
Carbohydrates:
22
g
Protein:
14
g
Fat:
7
g
Saturated Fat:
2
g
Cholesterol:
46
mg
Sodium:
1331
mg
Potassium:
476
mg
Fiber:
2
g
Sugar:
3
g
Vitamin A:
3752
IU
Vitamin C:
20
mg
Calcium:
50
mg
Iron:
2
mg