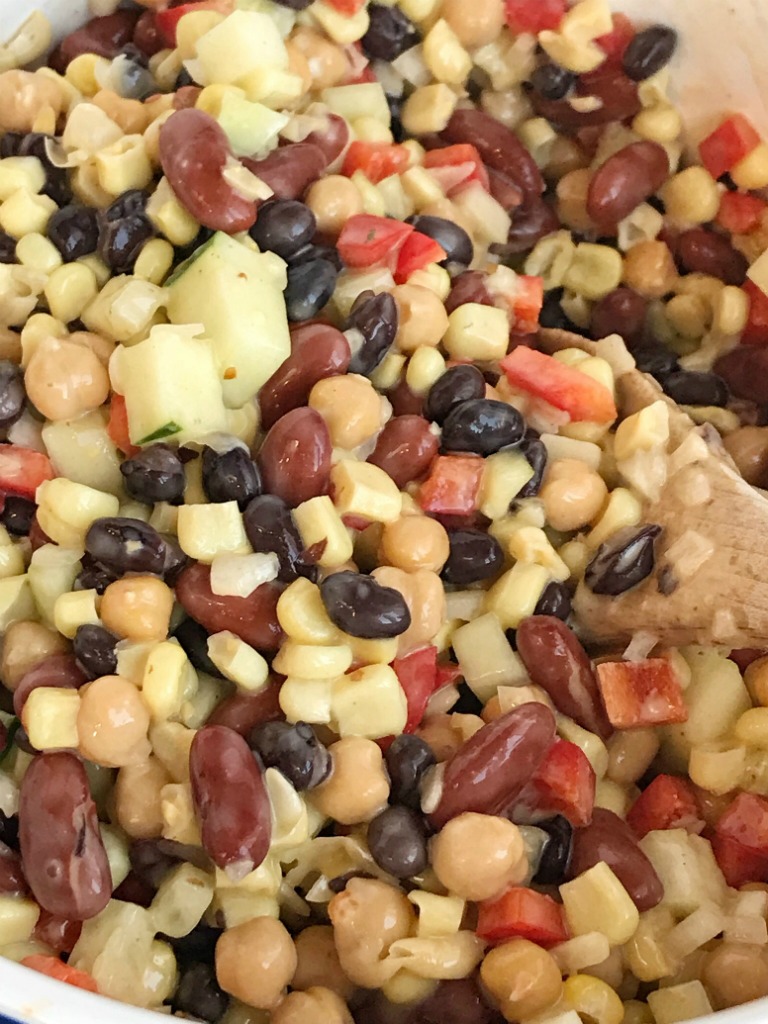 BEAN SALAD RECIPE
I realize a bean salad may not be the most impressive dish but who doesn't need the perfect potluck type dish to take to summer gatherings? I love this bean salad because it's so simple to make, tastes delicious, and it's different than the usual mayo based potato and pasta salads. 
Whenever I take this to gatherings it's usually one of the first to go and I always come back with an empty bowl. It's the perfect combination of beans, fresh veggies, and a sweet and creamy honey mustard dressing.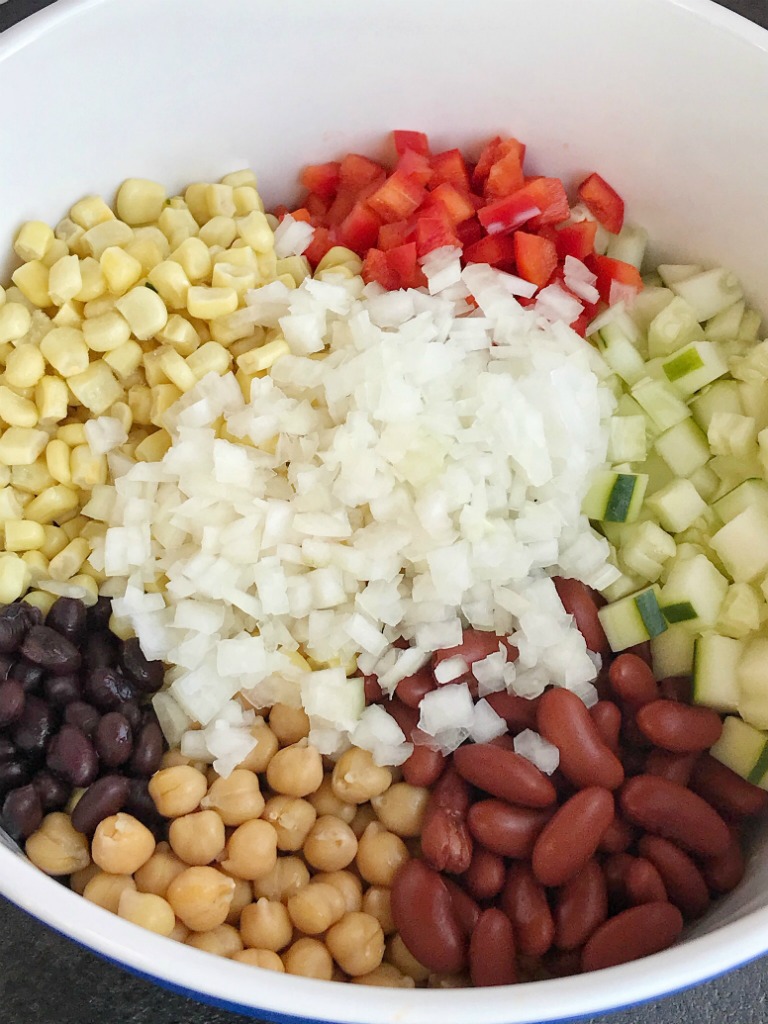 HOW TO MAKE EASY BEAN SALAD
Kidney Beans – Use the dark red kidney beans or the light red kidney beans. It really does not matter. I've used both and the only difference is the color of the bean. 
Black Beans
Chick Peas – These are also called Garbanzo beans which are the same thing. Some times you can only find one or the other at the stores. They have a buttery, nutty flavor and they're so yummy in a bean salad. 
Frozen Corn – I prefer to use the gold n' white frozen corn in this recipe but any frozen corn will work just fine. Just make sure it's the size called for in the recipe. 
Red Bell Pepper
Sweet Vidalia Onion
Honey Mustard Salad Dressing – Most of the time I say don't use lite products but I actually prefer using lite honey mustard dressing in this recipe. I have tried it with the regular, full fat dressing and it was really thick tasting when paired with the beans and crisp veggies. I always use Ken's Steakhouse Lite Honey Mustard Dressing.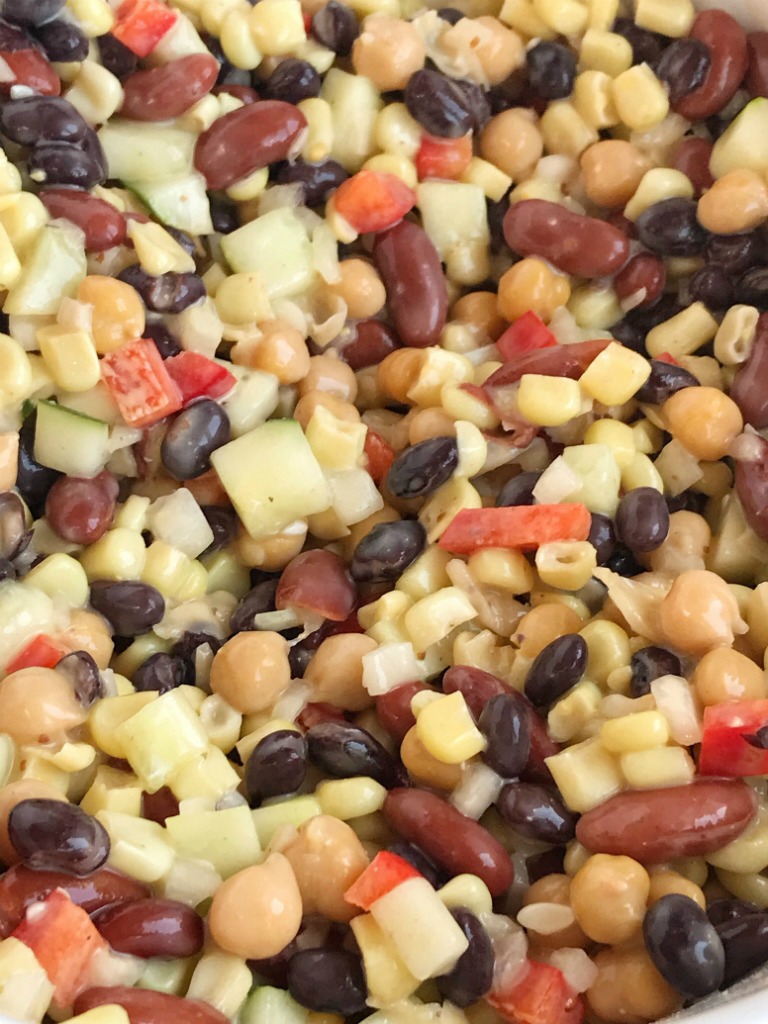 MY TIPS FOR MAKING BEAN SALAD
– The leftovers of this bean salad are fabulous! The dressing and some liquid from the veggies will pool up in the bottom of the bowl. Just take a spoon and give it a nice stir before eating and it will be fine. Leftovers will keep well in the fridge for 2-3 days. 
– For the best presentation and texture cut all the veggies the same size. Aim to cut everything the same size as the beans so there are not large chunks of random things in the salad. 
– As mentioned above, I am usually against using lite products when it comes to dairy and salad dressing but I have to say that I actually prefer the lite honey mustard dressing in this recipe. 
– You do not need to cook the corn before using. Instead let the corn sit on the counter at room temperature for 1 hour before you make the salad. You want the corn to be cold but lightly thawed.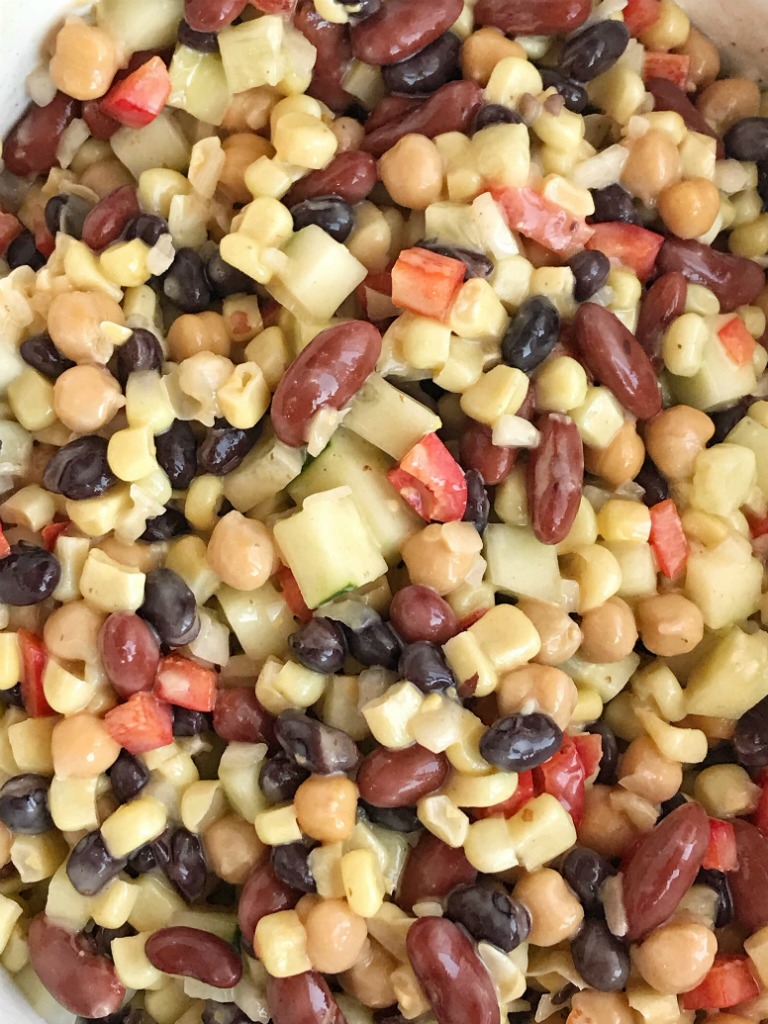 TRY THESE OTHER SALAD RECIPES
The Best Bean Salad
This really is the best Bean Salad ever! Simple ingredients like canned beans, fresh vegetables, and honey mustard salad dressing combine to make the tastiest, creamiest bean salad ever.
Ingredients
1 can (15 oz) light kidney beans drained and rinsed
1 can (15 oz) black beans drained and rinsed
1 can (15 oz) chickpeas drained and rinsed
1 bag (16 oz) frozen corn thawed slightly but still cold
1 red bell pepper finely diced
1 Vidalia sweet onion finely diced
1 cucumber peeled, seeded, and finely chopped
1 cup lite honey mustard salad dressing
Instructions
** Put the bag of frozen corn on the countertop, at room temperature, for 1 hour before making salad. This will allow the corn to be cold but mostly thawed.

Combine all the beans, corn, red pepper, cucumber, and onion in a large mixing bowl. Stir together to combine. Pour honey mustard dressing over it and stir.* Use more or less salad dressing depending on preference and taste.

For best results put the bean salad in the fridge for 4-6 hours before serving. Serve with a slotted spoon as liquid will pool up in the bottom from the veggies and salad dressing. 
Notes
I prefer using lite salad dressing in this salad but you can use the regular, full-fat if that's what you prefer.  Try to cut all the veggies the same size as the beans. To thaw the corn to a cold temperature I just put it on the counter about 1 hour before making the recipe. This way it thaws slightly but is still cold and maybe still slightly frozen (which is fine). You just don't want it warm/hot at all.  How to seed a cucumber - Peel the cucumber and then cut in half (lengthwise) so you end up with two long pieces of cucumber. Take a silverware spoon and scoop out the middle where the seeds are. You will end up with a half moon shape. Cut into strips and then chop up the strips into small pieces. 
Nutrition
Calories: 215kcal | Carbohydrates: 32g | Protein: 9g | Fat: 7g | Saturated Fat: 1g | Cholesterol: 6mg | Sodium: 108mg | Potassium: 465mg | Fiber: 8g | Sugar: 4g | Vitamin A: 300IU | Vitamin C: 15mg | Calcium: 39mg | Iron: 3mg