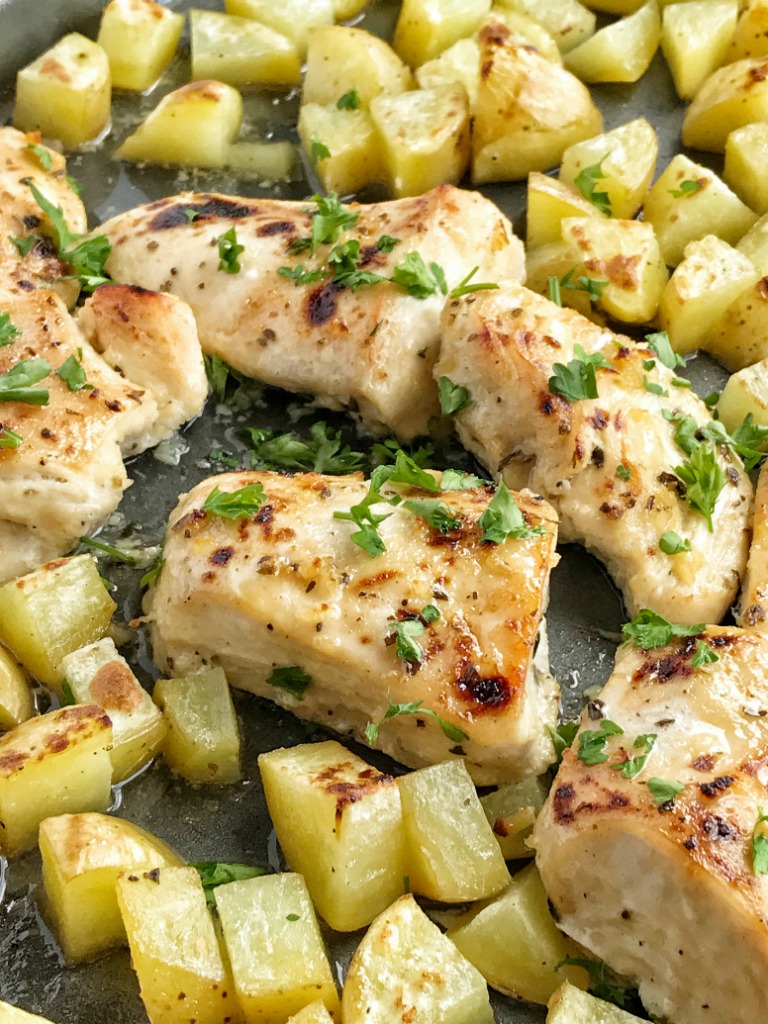 OVEN ROASTED HONEY GARLIC CHICKEN & POTATOES
Oven roasted honey garlic chicken & potatoes is a sheet pan dinner that cooks in one pan. Chicken breasts marinate in a sweet mixture of honey, garlic, and Dijon mustard. Then it gets baked on one sheet pan with seasoned and roasted diced potatoes. 
I can never get enough of this dinner. It's sweet, juicy, moist, tender and has the best flavor ever.
HOW TO MAKE SHEET PAN ROASTED CHICKEN AND POTATOES
– Mix up a simple honey garlic marinade of honey, garlic, Dijon mustard, olive oil, butter, and some spices. Take your chicken breasts and put them in a bowl or Ziploc bag and add half of the honey garlic marinade. Let it marinate in the fridge for 1-4 hours. 
– Chop up some Yukon gold potatoes and season them with olive oil, salt, and pepper.  Add everything to your baking sheet. Brush the remaining glaze over the chicken and then let it bake in the oven.
– Don't forget to turn the broiler on at the very end. It seriously makes this chicken incredible and gives it some nice color.
MY TIPS FOR THIS RECIPE
– I love Yukon Gold potatoes in this recipe because of their buttery flavor. Red potatoes are another good option if that's what you have on hand. 
– I always mix up the marinade around lunchtime and let it sit in the fridge to get loaded with flavor until it's dinnertime. 
– If you're short on time the 1 hour of the chicken sitting in the marinade will be just fine too.
– Don't cut the potatoes into really large chunks or else they won't cook in the time listed. Aim for large bite-sized chunks (about 1″). You can choose to peel the potatoes or leave the skin on. Either way works. 
TRY THESE OTHER CHICKEN DINNER RECIPES
Honey Garlic Chicken & Potatoes
Honey Garlic Chicken & Potatoes cooks in one sheet pan. Moist, tender chicken glazed with a honey garlic sauce and chunked potatoes covered in a simple seasoning of olive oil, salt, and pepper. This is a must try for dinner!
Ingredients
Honey Garlic Chicken
2 tablespoons butter melted
2 tablespoons olive oil
2 tablespoons brown sugar
2 tablespoons honey
2 tablespoons dijon mustard
3 cloves garlic I use garlic paste
½ teaspoon dried oregano
½ teaspoon dried basil
4 boneless, skinless chicken breasts if they are smaller you can use up to 6 of them, for larger chicken I cut the breast in half
½ teaspoon salt
¼ teaspoon pepper
Potatoes
4 cups diced yukon gold potatoes 1" bite-sized chunks, peeled or unpeeled
1 tablespoon olive oil
¾ teaspoon salt
¼ teaspoon pepper
Instructions
In a small bowl combine the melted butter, olive oil, brown sugar, honey, dijon mustard, garlic, oregano, and basil. Mix together.

Place the chicken breasts into a large bowl or Ziploc bag. Pour half of the marinade into it and let it sit in the fridge to marinate for 1-4 hours. Reserve the other half of the marinade for later.

When chicken is done marinating heat oven to 400 degrees. Lightly spray a rimmed baking sheet with cooking spray.

Combine the chopped potatoes in a bowl and pour the olive oil, salt, and pepper over them. Stir together to coat the potatoes.

Place chicken breasts down the middle of the pan and brush the reserved glaze over top. Then divide the potatoes and place on both sides of the chicken on the pan.

Bake for 20-25 minutes or until internal temperature of chicken is 165°. 

Turn oven to high broil and let broil for about 3 minutes until a nice color develops on the chicken and potatoes. Watch it closely because it can burn easily.
Notes
The salt and pepper is very adaptable in this recipe. You do want to use some for the chicken and potatoes to help the flavor. You don't have to use the amounts listed, that is what I have found tastes best. You can use as little or as much as you prefer.  If your chicken breasts are larger in size, you may want to cut them in half so they don't take forever to cook. There is enough marinade for 4-6 chicken breasts depending on the size of them. I can get 6 servings out of this recipe because 3 of my kids will only eat half a chicken breast. Nutrition information is based on a serving size of 4 but I always feed my family of 6 with this recipe with no problems. If you are trying to feed more, then know that the marinade will cover up to 6 chicken breasts as long as they are not the huge ones. 
recipe adapted from dessert now, dinner later!