Fritos Corn Salad with canned corn, bell peppers, tomatoes, cilantro, and green onion in a creamy spiced dressing and topped with Fritos corn chips! This is one salad that no one will forget!
Be sure and also try these other favorite corn recipes like this easy honey butter skillet corn or this corn, tomato, and avocado salad.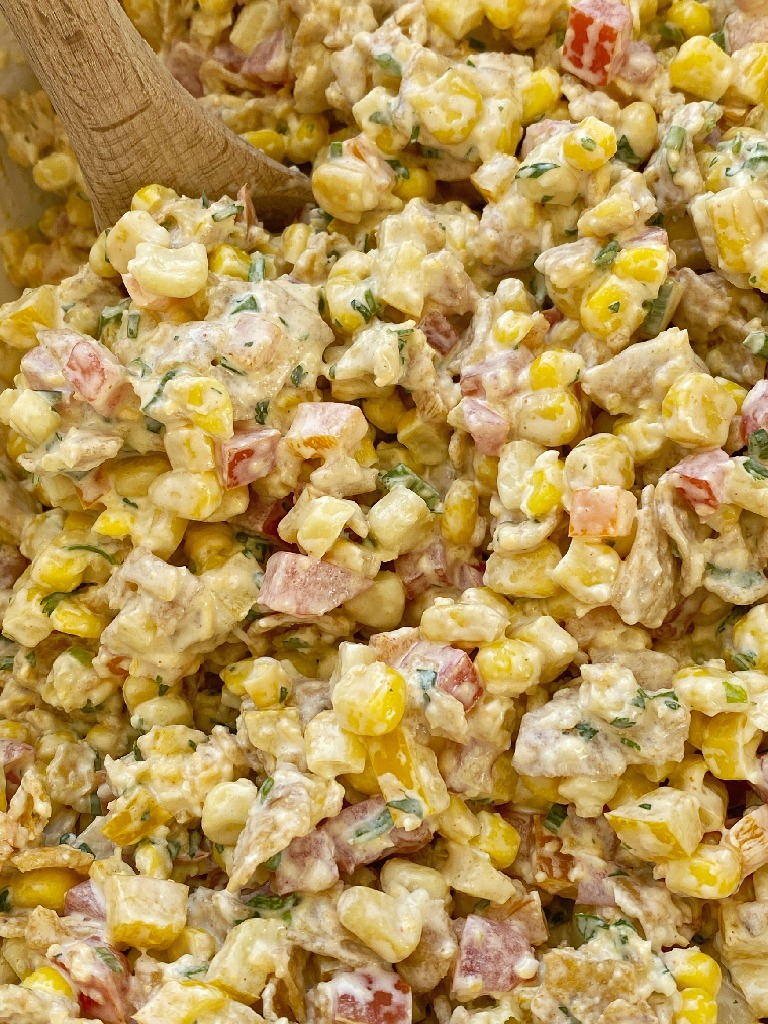 FRITOS CORN SALAD
As strange as this Fritos corn salad may sound, trust me when I say it's one of those "salads" that no one will forget and you'll realize you've already had 3 servings of it while contemplating if you love it or not 🙂 
The corn flavor, thanks to three cans of corn and Fritos corn chips, really shines through. Pair it with a lightly spiced creamy dressing and fresh crunchy vegetables, and you've got a delicious side dish with awesome texture. I also love it cause it's different than the usual side dish salads at get togethers.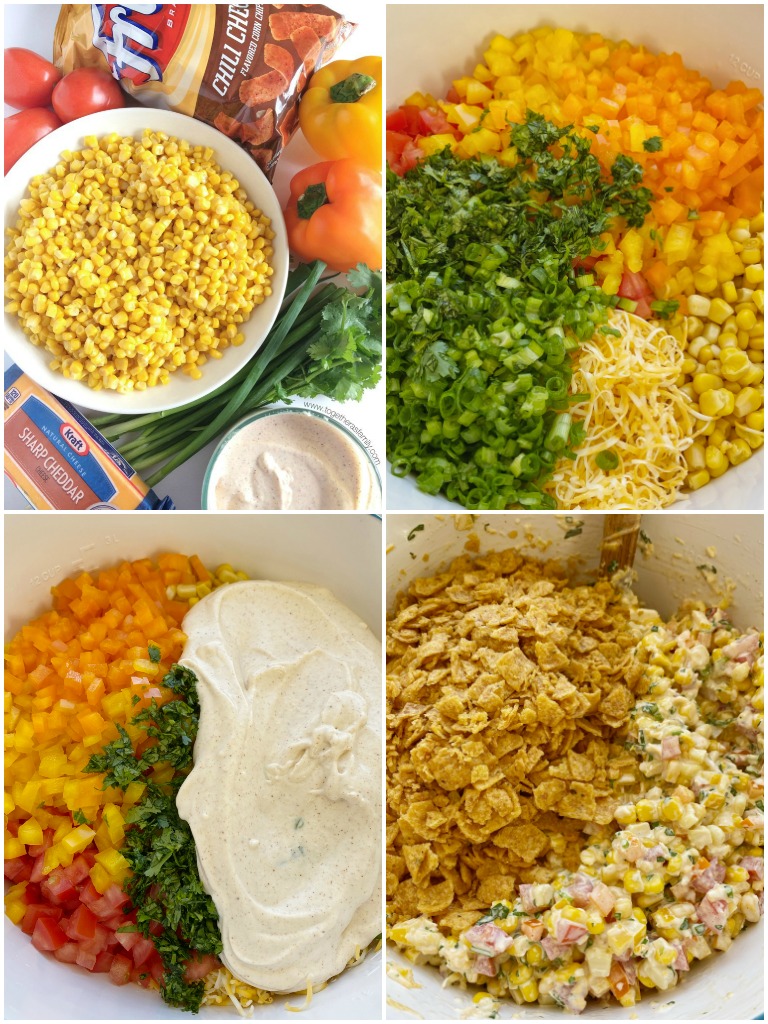 HOW TO MAKE FRITOS CORN SALAD
Canned Corn – Be sure and drain this really well! I like to use the canned golden n' white corn but that's just personal preference. All yellow corn is just fine as well. 
Shredded Cheddar Cheese – Cheddar is best to use in this salad or Colby Jack cheese. You can shred your own or make it easy and buy a bag of pre-shredded cheese. 
Roma Tomatoes – I prefer to seed tomatoes before chopping so there is n extra liquid in the salad. 
Orange & Yellow Bell Pepper – I picked these two for the colors but feel free to substitute with a red bell pepper if wanted. 
Green Onions
Chopped Cilantro
Fritos Corn Chips – I normally use regular Fritos chips because I want my kids to eat it. You can use Chili Cheese Fritos Chips (which is yummy!) but it will have more spice to the salad. No need to run the chips in a food processor to get them chopped. Just take your hands and squish the bag (lightly) to break up the Fritos chips. You don't want fine crumbs, you want the larger chunks in the salad for the crunch. 
Spiced Creamy Dressing – Mayonnaise, lime juice, chili powder, and cumin.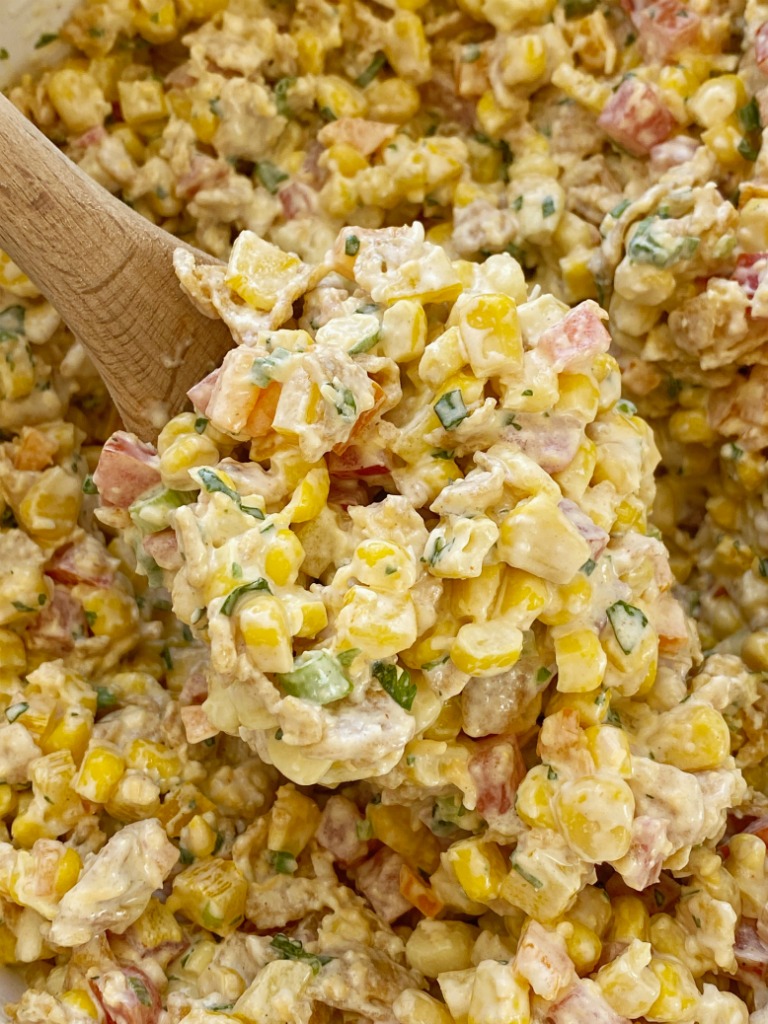 MY TIPS FOR THIS CORN SALAD RECIPE WITH FRITOS CHIPS
– Once you add the chips the salad needs to be served right away. The best part of this salad is the crucnhy chips and creamy dressing, so only add the chips right before serving. 
– I prefer this salad cold so I will make the salad (minus adding the chips) and refrigerate it for 2 hours. Add the chips right before serving and stir it all together. The salad is just as good served right away. So either way will be fine. 
– Try serving this Fritos corn salad on top of hot dogs! Sounds weird but trust me, it's one of our favorite ways to eat this salad at a BBQ. 
– Try to chop the bell peppers and everything else at the same size. I aim to cut everything the same size as the corn kernels. 
– Don't crush the Fritos chips into fine crumbs. You want larger chunks of chips for the crisp and texture. I just hold the bag with my hands and crush up the chips (lightly!) and then dump into the bowl. 
 TRY THESE OTHER SUMMER SIDE DISH RECIPES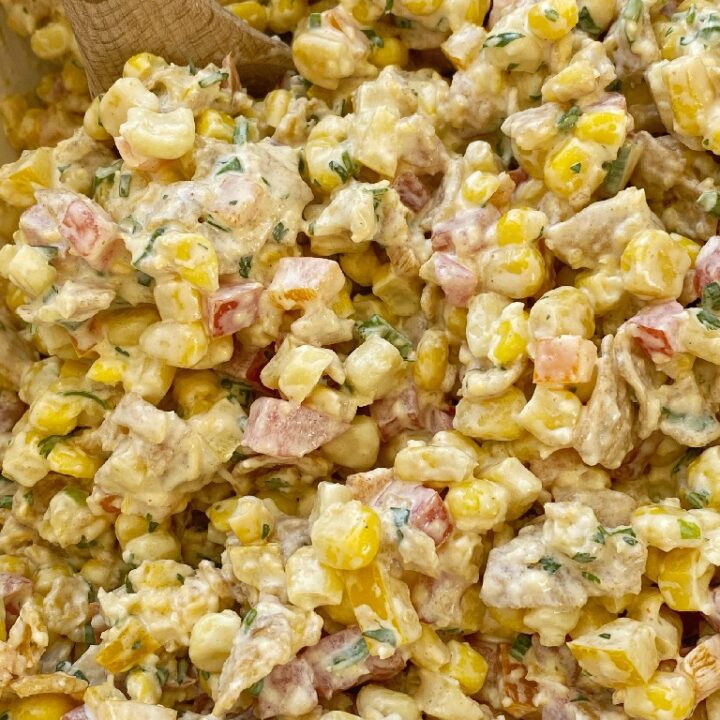 Fritos Corn Salad
Fritos Corn Salad with canned corn, bell peppers, tomatoes, cilantro, and green onion in a creamy spiced dressing and topped with Fritos corn chips! This is one salad that no one will forget!
Ingredients
Fritos Corn Salad
3 cans (15 oz) sweet yellow corn drained well
2 cups shredded cheddar cheese
4 roma tomatoes seeded and chopped
1 orange bell pepper chopped small
1 yellow bell pepper chopped small
1 bunch green onions thinly sliced, about 1/2 cup
1/2 cup chopped cilantro
1 bag (14.25 oz) Fritos Corn Chips OR Fritos Chili Cheese Corn Chips
Creamy Spiced Dressing
1 cup mayonnaise
juice of 1 lime about 2 tablespoons
½ teaspoon cumin
½ teaspoon chili powder
Instructions
In a large mixing bowl combine corn, shredded cheese, chopped tomatoes, orange bell pepper, yellow bell pepper, green onions, and cilantro. Stir together to combine.

In a small bowl, whisk together the mayonnaise, lime juice, cumin, and chili powder until combined and creamy. Pour over the corn salad and mix well.

If serving right away, take the bag of Fritos chips and crush the chips into large pieces. You don't want to make Fritos crumbs. You want the larger Fritos chip pieces in the salad. Pour the chips into the salad and mix well.

If you want the salad to be cold, then refrigerate the corn salad (2 hours before serving is best) then wait to add the crushed Fritos chips until just before serving.

** Leftovers keep well and the Fritos do get soggy, but somehow even with the soggy Fritos we still eat leftovers until they're gone.
Notes
I prefer this corn salad cold. I prepare it all the way until the Fritos chips, I cover it with a lid, and refrigerate for 2 hours. After 2 hours I add the chips and serve it. You don't want to refrigerate it for too long or else the dressing thickens up and it is not as creamy.  I love the flavor of the chili cheese Fritos but it can be a bit spicy if serving kids. So I normally always use regular Fritos Corn Chips. If I do use the Chili Cheese Fritos then I reduce the chili powder to 1/4 teaspoon to reduce the spice. If you want the heat and spice then use both chili cheese Fritos and chili powder. 
Nutrition
Calories: 349kcal | Carbohydrates: 28g | Protein: 7g | Fat: 23g | Saturated Fat: 6g | Cholesterol: 21mg | Sodium: 445mg | Potassium: 230mg | Fiber: 2g | Sugar: 2g | Vitamin A: 673IU | Vitamin C: 33mg | Calcium: 151mg | Iron: 1mg