Your family will love this Easy Spaghetti Sauce Recipe that's quick to make with convenient canned ingredients and dried seasonings. It tastes like it has simmered for hours, when really it only takes 20 minutes! Serve over spaghetti pasta noodles and garnish with parmesan cheese for a family favorite dinner. 
I love to serve this spaghetti sauce recipe with some of my Easy Parmesan Garlic Knots or my Easy Breadstick Recipe, and a green salad for a complete meal.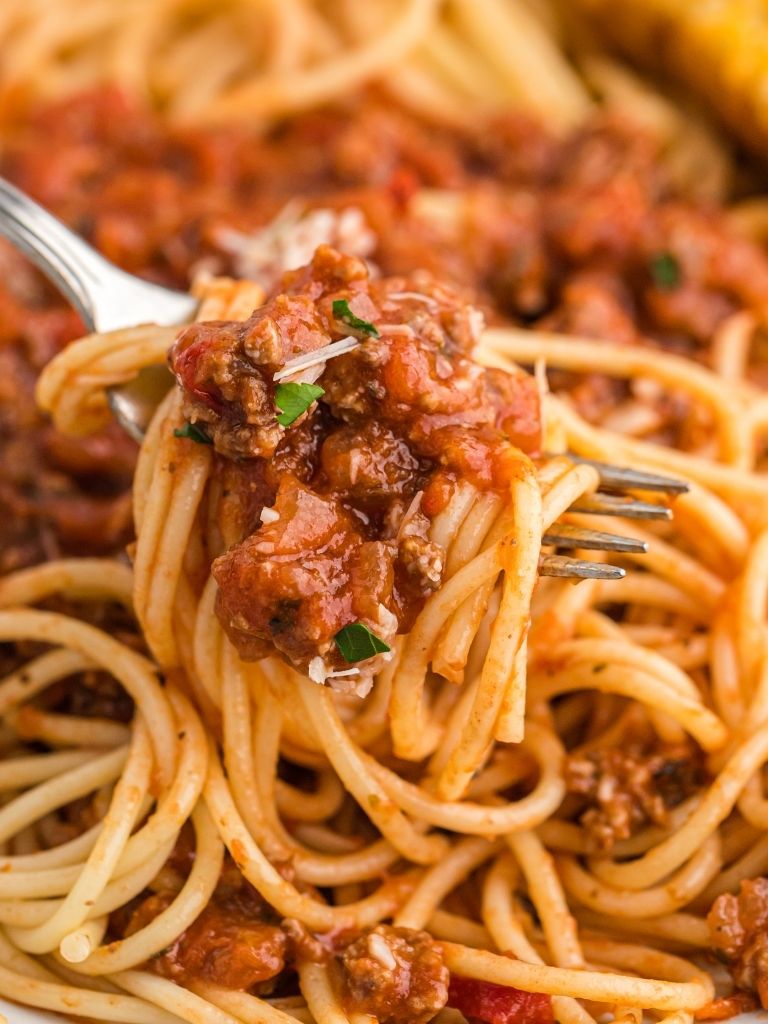 Easy Spaghetti Sauce Recipe
My family just loves having spaghetti for dinner. It's always a win at the dinner table when I serve pasta, not only is this easy spaghetti sauce kid-approved, it's also simple to make with some ground beef, dried seasonings, and canned ingredients. 
You only have to simmer this sauce for 20 minutes, but it will taste like it has been simmering for hours!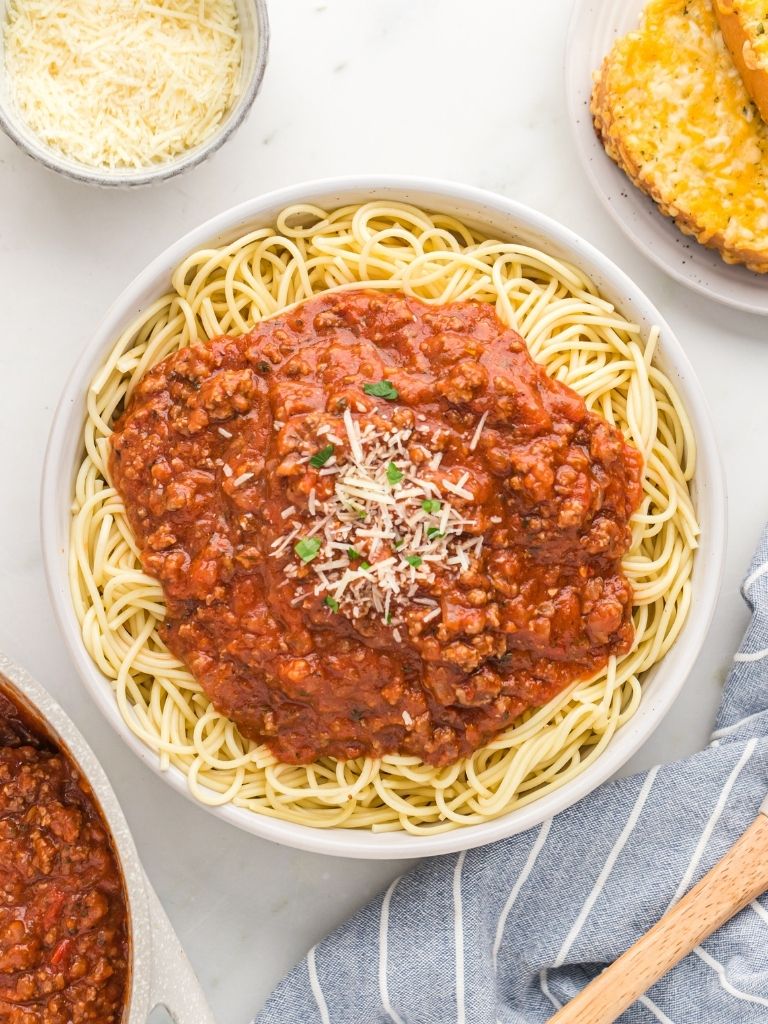 Ingredients You'll Need
With the help of some convenient canned ingredients this recipe is simple to make. 
Ground Beef
Onion 
Kosher Salt
Crushed Tomatoes
Condensed Tomato Soup
Tomato Sauce w/ Italian Herbs
Dried Parsley
Garlic Powder
Italian Seasoning
Dried Basil
Granulated Sugar
Worcestershire Sauce
How To Make Easy Spaghetti Sauce with Ground Beef & Tomato Soup
Here is how to make spaghetti sauce with ground beef. Be sure and read below to the recipe card for the full recipe & instructions. 
Step One : Cook and crumble the ground beef, diced onion, and salt in a skillet pan (one with a lid) over medium-high heat. Once beef is no longer pink and the onion has softened slightly, drain the excess grease. 
Step Two : Add the remaining ingredients and stir. Bring it back to a boil, once boiling cover with the lid, and let simmer at medium-low heat for 20 minutes. 
Step Three : It's ready to serve! Serve over cooked pasta noodles of choice. We love thin spaghetti with this. 
Tips For Success
Here are a few of my tips that will hopefully make this recipe a hit at your own family dinner table. 
Drain Ground Beef : Be sure you drain the ground beef after it's done cooking. I personally don't like have all that extra grease in my pasta sauce. 
Simmer : This spaghetti sauce needs just 20 minutes of simmer time. It will thicken up the longer it simmers, so you don't want to simmer for too much time extra, as the spaghetti sauce is already a thicker one. But be sure that you do let it simmer for the 20 minutes called for in the recipe. The flavors all come together and the sauce gets so yummy and thick. 
Pasta : Serve this sauce over any pasta shape that you want. We prefer the traditional thin spaghetti, but it would seriously be delicious over anything. My family actually loves the gluten-free pasta from the Barilla brand. 
Variation & Substitution Ideas
There are a few ways to switch up this recipe if wanted. Here are some ideas that would work well. 
Add Some Heat : Try adding some red pepper chili flakes in with the other dried seasonings. 
Make It Saucier : If you want a pasta sauce that has more sauce to it, not as thick, then use a larger can of crushed tomatoes (29 ounces) in place of the small can. 
Dried Seasonings : You can increase any dried seasoning or add some additional ones. Because the recipe uses dried seasonings, not only is it convenient, but it's also very easy to switch up depending on preference. 
Ground Turkey : To lighten up this sauce use ground turkey instead of beef. 
Add Parmesan Cheese Rind : I've never done this, because I always forget to save parmesan cheese rinds, but I know it's very popular to add the rind into the sauce while it simmers. 
Can I Freeze Spaghetti Sauce?
Yes! Spaghetti sauce freezes perfectly. I don't freeze a lot of foods, but spaghetti sauce is something that I will even freeze. 
Cook according to recipe directions and let it cool to room temperature. Place the spaghetti sauce inside gallon-sized Ziploc bags and seal the bag. 
I like to lay the bags flat in the freezer.
To reheat frozen spaghetti sauce, let it thaw in the fridge overnight and heat it up on the stove top. Or you can simply place the frozen spaghetti sauce into a slow cooker or soup pot and cook until it's warmed through. You may need to add additional water or beef broth when reheating frozen sauce. 
How To Store Leftovers
Leftovers of this easy spaghetti sauce recipe will store in the fridge, in a air-tight container, for 3-4 days. 
You can also use the leftover spaghetti sauce in any recipe that calls for some pasta sauce or marinara. 
Supplies Needed
Here are a couple supplies that you will need to make this spaghetti sauce recipe. These are an affiliate link, meaning that if you purchase, I will make a very small percentage from the sale. As always, I appreciate the support for the free recipes I post. I will only recommend things that I personally own and love! Promise.
Meat Chopper : If I had to pick my very favorite, most often used, kitchen utensil it would be this! It breaks up meat perfectly and gets into small crumbles. I probably have 3 if these in my kitchen right now. Love them!
Kosher Salt : You can find this at any grocery store. I love cooking (not baking) with kosher salt. It gives so much more flavor and it's just good. When I bake cookies or muffins, I always use table salt, but kosher salt is great for cooking savory recipes. It is a pretty coarse salt so I will pour some into my food processor and give it a good blend, and then put it into a glass container and stick it on my seasoning shelf. 
Skillet/Saute Pan & Lid : I love this skillet and sauté pan. It has a lid, which you'll need to make this recipe, it's the perfect size and non-stick.
More Pasta Dinner Recipes Your Family Will Love
Easy Spaghetti Sauce
Your family will love this Easy Spaghetti Sauce Recipe that's quick to make with convenient canned ingredients and dried seasonings. It tastes like it has simmered for hours, when really it only takes 20 minutes! Serve over spaghetti pasta noodles and garnish with parmesan cheese for a family favorite dinner. 
Ingredients
1 lb ground beef
1 yellow or white onion finely diced
1 teaspoon kosher salt
1 can (15 oz) crushed tomatoes
1 can (10 oz) condensed tomato soup
1 can (8 oz) tomato sauce w/ Italian herbs
1 teaspoon dried parsley
1 teaspoon garlic powder
½ teaspoon Italian seasoning
½ teaspoon dried basil
½ teaspoon granulated sugar
½ teaspoon Worcestershire sauce
Instructions
In a skillet pan, over medium-high heat, add the ground beef, onion, and salt. Cook and crumble until beef is no longer pink and onion is softened. Drain excess grease/liquid from the beef.

Add the remaining ingredients and stir to combine. Bring it to a boil. Once boiling, reduce heat to medium-low, cover the pan with a lid, and let simmer for 20 minutes.

Serve pasta sauce over cooked thin spaghetti noodles. Garnish with shredded parmesan cheese.
Notes
Ground Beef : I use 93/7 ground beef when I make this. You can use whatever you want, even ground turkey, because you'll drain the grease anyways. 
If using ground turkey instead of ground beef, add 1 tablespoon olive oil to the skillet when you're cooking it. Ground turkey is much leaner and needs some fat to cook in. 
Serving Size : This pasta sauce makes 6 servings, with about each serving being 3/4 cup of sauce. If you are serving 2 adults and several young kids, the pasta sauce can go much further. 
Crushed Tomatoes : If you're having trouble finding a 15 ounce can of crushed tomatoes, just measure out 1 + 3/4 cup crushed tomatoes from a larger can. 
Add Some Heat : If you want to spice up this spaghetti sauce, try adding some red pepper chili flakes.
Nutrition
Calories: 211kcal | Carbohydrates: 18g | Protein: 18g | Fat: 8g | Saturated Fat: 3g | Polyunsaturated Fat: 1g | Monounsaturated Fat: 3g | Trans Fat: 1g | Cholesterol: 49mg | Sodium: 896mg | Potassium: 882mg | Fiber: 3g | Sugar: 10g | Vitamin A: 506IU | Vitamin C: 17mg | Calcium: 57mg | Iron: 4mg