Banana Muffins taste like banana bread in muffin form with a sweet cinnamon & butter topping. All you need is one bowl. No mixer needed!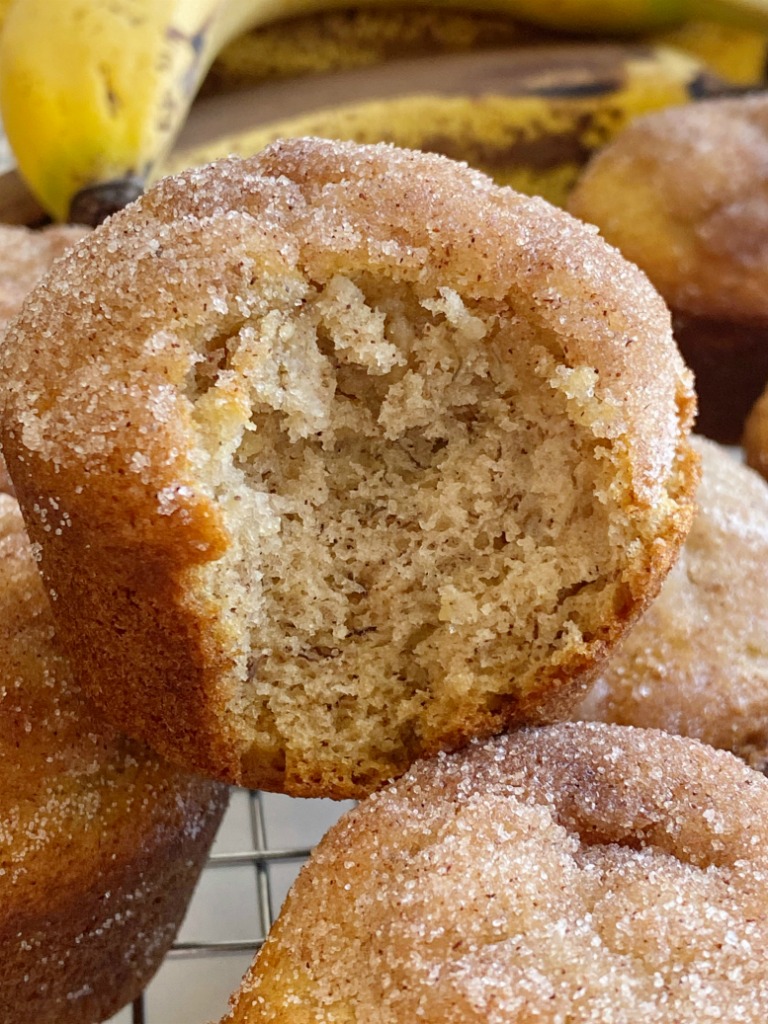 BANANA MUFFINS RECIPE
There is something so comforting about a piece of warm banana bread or banana muffin. I always looked forward to a piece of warm banana bread slathered in butter as an after school treat. 
Brown and ripe bananas never seem to be a problem at my house. Which is fine by me because it just means I can make these cinnamon banana bread muffins all the time. Life could be worse, right?!
BANANA MUFFINS WITH CINNAMON & SUGAR TOPPING
Quick bread recipes and muffin recipes are hit & miss for me. They either bake up perfectly with a nice rounded top, they sink horribly in the middle, or they don't cook all the way through no matter how long they've been in the oven. 
These cinnamon banana bread muffins were a nice surprise for me. They bake up perfectly round and tall each time! They're light but still dense with lots of banana flavor. And they have the surprise of a buttery cinnamon & sugar topping that is just incredible. 
HOW TO MAKE BANANA BREAD MUFFINS
Granulated Sugar
Canola or Vegetable Oil
Eggs
Mashed Bananas – For this recipe you will need about 2 bananas.
Vanilla Extract
All-Purpose Flour
Baking Soda
Salt
Ground Cinnamon
One bowl is all you need and no mixer! I use a wooden spoon or spatula to mix it all together. The best part is at the end when you dip the warm muffins in melted butter and then into a cinnamon & sugar mixture. 
My kids just lick off the butter and sugar topping…. and it's just so good you may do the same 🙂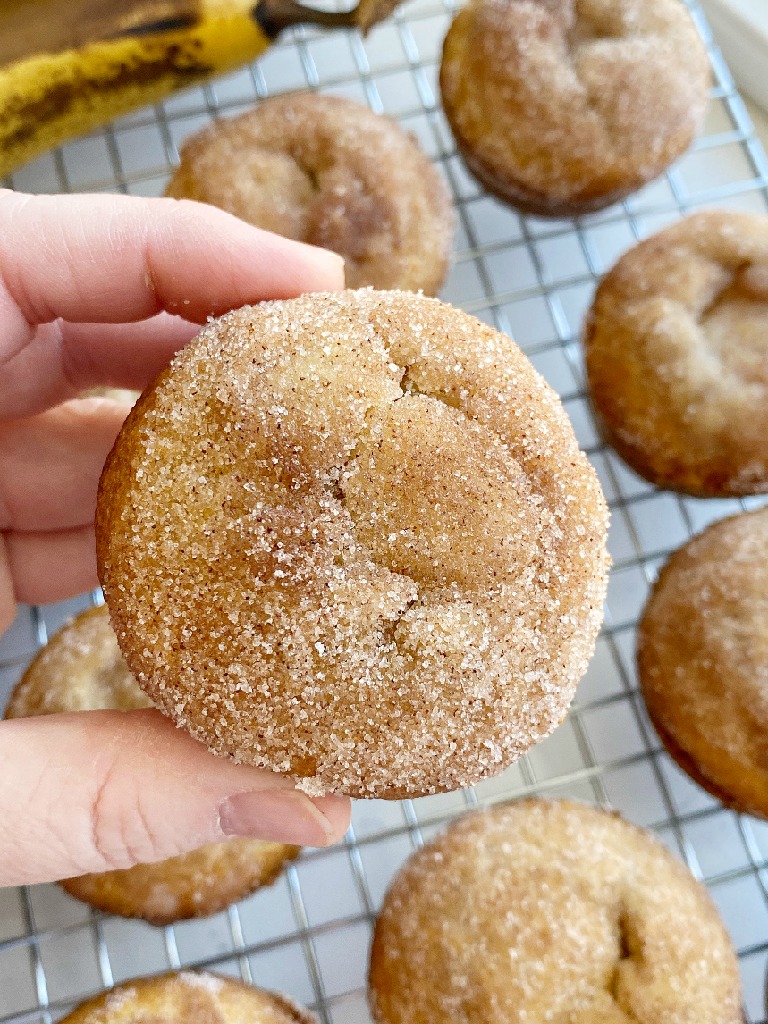 MY TIPS FOR THIS BANANA MUFFIN RECIPE
For best banana flavor be sure and use a very ripe banana. Like so ripe that people question your sanity by using such an ugly looking banana!
The best way to tell if the muffins are done is to use a toothpick and insert it into the top middle of the muffin. If it comes out wet then it's not done. You want it to come out with moist crumbs. You can also gently touch your finger to the top of the muffin and it should spring back. The muffins should look done, not look like there is some wet batter still on top. 
If you can handle the hotness, I like to take the muffins out of the pan and let them cool completely on a cooling rack. That way they don't get too dry as they sit in the hot muffin pan. 
If you want smaller muffins then don't fill the muffin cups as high. Fill about halfway and you should get about 18 muffins out of the recipe. 
TRY THESE OTHER BANANA BREAD RECIPES
Cinnamon Banana Bread Muffins
Cinnamon Banana Bread Muffins taste like banana bread in muffin form! They are perfectly light and moist, loaded with banana flavor, and bake up beautifully each time. Topped in butter and a sweet cinnamon crumble for the ultimate snack. All you need is one bowl and no mixer needed!
Ingredients
banana bread muffins
2/3 cup granulated sugar
1/2 cup vegetable or canola oil
2 large eggs
2/3 cup mashed banana (about 2 small bananas)
1 teaspoon vanilla extract
1 2/3 cup all-purpose flour
1 teaspoon baking soda
1/2 teaspoon salt
1/2 teaspoon ground cinnamon
cinnamon & sugar topping
3 tablespoons butter, melted
1/4 cup granulated sugar
1/2 teaspoon ground cinnamon
Instructions
Heat oven to 375 degrees. Spray bottoms only of 12 regular-size muffin cups with cooking spray. Or you can also use liners.

In medium bowl combine the sugar, oil, eggs and stir with wire whisk. Add in bananas and vanilla, whisk until combined. 

Add in flour, baking soda, salt, and cinnamon and stir together until just combined.

Divide batter evenly among muffin cups. Each muffin cup will be almost to the top. About 3/4 full.

Bake 17 to 21 minutes or until toothpick inserted in center comes out clean and muffins are high and rounded on top. The tops of the muffins should not look wet (that means they're not fully cooked).

Remove muffins from pan to a cooling rack.

For the cinnamon & sugar topping : Combine the sugar and cinnamon in a small bowl. Put melted butter in a separate small bowl. Dip muffin tops into melted butter and then into cinnamon-sugar. Serve warm or let cool completely.
Notes
Feel free to also use a handheld blender or a stand mixer. I prefer to make these with just a wire whisk but a blender can be used just as well.   Readers have commented and said that they don't even do the cinnamon & sugar topping and the muffins are still delicious. Some have even reduced the sugar in the cinnamon & sugar topping.   Check the muffins to make sure that the center is still not wet looking. It needs to be cooked completely so that the muffins don't sink down in the middle. If you're worried, simply use a toothpick and make sure it comes out with moist/dry crumbs on it, NOT wet batter. 
Nutrition
Calories: 254kcal | Carbohydrates: 32g | Protein: 3g | Fat: 13g | Saturated Fat: 3g | Cholesterol: 39mg | Sodium: 226mg | Potassium: 75mg | Fiber: 1g | Sugar: 17g | Vitamin A: 140IU | Vitamin C: 1mg | Calcium: 8mg | Iron: 1mg