Easy Meal Plan week 3 has kid-friendly & family approved dinner recipes with some side dish ideas and extra treats thrown in! Meal planning made easy to help get you started for the week or follow it each day and have your menu planning done for you. Meal planning ideas full of tried & true family tested recipes that even the kids will love.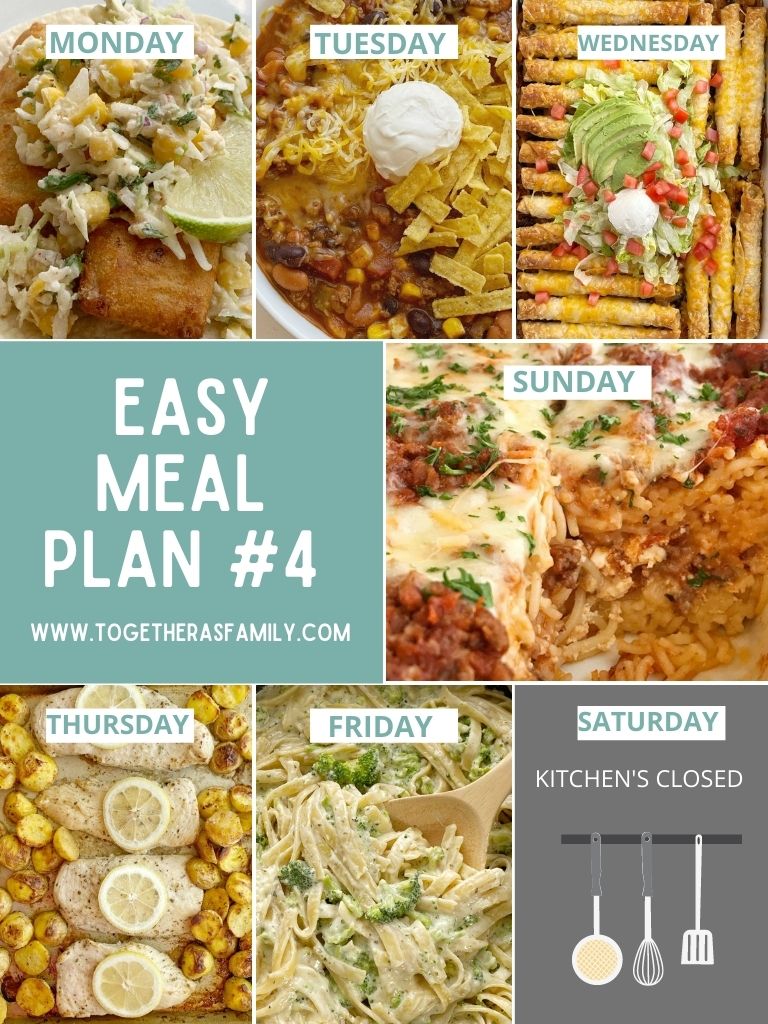 EASY MEAL PLAN IDEAS FOR FAMILIES
Welcome back to another family friendly easy meal plan. Hopefully you can find some good recipes to make this week for your family! Pick a few and make them or follow it day by day. Have a great weekend.
Be sure to check out my meal planning tips & tricks along with the other meal plans.
I have had my fair share of fish tacos from all over but these simple & easy fish tacos are always one of my favorites. Not fancy by any means, but they are delicious and easy to make with frozen fish fillets and then topped with a homemade corn cabbage slaw. 
SIDE DISH IDEA : I always love to serve fish tacos with a side of watermelon or strawberries. My kids love fruit so it's an easy side dish to serve with any meal. 

There is still enough colder weather left to eat chili. Especially this taco chili. So rich, thick, and hearty. 
Serve with Fritos corn chips, sour cream, and shredded cheese. 

Enchilada rice with corn topped with frozen taquitos. The taquitos get so crispy and crunchy!
Serve with shredded lettuce, pico de Gallo or salsa, or try my salsa verde guacamole.

A complete meal baked in one pan!
Chicken breasts and chopped potatoes covered in a lemon olive oil dressing. 
SIDE DISH IDEA : I buy a bag of Caesar salad (the complete kit that comes with dressing and everything) and serve that. Costco sells a really delicious Caesar salad kit. 

SATURDAY – KITCHEN'S CLOSED
TREAT & DESSERT FOR THE WEEK