Easy Meal Plan week 5 has kid-friendly & family approved dinner recipes with some side dish ideas and extra treats thrown in! Meal planning made easy to help get you started for the week or follow it each day and have your menu planning done for you. Meal planning ideas full of tried & true family tested recipes that even the kids will love.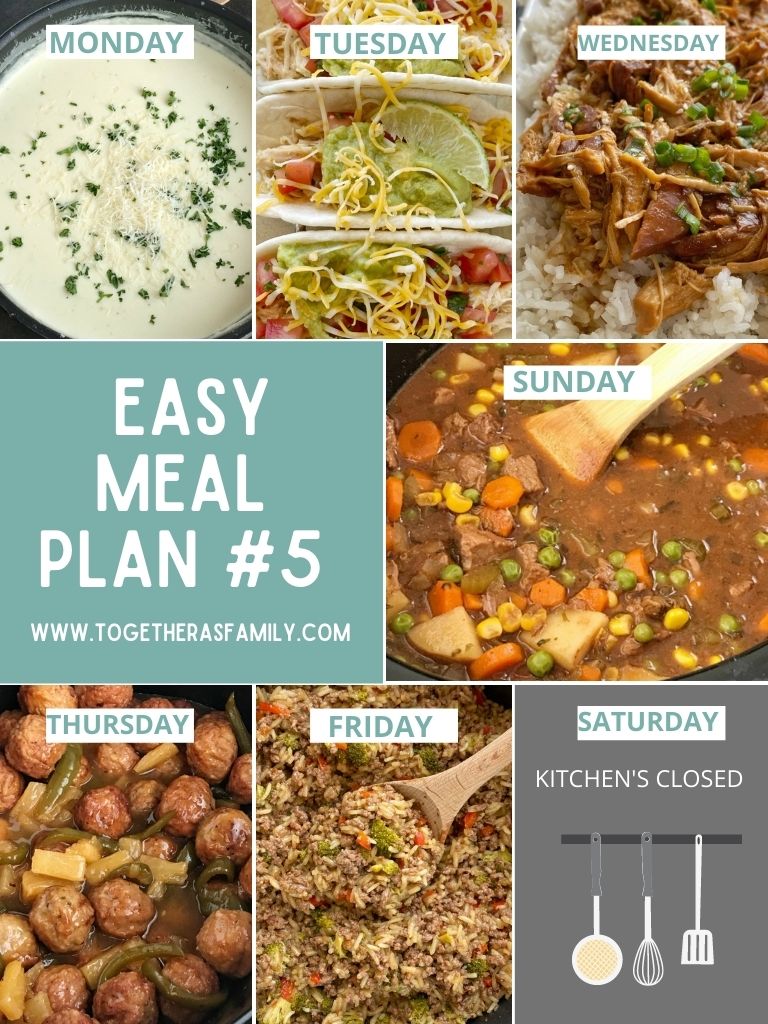 EASY MEAL PLAN IDEAS FOR FAMILIES
Hey! Welcome back to another week of delicious dinners. These past few weeks have just been one big horribly busy day after the next.... which means that my own meal planning as kind of been non-existent. When I take the time to plan out meals and put together a grocery order pick-up or delivery, we end up eating out so much less and sometimes not at all.
But this next week I am back on top of it and putting together a meal plan. So here you go and I hope you find some favorites. 
Be sure and go read by meal planning tips and tricks to help you get started. As always, use the recipes you like and switch them to days that work best for you. This meal plan can either be a starting point or you can follow it as is and have it all done for you. Enjoy!
I serve this over any pasta we have at the house. My kids love the spiral rotini pasta so I normally use that. 

I usually always serve this with a bagged Caesar salad mix. I really like the organic Caesar salad from Costco but any grocery store will have them in the produce section. 

You could also serve this with some garlic bread or these

easy garlic knots

made from biscuit dough. 

These have a mouth-full of a title but they are my very favorite tacos. Ever! 

Serve these with all your favorite taco toppings.

As a side dish you could serve with some

easy Mexican rice

or this

Instant Pot Cilantro Lime Rice

. Half of my family loves to put rice inside their chicken tacos (me included!) so I make some sort of rice as a side dish. Even if it's just the pouches of rice that you cook in the microwave. 

I serve this over rice and then topped with green onions. 

As a side dish I normally just serve it with some fresh fruit.

So easy to make with frozen meatballs and kids love this one! Serve over rice and garnish with green onions. 

I just now realized that there are a lot of slow cooker meals in this menu plan. Which I guess can explain how busy our week is! Whenever there is lots going on I always whip out all the slow cooker meals. 

An easy one pot meal that cooks the rice in the same pot as the ground beef. 

These would be fun served with a side of egg rolls (I normally just buy frozen ones and cook them) or some chopped fruit. I love that fruit is in season so I basically serve it with every dinner now.

SATURDAY - KITCHEN'S CLOSED

We love this with some homemade bread and butter. 
FOR MORE WEEKLY MEAL PLANS CHECK OUT THESE
TREAT AND DESSERT FOR THE WEEK