If you're wanting an easy dessert recipe with simple prep, that is semi-homemade, and a short-cut recipe – then you are in the right place! This is the Biggest and Best Collection of 75+ Easy Dessert Recipes that utilize short-cut ingredients like a cake mix, a cookie mix, brownie mix, canned pie filling, instant pudding mix, and Jello.
Be sure and check out these other easy dessert recipes that are simple to make, without the short-cut ingredients, but still delicious with easy prep – Easy Peanut Butter Pie and this Easy Nutella Pie.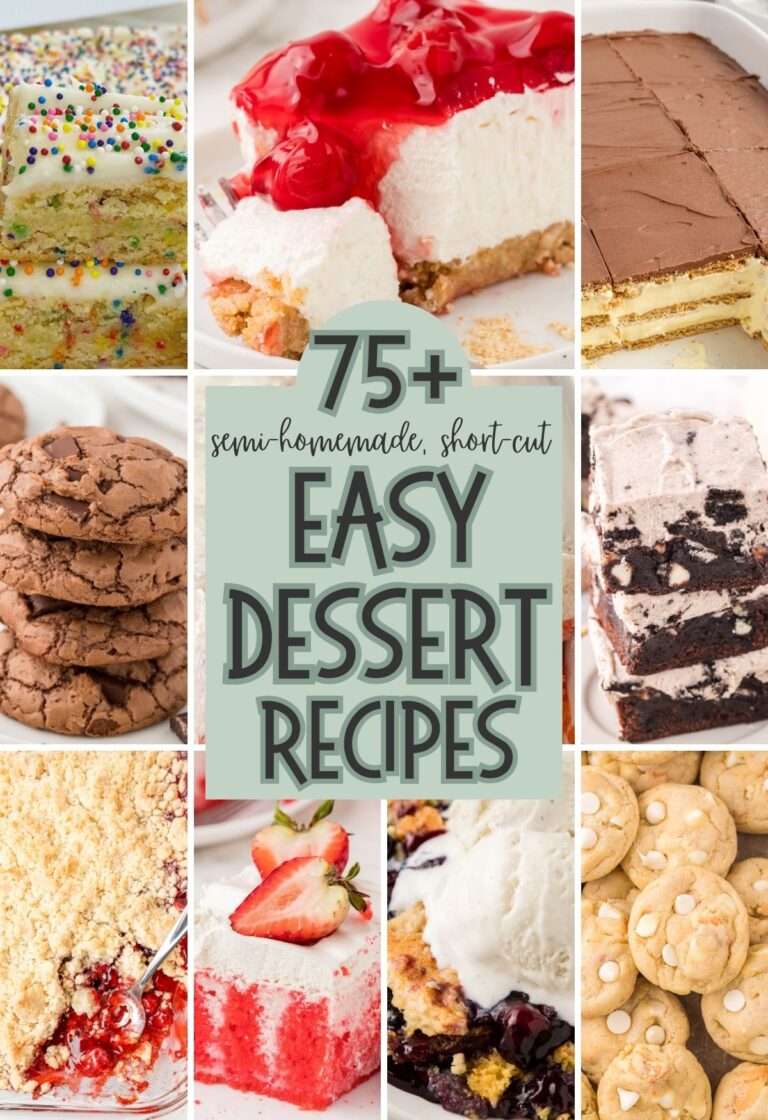 Easy Desserts That Start With a Cookie Mix
All these delicious dessert recipes below all start with a cookie mix! I love using the cookies mixes because it's an easy prep ingredient that includes all the dry ingredients all ready to go. Simply add some add-ins and you have and easy short-cut dessert.
You will find the cookie mixes in the baking aisle alongside the cake mixes and brownie mixes. It comes in a bag or pouch. It's not the same thing as the refrigerated logs of prepared, ready-to-bake cookie dough.
Easy Dessert Recipes That Start With a Brownie Mix
You can do so much with a boxed brownie mix! From brownies, bars, cookies, cakes, and bundt cakes you're sure to find some chocolatey favorites that will satisfy that brownie chocolate craving.
Easy Dessert Recipes With Instant Pudding Mix
Using instant pudding is another way to create semi-homemade desserts that are so delicious and so simple to make! I love how instant pudding adds so much creaminess, lightness, and fluffiness to these deserts below.
With so many options of instant pudding – chocolate, banana cream, vanilla, coconut, you are sure to find some flavors that your family will love.
When you combine an instant pudding mix + cake mix it creates this magical fresh-from-a-bakery cake. It really is amazing what it can do to any dessert. Here are some of the best desserts that use a box in instant pudding mix.
Easy Dessert Recipes With Canned Pie Filling
Canned pie filling is one of my very favorite ways to dress-up a Classic Perfect Cheesecake or as a way to dress up a serving of brownies, cake, or pie. It's also great mixed in with a cake mix to create these deices mash-up of flavors.
With so many flavors like cherry, mixed berry, blackberry, apple, and peach you are sure to find lots of ways to use in these recipes that all call for canned pie filling. It's actually much better than you might think!
Dessert Recipes With a Cake Mix (Short-cut Cake Mix Desserts)
Easy Dessert Recipes With Gelatin Mix (Jello)
Jello gelatin mixes are a short-cut way to get a fruity and fresh tasting dessert. From pies, layered desserts, sweeter side dishes, as a mix-in with a cake mix to switch up flavors, or poke cakes – there are so many ways to use Jello in these easy dessert recipes. Most of the time you don't even have to prepare the jello mix, simply dump it in and create magic.